In Vietnam Motor Show 2019 (VMS 2019) Recently, Audi Vietnam has brought a new version of 6 cars currently on sale in Vietnam, including A6, A7 Sportback, Q2, Q3, Q8 and the most popular is A8L 2020 with many worthwhile upgrades. about the interior comfort of the car.
Assessing the comfortable, luxurious and modern interior space of Audi A8L (Video: Duy Tung)
Outside, the A8L 2020 possesses Audi's iconic lines with LED Matrix HD lighting and a large hexagonal chrome grille with a sensor and 360 camera. Audi A8L 2020 It is a luxurious, comfortable and modern space with high-class leather interior, newly designed 4-spoke steering wheel that creates a different feeling, the center console is equipped with two touch screens to fit. can display multi-information while adjusting the automatic control of the 3 integrated areas of perfume or fine dust filter system right on the vehicle.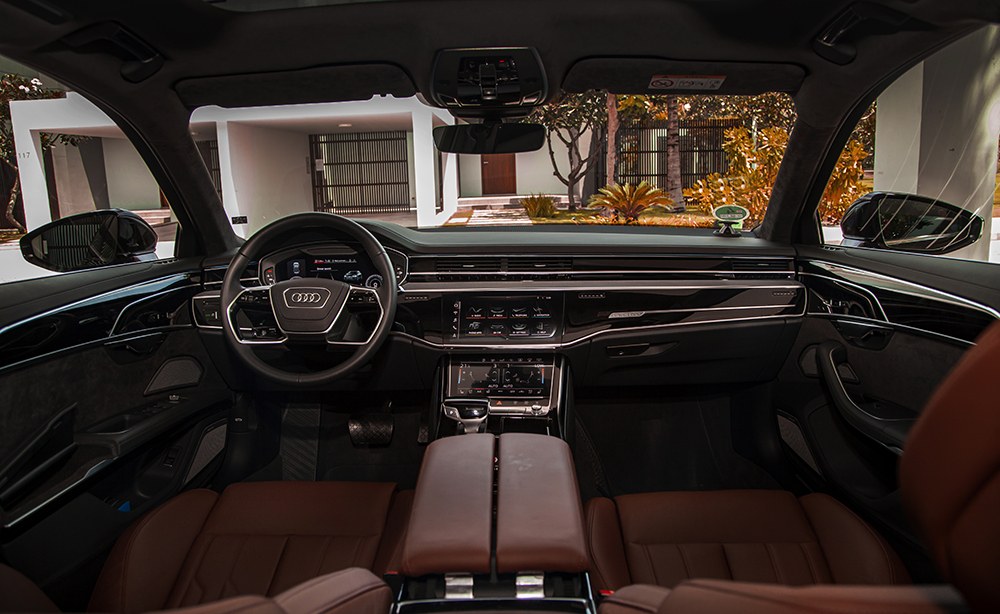 Behind the first row is an extremely spacious, comfortable space thanks to a wheelbase of 3,128 mm (an increase of 32 mm compared to the previous generation) and the height of the car is increased by 15 mm to 1,488 mm. The second-row seats also have the ability to change positions to create the most suitable seating position for rear passengers. Not stopping there, passengers in the back also enjoy the feeling of relaxation thanks to the massage feature and integrated heating right on the seats.
In the headrest position of the front seats are two tablets designed exclusively by Audi and powerful configuration to cater to the entertainment needs of passengers. These two tablets are 10.1 inches in size with full HD resolution, using NVIDIA processor and Android operating system with Google Play Store application. In addition, the two Audi tablets connect to the MMI Plus navigation feature and the control panel for the rear seats via Wi-Fi. Users can navigate and enter destinations or select entertainment channels through Wi-Fi Hotspot access points. After the journey, users can remove the device from the vehicle and continue using it with any Wi-Fi network.
In terms of safety technology, Audi A8L 2020 has adaptive cruise control system Adaptive Cruise Control, lane departure warning system, 360-degree camera system that can simulate perspective around the car … Here are all extremely convenient technologies so that the driver can be more comfortable operating a large sedan with a length of up to 5,302 mm like the new Audi A8L.
All of these are the reasons why the Audi A8L has received many awards such as "World Luxury Car 2018" or "Editors' choice 2019" for its first-class interior and absolute comfort and quietness. Customers can order the A8L 2020 through Audi Vietnam from now on and will receive the car in March 2020. Time Audi prices The new A8L has not yet been announced.
Hoang Hien
.