November 14, 2020, Shanghai. China's leading cloud and digital service provider Digital China Group Co., Ltd. (Digital China, stock code 000034.SZ) and Zhejiang Century Huatong Group Co., Ltd. ("Century Huatong", stock code 002602.SZ) signed a strategy Cooperation framework agreement, jointly announced that it will join hands in the construction and operation of supercomputing centers and model upgrades, server product adaptation and landing applications, cloud mobile phones and cloud PC research and development, and other dimensions to cooperate and explore, based on the cloud, consolidate the "new infrastructure" "The base will help the industry accelerate the digital upgrade. Guo Wei, Chairman and President of Digital China Group, and Wang Ji, CEO of Century Huatong, attended and witnessed the event.
Combine strong forces to achieve a win-win situation with new opportunities for "new infrastructure"
In 2020, the implementation of "new infrastructure" will accelerate nationwide, driving all industries to accelerate digital upgrades, injecting new momentum into the development of the digital economy and computing industry, and bringing new opportunities.
As the first domestic technology company to propose a "Digital China", Digital China has developed a new layout in cloud infrastructure and other fields based on its deep accumulation in China's informatization and cloud service market and full-stack cloud service capabilities, and actively responds to the country's accelerated promotion. The call for "new infrastructure" helps all walks of life complete the "new infrastructure" and realize value reconstruction in the digital age, building and operating in the new cloud-based supercomputing center, proprietary cloud services, and private-brand cloud infrastructure products based on Kunpeng motherboards There are cutting-edge practices and rich cases in multiple dimensions such as R&D and manufacturing.
Among them, Digital China's pioneering service model for building a cloud-based supercomputing center based on domestic computing power has achieved a number of breakthroughs that are different from traditional supercomputing models. It provides governments, enterprises, universities, and scientific research institutions with massive storage, massive computing, The support of diversified new supercomputing services such as big data clusters, cloud databases, microservices, containers, and artificial intelligence has become a benchmark example of "new infrastructure" and is promoting model replication and implementation across the country. Digital China's own-brand Kuntai server products designed and manufactured based on the Kunpeng architecture have also been adopted in supercomputer centers and achieved marketing breakthroughs in multiple industries, helping thousands of industries to effectively cope with complex and changeable application scenarios.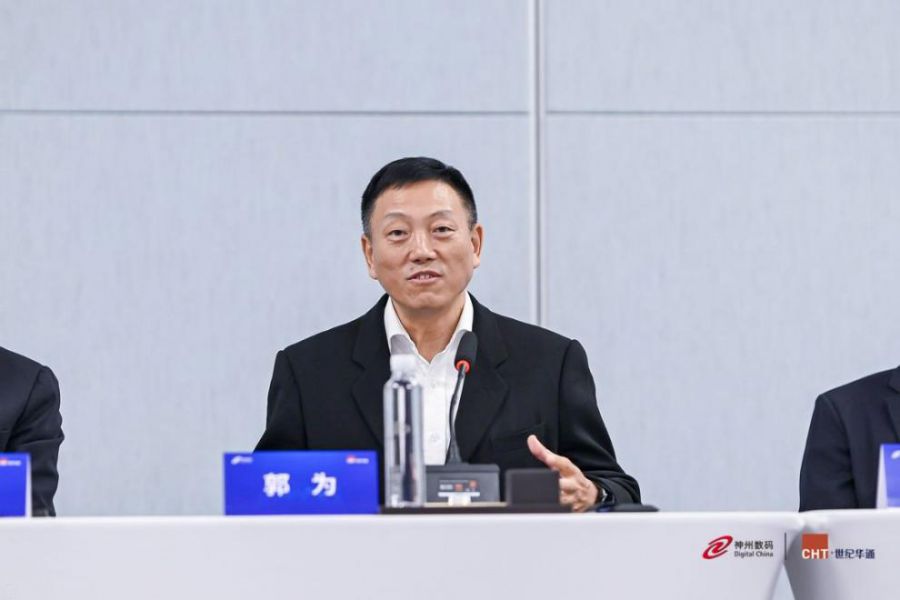 Guo Wei, Chairman and President of Digital China Group, said: Infrastructure construction has always been a driving force for the unity and development of nations and civilizations since ancient times. Today's "new infrastructure" is how to use modern digital technology to make the entire society more closely connected. In the future, cloud and digital technologies will play a key role in promoting the construction of a "manufacturing power", "quality power", and "digital power". At the same time, in the process of global competition, achieving a global leader in computing power while simultaneously taking into account high efficiency and low cost will also be an important manifestation of core competitiveness. Since its establishment in 2000, "Digital China" has been the original aspiration and mission of Digital China. At present, Digital China has strong competitiveness in all aspects of the operation of supercomputing centers. It has also been used for finance, agriculture, government, etc. Many industries provide mature solutions and services. In the face of major changes unseen in a century in the digital age, Digital China hopes to work with partners to build a more powerful supercomputing center and cooperate in more regions to jointly promote the construction of Digital China.
As one of the largest listed companies in the cultural media sector in the domestic A-share market, after years of development, Century Huatong has not only continued to deepen the development and distribution of Internet games at home and abroad, but also closely followed the development of cutting-edge technology and technology in the digital age, and launched cloud games, Frontier exploration and layout in cultural industry chain and other fields. In 2020, Century Huatong will invest in Shanghai Longrui to actively develop new digital infrastructure and a new track. At present, Century Huatong has joined hands with the Songjiang District Government of Shanghai and Tencent to build Tencent's Yangtze River Delta artificial intelligence supercomputing center and industrial base complex, providing professional cloud computing based on strong data processing and storage capabilities and Tencent's leading artificial intelligence capabilities At the same time of serving, it has also jointly promoted the construction of the AI ​​industry Internet innovation and entrepreneurship ecosystem, which has become an important force in the field of "digital new infrastructure".
Wang Ji, CEO of Century Huatong, said in his speech that digital applications have become the "new normal" of the national economy and life, and the supercomputing center has become the "hydropower and coal" necessary for ordinary people's daily life. As a "light asset" game company, Century Huatong hopes to align with the country's "pulse", "reloading" new infrastructure construction, and strive to become an industry leader in the digital economy.
Wang Ji emphasized that on the road to a smart future, he is very pleased to have the help of Digital China, China's leading cloud and digital service provider partner, with the help of the supercomputing center of Century Huatong as the carrier, combined with the leading technology of Digital China With advantages and rich experience in cloud and digital services, the two parties will jointly build a complete supercomputing center industrial chain. Wang Ji predicts that the future strategic cooperation with Digital China is expected to revolutionize supercomputing technology and open up a new lifestyle of "walking through the cloud" for everyone.
Riding the clouds to open up a new future for the "new infrastructure"
It is precisely based on the complementary advantages of the two parties in the field of cloud computing and "new infrastructure" that gave birth to an ecological win-win combination of strong and powerful. In the future, the two parties will work together in multiple dimensions to launch new cooperation arrangements and practical explorations.
In terms of the iterative construction of supercomputing centers, Digital China will organically integrate its rich experience and full-stack capabilities in the construction and operation of proprietary clouds and new cloud-based supercomputing centers with the large supercomputing centers under Century Huatong. While building a digital China cloud operation, management, and service base, relying on the supercomputing center and providing customers with cloud technology as the core and traditional IT as the supplementary industry chain services.
Specifically, on the one hand, the two parties will actively promote the iteration of the sales and operation model of the supercomputer center, and realize the iteration of the new model of on-demand leasing of computing power, storage, and bare metal machines. On the other hand, Digital China will also build and deploy a supercomputing platform in the supercomputing center under Century Huatong to provide customers with basic services such as platform management, security, operation and maintenance, as well as software and hardware integration and cloud technology platform services to create a complete supercomputing Central industrial chain.
At the same time, the large-scale supercomputer centers across the country under Century Huatong will also give priority to the selection of the Kuntai series products independently designed and produced by Digital China. Century Huatong will also cooperate with its subsidiary Shanghai Longrui Information to promote the adaptation and application of Digital China's own brand Shenzhou Kuntai server with Tencent Supercomputing Center and Tencent Cloud.
In addition, the two parties will also rely on Tencent's Yangtze River Delta Artificial Intelligence Supercomputing Park under Century Huatong to carry out practical explorations in cloud mobile phones, cloud PCs and other fields, targeting scenarios such as cloud games, mobile App smart hosting, enterprise secure office, and industry secure remote terminals. Carry out the research and development of a complete cloud solution, promote the extension of the computing power of the "cloud" to the "end", and build a new scene experience that is convenient, safe, and cloud-integrated.
Facing the future and focusing on the digital "new infrastructure", Digital China will also cooperate with Century Huatong in multi-dimensional cooperation. With leading cloud technology and comprehensive cloud practice, it will build a computing power base for the "new infrastructure", which will serve as a foundation for enterprises in various industries. Digital transformation continues to empower.
.