#Dialogue #HKUST #IFLYTEK #Zhao #Xiang #Accelerate #expansion #offline #stores #consumers #touch #artificial #intelligence


On May 20, at the Semi-annual Media Salon of iFLYTEK's consumer business, Zhao Xiang, executive vice president of iFLYTEK's consumer business group, said that since its establishment, the iFlytek consumer business group has maintained a 30% growth rate every year . In the two major online shopping festivals of 618 and 11.11 in 2020, the year-on-year growth rate (YOY) of iFLYTEK's consumer products reached 40% and 56% respectively.
At present, the iFLYTEK Consumer Business Group focuses on AI+business and AI+education, including hardware categories such as translators, voice recorders, office notebooks, learning machines, and dictionary pens.
Zhao Xiang, Executive Vice President of the Consumer Business Group of iFLYTEK, Photo source: iFLYTEK
In the media group interview after the conference,Zhao Xiang told 36Kr that the main purchasers of these products are individual consumers, not large-scale purchases from institutions."Our consumers really pay out of their pockets and vote with their feet."
At the same time, in addition to the online promotion of e-commerce platforms and social platforms, iFLYTEK will further expand offline physical stores to allow consumers to better experience artificial intelligence hardware products.
"It is not the technology that changes the world, but the product"
In his speech, Zhao Xiang said that the reason why iFLYTEK's consumer business can maintain a rapid annual growth rate of 30% stems from the following reasons:
1. Rich technology accumulation; in the past 20 months, iFLYTEK has won 20 international artificial intelligence competition championships.
2. Continue to polish the product details; for example, in the Xunfei office notebook, in order to restore the writing touch of the pen nib on the paper, Xunfei has passed countless repeated experiments and finally established that 0.1 mm is added between the surface of the screen and the electronic layer. The suspended design allows users to restore the elastic strokes of writing on 40 pages of A4 paper to the greatest extent. At the same time, in order to restore the sandy feeling of writing on paper with the pen tip, iFLYTEK uses a special pure wool processing nib to make the strokes more restored .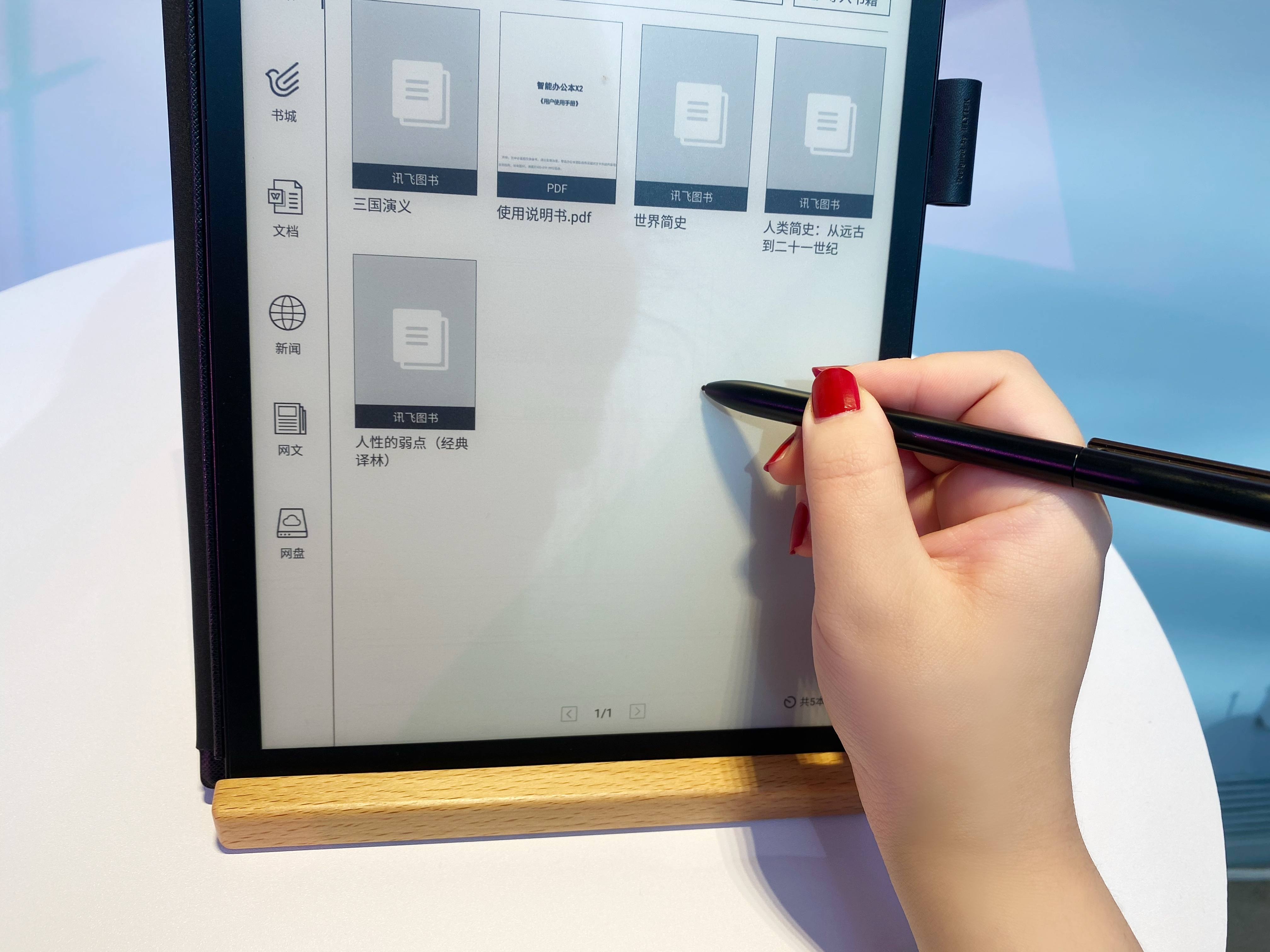 Handwriting experience in iFLYTEK's office notebook, shot at 36 krypton
Based on the author's own on-site experience, the writing touch of the iFLYTEK office notebook is indeed not like using a normal touch screen pen to tap the screen, and it can better restore the touch feeling of a pen and paper.
3. The application effect continues to improve; in 2014, iFLYTEK's voice transcription accuracy rate was 60%, and in 2019 this data has been mentioned to 98%.
4. Humanistic care and warmth of AI.
Intensify efforts to expand offline physical stores
Although iFLYTEK's consumer business is growing rapidly, Zhao Xiang told 36Kr that iFlytek will also encounter difficulties in the process of doing consumer business-artificial intelligence technology is still in the emerging period, and consumers need certain Cognitive process.
Especially for artificial intelligence hardware, emerging C-side hardware such as translators and learning machines are not like traditional C-side hardware devices such as mobile phones and computers. For the latter, users have been trained to be skilled in operating habits and understanding; but For the former, the current artificial intelligence hardware is still in the market education stage, and it needs to provide consumers with a more tangible and in-depth experience in order to be more conducive to market expansion.
Therefore, Zhao Xiang told 36Kr that, in addition to online promotion on e-commerce platforms and social platforms, iFLYTEK will further expand offline physical stores so that consumers can better experience products.
Zhao Xiang added that with the continuous popularization of artificial intelligence technology, consumers' preference for early adopters and willing to try new technologies and new products has become more and more obvious.
Artificial intelligence's B/C-side linkage play
According to the latest 2020 financial report released by iFlytek, the total revenue of iFLYTEK in 2020 will exceed 13 billion yuan, a year-on-year increase of 29.23%; iFLYTEK's open platform and consumer business achieved revenue of about 3.078 billion yuan, and the total revenue is about 24%, of which smart hardware revenue was 873 million yuan, a year-on-year increase of 6.7%.
The ToB corporate service/ToG government business of HKUST iFlytek has always accounted for the majority of the company's revenue. Until 2016, with the advent of iFLYTEK's "Xiaoyi" translator, the ToC consumer business officially paralleled iFLYTEK's two business groups, namely Smart City and Smart Education, and mentioned the company's height.
When asked whether the ToC business would be "unacceptable" in the ToB Group's style, Zhao Xiang told 36 krypton that in terms of artificial intelligence, the ToB business and the ToC business are actually highly correlated.
Taking the educational scenario as an example, iFLYTEK's learning machine requires students to do 10 questions first in order to understand the student's level of knowledge and build a corresponding knowledge map. But if the C-side learning machine can communicate with the B-side smart device in the school at this time, not only the learning machine at home can provide more accurate AI courses according to the needs of students, but the teachers in the school can also implement changes according to the students' learning progress. Good differentiated teaching plan.
"The B (end business) and C (end business) of our entire group are linked to each other." Zhao Xiang said.
The red sea battle of smart hardware
In fact, the smart hardware market has experienced several rounds of red sea battles.
Whether it's the 2016-2018 smart speaker Red Sea, children's educational robot Red Sea, smart home Red Sea, translator/translation headset Red Sea, or earlier, the wave of smart hardware entrepreneurship that has emerged from Shenzhen and the Pearl River Delta is centered on emerging categories Smart hardware has always appeared in endlessly.
Take the AI ​​translator/AI translation headset as an example. Since 2016, this category has poured into a large number of domestic and foreign startups and industry giants, including listed companies such as iFLYTEK and IBM, as well as Zhuner Start-up companies at home and abroad such as translator, magic brain translator, ili, Waverley Lab, etc.
However, after burning several rounds of financing, in recent years, most of the products of these startups have gradually become invisible in the consumer market. Only a few players led by iFLYTEK of HKUST have survived successfully and monopolized the limited market space. .
For another example, the sound of the vigorous smart speaker "Hundred Box War" in the past few years is still in my ears, and the subsidy of tens of billions of dollars has been smashed, and the sound is gone.
Today's AI recording pens and AI dictionary pens are also going through a similar stage. However, unlike the translation machine market dominated by startups, iFLYTEK's competitors on these tracks are the same listed companies Sogou, Netease Youdao, etc. They both have Internet business genes and have sufficient resources to go. Continue to polish the hardware and education markets. Among them, NetEase Youdao takes education as its core business, and its AI dictionary pen products can be described as "close hand-to-hand combat" with iFLYTEK.
The war on smart hardware has never been extinguished, they just reappeared in a different way.
.