There are many reasons why the update of a game can be delayed. For example, developers need more time to improve features or fix bugs in the game. In addition, the new crown epidemic has also made all this more complicated. But it may be hard to imagine that the American medical system can sometimes impede the progress of developers-"Luck be a Landlord" (Luck be a Landlord) designer Dan DiLorio encountered this situation.
"Lucky Landlord" is a recently popular card-building Roguelike new work. Players use slot machines in the game to earn rent and defeat capitalism. In the Steam store, "Lucky Landlord" users rated it as "extraordinarily favorable".
"To be honest, I sincerely hope that more new content can be released to bring new fun to those who buy the game." Dilorio said, "Unfortunately, because I can't get the treatment for attention deficit and excessive Drugs for motor disorders, the latest patch has to be postponed."
A slot game that encourages players to fight against capitalism


■ Cannot continue
More than a month ago, DiLorio announced the news. At the time, he also revealed that because he couldn't buy a prescription drug for ADHD, he "can hardly write even a line of code or make plans for new content in the game." ". The explanation given by the pharmacy was that the reason why they could not provide the relevant drugs was because Dilorio's insurance company encountered an "unexplainable problem."
The problem appeared on a weekend in February, and the pharmacy told the developer that it had to wait until the working day to find a solution. To make matters worse, the following week coincided with the US President's Day, and Di Lorio had no choice but to wait longer and apologize to those players who are eager to experience the new content.
In the "Lucky Landlord" player community, most people expressed their support for Delorio.
"This is a great game. You should be proud of what you have done." A player wrote, "Under the American medical system, it is difficult for me and many others to get medical protection for mental health. . You are not alone. Players appreciate what you are doing and understand that taking care of yourself is very important."
Di Lorio's working environment, rabbits are his pets
DiLorio is used to announcing deadlines to players because it motivates him to work in the right direction, but once the medicine is not available, this approach is useless. In the past, DiLorio often encountered similar situations.
"Due to the lack of access to medicines, I did give up some game development, which resulted in a large number of prototypes that I built were thrown away. For my brain, if I leave the project for a few weeks or months, it is almost impossible to pick them up. I got up. Although the drug was out of medicine for only one week, I delayed the release date of the latest patch of "Lucky Landlord" by two weeks. This is one of the main reasons-I can't restart development work immediately without careful planning. "


■ Great "sarcasm"
On the other hand, the unexpected success of "Lucky Landlord" also made Dilorio feel tremendous pressure. In January this year, when DiLorio released the early access version of "Lucky Landlord", he didn't have much money on hand, and his biggest wish was that the game revenue was enough to meet the needs of himself and his girlfriend.
"Before the game was released, my girlfriend and I were both unemployed, and the money left in the bank was only enough to pay the rent. Now we are seriously considering buying a house because this idea is no longer out of reach… I think this It's ridiculous, but if game sales continue to grow at the current momentum, my family and I will not worry about money for a long time in the future, and may never even have to worry about it."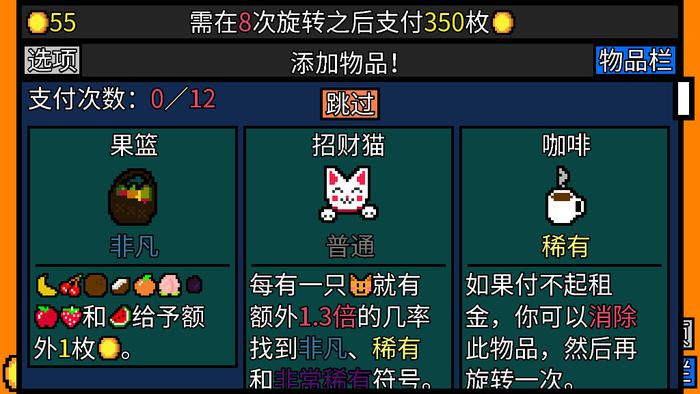 Chinese support for this game is not bad
Inspired by the popular card-building Roguelike game "Killing Spire" and the ancient Windows 98 free game, Dilorio wanted to make a slot game and concealed it with "the insidious mechanism that tries to squeeze money from the player" Connect. In "Lucky Landlord", an angry and greedy landlord keeps asking tenants for more rent, which is like a portrayal of DiLorio's real life in the past year.
"During the epidemic last year, my girlfriend and I moved into our first apartment, so we always thought about paying the rent." DiLorio said, "I am a leftist, and I even wondered what happened to us when developing games. Why do I have to pay the rent? At first, when the player had a large sum of money in the game, the game ended, but then I added an insatiable landlord who kept raising the rent and asking the player for money."
DiLorio revealed that just a week after the release of "Lucky Landlord", he achieved his "small goal" of paying rent. Before long, he discovered that many live broadcast platform anchors had created videos for this game.
"I think "Lucky Landlord" has become popular because it is a high-quality work, and of course it does have luck. In addition, this is also related to the huge replay value of Roguelike/Roguelite. "One Hour of Life" "(One Hour One Life) developer Jason Roller said in a speech at GDC that this type of game has unlimited potential in terms of content, and it also meets the tastes of many anchors."
Delorio finally got his medicine after a few days
Ironically, "Lucky Landlord" is a game that encourages players to fight capitalism. It was designed by a developer who was once oppressed by capitalism, but the developer suddenly discovered that the success of this game will make He got rid of a lot of previous pain.
Delorio did not forget his original intention. "To be honest, I am very guilty. Why do the evils of capitalism cause countless people to die, but I can'live' under capitalism? If after I have money, I no longer care about the problems of capitalism, then I and the monster There is no difference…The mentality of people is the root cause of capitalism's gain."
Money is indeed a good thing, but if Dilorio can't fulfill some simple wishes, such as buying prescription drugs from a pharmacy, then it doesn't make any sense. At least at this stage, this problem still worries DiLorio.

Source: Touch Music
Original: http://www.chuapp.com/article/287867.html
.