See more: Detailed evaluation of Vivo U10: Enough 'to spend', enough to use, enough to experience!
1. Stylish design like Flagship!
The first thing that impressed me when I held the Vivo V19 in my hand was the outstanding overall design, especially the rear camera cluster. Over the past 1 year, the design of the rear camera cluster has been constantly transformed, from simple vertical and horizontal styles to sophisticated designs such as round, square camera clusters.
Not far away, I will take the typical camera of the Samsung Galaxy S20 Ultra. You see, not only takes up a lot of space on the back, but this camera cluster is also thick and slightly protruding. Looking very uncomfortable, but then users are familiar with the next product to "catch trend" quickly.
The camera cluster of this Vivo V19 is no exception. As you can see, Vivo has put all 4 lenses and LED lights inside the rectangular frame, the camera position will be arranged in an L-shape and have the words: "1:18 – 2.4 / 17 – 25 ". Parameters of 4 cameras include: Wide angle lens, ultra wide angle lens, depth lens and macro lens.
Vivo V19 has a mysterious black back, which exudes an elegant yet powerful and personality. This machine has a body made of plastic, but the glass back makes the device even more polished. However, because of the back of the glass, it will be easy to stick to the fingerprint, especially for those who sweat like their hands.
Regarding the grip, I feel quite comfortable and gentle thanks to being made of plastic. However, the elegance and charisma has not diminished, so I am confident to hold the product with my friends with confidence. The overall size of this machine is quite large so I encountered a few inconveniences when using one hand, and pocketing jeans is a bit difficult.
2. The AMOLED screen is admirable
On the front, Vivo V19 owns a large screen with a size of up to 6.44 inches, with a resolution of Full HD + but the ability to display images and colors are all good. You might ask, "Does a big screen like this have a grainy display?" Sure, yes, but the actual experience I did not see the screen cracked (due to the distant view), so you can be assured.
Do you see anything in the upper right corner of the screen? That's the punched dual camera cluster, which is very popular right now. This design not only makes the screen more complete but also overturns the revolution of the pop-up slefie camera design.
I myself feel that the hole-punch camera design brings a lot of convenience and helps to make the screen bigger, but this lens cluster loses the details displayed on the screen. It is true that nothing in this world is perfect.
Vivo V19 is proud to have a beautiful AMOLED display even in the mid-range segment. This AMOLED screen not only brings beautiful images, bright colors but also fresh, vibrant colors with black depth. Thanks to those factors, the daily use experience will be very good.
In addition, the device also incorporates fingerprint sensor technology inside the screen and face unlock. However, the speed of unlocking the fingerprint is not very sensitive and takes up to nearly 3 seconds.
3. Good camera, go out on the road to take a walk and breathe some windy air!
With a prominent and large camera cluster design, Vivo V19 is expected to produce really impressive images and you guess what, Vivo V19 has done? And is this camera cluster worth your attention and special attention?
Before starting the camera review, I will take a quick look at the hardware specifications of the lenses. Accordingly, Vivo V19 is equipped with a total of 4 cameras including:
Wide-angle lens: 48 MP resolution, f / 1.8 aperture.
Super wide-angle lens: 8 MP resolution, f / 2.2 aperture, 13 mm focal length.
Macro lens: 2 MP resolution, f / 2.4 aperture.
Lens depth: 2 MP resolution, f / 2.4 aperture.
Of course, with a mid-range smartphone like Vivo V19, it will be fully integrated with different photography modes. However, I quite like the ability to shoot nights on this Vivo V19, because not only lightens the frame but also keeps the fine details.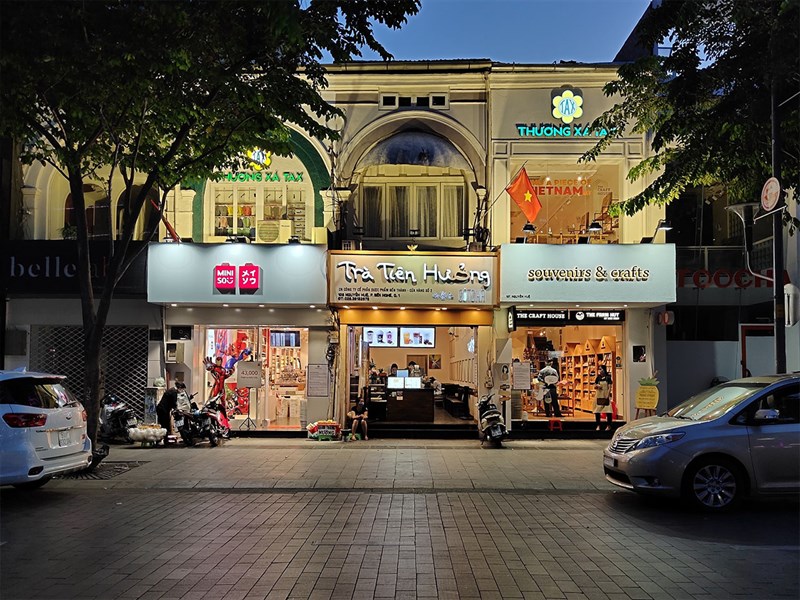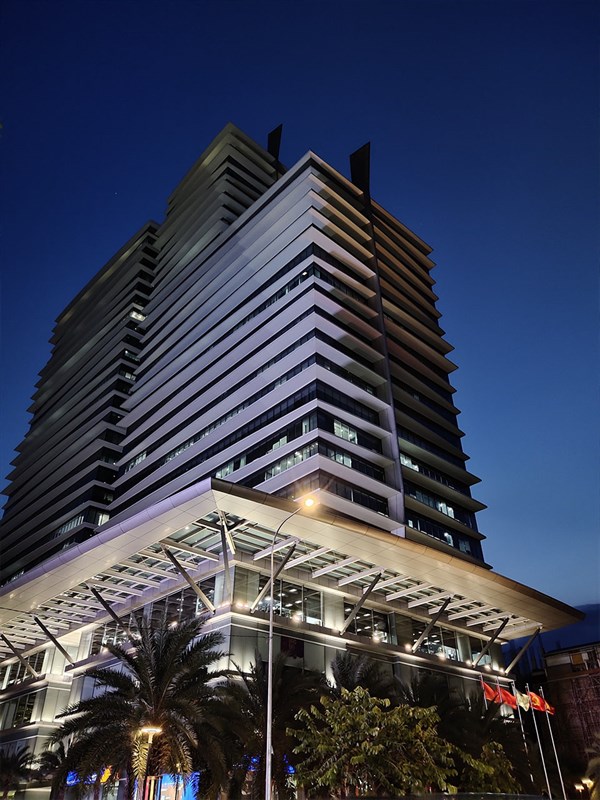 I continue to make it difficult for Vivo V19 when testing the zoom capability on this smartphone. There is no 50x, 60x or 100x zoom technology, but in 3x and 4x zoom modes, the device still ensures the sharpness and color of the picture.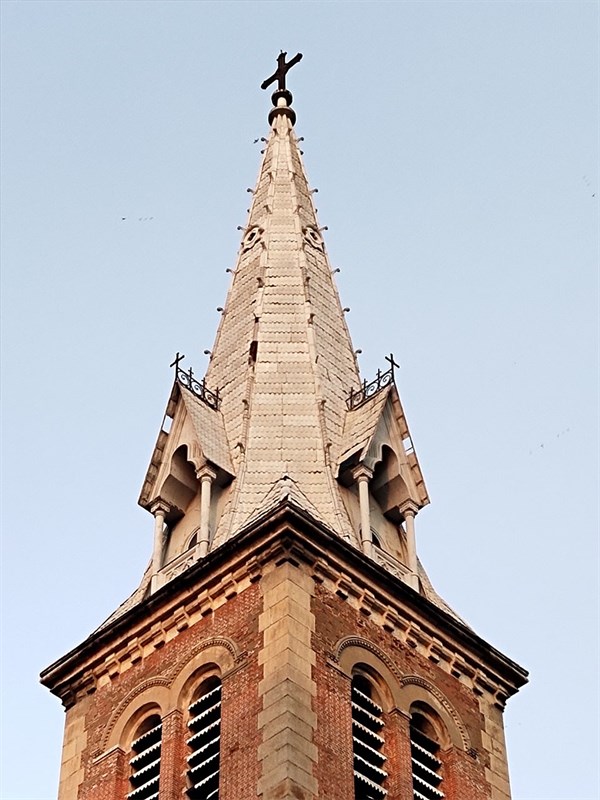 So that you don't have to be surprised, I took two test shots in auto mode and zoom mode for you to easily compare. Firstly in terms of colors, I appreciate the ability to reproduce steadily despite changing from auto mode to zoom. Second, the zoom image shows the details clearly lost, though it does not have advanced zoom technology.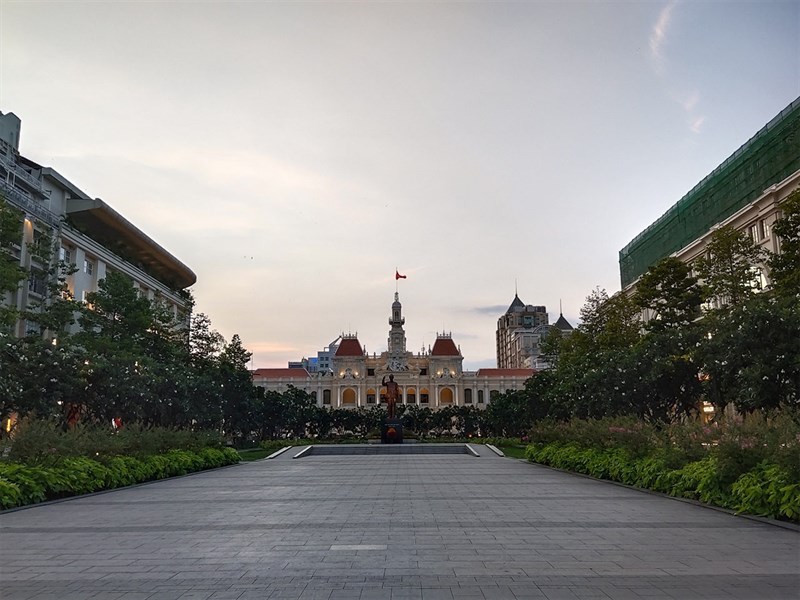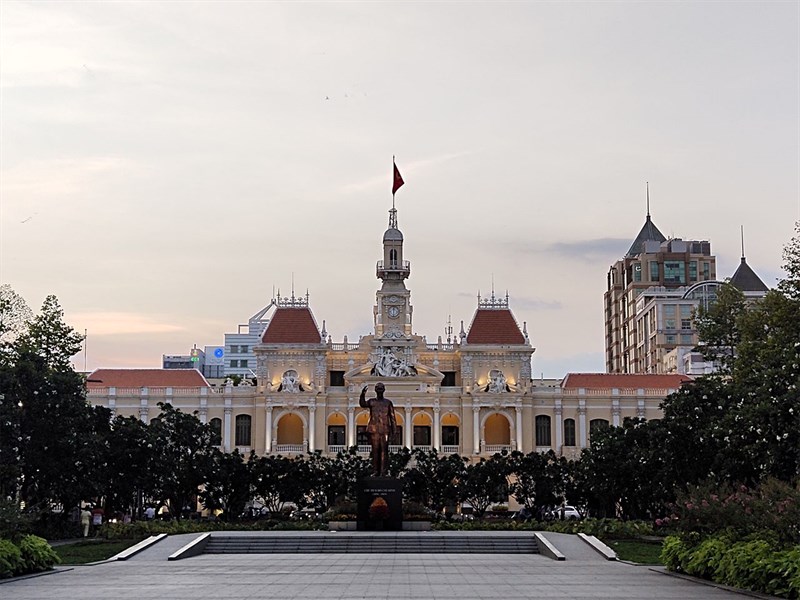 For now, I will show you the ability to take photos immediately in automatic mode in different conditions such as: Bright enough, backlit, underexposed with the camera of Vivo V19. After watching, remember to evaluate the shooting ability of this device according to your feelings.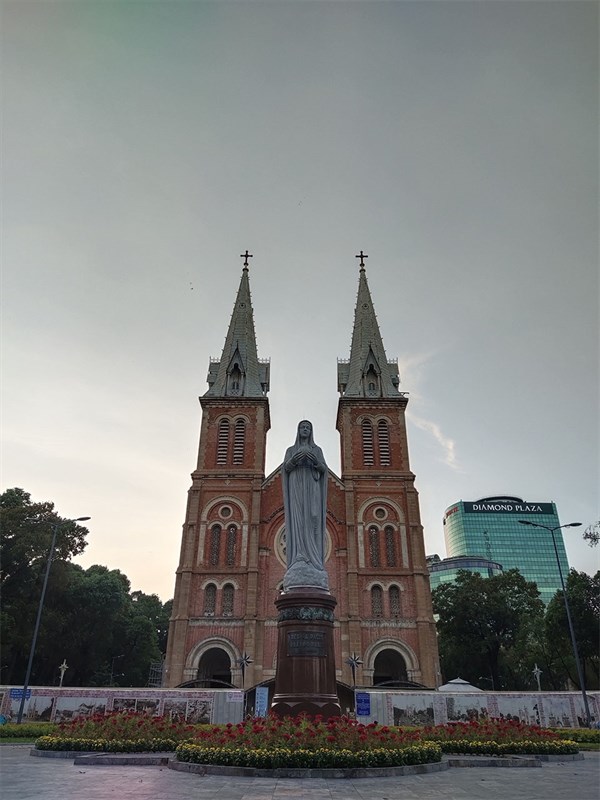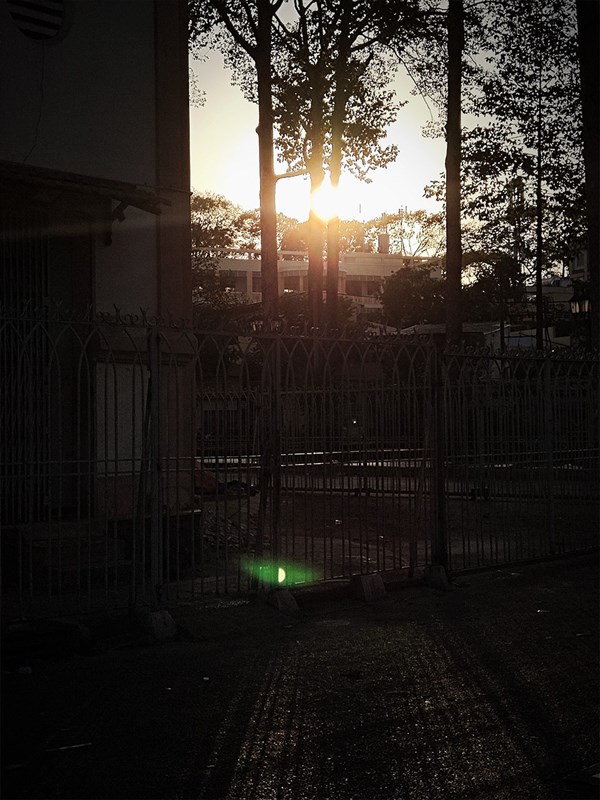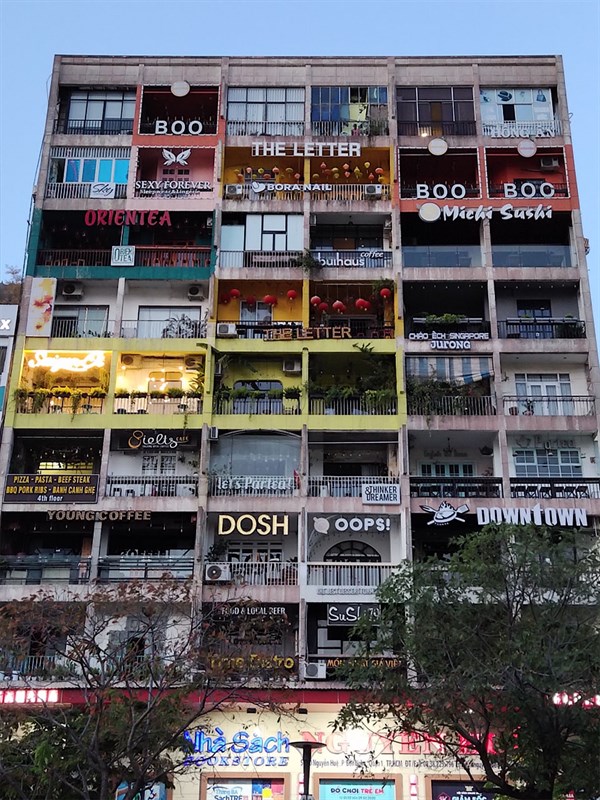 Finally, I did not forget to experience wide-angle shots on this Vivo V19. The first is a wide-angle shot, which not only captures the entire bustling street again after a period of social isolation but also feels authentic and peaceful.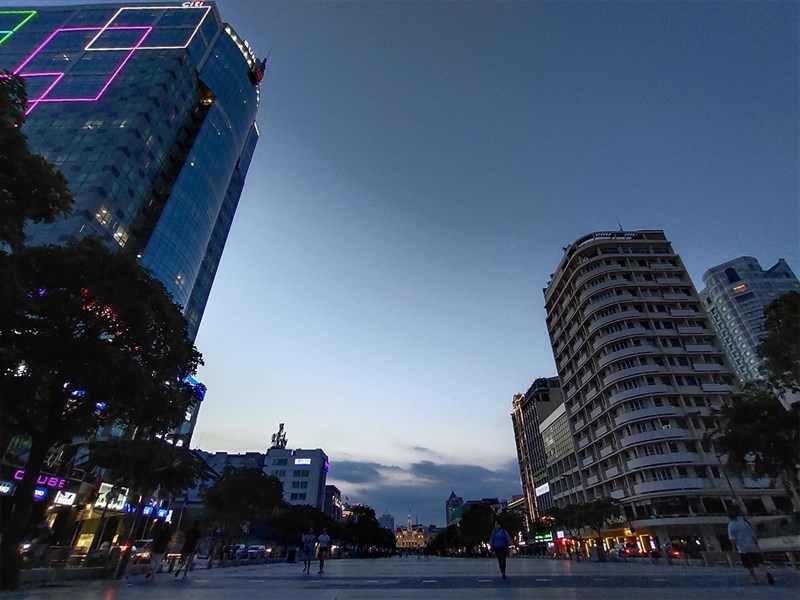 4. Snapdragon 712 is awesome, but a little flabbergasted!
Before evaluating the performance of this Vivo V19, I would like to briefly summarize the hardware configuration of the device:
CPU: Snapdragon 712.
OS: FuntouchOS 10.
RAM: 8 GB.
Storage memory: 128 GB.
According to previous information, Vivo V19 is highly rated with strong and smooth performance in the price segment. For a long time, the Vivo product line has been known for possessing huge batteries, meeting the needs of long-term use. But speaking of performance, this is a really big question mark.
First, I used up to 3 scoring software to measure the performance of this newly launched Vivo V19: GeekBench 5, PCMark and 3DMark.
GeekBench 5 Software: Single core reached 416 points, multi-core reached 1,345 points.
PCMark: This software gave the Vivo V19 an average score of 7,252 points.
3DMark: API's OpenGL reached 24,024 points, API's Vulkan reached 405,452 points.
Besides using the scoring software, I also directly experience and evaluate the performance of Vivo V19 by fighting a few popular games such as: Lien Quan Mobile, PUBG Mobile and Call Of Duty Mobile.
In Lien Lien Mobile game, holding a smartphone with Snapdragon 712, I am very confident in rating, with Wonder Woman. In my opinion, Vivo V19's processor operates relatively stable even though I have turned on FPS to a high level (up to 60 FPS).
FPS density ranges from 57 – 61 FPS and seldom drops to 56 FPS. However, in some frontal phases, the machine suddenly became more than 1 second but this situation rarely happened.
Switching to the PUBG Mobile shooter, Vivo V19 allowed me to turn the configuration to a maximum of HD and the maximum frame rate was high. Of course, I have opened to the highest level to experience as objectively as possible.
I highly appreciate the stability of this Vivo, especially in the direct solo phase. Thanks to the good handling of the frame as well as ensuring smooth movement, I can control and defeat the opponent quickly.
Finally, the game I use in this article is not ZingSpeed ​​Mobile, but Call Of Duty Mobile. And maybe you do not know, Call Of Duty has been officially launched in Vietnam. So you can download on CHPlay without downloading using tricks and tricks.
Vivo V19's Snapdragon 712 continues to bring peace of mind when handling the frames and character movement in the game. That is also the reason why I constantly MVP in most fierce games.
With a powerful processor and 8 GB RAM, you can be sure to immerse yourself in heavy games on Mobile. However, during use, Vivo V19 has some minor problems. The first is in the game Lien Quan Mobile, I see a very clear error of the font (as shown below).
Secondly, because of the perforated selfle camera and overflow game interface, the front lens has covered an inconvenient upper corner. This camera cluster has covered the map in Lien Lien Mobile (rotating the camera, the camera cluster covered the map in PUBG Mobile) and made me lose my head and lose my life like playing!
5. Keep your Vivo phone out of the battery!
Yes, I have used a lot of Vivo products in the past and found that the battery life of those devices is more than 8 hours of continuous use. This is the most impressive and impressive point of Vivo phones in general and Vivo V19 in particular.
Owning a battery capacity of 4,500 mAh, Vivo V19 is expected to operate all day long. So, how does this battery actually last? To answer that question, I did a test with 3 rotating tasks: Game Union, YouTube and Facebook within a fixed time of 1 hour.
With 50% background light, customizable audio, WiFi and notifications that keep on opening, not turning on battery saver or adaptive screen, Vivo V19 provides up to 11 hours and 15 minutes of continuous use. This is an impressive number, I do not think a smartphone with AMOLED screen and Snapdragon 712 chip can give such a long duration.
With more than 11 hours of continuous use, I guarantee that if you restrict your phone or only use it to make and receive calls, the Vivo V19 can last for up to 2 days. In addition to measuring the battery, I also measured a 33W quick charger in the case of Vivo V19.
Everything tastes good, is it worth buying?
It's worth noting, spending nearly 9 million but you get a stylish style, a good camera and smooth performance like Vivo V19. I also love using this device and it feels like Vivo is trying to bring the best experience possible in the segment.
Those are my hands-on experiences with the Vivo V19. And what do you think about her "sister"? Leave a comment below and let me know.
See also: Quick review Vivo iQOO 3: A smartphone for fastidious gamers?
Vivo V19
8,990,000 VND
Promotion
Bonus 2 pieces for Fashion Watches, 40% off (no other promotions)
Order Installment
Edited by Vuong Gia Bao
Not satisfied with the article
340 views
Related posts
It is not Huawei, OPPO and Vivo that are the leading phone manufacturers in their home country of China, calculated in Q1 / 2020


1 day ago

Vivo V19 is heavily invested in 6 cameras, so is the performance and battery good enough for users to spend around VND 9 million on shopping?


2




2 days before

On hand Vivo Y50 in Vietnam: The most prominent is the buffalo battery, but overall how?


3




2 days before

The weather is hot and hear that Vivo Y19 has reduced the price to only VND 4,690,000, enough to cool you down?


3




3 days ago

iQOO Neo 3 comes with a huge number of parameters such as 144Hz screen, Snapdragon 865 chip, 44W fast charging, … but the price is too good from only 8.9 million


first




5 days ago

Not only using the Snapdragon 865 chip, 144Hz screen but iQOO Neo3 5G also supports 44W fast charging, fully charged 4,500 mAh battery in just 58 minutes


6 days ago
.