Home page
Assessment form
Detailed review of Toyota Innova 2016
Detailed review of Toyota Innova 2016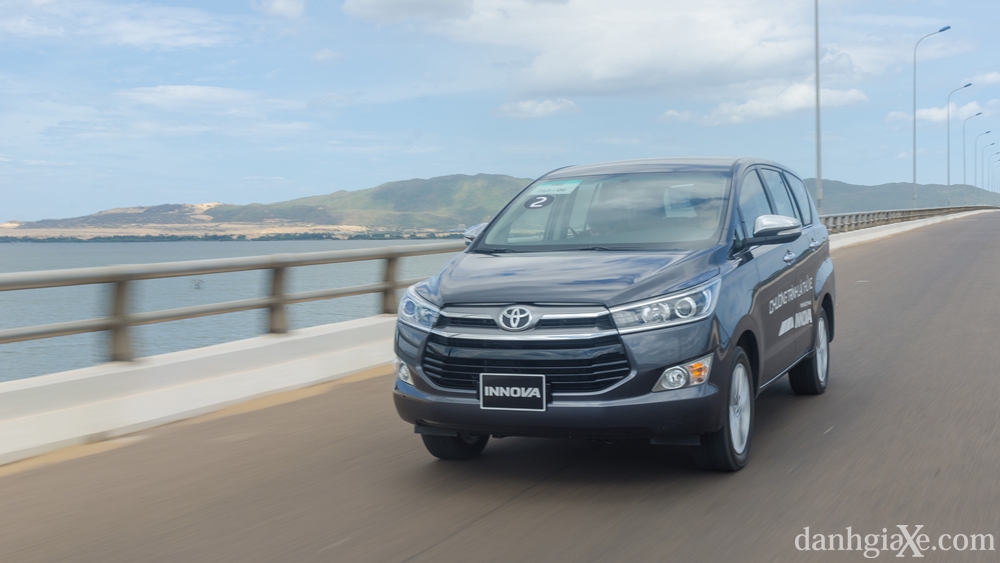 overview
Evaluation group scale
| | |
| --- | --- |
| Designs | |
| Operate | |
| Convenient | |
| Safe | |
| Price | |
Are you interested in this product? Send your information to us to receive the latest quotes from the company
General introduction
Mentioned Toyota Vietnam, people immediately think of the leading position in the automobile market with sales always in the leading group in many segments and holding more than 1/3 of the market share (up to the top in 2016). But then "the time" gradually turned around, the strong rise from existing rivals and the appearance of new names, especially the change in the mind of buying car of consumers, made Toyota unable to balance. Just as before, they need to change to adapt, but can not forever rely solely on the inherent reputation of the brand or the persistence of economical characteristics as before.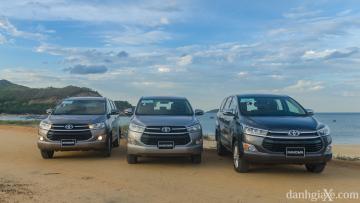 And as people often say, "the awakening giant," Toyota's first stretch of shoulders takes place with Innova, the most popular family car in Vietnam. for that: from 2006 to the end of 2015 there were 87,246 Innova cars delivered to customers.And after the first 6 months of 2016, the total sales of Toyota Innova cars in Vietnam market reached 5,185 vehicles, up 18% over the same period. period 2015.
After more than ten years of fighting, gaining the upper hand in the versatile MPV segment with a few slow upgrades, Toyota Innova 2016 officially launched Vietnamese customers in July, a bit slower than Malaysia or Philippines market. No longer have to "burden" comments that old bottles of old wine are often assigned with "light refurbished" versions of Toyota cars before, the second generation of Innova has now been improved from wood to water. paint, leapfrog both in exterior design and equipped with comfort, safety and operability.
The three main figures in Toyota Vietnam's business plan include:
• Innova 2.0 E, 2.0L engine, 5-speed manual gearbox, costs 793 million
• Innova 2.0 G, 2.0L engine, 6-speed automatic, costs 859 million
• Innova 2.0 V, 2.0L engine, 6-speed automatic, 995 million VND
When these numbers appear during the ceremony Launching Innova 2016, mixed opinions about selling prices immediately appeared with exponentially increasing numbers. Because the selling price from 800 to nearly 1 billion for a car that is considered merely to move, not too much prominence is something that the community deems "extremely unreasonable". There are also other options worth considering at the same price range, such as Chevrolet Captiva Revv, Kia Sorento, Mitsubishi Pajero Sport, Isuzu mu-X, etc.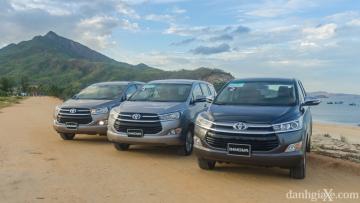 But then, up to now, Innova's August 2016 sales reached 1,000 cars and on the street it was not difficult to meet the new king of the segment. So what quickly helped Toyota Innova 2016 consolidate its leading position like that? And if the total number of points E, G, V received after the detailed evaluation of DanhgiaXe group will be, let us find out.
Exterior
Overview of appearance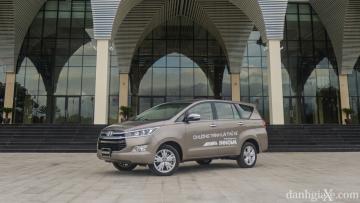 Initially, when the images of new Innova cars from Malaysia and the Philippines were "flooded" to Vietnam, everyone was very surprised about the new appearance of the Japanese MPV. Then when I came face to face, I stole the thought, "How does this car look like Toyota Innova ?!". That said to see that the overall design is still very close but now has been meticulously trimmed to become sharp and personality, strange but still familiar enough to create sympathy at first sight.
There have been many comments that the new Innova looks from a distance like a seven-seater SUV with beveled corners neatly, decisively with exquisite exterior details that are more elegant than its predecessor. Nor can it be overlooked that Innova cleverly "borrowed" quite a lot of design features from other brothers in the Toyota family. That is enough to win many loyal customers Toyota Innova When their long-awaited new model and model come true.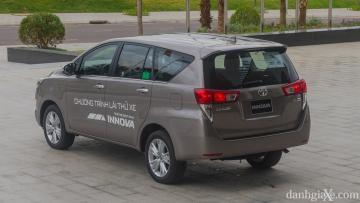 4,735 x 1,830 x 1,795 (mm) are measurements of the three "coordinate axes" Length x Width x Height, respectively, of Toyota Innova 2016, these parameters have increased slightly compared to the versions launched in 2014, helping Adding to the bulky looks as well as the emptiness for the passenger cabin. What Toyota maintains is the 2,750 (mm) two-axis distance, the ground clearance of 178 (mm) and the minimum turning radius of 5.4 (m), enough for Innova to turn around and travel under the conditions of delivery. common traffic in Vietnam, from dynamic urban areas, highways to undulating village roads.
Top car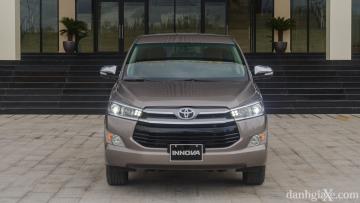 For me personally, the face of Innova over the past ten years there hasn't been so much change as Toyota has mostly just tweaked the grille or designed the lighting cluster between upgrades. So up to the current generation, Innova has really made a good impression thanks to the completely redesigned front end, all the details combined together to create a stronger and more modern appearance.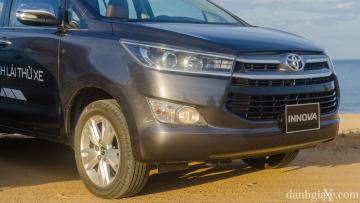 The capo no longer leans forward too much, this area also has two more prominent embossed veins, connecting the A-angle and a large polygon grille. The steering wheel part is no longer chrome plated but now replaced by glossy black plastic spokes on the lower part, while above the two chrome splint bars spread seamlessly into the contour of the headlight cluster. Not much different from the Highlander SUV. Finally, the full front bumper adds stability and peace of mind for the new generation of Innova.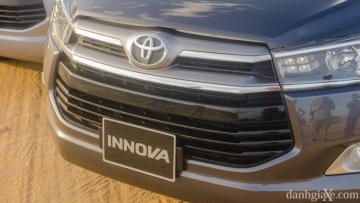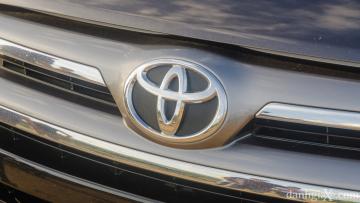 More details about lighting system of Innova 2016, this lamp socket has brought a completely new shape, sticking to the grille and hugging to both sides of the car body is sharp and fashionable. It is worth noting that this turn signal light separates from the headlight, low layout right next to the fog lamp looks quite strange and a bit unbalanced. If the two versions of G and E use the multi-directional / near-beam projector lamps with multi-dimensional reflecting halogen, Innova V is more upgraded with LED Projector style lights. Toyota also features standard on / off automatic lighting for the whole car, besides the 2.05 million version of 995 million continues to be better with the ability to adjust the projection angle automatically instead of having to manually adjust as two people. brothers G and E.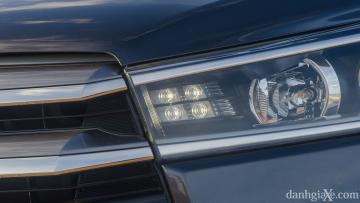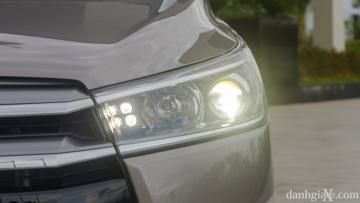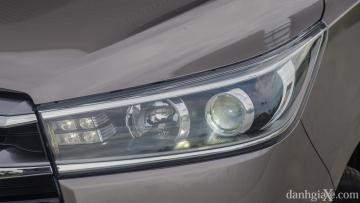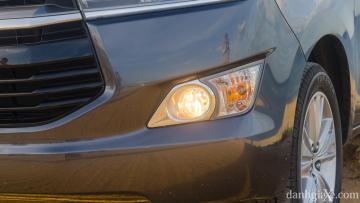 Vehicle body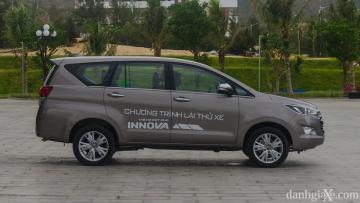 The new design with the long slouching look after all the glossy decorations, Innova 2016 from the side looks so elegant and elegant. The glass door in the C pillar is the main highlight when it is broken open to the top, and the sloping edge back is in the same direction as the spoiler tail, bringing a strange healthy look to the MPV which is still considered quite good. "Benign". Some of the genuine accessories that Toyota offers can be mentioned such as roof trim, rain cover, chrome door handle, …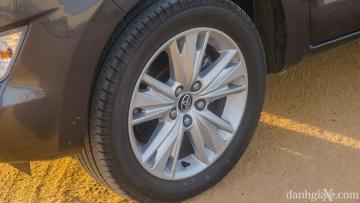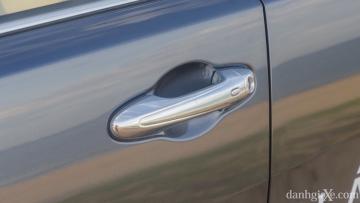 The minus point that far Toyota What can't be improved is the balance between wheel size and overall vehicle shape. Although the new wheels now have a much more multi-spoke design, they still look quite small, the proportion is not commensurate with the height and length of the entire Innova. If Toyota increased the wheel size of the V version from 17 to 18-inch and the G, E version from 16 to 17-inch Innova 2016 The more eye catching and energetic.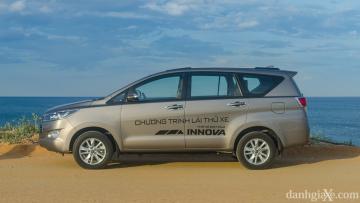 16-inch wheels at Innova 2.0 G
Rearview mirror is an equipment that I like the most because this detail inherited the status quo from the brother Hilux 2016, melodic and more refined than many monotonous designs before. In the E version, the rearview mirror will not have a folding button and a welcome light, the remaining three versions can be adjusted to power and integrated turn signals. An additional identity for Innova V is that the mirror will be chrome instead of the same body color as the G and E.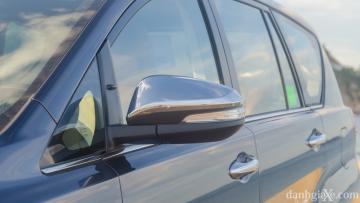 Rear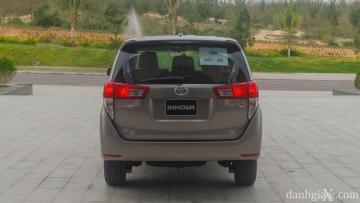 Neat, square and broken are words to describe in general car Innova in frontal view from behind. Toyota completely removed the soft, neutral to replace the modern and youthful style with a large spoiler tail, a shark fin antenna, two slender reflective lights located on the "muscular" rear bumper, and especially the L-shaped taillights horizontally horizontal "sharp". A closer look reveals that the taillights are set up in three relatively separate clusters, one located on the back door while the other two are placed along the body of the vehicle, the size allocated for good warning and Create harmony for the rear.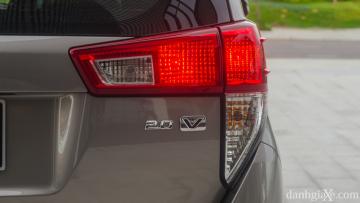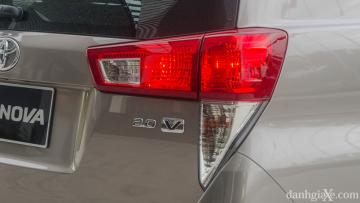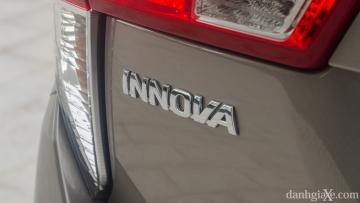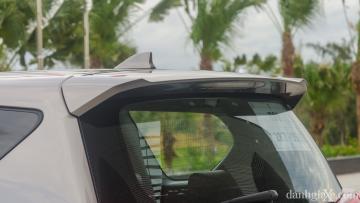 And as usual, the name of the Innova is stamped on the left and the names of the three versions 2.0 E – G – V are on the opposite side. The rear door of the car continues to be designed to maximize the accessibility of the rear compartment easier. After all, the exhaust pipe and spare wheel still appear quite clearly underneath the car as in previous generations, obviously reducing the decent for a family car like Innova 2016, hoping that Toyota will find a way. Overcoming this limitation in the next upgrade drawings.
furniture
Overview of vehicle compartment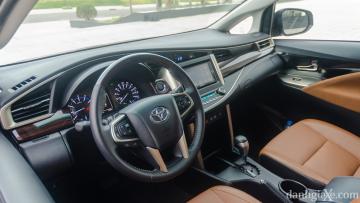 Just a bit funny, compared to the Innova taxis that we sometimes use to travel, the interior of Innova 2016 is clearly upgraded. The wide open space, the appropriate layout towards the usability, the modern design and the materials of good quality are truly remarkable in the new generation. The cabin of the 2.0 V version has 7 seats, which is comfortable enough to satisfy car buyers without having to spend too much money to upgrade. Meanwhile Innova 2.0 G and E with 8 positions for passengers will be a good choice for focusing on practicality and need a car with "durable interior".
Seats and passenger space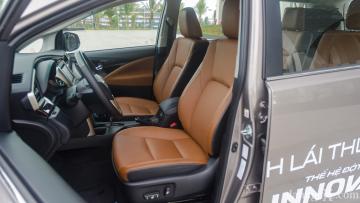 Three versions Innova 2016 E – G – V in turn uses the following seat cover materials: regular felt – premium felt – leather. The arrangement of three rows of seats in the versions is no different from the 2014 Innova generation, the number of seats in each row is 2-2-3 in E version and 2-3-3 in G version, E.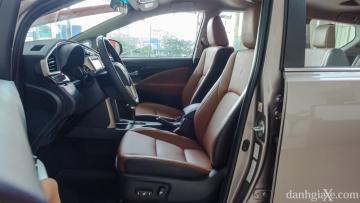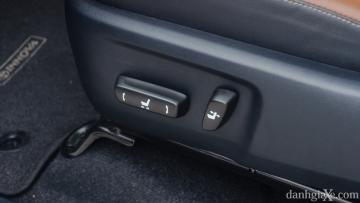 More comfortable is the driver seat at Innova 2.0 V with 8-way power adjustment, while the extra seats and front seats in the remaining two versions require a bit of strength to choose a satisfactory sitting posture. After trying out both the financial and extra seats in Innova 2016 versions, I felt comfortable with the backrest design and seat cushions with moderate hugging, neither too tight nor too wide, hips and bones life is well supported, headrest is also suitable for body size 1m7. However, the central pedestal in the case often found in Toyota models is quite short, if you have to move long, it will not promote the support effect and the driver will be quite tired.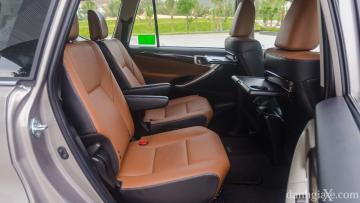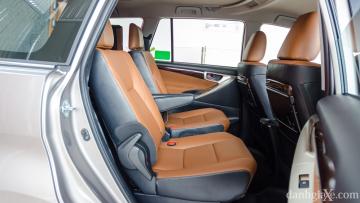 In the second row, Toyota offers a "1 billion MPV" two separate seats, as the Japanese manufacturer calls it "business class" but will still need to use its hands to customize 4 directions or fold. seats, which KIA Grand Sedona or Honda Odyssey also cannot avoid. In the other two versions of Innova, the middle bench has three headrests, sliding seat cushions and 60:40 folding ratio to support the access to the passenger seat at the end as well as expanding the capacity for cargo. . This seat position has good ceiling space and good legroom, the backrest can also be tilted back, so it is very relaxing in the blocking away.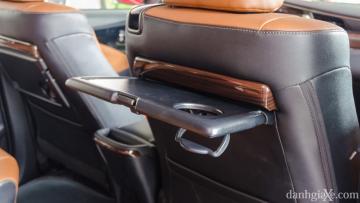 For those who need to work, the folding table behind the front seat will be a valuable support tool, but this detail has only a fixed step and this time the inclination of the plane is quite "weird". If you want to write comfortably or use a computer, ask the person in front to recline the back of the chair, and now you need to slide the seat backwards to fit more space.
The third row of Innova seats continues to feature with the ability to split and fold neatly on both sides. In the 2016 generation, thanks to the extended cabin compartment, the rear passengers also somewhat less cramped but the sitting posture is still very tight because the difference between the seat cushion and the floor is not improved. It is worth noting that the middle headrests can be fitted as needed, avoiding the extra passengers being disadvantaged when sitting on the gap between the two seats.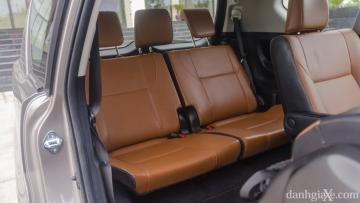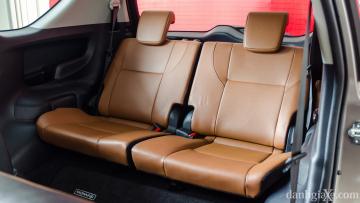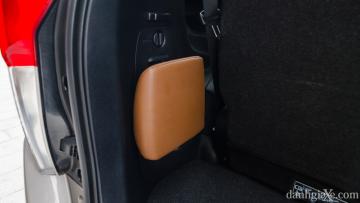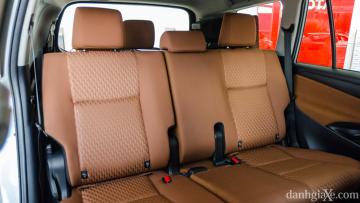 Tablo table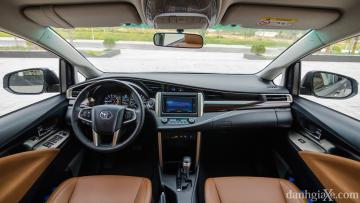 Tablo board is probably the bright star of the interior space, the smooth curves are intertwining and extending gradually towards the driver, so when I sat behind the steering wheel of Innova 2016 Feels like you are mastering the entire cockpit. If someone has never seen Innova with this photo before, it will not be easy for them to recognize which tablo is Toyota's car because compared to its current brothers, this design is beautiful, bright and attractive. more.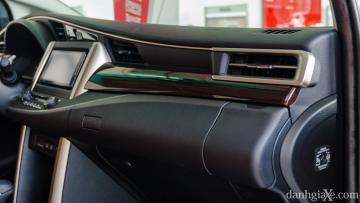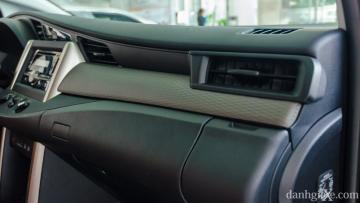 The layout and arrangement of the central control area has also made great strides Innova 2.0 V besides luxurious wood paneling material is also a touch screen for easier control operations, the remaining two versions of Toyota use young carbon imitation plastic cladding panels to combine with entertainment, air-conditioning clusters. button.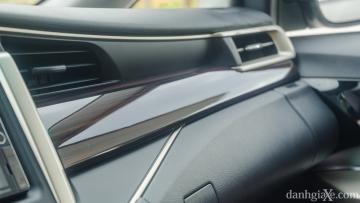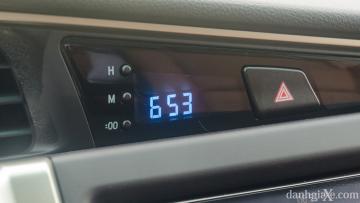 Steering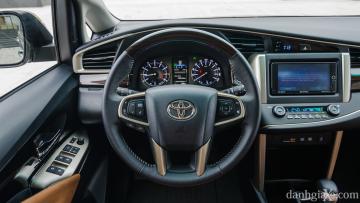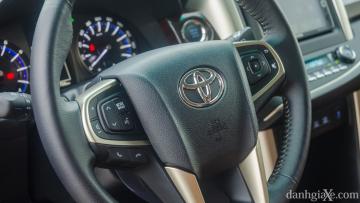 Innova 2016 equipped with a silver-plated four-spoke steering wheel, integrated multifunctional adjustment buttons, the V version is still "more expensive" with the addition of leather, decorative stitches and even a piece of wood from 11 o'clock to 1 o'clock. This detail somewhat reminds me of the opportunity to drive a Lexus RX 350, although the level is very different, but the steering wheel of Innova 2.0V really exudes a few hundred percent of their elegant and elegant manner. far goods.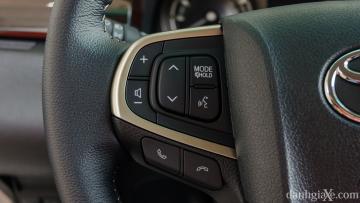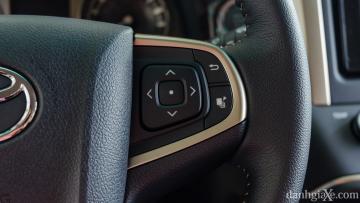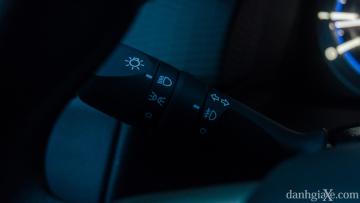 Clock display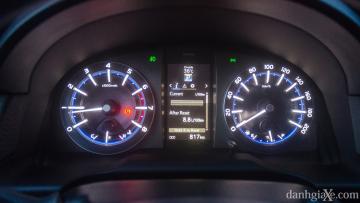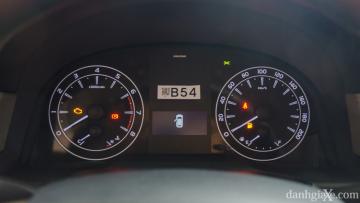 Although the same type of clock display consists of two cycles of rotation – symmetrical velocity through a multi-information screen, but in version 2.0 E is only a form of monochrome display (right image). Innova G and V, meanwhile, are more "colorful" with the Optitron design, which includes 3D cumbersome blocks that are too cumbersome (left), plus the 4.2-inch TFT display that clearly displays the parameters. Clear, healthy and easily monitored.
Car door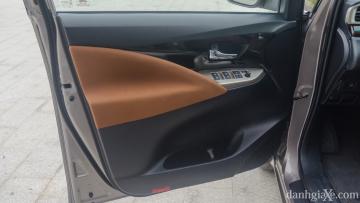 My impression of Innova 2016 that has remained so far since the experience is probably the sound of slamming the door, being less certain and showing thin and light corrugated iron. This was quite sad, even though when I first entered the cabin, I was very fond of the soft fabric covered in the palm rest or the hard plastic tiles, the glossy chrome door opening or the fine finish of the knob. electric glass door. Clearly Toyota Vietnam Need to improve more to bring peace of mind to customers, especially those who buy cars to serve their families, they will require not only an upgrade in comfort but also a guarantee. Long term in terms of quality from the manufacturer.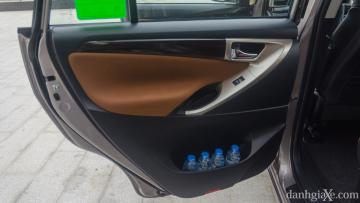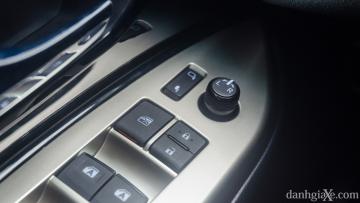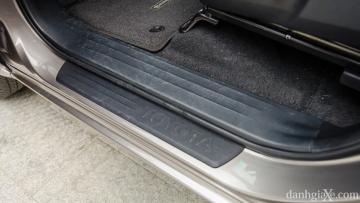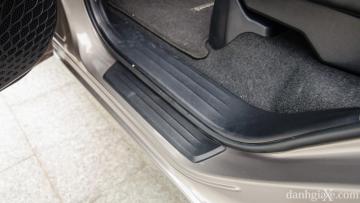 Equipment comfort
Audio-visual system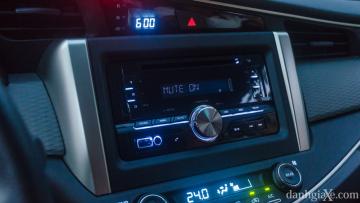 Looking at the entertainment features in two versions below 900 million, customers get a 1-disc CD player, 6 speakers, AM / FM Radio, MP3 / WMA music support and AUX / USB / Bluetooth stereo connectivity. Enlist while sitting in the back seat, I also tried tinkering using Bluetooth connectivity, which is a strange feature has never appeared on Innova before. With the interface includes quite a lot of buttons in version 2.0 G, after taking a few steps to confirm, we can also go to the step of checking the quality of genuine speakers. General comments are good sound, sound layers are clearly separated, enough to dispel boredom on long journeys together Innova 2016.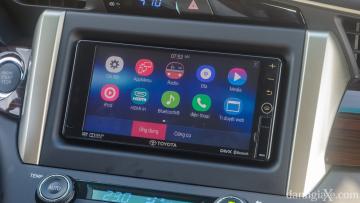 When it came time to move to the top of the premium version and look closely at the 7-inch touch screen, I was quite surprised that this was a Toyota-branded device instead of another third party or "anonymous". "As usual. The interface of the modern design manager and, most importantly, the pure Vietnamese, does not take too long to get acquainted right away and easy to use. The upgrade of Innova 2.0 V In the infotainment system, the two brothers also have a DVD player, HDMI / Wifi connection and voice control.
Air conditioning system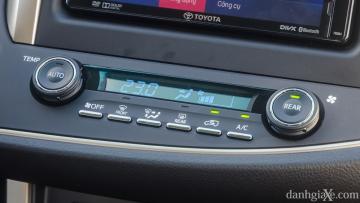 One of the main advantages of Innova so far is that each row has its own air cavity, useful in hot and humid tropical weather conditions of the South and Central, or cold winters in the highlands. Central Highlands and Northern provinces. The 2016 generation certainly inherits this feature with air-conditioning, including the G and V versions with automatic air conditioning, while the E version comes with manual control, the middle row position has individually adjust the wind level very convenient, you need cool or warm will immediately be met by Innova.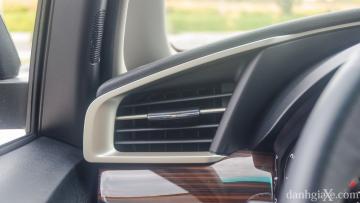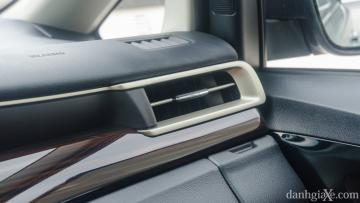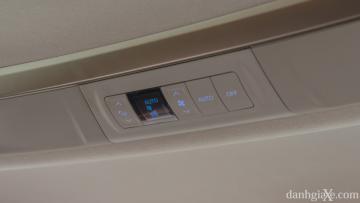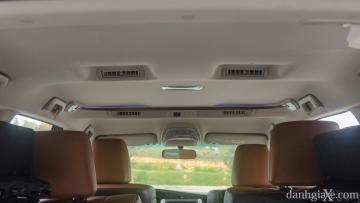 Interior lights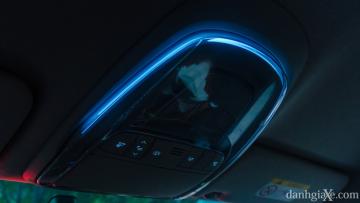 With the desire to get out of the shape of "Innova is just an ordinary car for business", Toyota has focused on investing in the MPV model with an eye-catching interior light. In addition to the lighting fixtures to assist passengers to enter and leave the car in the dark, the cabin now has a series of decorative lights on the door knob, floor and dome lights all have a very gentle blue tone. eye and elegant.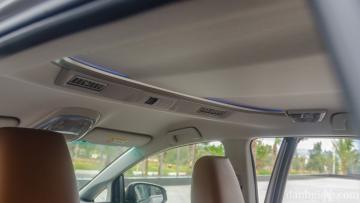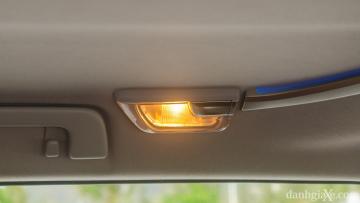 Storage space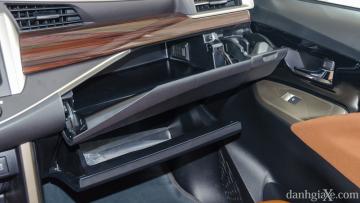 Not only has the space more spacious than before, the ability to store personal items and transport of furniture of Innova 2016 has also increased significantly. The cavity for bottles, storage cabinets are arranged throughout the cabin very handy, right position Toyota auxiliary seats also cleverly provide a cooling compartment enough for drinking water of all 7 passengers.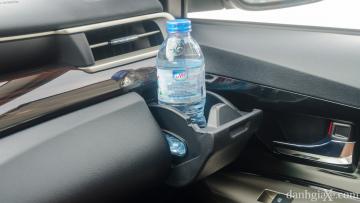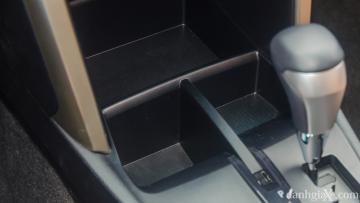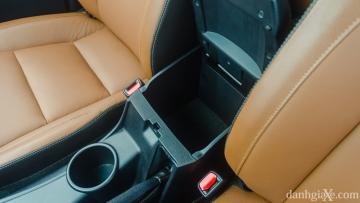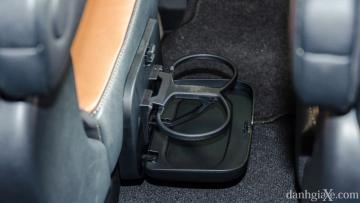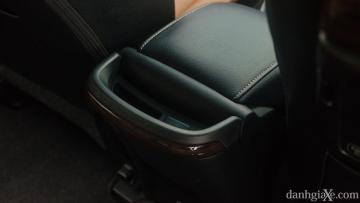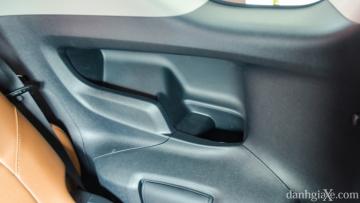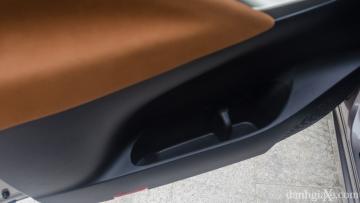 And when you need to travel with lots of luggage or bulky cargo, you can optionally arrange the cabin compartment with the folding of two rear seats, the floor is quite flat as the sides are slightly narrowed by the wheel cavity. and the third row is hung into the cabin.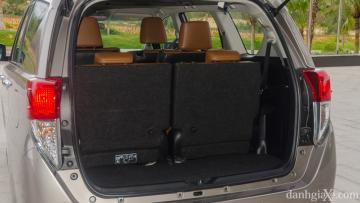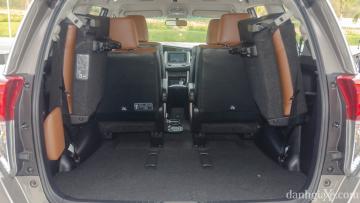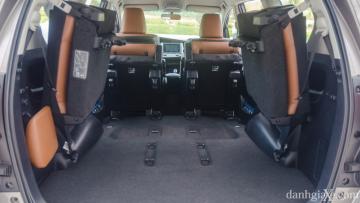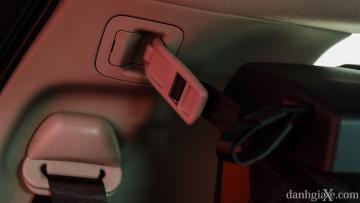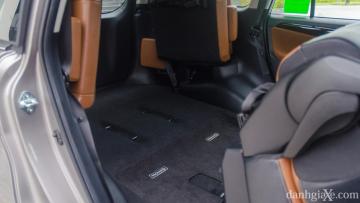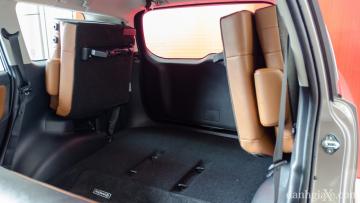 Operation, driving feel and safety
Engine, gearbox and drive system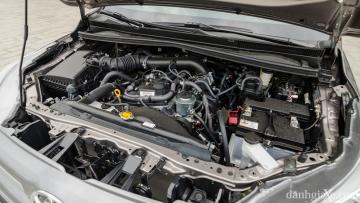 If you're expecting something new that is immediately recognizable under the hood or at least on the specs sheet, the 2016 Innova will surely disappoint you a little. supplement in terms of letters and figures. But when I looked closely, I learned that the engine of the new generation was "significantly changed", such as VVT-i now has Dual VVT-i; increase compression ratio from 9.8 to 10.4; air filter changed from round to rectangular; add resonance box on the intake airway; fuel injectors switch from 12-hole to 10-hole type with longer nozzle head;…
All of the 1,998 cc four-cylinder engines now have variable intake and exhaust cams, according to the manufacturer, which will help increase horsepower and torque and especially improve fuel efficiency. Whether. Specifically, Innova's 1TR-FE (AI) engine provides 136 horsepower at 5,600 rpm and maximum torque of 183 Nm at 4,000 rpm, each increased by a few units. with the previous generation.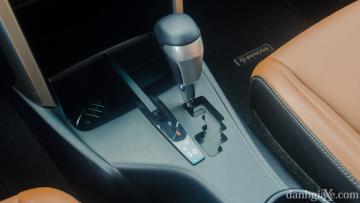 Regarding transmission, the Japanese car company really makes me happy when equipping Innova G and V All-new 6-speed automatic transmission instead of just 4 levels as before, significantly improving the gear ratio with the last two gear ratios increasing (the transmission ratio is less than one, specialized for vehicles moving in high speed and optimal fuel economy).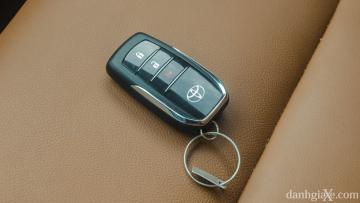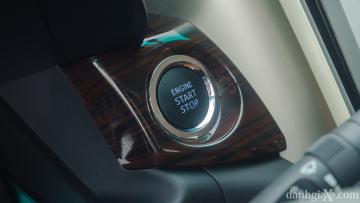 The E version continues to use the 5-speed manual gearbox but is also promised to minimize vibration when increasing and decreasing the number compared to its predecessor. And I was able to confirm this after the test drive, while digging in on engineering, it was thanks to the slightly reduced gear ratio. In addition, the weight of the new gearbox compared to the old one was also significantly reduced, from more than 50 kg to 38 kg, the oil capacity needed to lubricate the gears was also reduced. The drivetrain from the start has been correctly predicted that there will be no change, still two leading front wheels and two rear wheels driven.
Driving feeling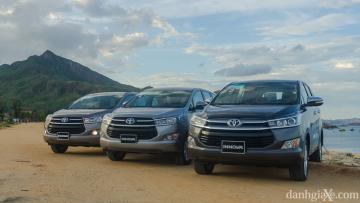 Journey of experience Innova 2016 I organized by Toyota can see almost ideal with all three versions of E – G – V and more than 200 kilometers around Quy Nhon, wheelchairs through all kinds of basic traffic conditions in Vietnam, from hard concrete rural roads, dirt roads, national highways and urban roads to winding coastal passes. According to the arrangement of the organizers, my companions and I will take turns driving the three models of Innova so that we can fully feel the latest MPV from Toyota.
The "steed" that started my block was Innova 2.0 E, at that time I figured I had to go through hardships before coming to leisurely. Although the steering wheel is not leather and lacks the preferred wooden cladding like in the V version, the steering column can be adjusted in 4 directions, so I quickly picked the position that fits the fingertips, the size of the diameter of the steering wheel. -Sang is also fitting, the grip is very comfortable and pleasant. I quickly looked at it in order to start the journey, feeling good about the observation of the new Innova as well, the capo exposed enough for me to guard the head of the car, the A-angle at a decent level, in return for a large rearview mirror like in Hilux, everything around the car is easy to grasp.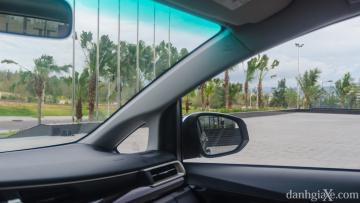 Just after I turned the key to start the engine, the guy next to me said "It's still that familiar sound", but the intensity has dropped sharply which is something we have to admit. The starting signal also came, I went straight into the first gear and then slowly clutched the clutch pedal to the wheelchair. After a few kilometers of starting, it can be said that the clutch and 5-speed gearbox of Innova 2.0 E work quite smoothly and comfortably, just focus on "going to the station" rhythmic then maybe soon 200 km will only consume a little more than 12 liters of gasoline a bit.
And then the first surprise came, at the Toyota launch that the chassis and suspension were also included in the upgrade list, which was evident when I followed the car ahead of the delegation with speed. about 60 km / h and not in time to decelerate when passing a hollow in the road. Just barely taking my right foot off the brake pedal, my hands grabbed the steering wheel reflexively. Then the way Innova 2.0 E dealt with the vibration, neatly and decisively, as well as the unsteady body, quickly disappeared, making me nod in satisfaction.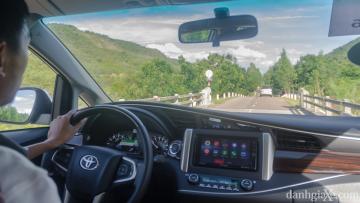 Further on we came to a concrete road, when I almost got a full appreciation of the Innova's oil-powered steering, still as leisurely as the inherent characteristic of the past. Toyota cars. Very neutral, pleasant in all situations but will not leave a "deep" impression with drivers who enjoy the pleasure of driving. Feedback from the road, feeling the visual angle of steering control is just average. The brake pedal is a little difficult to grasp at the familiarization stage, after the initial delay, the brake pads begin to clench the four wheels with a "hasty" part that makes the car hesitate a bit. Right next to, the gas pedal is "calmer", but no matter how much you click to respond, the feeling that the right foot receives is still a bit lacking, true "Toyota quality".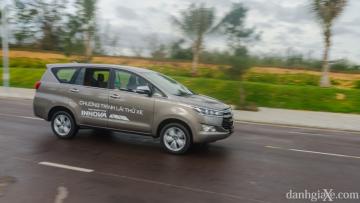 Then also ended the time accompanying version 2.0 E, we stopped to "change hands" for each other. Basically, the performance of Innova V – G is similar and "on paper" is only marginally better than the E version of the 6-speed automatic transmission, so my main purpose is nothing other than focusing on the page. that. But then the two guys made me forget my intention by the ability to soundproof, a lot better than the junior floor. If the old score 5 points in this category, the 2.0 E version will probably fall around 6 and the Innova 2016 automatic pair I will give 7.5 points. Not only was the sound from the engine compartment entering the cabin very little, but even the smoothness also increased significantly, later when I asked more closely, it was true that the 2.0 E version had less material panels. Sound of the cockpit compared to the other two versions. This also explains that the sound of tires from under the wheel cavity appears less, especially when we continue to go to the provincial road 642 with a rather degraded road surface due to the regular trucks and dump trucks. plow "over here.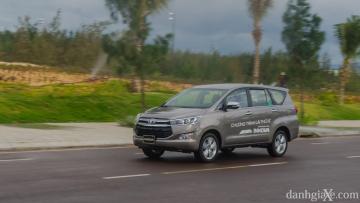 And then I also had time to focus on the automatic gearbox as I was about to, just going through the elegant and comfortable gear design when using it, the AC60E gearbox worked smoothly and very well. agreeable. Traction and acceleration of the engine are used reasonably, it does not create a feeling of "drowning" when accelerating even though the vehicle is traveling at 60-80 km / h, in addition to the shortages between the gears. still recognizable but much softer than the previous generation. Add an "old newcomer" appears in the 6-speed automatic gearbox that first appeared on Innova is the Manual mode that allows you to select arbitrary gear levels when going on a hill or hill.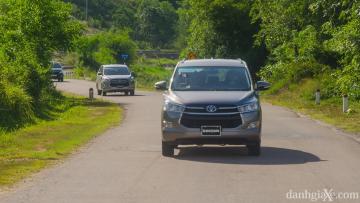 In the last run on version 2.0 V, I discovered the two function buttons that I had missed all along from the beginning, which is the button that activates two driving modes: ECO saving and high power POWER. Khác biệt chính giữa hai lựa chọn là mức vòng tua mà động cơ vận hành, độ nhạy bướm ga và âm thanh từ ống xả. ECO Mode hẳn nhiên nhẹ nhàng, êm ái hơn nhờ kim chỉ vòng tua hầu như được duy trì dưới mức 2.000 và chỉ nhích khỏi vạch số hai chút ít khi tôi cần vượt mặt, lúc này bướm ga mở cũng "từ tốn" hơn hẳn. Kích hoạt chế độ POWER, chỉ cần nhấp nhẹ chân ga là tiếng ống xả đã vọng vào trong cabin rõ rệt, vòng tua mặc định nay rơi vào khoảng 2.500 vòng/phút và tăng nhanh vượt mức 3.000 dễ dàng khi tôi nhồi thêm một tí lực ở chân phải. Kết hợp POWER Mode cùng chế độ Manul của hộp số tự động hay là cả 5 cấp số sàn, tôi nghĩ rằng bạn sẽ chẳng lo lắng về việc tăng tốc vượt mặt, vấn đề đáng quan tâm khi ấy chỉ còn là tốc độ giới hạn mà thôi.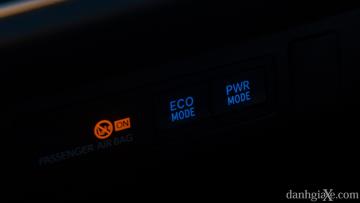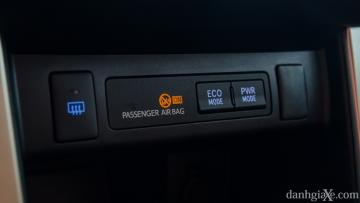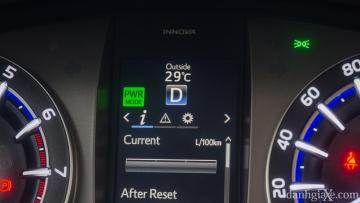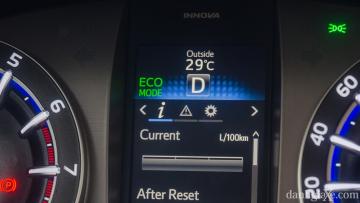 Fuel consumption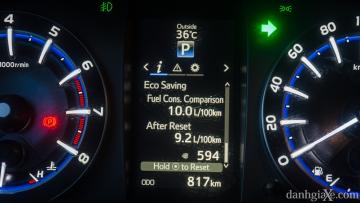 Thông số tiêu hao nhiên liệu từ Toyota công bố chỉ dành cho phiên bản 2.0 V, lần lượt với điều kiện trong đô thị – ngoài đô thị – kết hợp là 11,4 – 7,8 – 9,1 lít/ 100 km. So sánh với thực tế thì các con số này tương đối chính xác sau hành trình của tôi cùng các bạn đồng hành, với cách chạy có phần "bất ổn", cách dùng ga phanh không đồng đều của nhiều tay lái cũng như xen lẫn kích hoạt hai chế độ ECO hay POWER luân phiên thì cuối chặn chiếc Innova 2.0 V trong đoàn đã chạm đích với mốc 9.2 lít/ 100 km.
Safe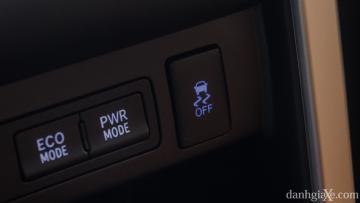 Rõ ràng Toyota có lý do khi gọi Innova 2016 là "Thế hệ đột phá", yếu tố cho thấy sự vượt trội hơn cả so với thế hệ trước đó chính là danh sách tính năng an toàn. Và hãng xe Nhật Bản mang đến cho khách hàng trang bị tiêu chuẩn ở ba phiên bản gồm có ba túi khí; hệ thống phanh ABS/EBD/AB; cảm biến lùi; cột lái tự đổ, khung xe GOA; ghế có cấu trúc giảm chấn thương cổ và hệ thống chống trộm.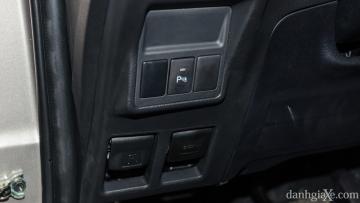 Riêng phiên bản 2.0 V toàn diện hơn cả với bổ sung hai túi khí bên hông phía trước cùng hai túi khí rèm; hệ thống cân bằng điện tử VSC, hỗ trợ khởi hành ngang dốc HAC và đèn báo phanh khẩn cấp EBS. Không rõ các bạn đọc của danhgiaXe có hài lòng với danh sách trang bị này hay chưa, nhưng với cá nhân tôi thì nghĩ rằng Toyota vẫn còn có thể làm tốt hơn thế đối với phiên bản cao cấp nhất. Tổng chi phí để Innova 2.0 V lăn bánh vượt ngưỡng 1 tỷ đồng thì chiếc MPV dành cho gia đình này tiếc gì mà lại không có thêm camera lùi hay điều khiển hành trình Cruise Control?
General evaluation
Matching object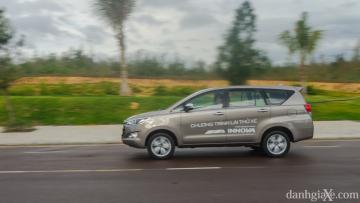 Tuy "khung giá" mới đã tăng thêm đáng kể nhưng nhìn chung các nhóm đối tượng khách hàng mà Toyota định hướng cho ba phiên bản Innova vẫn không có quá nhiều thay đổi, đây vẫn sẽ tiếp tục là một dòng xe đa dụng đúng nghĩa dành cho nhiều mục đích sử dụng khác nhau, nhiều nhu cầu đi lại khác nhau.
Đầu tiên, tại Việt Nam với những ai kinh doanh dịch vụ như chuyên chở hành khách hay cho thuê xe thì Innova 2.0 E và G sẽ là sự đầu tư hợp lý với cabin 8 ghế ngồi bọc nỉ cũng như các trang bị tiện nghi đầy đủ. Ở "phân khúc nhu cầu" cao hơn của các công ty, cơ quan và gia đình, dốc hầu bao hơn 1 tỷ đồng cho bản 2.0 V sẽ là một vấn đề được căn nhắc kỹ lưỡng bởi khách hàng vẫn chưa quen với việc Innova nay đã chạm đến mốc "chín số không", bên cạnh đó còn có một vài sự lựa chọn khác không kém hấp dẫn ở tầm tiền này.
Scoring and suggestions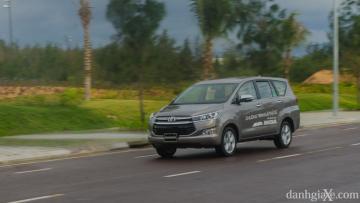 Mọi người vẫn thường bảo, tại Việt Nam xe của Toyota chỉ nên so sánh với xe Toyota thế hệ trước, đủ để thấy được giá trị thương hiệu vượt trội của hãng xe Nhật Bản so với các đối thủ. Và thật sự Innova 2016 đã "ăn đứt" người tiền nhiệm về mọi khía cạnh, từ ngoại thất hiện đại hơn, nội thất rộng rãi hơn, trang bị tính năng và an toàn nhiều hơn, vận hành vững chãi và tiết kiệm hơn. Tuy vẫn còn một vài hạn chế về chất lượng hoàn thiện, nhưng Innova 2016 quả là một nỗ lực đáng khen để Toyota chứng tỏ và củng cố thêm vị trí dẫn đầu tại thị trường ô tô Việt Nam vốn đang cạnh tranh đầy khốc liệt.
Sau những trải nghiệm với Toyota Innova 2016, nhóm danhgiaXe thống nhất dành cho mẫu xe này điểm số 3.8/5. Nếu bạn đã và đang sử dụng Toyota Innova 2016, hãy cùng chia sẻ cảm nhận với mọi người nhé.
See more news of other models:
Toyota Altis

Toyota Fortuner

Kia Morning

Mazda CX-5

Chevrolet Cruze
Technical data
Toyota Innova 2.0E

793 triệu

Toyota Innova 2.0G

859 triệu

Toyota Innova 2.0V

995 triệu

Toyota Innova V

867 triệu

Car body




7 multi-purpose seats

Car body




7 multi-purpose seats

Car body




7 multi-purpose seats

Car body




7 multi-purpose seats

Number of seats




8

Number of seats




8

Number of seats




7

Number of seats




7

Number of windows




5.00

Number of windows




5.00

Number of windows




5.00

Number of windows




5.00

Engine type




Engine type




Engine type




Engine type




Engine capacity




2.00L

Engine capacity




2.00L

Engine capacity




2.00L

Engine capacity




2.00L

Max power




136.00 mã lực , tại 5600.00 vòng/phút

Max power




136.00 mã lực , tại 5600.00 vòng/phút

Max power




136.00 mã lực , tại 5600.00 vòng/phút

Max power




134.00 mã lực , tại 5600.00 vòng/phút

Maximum torque




183.00 Nm , tại 4000 vòng/phút

Maximum torque




183.00 Nm , tại 4000 vòng/phút

Maximum torque




183.00 Nm , tại 4000 vòng/phút

Maximum torque




182.00 Nm , tại 4000 vòng/phút

Gear




5.00 levels

Gear




6.00 level

Gear




6.00 level

Gear




4.00 levels

Drive type




Drive type




Drive type




Drive type




Fuel consumption




0.00l / 100km

Fuel consumption




0.00l / 100km

Fuel consumption




9.10l/100km

Fuel consumption




0.00l / 100km

Air conditioning




chỉnh cơ 1 vùng

Air conditioning




automatic 1 zone

Air conditioning




tự đông 1 vùng

Air conditioning




Number of airbags




3 túi khí

Number of airbags




3 túi khí

Number of airbags




7 airbags

Number of airbags




2 airbags
Did you find the article helpful?
Featured review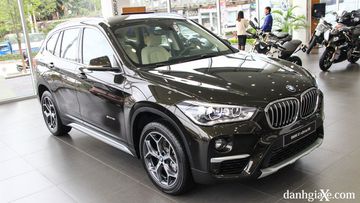 Preliminary assessment of the BMW X1 2020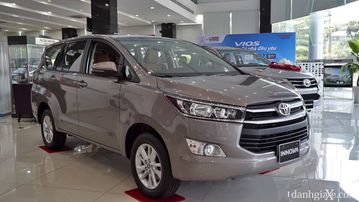 Preliminary assessment of Toyota Innova 2020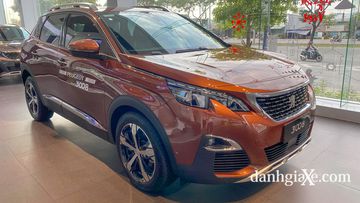 Preliminary assessment of Peugeot 3008 2020 car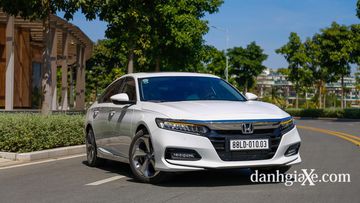 Detailed evaluation of Honda Accord 2020 car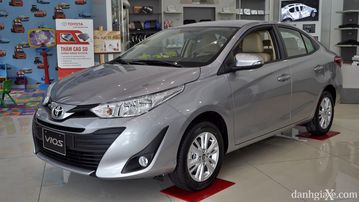 Detailed evaluation of Toyota Vios 2020 car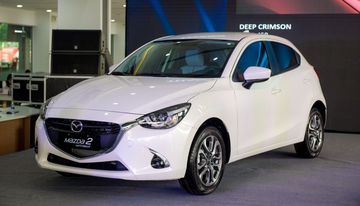 Preliminary assessment of Mazda 2 2020
Featured article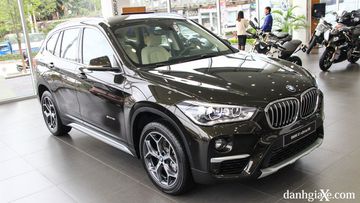 Preliminary assessment of the BMW X1 2020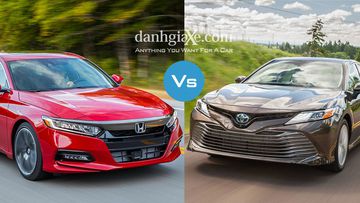 Quick comparison of Honda Accord 2020 and Toyota Camry 2020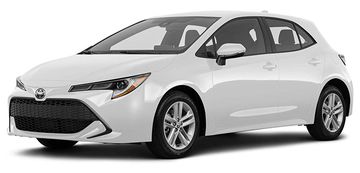 Top 10 best-selling cars in the world in 2019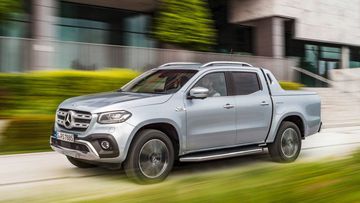 Mercedes-Benz confirmed it will discontinue production of the X-Class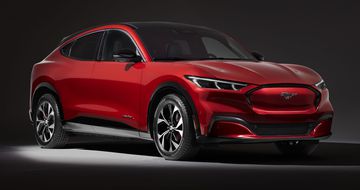 Ford Mustang Mach-E reached 32,000 orders after just over 2 months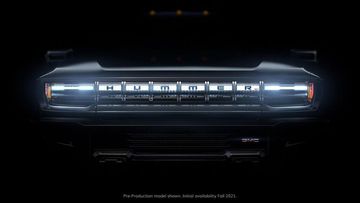 Hummer will revive as a pickup, up to 1000 horsepower
new post
Son Vinh

Article: 90

Quick comparison of Honda Accord 2020 and Toyota Camry 2020

Toyota Camry and Honda Accord have long been a pair of cards, competing in the D-class sedan segment in the world. However, in the Vietnamese market, Toyota Camry has a large position, while Honda Accord is only ranked in the remaining group with Mazda 6, Kia Optima …




Believe

Article: 1722

Mercedes-Benz confirmed it will discontinue production of the X-Class

The German automaker has announced that it will suspend production of the luxury Mercedes-Benz X-Class pickup model since the end of May 2020. The reason is that the competitiveness and the sales achieved in recent years are declining.