After a detailed review of OPPO Reno3 standard version, we have received a lot of feedback looking forward to evaluating the Pro version called OPPO Reno3 Pro. After a week of experience, I feel a lot of things need to be clearly stated in this smartphone, especially that OPPO focuses on investing in cameras as well as performance to bring the best experience. Subscribe to the article immediately offline.
See also: How many product lines are OPPO currently trading in? – Do you know all?
1. Is the camera worth the wait?
Right at the time of the launch of OPPO Reno3 Pro, Chinese giant OPPO has said that this will be a mid-range super product, with the strongest advantage and properly invested is the selfie camera. But, is this true?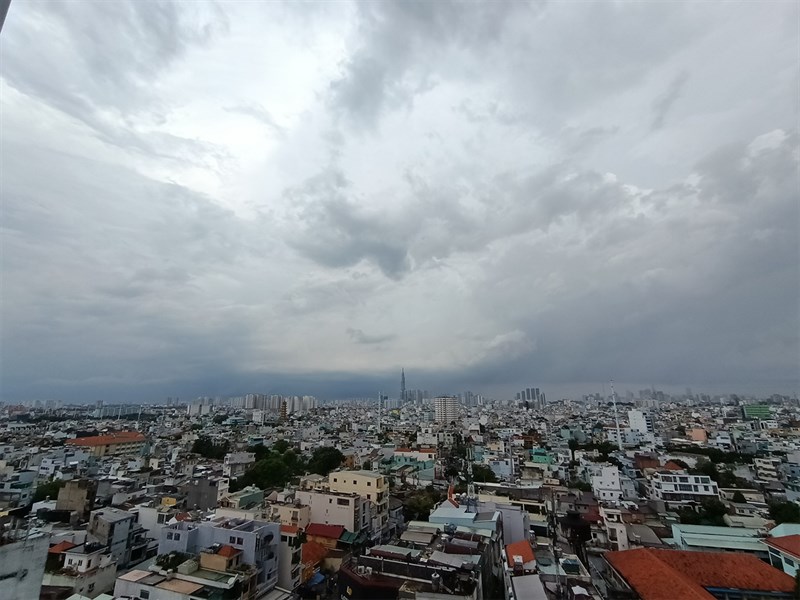 To answer this difficult question, I made a series of photos to test the ability to shoot immediately in automatic mode with OPPO Reno3 Pro. But first, let's review the hardware specifications of the 4 cameras:
Wide-angle lens: 64 MP resolution, f / 1.7 aperture, 27 mm focal length.
Telephoto lens: 13 MP resolution, f / 2.4 aperture, 52 mm focal length, supports 2x zoom.
Super wide-angle lens: 8 MP resolution, f / 2.2 aperture, 13 mm focal length.
Lens depth: 2 MP resolution, f / 2.4 aperture.
Well, let's see the ability to take photos in different conditions using the automatic mode on this OPPO Reno3 Pro. I invited my friend in high school to go take a small picture right at the Ho Chi Minh City Fine Arts Museum with OPPO Reno3 Pro.
First, in bright enough conditions, I appreciate the ability to adjust the colors of OPPO Reno3 Pro, giving a fresh and radiant photo. Speaking of subjects, Reno3 Pro does not disappoint me when the surrounding details are clear and not blurred.
In cloudy weather conditions, the device automatically increases contrast, exposure and makes the sky more blue to make the feeling look uncomfortable and sad. What Reno2 previous generation did, Reno3 Pro here did better.
Not yet re-used there, I also tested the ability to take pictures in complex light conditions to see if Reno3 Pro is really a super mid-range product. Everything is beyond my expectations because the camera offers well-organized, clear and flavorful photos. Be assured that Reno3 Pro does not disappoint you in indoor photos.
Take a photo of yourself using portrait mode to see how. Do you like this picture or not? Thanks to the depth camera, Reno3 Pro is able to remove the fonts in a proper way and look quite harmonious overall. However, Reno3 Pro has not completely erased the hair.
Finally, I tried the night shot feature on OPPO Reno3 Pro – arguably the most thoroughly invested technology on the Reno3 Pro camera. As expected, the image is not only clear, bright, pleasant colors, but the subject is also softened.
In addition, the selfie camera cluster is also strongly hit by OPPO to bring beautiful and shimmering photos. Selfie camera cluster has parameters including:
Wide-angle lens: 44 MP resolution, f / 2.4 aperture, 26 mm focal length.
Lens depth: 2 MP resolution, f / 2.4 aperture.
Above is a photo taken with the selfie camera on OPPO Reno3 Pro. How do you feel? But I find the selfie ability of the phone is also quite good, looking harmonious and pleasant. However, if you look closely, you will see that the hair is a bit flat and a bit smudged.
But, what OPPO is confident about is its ability to take selfies in low light. Smooth skin, bright frame, clear details and good contrast are the advantages that help Reno3 Pro stand out. It also proves that what OPPO said is true.
2. Hold Reno3 Pro, the play is also smooth
First of all, I will take a look at the hardware specifications of OPPO Reno3 Pro:
CPU: MediaTek Helio P95 8 cores.
GPU: PowerVR GM 94446.
8 GB RAM.
Internal memory: 256 GB.
OS: Android 10.
Surely after many of you see the configuration with Helio P95 chip, you will be skeptical about the ability to handle Mobile games on OPPO Reno3 Pro. However, I can guarantee that what Reno3 Pro will bring you will not disappoint. I immediately fought 4 popular games on Mobile: Lien Quan Mobile, PUBG Mobile, Call Of Duty Mobile and ZingSpeed ​​Mobile.
The first one is in Lien Quan Mobile game, the standard configuration is suggested as FPS 30. However Helio P95 also allows you to turn FPS to a maximum of 60 and I recommend you turn on High FPS to experience the game one. the most wonderful way. Because the CPU handles the frame very well and feels like a game with hands.
Moving to the second game, PUBG Mobile, Reno3 Pro only allows you to turn graphics on HD and high frame rates. But you can rest assured because the machine is very smooth, so I am very confident in every shot or continuous shot.
At Call Of Duty, I am confident that you will not be surprised at the processing capability of Helio P95. The recommended configuration is a high FPS (maximum of 60) and look at the performance of MediaTek's CPU.
Finally, I have experienced the game that made the PC on the world many years ago and quite hot in recent years: ZingSpeed. Standard configuration is high FPS (maximum 60) and please rest assured that maxed it out. You will experience the drift and Nitro phases in a lively, attractive, stable way.
In addition to practical experience, I also did not forget to use some scoring software to evaluate the configuration and performance in the most fair way. The software I choose includes: GeekBench 5 and 3DMark.
GeekBench 5: Single core reached 391 points, while multi-core reached 1,356 points.
3DMark: API's OpenGL reached 94,804 points, while API's Vulkan reached 737,280 points.
3. Friendly design but …
The camera and performance of Reno3 Pro are already reassuring, right, but how contrary is the design of OPPO Reno3 Pro is not as expected. Not only myself, many of you here also feel regret and remember the carefully sculpted and machined armor of the first OPPO Reno.
First of all, let's talk about aesthetics. I am a boy, like metal, like elaborate lines and like creativity and breakthroughs. Those elements I found on Reno, but what I saw in the Reno3 Pro version is just a body made of plastic, the back surface is polished with organic glass.
In OPPO Reno2 you will see a true beauty of a high-end smartphone with metal material and a glossy back. But when looking at Reno3 Pro, the device does not have a pop-up camera, just made of plastic looks like a mid-range device.
Reno3 Pro is now no longer feeling the heavy hand of luxury, preciousness and lightness as a true mid-range smartphone. However, when it comes to user experience, this design shows that OPPO is more interested in users and more listening.
Holding the original Reno was tough and the machine was heavy and slippery. If you are a sweaty person, it is easy to drop the device. Not only that, because it is made of metal, the machine is heavy and a bit bulky. But in Reno3 Pro, it is different, you will easily hold and use thanks to the curved back, easy to tuck the pants pocket, one hand experience is also different smoothly.
Another difference in Reno3 Pro and the original Reno is the placement of the camera and the roller. Talking about the first Reno, we will have the camera vertically centered, not protruding at all and there are rollers to avoid camera collisions. But in Reno3 Pro, the rear camera cluster has increased to 4, placed vertically in the upper corner and there is no roller on the back.
Meanwhile, the front of us is no longer the type of camera design pop-up shark fin fin anymore but merely a perforated screen. In just a short 1-2 years, the camera emerged as a phenomenon but then disappeared in the dark. I will soon have an article on this issue for you to better understand.
Going back to our main character, OPPO Reno3 Pro has a 6.4-inch screen with a resolution of Full HD +. Thanks to that, the experience of watching movies and playing games will be clear, vast and eye-catching.
This smartphone uses a Sunlight Super AMOLED panel for high contrast, vibrant colors, clear colors and deep blacks. If compared to high-end smartphones using IPS LCD, you will see the difference in color effects of the two devices.
4. Holding OPPO Reno3 Pro, feel free to use it all day
With a battery capacity of 4,025 mAh, I expect that the Oppo Reno3 Pro will be able to work all day long. But with the Helio P95 chip and the SuperAMOLED screen, I was a bit worried because I was afraid the phone wouldn't last. What will be the reality? I tested the battery of Reno3 Pro through practical use, with:
Experience 4 turnaround tasks: Battle of the Union, watch YouTube, surf Facebook and use the browser (Chrome).
Each task takes 1 hour.
100% backlight.
Plug in wired headphones throughout.
Do not turn on battery saving mode or adaptive screen.
Turn on high performance mode.
Open WiFi and notifications from social networks.
Do not turn on GPS, Bluetooth and NFC.
Measured from 100% to 0%.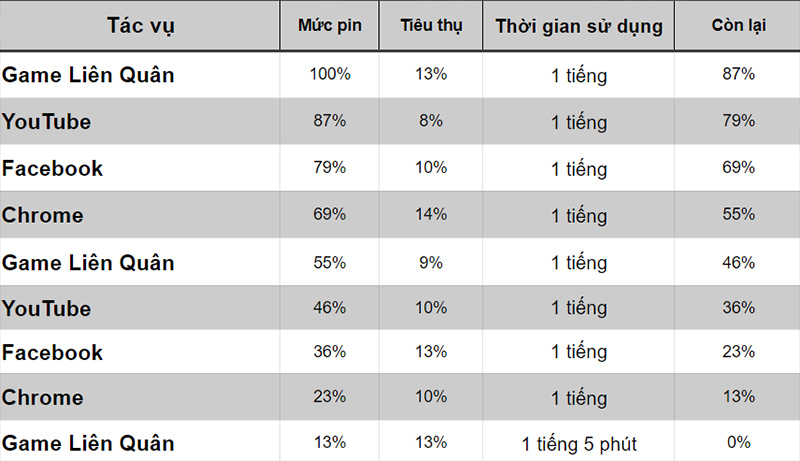 So the battery life I measured with the intensity of continuous use reached 9 hours 5 minutes. Perhaps many of you here think that this is not a long time, but remember that you are opening up to maximum performance and continuous use. In addition, if the battery runs out of luck, you can still take it easy, because OPPO has included a VOOC 4.0 quick charger in the box and just need to wait for a while to fully charge.
Should choose OPPO Reno3 Pro or not?
This is a tough question. Firstly, if you look at the values ​​that OPPO Reno3 Pro brings such as the camera is quite good, smooth configuration and even fast charging with 100% full speed in 59 minutes, this is really a product that users are expected.
But, the price we have to pay for Reno3 Pro is nearly 15 million and this is a slightly high price. In this price range, OPPO should have equipped a Snapdragon chip instead of MediaTek Helio, machined metal body instead of pure plastic. What do you think of OPPO Reno3 Pro?
See also: Detailed evaluation Realme C3i: Cheap version but not cheap!
Edited by Truong Ba Tuan
Not satisfied with the article
245 views
Related posts
🎧 What's new in technology last week HOT 23/5: Xiaomi Mi Band 5 launched in July. Many old Samsung smartphones have been suspended for recovery


3 hours ago

Realme Buds Air Neo exposes the design and all the attractive features before the launch, the attractive price is only about 900 thousand


2 days before

Realme X3 SuperZoom set a date for release, here is the information you need to know before welcoming new Realme members


3 days ago

Listing so cheaply, in less than 128 seconds, more than 70,000 Realme Narzo 10 were sold


4 days ago

Realme X3 SuperZoom revealed real photos and top configuration before launch date, you guess the price around how much?


5




4 days ago

The Realme X50 Pro Player Edition gets an important certification, is equipped with Snapdragon 865, has up to 12GB RAM, and camera specs are inferior to the standard version.


4




5 days ago
.