Notepad ++ is a great editing tool, suitable for novice programmers or those learning to code, this article will share Notepad ++ tips and instructions in detail. so that you can master and use more effectively.
Related posts
How to replace Notepad with another text editor on Windows
How to add Open With Notepad to the right-click menu when selecting File
Command to open Word, Excel, Notepad, Paint with Windows R
Summary of Notepad ++ keyboard shortcuts on Windows 7, 8, 8.1, 10
How to open notepad on the computer
Currently, Notepad ++ is programming tools Compact editing is used by many programmers, from professionals to those just beginning to learn and familiarize themselves with programming.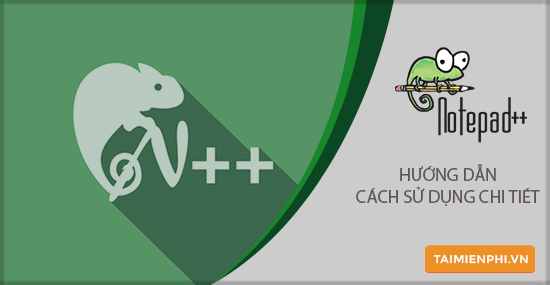 Using Notepad ++ to compose text, write html code, c ++
Gathering many advantages of the required code editor, Notepad ++ allows users to possess many intelligent features such as: Highlight code (Highlight), Auto Complete (Automatic completion), Debug (Error correction), … supports a variety of programming languages. In particular, Notepad ++ is extremely compact, has a simple design interface and is easy to get used to.
To help you get acquainted with making the most of the software's features in this article, Taimienphi will share with you tips on how to use it. Notepad ++ effective.
Content:

1. Macro
2. Test run
3. Change interface
4. Browse by tree
5. View 2 areas of a document
6. Search in text
7. Replace in-text
Instructions on how to use Notepad ++
1. Macro feature
With this feature, users can save their own code Marcro (Command), then paste it in the original format without having to write it again. It is worth noting that users can back up many different commands and assign them as shortcuts for multiple use.
To use Notepad with this feature, click Macros in the toolbar and click on options.
– Start Recoding: Start recording an instruction.
– Stop Recoding: Stop taking notes.
– Play back (Crtl + Shift + P): Repeat the copied command.
– Save Current Recoded Macro: Save and create a shortcut for the command just copied.
– Run a Macro Multiple Times: Option to execute one command more than once.
– Modify Shortcut / Delete Macro: Manage commands and shortcuts.

2. Run the code in the specified environment
To test how your HTML or CSS code is working on a web page, save it in .html format and then open it in your browser. Alternatively you can specify code testing on a particular browser.
Step 1: Press Tremor on the toolbar, select Tremor one more time or you can press shortcut F5.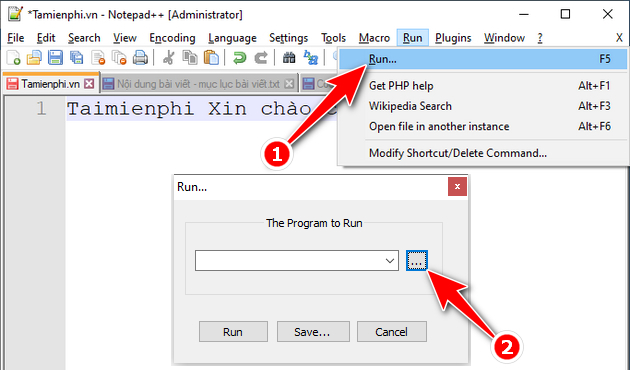 Step 2: In the Run window, click 3 dot icon to select a browser link and press OK.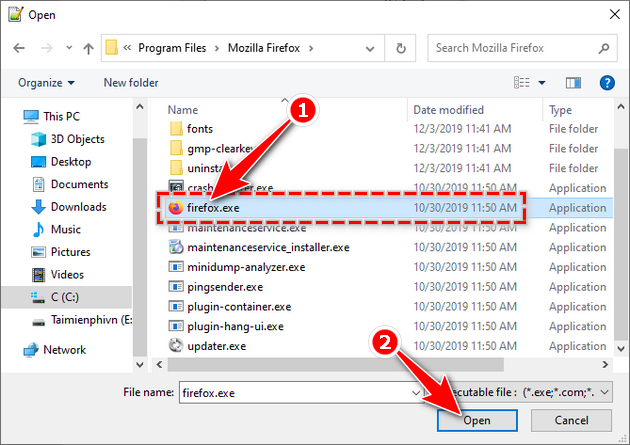 Step 3: Press Tremor and see the results.
3. Change the work interface
If you are too boring with the default working interface of Notepad ++, you can change it as you like with available features. How to do it as follows.
Step 1: Click Settings (Settings), select Style Configurator.

Step 2: Click Select theme and choose the interface you like.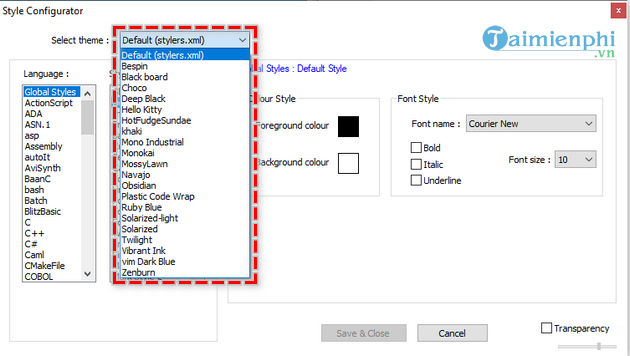 Step 3: Click on the item Style and select details in the list to re-select colors, fonts, font sizes, …
Once done, click Save & Close.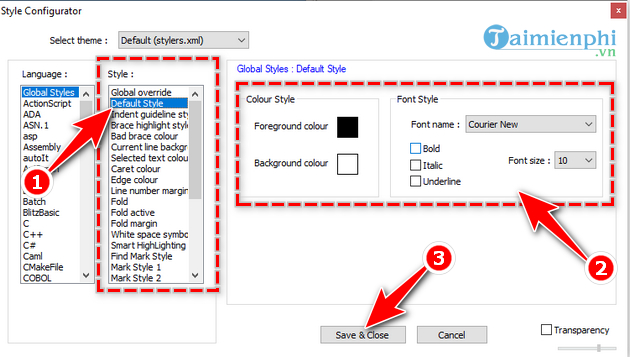 4. Browse files by tree list
– By default, Notepad ++ will manage your working files as tabs displayed at the top of the screen. This can be difficult when you have to work with too many files at once. To make it easier to manage multiple files, you use the feature Folder as Workspace – allows you to view and browse files in a directory tree.
– Click File on the toolbar, select Open Folder as Workspace. Select the folder containing the files you need to work with.

5. View 2 areas of text at the same time
Open the file to work, select the card View. Click Move / Clone Current Document, choose Clone to Other View.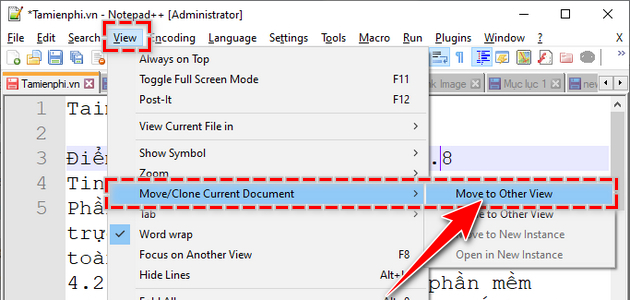 Once completed, the result should look like the image below.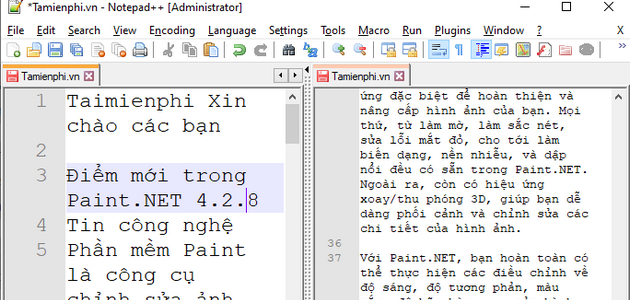 6. Search for words or sentences in text
Step 1: Press the key combination Ctrl + F and choose the card Find.
Step 2: Enter keywords to search for in the box Find what and choose Find all in All Opened Documents.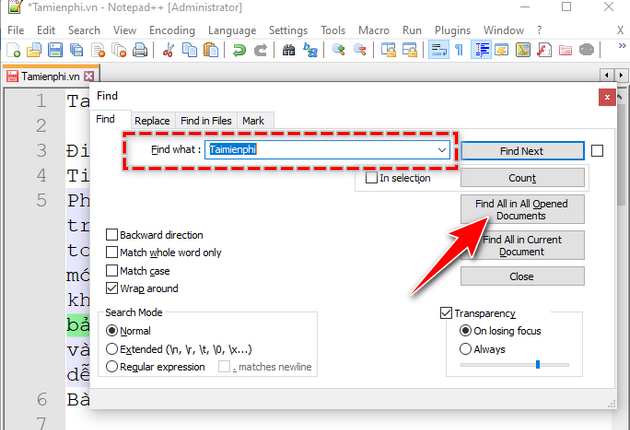 The results will be displayed in the table below the screen.
7. Replace word or sentence in text
Step 1: Press the key combination Ctrl + H, choose card Replace.
Step 2: Enter keywords to replace the box Find what and enter an alternative keyword in the box Replace what. Finally, click Replace All to replace all words to be replaced in the text into the selected word.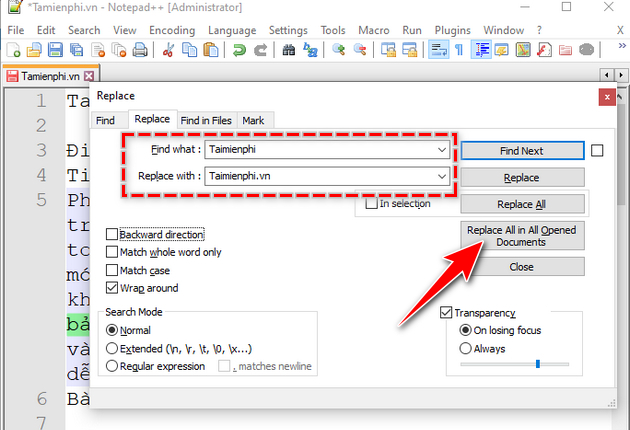 https://thuthuat.taimienphi.vn/huong-dan-su-dung-notepad-chi-tiet-54658n.aspx
Thus, Taimienphi has shared with you the instructions to show you how to use Notepad ++ with some outstanding features in the most detailed way. During the process of learning this editor, if there is anything still not understood, please leave a comment below this article for Taimienphi to answer for you in the shortest time.
See also: Complete list of Notepad ++ keyboard shortcuts
.