Home page
Assessment form
Detailed evaluation of Hyundai Kona car 2020
Detailed evaluation of Hyundai Kona car 2020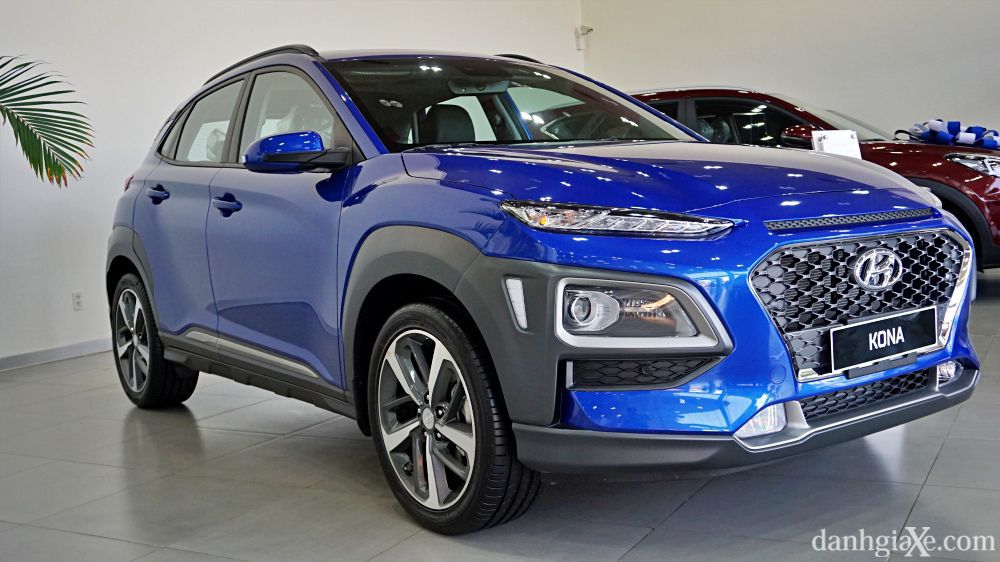 overview
Evaluation group scale
| | |
| --- | --- |
| Designs | |
| Operate | |
| Convenient | |
| Safe | |
| Price | |
Are you interested in this product? Send your information to us to receive the latest quotes from the company
General introduction
Hyundai Kona is an urban SUV that receives a lot of attention in the segment. Since its launch in August 2018, Hyundai Thanh Cong has sold more than 8,000 Kona units, of which cumulative sales for 11 months of 2019 reached 6,147 vehicles, nearly double that of American rival Ford Ecosport (3,666 vehicles). .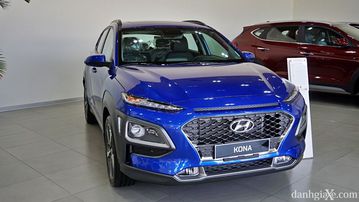 Currently, the Hyundai Kona 2020 is still assembled locally by TC Motor in the form of CKD and distributed in 3 versions. Specific selling prices are as follows:
Kona 2.0 AT: 615 million
Kona 2.0 AT Special: 675 million
Kona 1.6 Turbo: 725 million
Rolling prices in Hanoi and Ho Chi Minh City of these 3 versions are as follows:



Considering in the same segment, this price is slightly higher than Ford Ecosport (5 versions from 545 – 689 million VND) and lower than Honda HR-V (2 versions from 786 – 866 million VND).
Exterior
2020 Hyundai Kona has overall dimensions Length x Width x Height of 4,165 x 1,800 x 1,565 (mm), wheelbase of 2,600mm and ground clearance of 170 mm. Thus, compared to the Ecosport, the Kona is shorter, shorter, wider and larger wheelbase, promising for good urban maneuverability but still ensures that the cabin is spacious and comfortable. This comment is also true when compared to the HR-V, but the Japanese B-SUV prevails with a wheelbase of slightly more than 10mm, providing more leg room.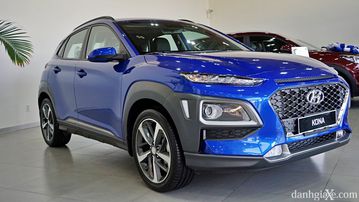 See also: Preliminary assessment of Ford Ecosport 2019.
One of the most attractive elements on the Hyundai Kona is the exterior design, which is most noticeable right in the front of the car. Cascading Grill, which is part of Hyundai's new design DNA, also appears on models like Elantra and SantaFe. The next detail, also the most fancy highlight on the Hyundai Kona when it was launched, is the LED daytime running lights strip and turn indicator lights are moved upwards, while the main lighting cluster moves downwards.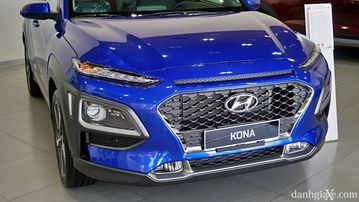 This is also a design that many experts predict will become a trend in the future with the application on many models such as Mitsubishi Xpander, Hyundai SantaFe or most recently two Vinfast Lux in the high-end segment. The special 2.0AT version uses the same LED headlights as the 1.6 Turbo version, while the standard 2.0AT version uses Halogen lamps.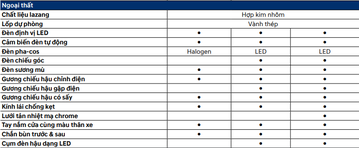 The car is equipped with an electric rearview mirror, electric folding integrated with drying function (rearview mirror of standard 2.0 AT version does not have electric folding function). Door handles and body color. Diamond Cut 18-inch alloy wheels (except for the standard AT 2.0 version using optional 17-inch wheels). The black cladding around the wheel cavity adds a sporty feel to the Hyundai Kona 2020 1.6 Turbo. Embossed lines help the body design get rid of boredom.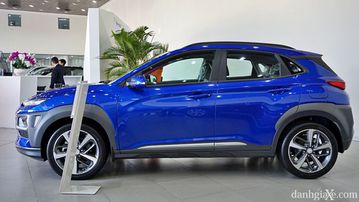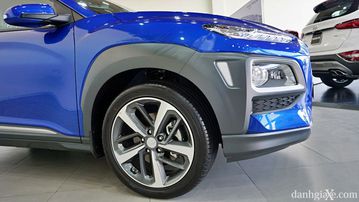 Overall, the rear of the vehicle creates a round shape with sharp cutting strokes. The details in the rear of the car emphasize the dynamic element and create a balance in a harmonious overall. Taillights have a unique structure. While the brake lights, reverse lights and turn signals are located separately and are covered by a protective cover that starts from column C.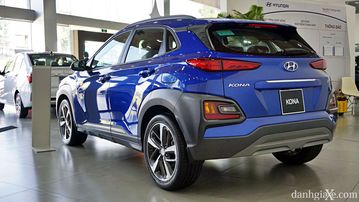 The rear bumper of the car is painted in silver, highlighting the personality of the vehicle. However, the column antenna is used by Hyundai instead of shark fin antenna, which is so familiar to car users. This is considered an unfortunate minus point in Kona's high-class and modern form.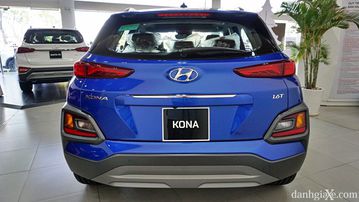 furniture
Similar to the exterior, the cabin of the Hyundai Kona 2020 also brings a modern breath, elegant, minimalist but no less sporty. HMI (Human Machine Interface) interior design philosophy is clearly shown, with many embossed ribs, forming a seamless arch structure for the cockpit, friendly equipment, easy to use.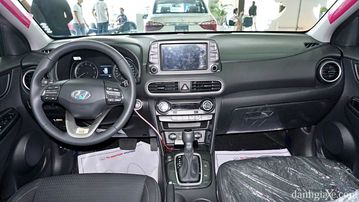 At the center of the dashboard is an 8 "touch screen set high, reminiscent of expensive luxury cars from Audi or Mercedes. Directly below is the air conditioning system, the air outlet is arranged symmetrically. Button system neatly arranged, fits within reach when used.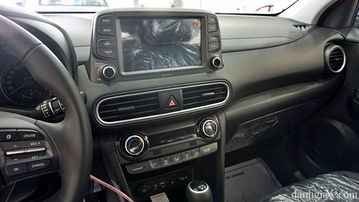 Standard Kona 2.0AT is only equipped with felt seats. Meanwhile, Hyundai Kona Special 2.0AT and 1.6 Turbo use high-grade leather seats. 10-way power driver's seat (except for standard 2.0 version), fixed armrests provide driver convenience.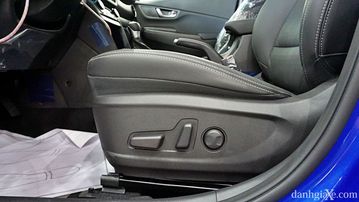 Rear seat space is comfortable for 3 people, with 3 headrests, separate armrests and when you need more space to store items, you can fold the rear seat in a 6: 4 ratio. In the back of the front row, there is a mesh bag so that the rear passengers can easily arrange furniture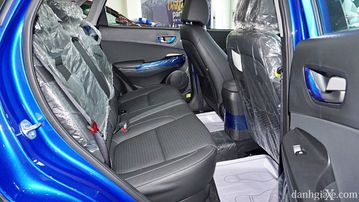 The Hyundai Kona's three-spoke steering wheel is sporty with a beveled bottom facing the steering column, wrapped in leather for a firm grip. The function buttons are integrated into such as sound adjustment, Cruise Control automatic throttle or hands-free conversation …. neatly, easily accessible, giving a modern and upscale feeling.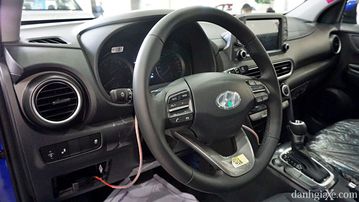 Rear boot volume is 361 liters and can be expanded to 1,143 liters after fully folding the rear seats. This capacity corresponds to the volume of 1,145 liters of rival EcoSport. In addition, the manufacturer also makes use of the space around the occupants to create additional storage compartments.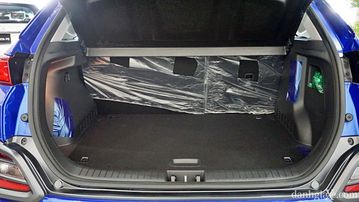 See also: Detailed evaluation of Honda HR-V 2019.
Equipped with amenities
The AVN (Audio Video Navigation) entertainment system of the car is displayed in an 8-inch screen, integrates a map specifically for Vietnam market, GPS, supports USB, AUX, Bluetooth connectivity and Apple CarPlay compliant . The audio system on Kona is a 6-speaker Arkamys, incorporating a 24-bit digital decoder DAC and Arkamys Premium Sound processor for better sound quality.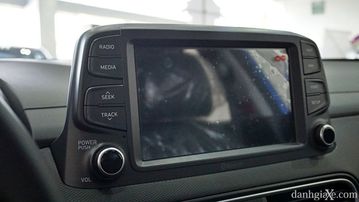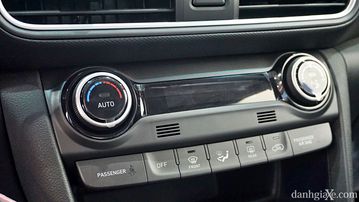 In addition, the Hyundai Kona 2020 1.6 Turbo also owns a range of other equipment, including: a 12 V power outlet, a Qi wireless charging cradle, a 1-zone automatic air conditioner with Ion reduction feature (only available on 2 high versions). level), sunroof, auto wipers, start / stop engine start button, anti-jamming windows, anti-glare rearview mirrors, ECM, auto-door locking at speed ….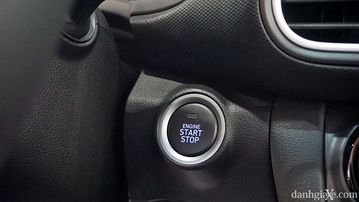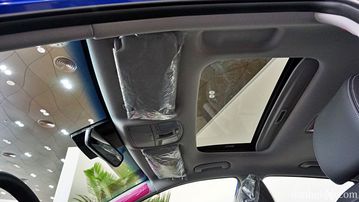 Operating and safety
In Vietnam market, Hyundai Kona will have 2 engine options, the gearbox is:
Atkinson MPI 2.0L engine produces a maximum power of 149 horsepower at 6,200 rpm, maximum torque of 180 Nm at 4,500 rpm, 6-speed automatic transmission.
Gamma 1.6T-GDI engine for 177 horsepower at 5,500 rpm, maximum torque of 265 Nm in the range of 1,500 – 4,500 rpm, 7-speed dual-clutch gearbox DCT.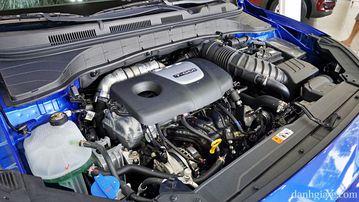 All versions are equipped with a Drive Mode system with 3 modes including Comfort – Eco – Sport custom, to meet the needs of the driver such as traveling in the city gently (Eco), speeding up sport. motorway (Sport).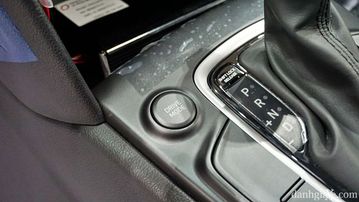 Safety features continue to be a big plus for Kona 2020, all 3 versions are equipped as standard:
– ABS anti-lock braking system
– BA emergency brake support system
– EBD brake force distribution system
– TCS traction control system
– VSM anti-skid stabilization system
– ESC electronic balancing system
– HAC horizontal departure support system
– DBC downhill support system
– TPMS tire pressure display system
– PAS parking assistance system
– Immobilizer anti-theft system
– Safety system 6 airbags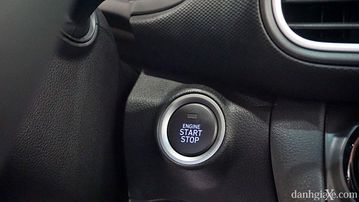 In particular, the most advanced Kona 1.6L Turbo variant will have BSD blind spot warning system.
General assessment
With a sporty, edgy and modern design, Kona 2020 continues to follow the direction of its predecessor when targeting young, dynamic and dynamic customers. The higher price than Hyundai Kona's Ford Ecosport is perfectly reasonable with the list of ample equipment and facilities, powerful engine and spacious interior space.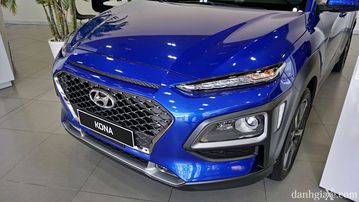 With these advantages, Hyundai Kona 2020 is also aimed at customers who need a flexible urban SUV on the street and have enough comfort and convenience on the long distances.
Technical data
Hyundai Kona 2.0 AT Standard

615 million

Hyundai Kona 2.0 AT Special

675 million

Hyundai Kona 1.6 Turbo

725 million

Car body




5-seat SUV

Car body




5-seat SUV

Car body




5-seat SUV

Number of seats




5

Number of seats




5

Number of seats




5

Number of windows




4.00

Number of windows




4.00

Number of windows




4.00

Engine type




Engine type




Engine type




Engine capacity




2.00L

Engine capacity




2.00L

Engine capacity




1.60L

Max power




149.00 horsepower, at 6200.00 rpm

Max power




149.00 horsepower, at 6200.00 rpm

Max power




177.00 horsepower, at 5500.00 rpm

Maximum torque




180.00 Nm, at 4500 rpm

Maximum torque




180.00 Nm, at 4500 rpm

Maximum torque




265.00 Nm, at 1500-4500 rpm

Gear




6.00 level

Gear




6.00 level

Gear




7.00 level

Drive type




Drive type




Drive type




Fuel consumption




0.00l / 100km

Fuel consumption




0.00l / 100km

Fuel consumption




0.00l / 100km

Air conditioning




1 region

Air conditioning




Automatic 2 zones

Air conditioning




Automatic 2 zones

Number of airbags




6 airbags

Number of airbags




6 airbags

Number of airbags




6 airbags
Did you find the article helpful?
Featured review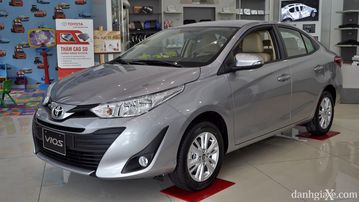 Detailed evaluation of Toyota Vios 2020 car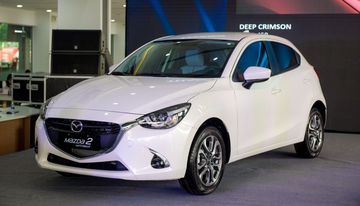 Preliminary assessment of Mazda 2 2020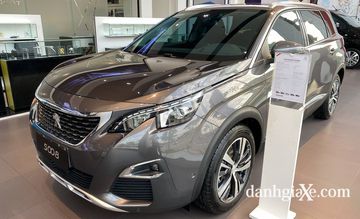 Preliminary evaluation of Peugeot 5008 2020 car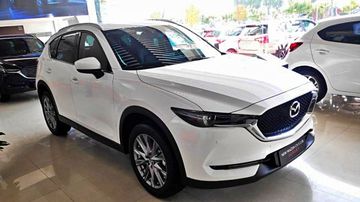 Preliminary assessment of the Mazda CX-5 2020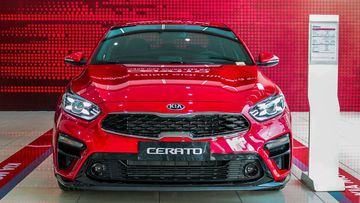 Detailed evaluation of Kia Cerato 2020 car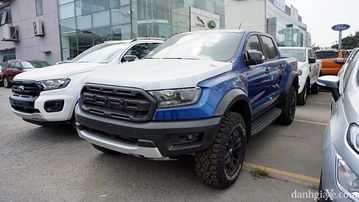 Preliminary assessment of the Ford Ranger Raptor 2020
Featured article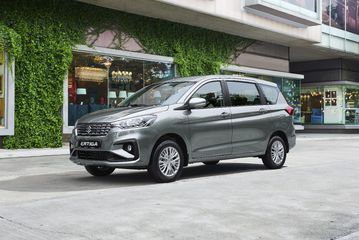 Suzuki strives to conquer the Vietnamese market with the quality of products and services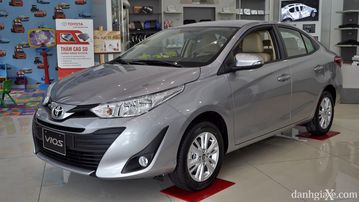 Detailed evaluation of Toyota Vios 2020 car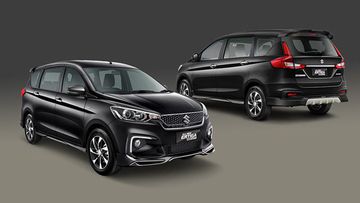 Suzuki Ertiga 2020 is about to return to Vietnam, fighting Mitsubishi Xpander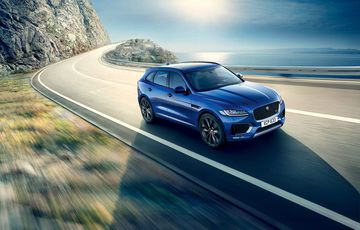 Jaguar promotes 300 million VND for F-Pace on the occasion of Tet holiday 2020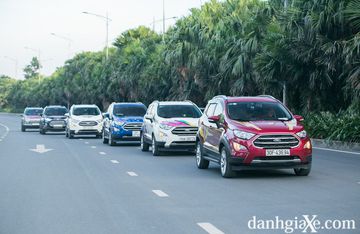 Ford Vietnam reached a sales record in 2019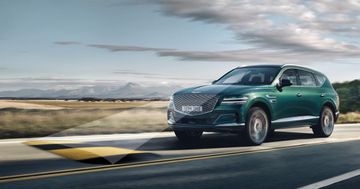 Genesis GV80 – Hyundai's first luxury SUV officially launched
new post
NX

Article: 419

NX

Article: 419