Home page
Assessment form
Detailed evaluation of Ford Explorer 2020 car
Detailed evaluation of Ford Explorer 2020 car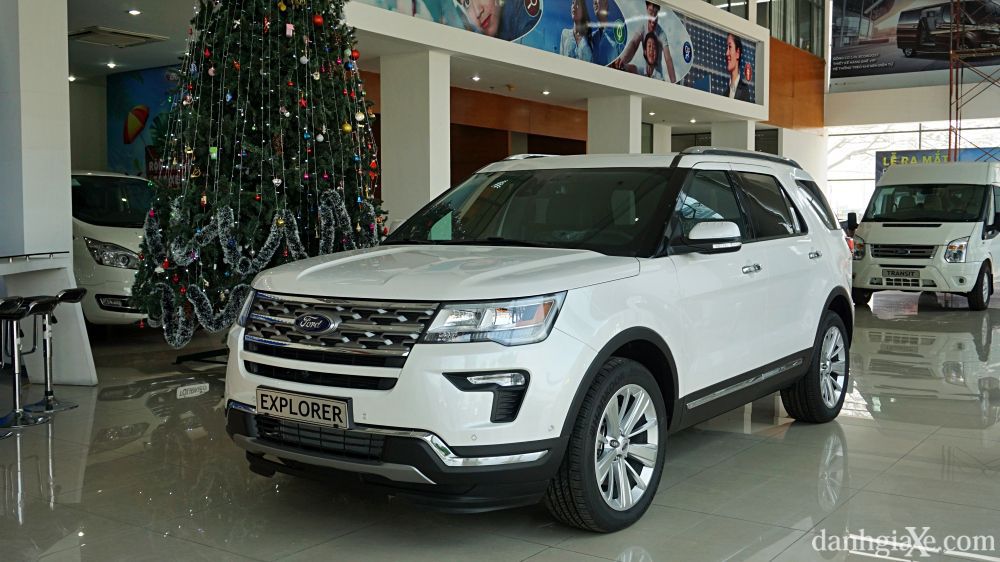 overview
Evaluation group scale
| | |
| --- | --- |
| Designs | |
| Operate | |
| Convenient | |
| Safe | |
| Price | |
Are you interested in this product? Send your information to us to receive the latest quotes from the company
General introduction
Launched in 1991, after nearly 30 years with 5 generations, Ford Explorer has become one of the most successful SUV models of the American car company. In the portfolio of genuine Ford products in Vietnam, Explorer 2020 is positioned as the top, most luxurious and most expensive model. Sporty design, spacious, flexible cabin and very reasonable price in the segment are the plus points of this 7-seat SUV.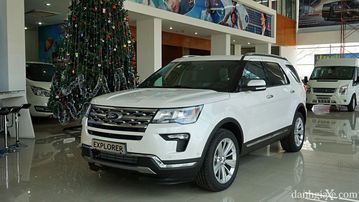 Currently, Explorer 2020 is imported from the United States by Ford, distributed with only one version, priced from VND 2,268 billion. Compared to the main competitor Toyota Land Cruiser Prado, this figure is 72 million cheaper.
Reference price of Ford Explorer 2020 is as follows:

Exterior
The Ford Explorer 2020 maintains a massive American-style body with an overall length x width x height of 5,037 x 2,005 x 1,813 mm, a wheelbase of 2,866 mm and a ground clearance of 198 mm. Combined with this large body is the strong and distinctive appearance of Ford, the crisp, crisp lines appear throughout the overall design.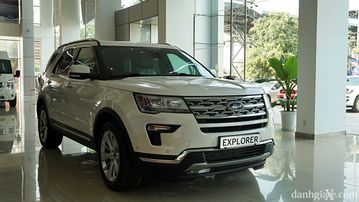 Tucked in the front of the car is a new design clamshell grille that gives a masculine look. Right next to it, two square headlights, large and placed quite low to help the car look cool and more impressive.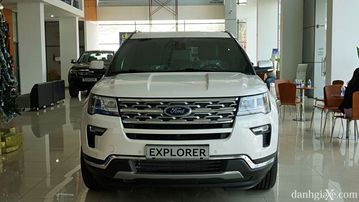 The outstanding equipment on the car can be mentioned as: Halogen headlights; LED core lights with LED "L" daytime lighting; chrome-plated door handles with one-touch lock / unlock; electric / adjustable rearview mirrors, turn signals and memory function with the driver's seat synchronized; LED taillights.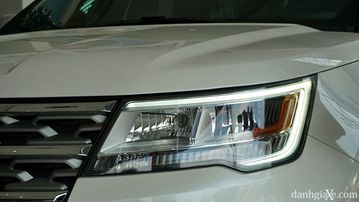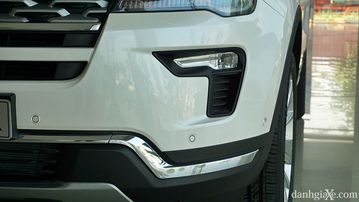 The side of the car stands out with a strong and sporty design. The square door is empty and painted black, the rear door is big and clawed back, the large C column and the body color contribute to a more contrasting and striking impression for the US SUV. The large multi-spoke wheels up to 20 "is an important highlight on the Ford Explorer 2020 that emphasizes the vehicle's enormous feel and pedestal.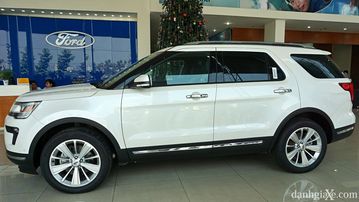 The plump and strong are the best adjectives to describe the front and back of the Explorer 2020. Connecting the two C-shaped LED taillights is the long glossy chrome strip. Right below, the black painted rear bumper integrated with dual exhaust pipes brings out the unique personality and sport that only American car manufacturers like Ford have.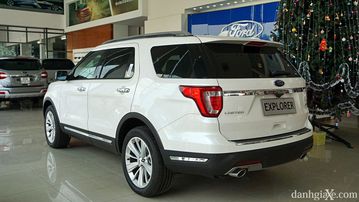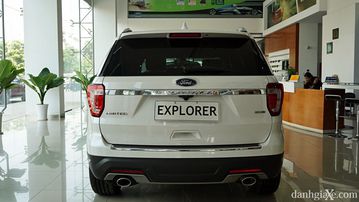 See also: Detailed evaluation of Hyundai SantaFe 2020 car.
Interior and comfortable equipment
Inside the cabin, Ford applies a scientific layout and no less luxurious with decorative details using high quality leather and wood. However, with the price of over 2 billion, customers have the right to demand more in interior design. Ford's design language does not follow the lavish style, as shiny as European luxury cars but emphasizes simplicity, practicality and high-end.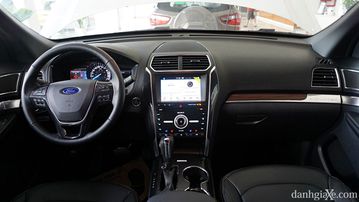 Therefore, this design is considered by many experts to be inconsistent with customer tastes as on luxury cars with the same money. In return, the space in 3 rows of seats are very spacious and comfortable enough for all 7 adults.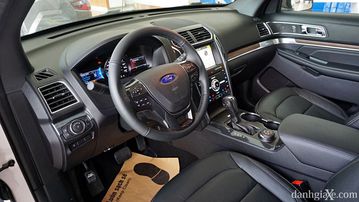 Tablo panel area is symmetrical and seamless, modern central control cluster with 8-inch touch screen, there are quite a lot of buttons and functions, so getting used to and remembering the use will cost not less time, in return, the buttons are clearly arranged, convenient for manipulation to use.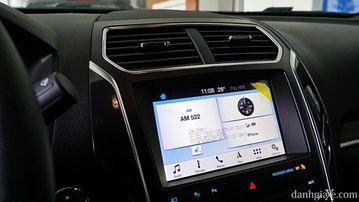 All seats are upholstered in leather, leg room and headroom and properly allocated to seven passengers. Although the car is high, the floor height is very reasonable, making it easy to get in and out of the car and sit in the chair extremely natural and comfortable, without causing any difficulties or play. This is the point that represents the core value that Ford wants to target on an expensive SUV like the Explorer 2020.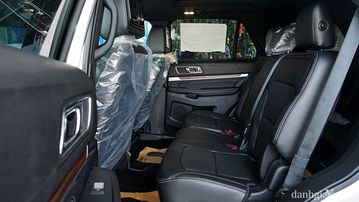 The front row of seats is electrically adjustable, inflatable backrest and also the ability to massage in three levels. The second row is spacious, has three headrests, and has two DVD screens with wireless headsets. In addition, this seat can slide and fold 60/40 with mechanical levers, when necessary, it can be fully rolled forward for the third row of passengers to get on and off the vehicle more easily.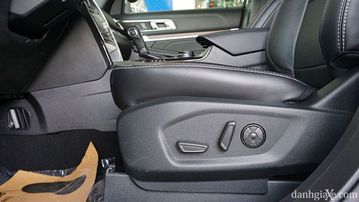 The third row is suitable for two passengers, with enough leg room for people under 1m70. It is worth noting that this seat can be folded at a 50:50 ratio, or 90-degree backrest or fully folded to the floor to expand the storage space.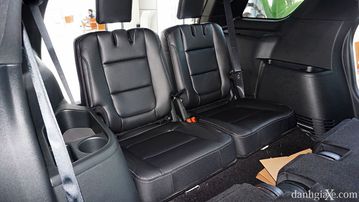 The luggage capacity of the Ford Explorer 2020 reaches 596 liters when using all 3 rows of seats and can be increased when folding the 3rd and 2nd rows of 1,243 and 2,314 liters, respectively, enough for long trips. long days or weekend picnics of the whole family.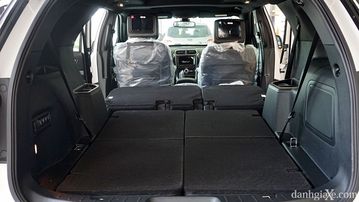 The steering wheel of Explorer 2020 has a three-spoke design with a large center, beveled corner and stylized hexagonal shape, incorporating a series of functional buttons such as hands-free conversation, automatic throttle Cruise Control, adjust the sound, switch levers behind.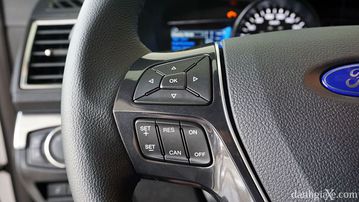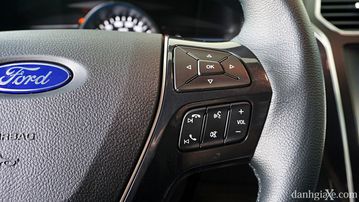 The car doors are well built, the inside is covered with wood and elegantly covered with leather, but the sound of the door closing is still a little thin and not really neat. The plus point is that the glass doors can be adjusted to touch power in the seat. However, the rest of the car is still only equipped with traditional electric glass. This is a somewhat confusing detail of Ford as the SUV in the lower segment, Everest, also has full one-touch electric glass in all positions.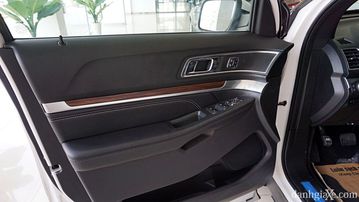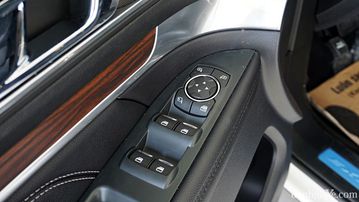 The rear trunk on the Explorer 2020, in addition to the ability to open and close all the electricity, is also equipped with the intelligent opening and closing function through a rear foot sweep with the key in the pocket, more convenient for stacking unloading luggage. Note that for safety reasons, drivers must set the car in P number to use this smart feature.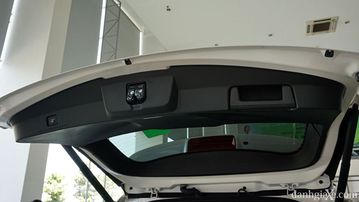 The standard infotainment system from Ford is almost perfect with 12-watt Sony high-end Sony 12-speaker audio system with subwoofer, DVD player, exclusive SYNC®3 system with voice control speak and play Wifi, in addition to a USB / Bluetooth port and SD memory card.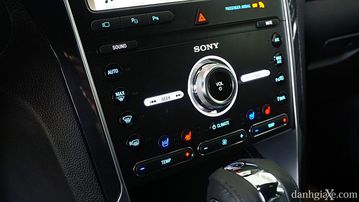 The car air conditioner is a fully independent three-zone automatic, two for the front row and one for the rear five. The air vents are also fully arranged in all 3 rows of seats, ensuring that everyone will be comfortable during the trip.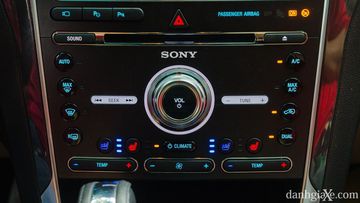 The list of amenities of Ford Explorer 2019 also includes equipment such as 230V AC power outlet and 4 12V power outlets (2 for the front row, 1 for the second row and 1 for the luggage compartment); Ambient interior lights optional colors according to preference; Inside rearview mirror against glare; electric sunroof for the two front seats; start button; electric steering column and adjust the distance near the brake pedal / accelerator position; MyFord function, …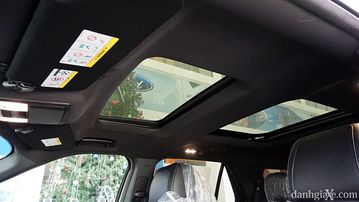 Operating and safety
Ford Explorer 2020 is powered by a 2.3L Ecoboost I-4 petrol engine combined with a SelectShift® 6-speed automatic gearbox generating 280 horsepower at 5,600 rpm and a maximum torque of 420Nm at 4,000 rpm. minute. This engine is compact but has the same performance as other large engines with a fuel consumption of less than 20%. The largest model of Ford in Vietnam will be equipped with intelligent 4WD all-wheel drive system, which automatically adjusts traction distribution on the front or rear axle flexibly depending on operating conditions. , combined with four different terrain running modes.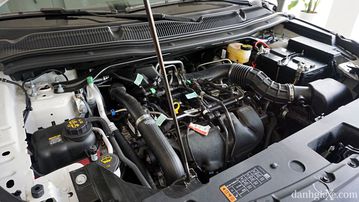 Explorer steering wheel is equipped with electric power steering system to feel light, flexible when operating at low speeds and compact when traveling at high speeds. In addition, the deflection compensation function helps drive safely and confidently in all road conditions. Ford Explorer is equipped with MacPherson front suspension and uses sub-frame system, large horizontal balance bar (32mm).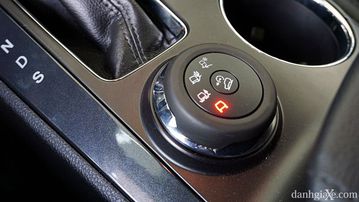 The rear suspension links multiple points with the subframe and balance bar. The all-new Ford Explorer is designed with a very solid body frame (UNIBODY), which prevents twisting and helps to reduce the weight of the vehicle to increase fuel economy.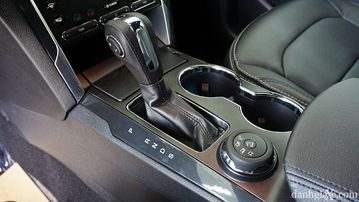 Explorer's performance is supported by a range of security systems:
– Assist to begin across hill
– Support downhill
– TMS topographic control system
– Anti-slip system
– Exclusive AdvanceTrac anti-roll stability system from Ford
– Lane departure warning
– Warning blind spot
– Parking support system and cross-traffic alert
– Front-to-back camera system 180 degrees, including wide-angle rear camera, integrated automatic washing system.
– Tire pressure warning system
– 10 airbags with airbags for driving knees.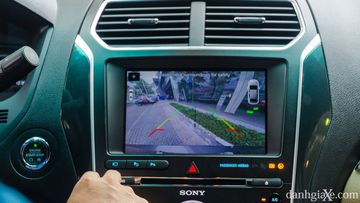 General assessment
With a strong, large design and a true "American vehicle" pedestal, a range of modern interior and exterior equipment, strong performance as well as outstanding safety equipment from Ford, Explorer 2020 Truly an import car worth considering in the high-end segment of the price range of over 2 billion.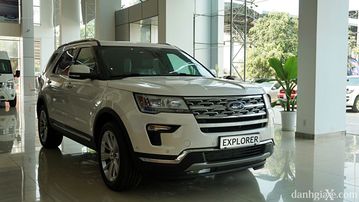 This will be a good choice to serve the travel of large families, especially those who are financially wealthy, looking for a 7-seater SUV positioned at a higher level. in terms of design, elegance, performance and safety.
Technical data
Ford Explorer Limited 2.3L EcoBoost

2,268 billion

Ford Explorer Limited 2.3L EcoBoost

2,180 billion

Car body




7-seat SUV

Car body




7-seat SUV

Number of seats




7

Number of seats




7

Number of windows




5.00

Number of windows




5.00

Engine type




Engine type




Engine capacity




2.30L

Engine capacity




2.30L

Max power




280.00 horsepower, at 5600.00 rpm

Max power




280.00 horsepower, at 5600.00 rpm

Maximum torque




420.00 Nm, at 4000 rpm

Maximum torque




420.00 Nm, at 4000 rpm

Gear




6.00 level

Gear




6.00 level

Drive type




Four-wheel drive

Drive type




Four-wheel drive

Fuel consumption




0.00l / 100km

Fuel consumption




10.70l / 100km

Air conditioning




Automatic three zones

Air conditioning




Automatic three zones

Number of airbags




10 airbags

Number of airbags




10 airbags
Did you find the article helpful?
Featured review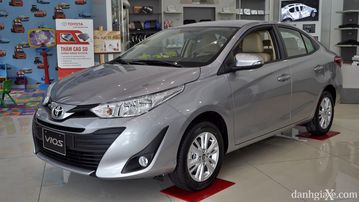 Detailed evaluation of Toyota Vios 2020 car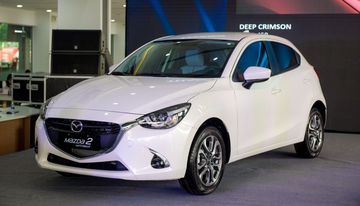 Preliminary assessment of Mazda 2 2020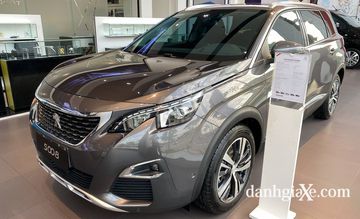 Preliminary evaluation of Peugeot 5008 2020 car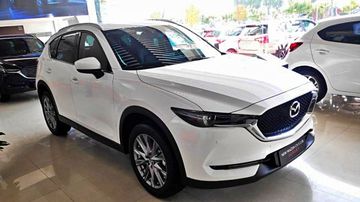 Preliminary assessment of the Mazda CX-5 2020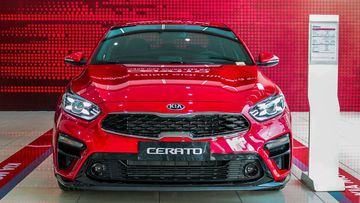 Detailed evaluation of Kia Cerato 2020 car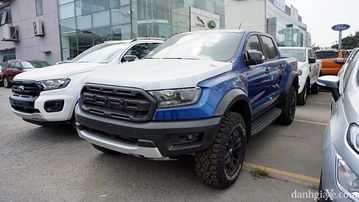 Preliminary assessment of the Ford Ranger Raptor 2020
Featured article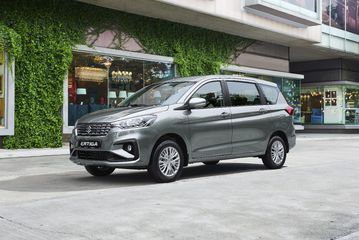 Suzuki strives to conquer the Vietnamese market with the quality of products and services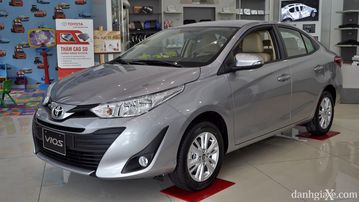 Detailed evaluation of Toyota Vios 2020 car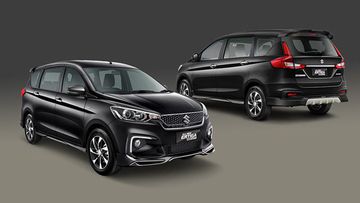 Suzuki Ertiga 2020 is about to return to Vietnam, fighting Mitsubishi Xpander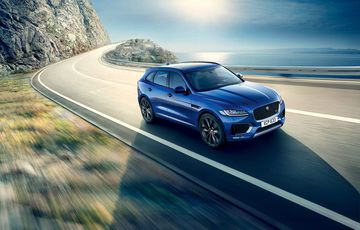 Jaguar promotes 300 million VND for F-Pace on the occasion of Tet holiday 2020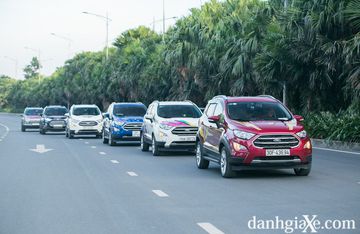 Ford Vietnam reached a sales record in 2019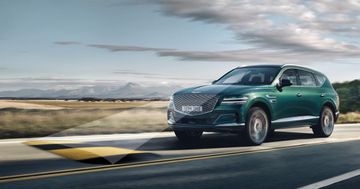 Genesis GV80 – Hyundai's first luxury SUV officially launched
new post
NX

Article: 419

NX

Article: 419