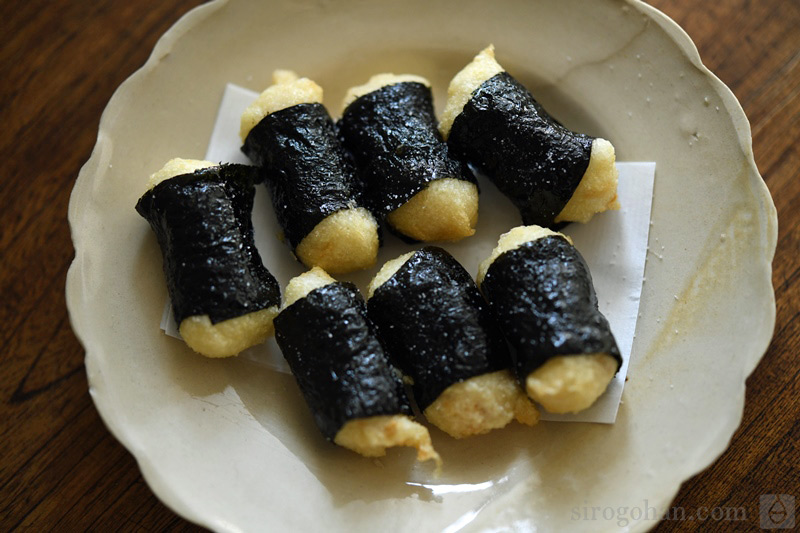 Cooking time: 10 minutes or less
Yam has a firm texture when cooked, and when fried, it improves the texture and aroma.
It goes well with seaweed, so please try "Fried Isobe"!
Keywords for this recipe

yam
Seaweed
Sake knob
Vegan (no animal material used)
How to make deep-fried yam Isobe
Preparation of yam
This recipe is not a watery long potatoSticky yam such as Yamato yam, Tsukune yam, Ginkgo yam, and natural yamI will make it using.
Rinse the yam quickly and then peel it off with a peeler or kitchen knife (at this time, if you leave the part you hold in your hand and peel it off, it will be easier to grate it).
* Please refer to the page of tororo rice for the preparation of natural yam.
Grate in a circular motion with a grater (if there is a difference between coarse and fine, use the finer one).
When it is close to the skin left as a hand-held part, peel it and grate it in the same way.
Deep-fried yam isobe recipe
I think that the grated yam has firm hardness and stickiness enough to be pinched with chopsticks.
Arrange the seaweed on a dry cutting board or flat plate, and place an appropriate amount of yam on one side with chopsticks.
If you roll the yam around, all you have to do is fry it.
Fried oil can be used at a medium temperature of about 170 ° C. Gently put the yam,Fry for about 2 minutes.
Drain the oil well, take it out, and sprinkle the salt all over to finish.
[Supplement]
The rough side of the seaweed is the back side, and the smooth side is the front side.When placing yam, place it on a rough surface and the slippery side will come to the front.Let's do it.
The recipe is to season with salt, but if you like, you can add a little soy sauce and eat it.
..