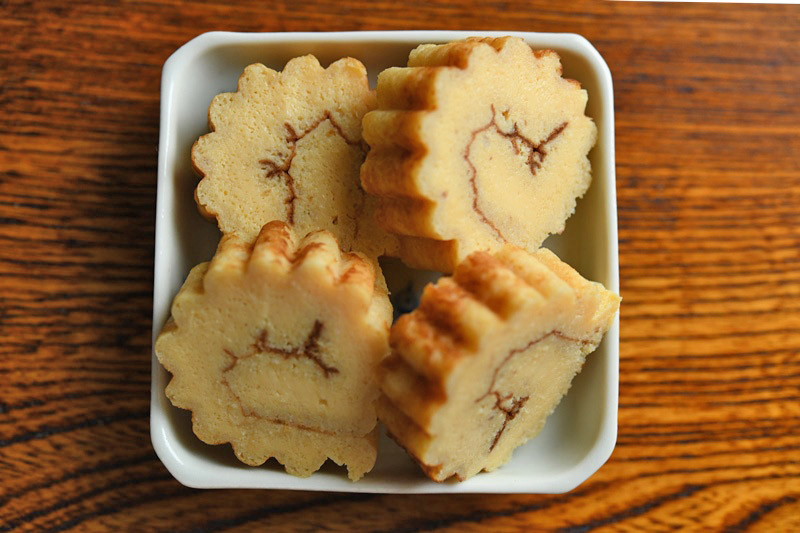 Cooking time: over 60 minutes* Including salting and cooling time
Datemaki dough is made by carefully preparing raw cod meat
and combining it with eggs and seasonings. Bake it slowly in a frying pan to finish it.
There is also a point when winding the baked Datemaki, so please try it by referring to the process.
* Since many Datemaki recipes use "hanpen", white rice.com uses "cod fillet". It takes a little time to compare, but I think it's very delicious!

Keywords for this recipe
Cod
New Year dishes
egg
How to make Datemaki in a frying pan
Datemaki materialIn the Datemaki recipe on white rice.com,[5 eggs + 1 cod fillet]
I will make it together.In addition, seasoningsDashi stock, sugar, mirin, soy sauce, salt
Will be used, so prepare each one.
* For the soup stock, refer to the bonito and kelp soup stock, and the time-saving soup stock just by pouring boiling water.
Use a food processor as a tool to grind the cod fillet (the old-fashioned mortar method is also acceptable, see the supplement at the bottom).Also, to make the outside jagged, for datemakiDemon blind
This time, I'm using (also using a general bamboo blind and rolling it in a circle).
* This time, the recipe is to bake in a frying pan, but please note that you will need a "frying pan with a lid".First, prepare the cod fillet.Sprinkle about 2 knobs of salt (outside the amount) on both sides of the cod fillet and leave it for 20 minutes.
..It's a hassle to get rid of the smell of cod, but after this (20 minutes later), boil the water.Boil the cod for about 30 seconds
Take out from.Transfer the cod to a flat plate, etc.
Carefully remove the skin and bones.Especially for bonesLet's remove not only the long abdominal bone but also the bloody bone in the center of the body
(Finally, touch the likely bone with your fingertips to check).
How to make Datemaki dough
After preparing the cod, we will make the datemaki dough.First, in the food processor[Cod, 1 egg, 5 tablespoons sugar]
And stir well to make the cod meat into fine minced meat.If the cod's body becomes finer overall,4 remaining eggs and seasonings (4 eggs, 5 tablespoons soup stock, 2 tablespoons mirin, 1 teaspoon soy sauce, 1/5 teaspoon salt)
Add and stir.
How to make Datemaki dough
* In this recipe, I would like to introduce how to easily bake Datemaki dough in a frying pan. If you bake in a frying pan, uneven baking will inevitably occur, but don't worry too much about it (wrap the side that is prone to uneven baking inside) and finish it.First, put 1 teaspoon of oil in a frying pan and heat it over medium heat. When it gets hot, add the dough all at once. If the edge of the egg gets a little boiled,
Turn the heat to very low and cover it.
* I am using a frying pan with a size of 26 to 27 cm. In the case of a small frying pan, it will be thick and difficult to bake, so it is better to bake it in two parts.The time to put the lid on and bake13 to 16 minutes on extremely low heat is a guide
(If there are three craters on the stove, it is better to start steaming on the front side and then on the small crater in the back!)Open the lidHeat until cooked enough to dry the surface
please.
Although it depends on the thickness of the frying pan and the stove, the bottom surface is relatively well-colored.
Turn it over using a spatula (even if you take it out on a cutting board or a large plate to make it easier to turn over).The side to turn over and bake at the endIt will be the outside of the finished datemaki
So, please bake on low medium heat while checking to get the desired degree of baking.
When you have the desired degree of baking, slide it onto the cutting board and take it out without changing the vertical orientation.
How to wind / finish DatemakiIf it is a perfect circle, it is difficult to wind it, so
Cut off about 3 cm in the back and front.After moving it over the demon blind (or normal makisu),Make shallow cuts with a kitchen knife at 2 cm intervals.
(To make it easier to roll and harder to break).
* When using a demon blind, the finish will be jagged by turning the sharp side up.First,Wrap and fix the dough about 4 to 5 cm in front so that it overlaps in the back.
Then leave it for about 30 seconds.
Then, the shape will become familiar, so move the dough toward you while keeping the shape.
The rest is rolled up. Wrap it tightly, not loosely.After winding, tie both ends of the makisu tightly with rubber bands.
Let it blend in for 45 minutes to 1 hour.
When it has cooled completely, remove the makisu and cut it to a width of 1.5 to 2 cm from the edge.
[Supplement]When baking in a frying pan for a long timeAdjust the frying pan position to bake evenly with occasional movements
I think it's okay.I wrote that a small frying pan should be divided into two parts, but in the same way, a small omelet can be baked by dividing the dough into two parts.If it's the size of an omeletEven if you don't have a lid, you can cover it with aluminum foil and use it as a lid.
So, if you don't have a frying pan with a lid, you may make it that way.
When making surimi in a mortar, cut the cod meat from which the skin and bones have been removed into small pieces with a kitchen knife, then transfer it to a mortar and mince it with a mortar. After that, when making the dough in a mortar, especially at the beginning, if you add eggs and seasonings at once, it will be difficult to mix, so add it little by little to make the dough.
New Year dishes