Recently, a member of Raidforum, a popular hacker forum, posted a file that allegedly contained information of 2 million MSB bank accounts, a file containing user accounts of several other banks. of Vietnam. This hacker allows people to download this information for free.
The data uploaded by this hacker includes 2 files in .txt format, with a total capacity of over 200mb. The leaked account information included customer name, date of birth, gender, identity card number, phone number, address, occupation and email.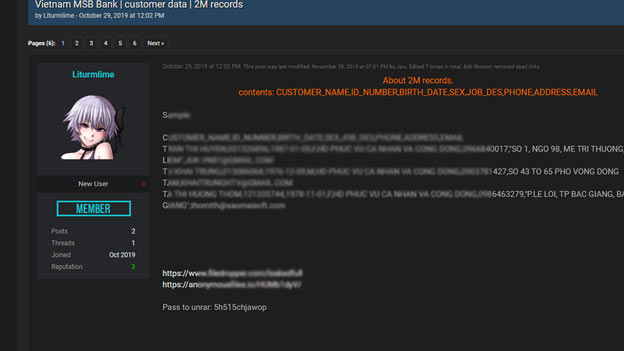 The hacker also added that this information is all updated data until 2019 and in his hand also has all the data of MSB, not just 2 million customers. In the near future, he may also launch this forum the customer data of the entire bank in Vietnam.
Previously, information of 5 million customers along with about 31,000 transaction history records of Mobile World is also believed to be leaked on this forum. However, Mobile World has rejected this information.
It is still not possible to determine that the information in the file is correct, but to ensure user safety, change your bank information or temporarily lock your bank card for official information.
Watching adult movies online, what do you pay for it?
Bad guys can steal data by freezing RAM sticks with liquid nitrogen