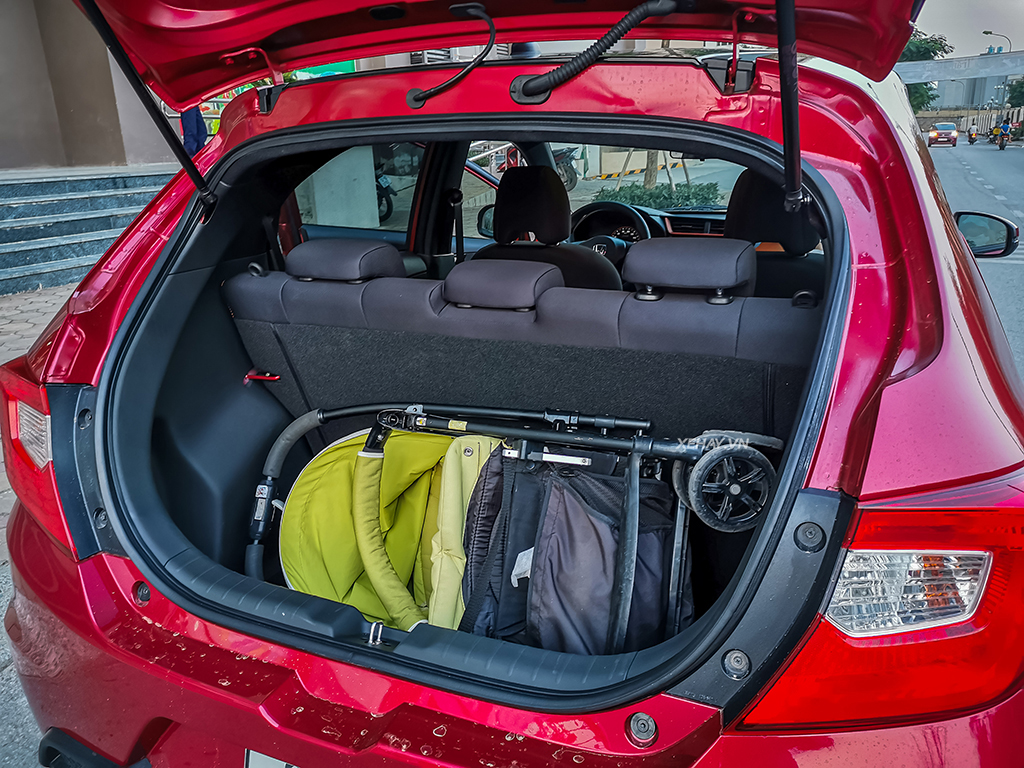 Stroller is "small story"!
With such a large passenger space, many people will surely think that the boot space will be cut. No problem. The luggage compartment is larger than the old Brio with 285 liters, up 48% compared to the previous Brio. Not only is this wider, the storage area also has a floor lower than 60 mm, making it easy to place heavy objects into the luggage compartment. In fact, Japanese people have always made good use of car space, and Honda is one of the most adept masters. We have seen that Civic has a large cabin compartment like D-class cars, City is as wide as C-cars and Brio is as spacious as a B-class hatchback.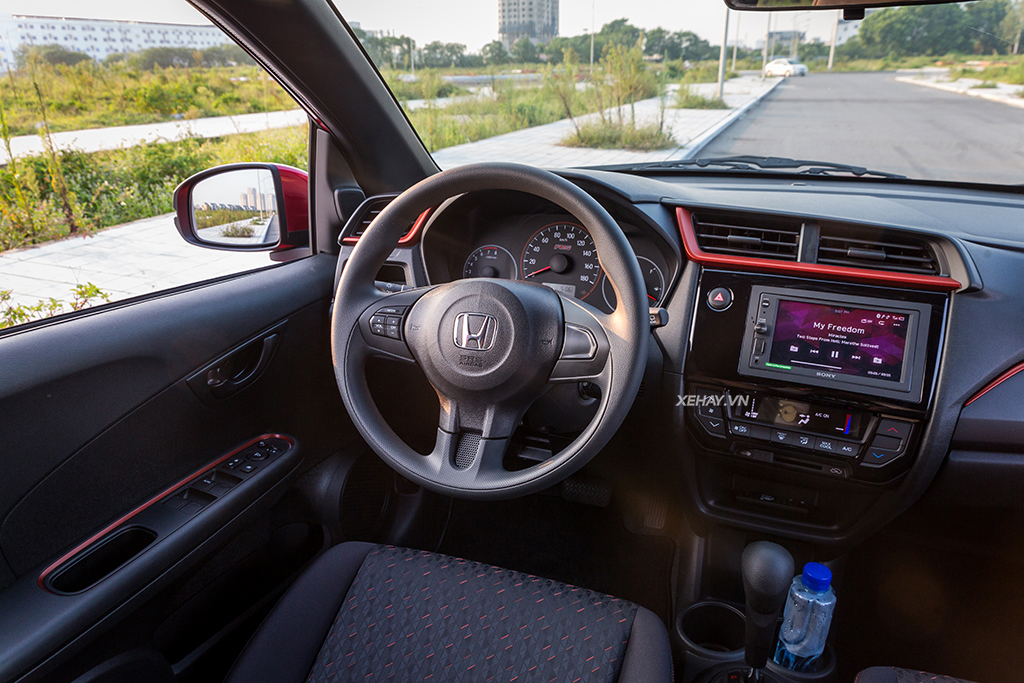 In terms of interior compartment design, Honda Brio 2019 has many points and many things still need improvement. The dashboard is accented with orange panels that are very prominent, but that does not fill the lack of soft materials in the dashboard or door panels. All are hard plastic and they produce quite unpleasant odors when exposed to long sun exposure. One more thing I did not like is that the car does not have a central armrest. For those who often drive long distances, this small detail is also very important. There is no air-conditioning in the rear seats, though this is a "common problem" for most small urban cars. The Honda Brio also does not have a rear-mounted armrest.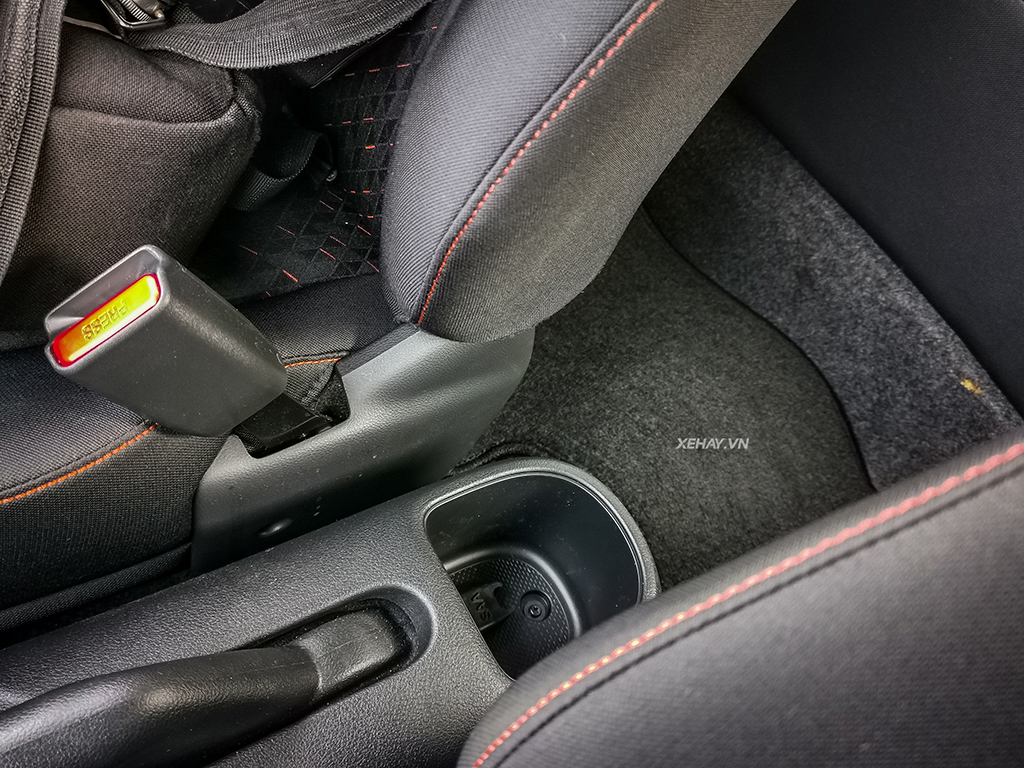 So, what is it that I "like"? It is a fairly advanced Sony player. Even the standard version has a Sony player, even though it doesn't have a touchscreen. On the high-end RS, the player of this famous electronics company comes with a 6.2-inch touch screen that supports Apple CarPlay. This screen is quite sensitive when compared to the screen zin of the same price range models, color is also relatively good. However, because the angle of the screen is slightly upwards and there is nothing shielded, this screen is easy to glare when going in the sun, especially at midday.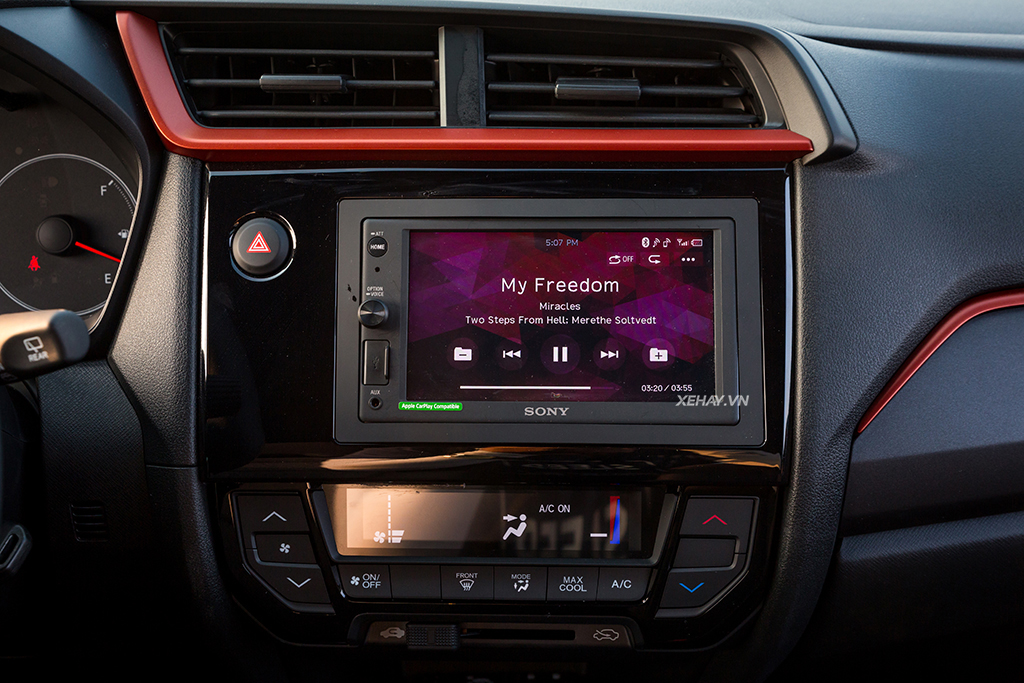 The steering wheel has a neutral design, not too beautiful but not ugly. Unfortunately, Honda does not equip Cruise Control (Brace Control) for Brio because this will be something different from the same segment models. Of course, if anyone needs Cruise Control, they can tinkering automatically, but that's a different story. Behind the steering wheel is a very basic instrument cluster, nothing to complain about but not as beautiful as the clock of competing cars. The Honda Brio seats with red and gray felt felt are acceptable because only Vinfast Fadil has leather seats.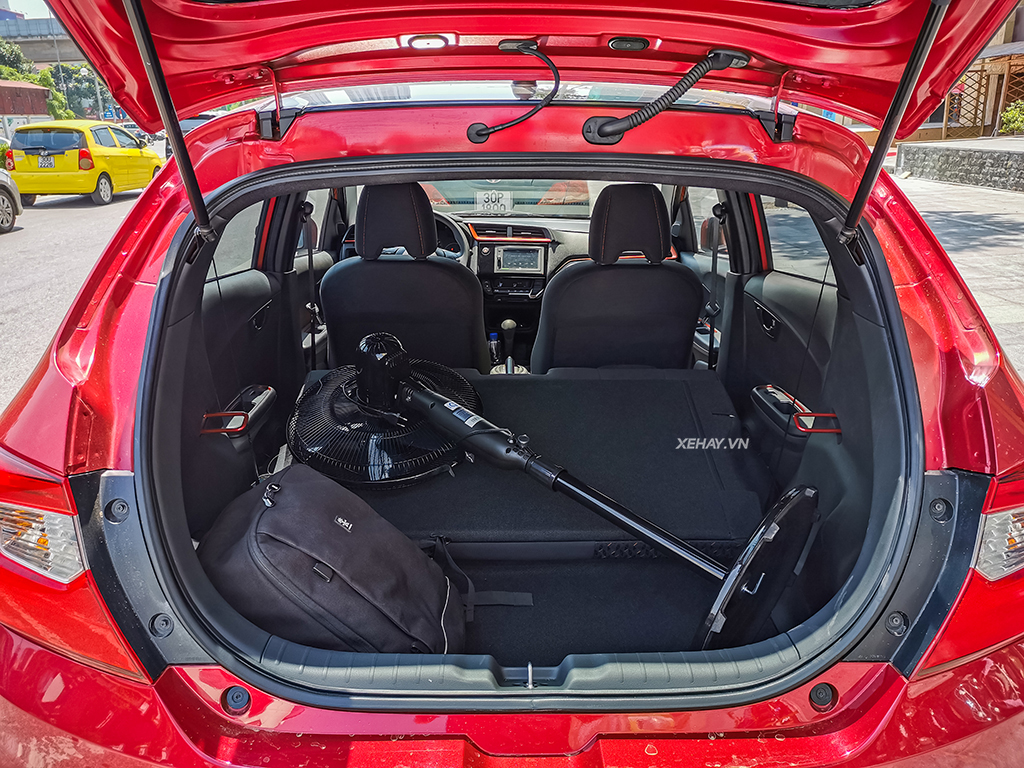 In terms of safety equipment, Honda Brio also stops at a basic level with 2 airbags, ABS anti-lock braking system, Electronic Brake Force Allocation (EBD) and BA Emergency Brake Support. If comparing the active safety features, it is clear that Brio will not be equal to Vinfast Fadil but has a passive safety feature that the Japanese car is superior. It is the GCON chassis.
Chassis is like the wall of your house, they absorb first and mostly all the impact force when a collision occurs. The Honda Brio GCON chassis is designed with active soft steel zones to absorb more impulses, protecting the cabin compartment made up of harder steel (440 MPa). It is worth noting that the chassis and the engine compartment are made of stronger steel than the cabin (590 MPa). Honda's explanation is that Brio is a small car, so the cramped area and the head frame is not as big as the B or C models. Therefore, the steel in this area needs to be stiffer than usual to be able to absorb. effective force in the case of head-on collision with oncoming vehicles. Moreover, the bearing bars in the cabin compartment are thicker, so they also bear better force, especially column B and horizontal connecting bars under the car floor.
Experience the street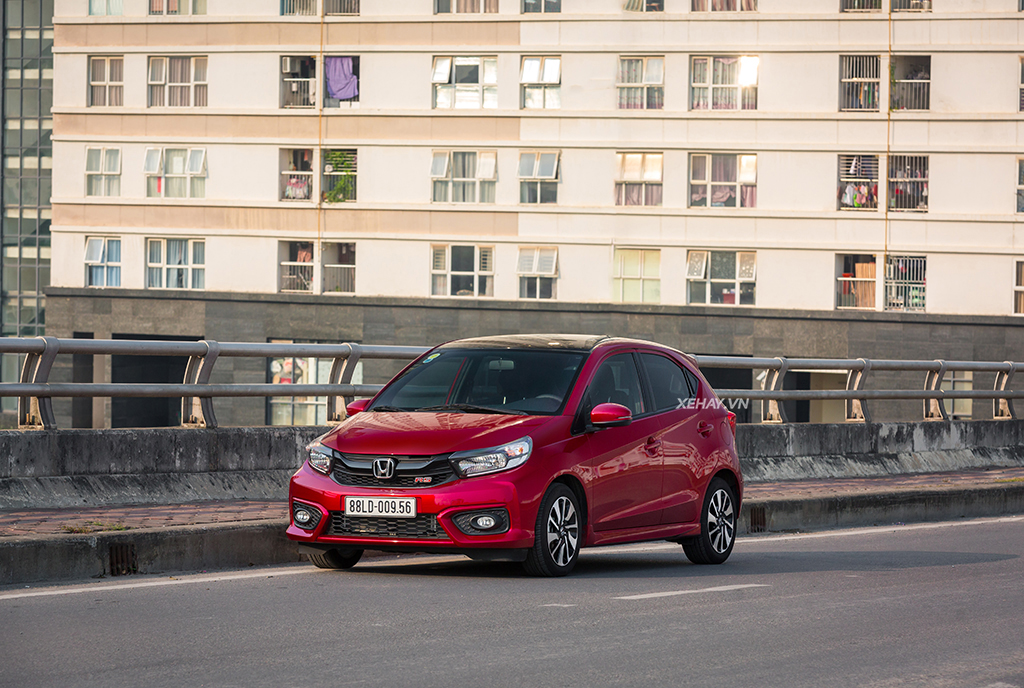 During a week of Honda Brio experience, I just moved around Hanoi. Perhaps this is also the operating environment where most Brio owners will use this hatchback. Of course, you can hardly ask for a sporty driving experience with Honda Brio. If I am really looking for a class A car, performance criteria and driving experience are still behind the design, the spaciousness of the interior compartment. With these two criteria, Honda Brio is doing very well, so what about the daily driving experience? Surely there will be people who still look a little excited after taking their children to school, taking their wives to the supermarket, right?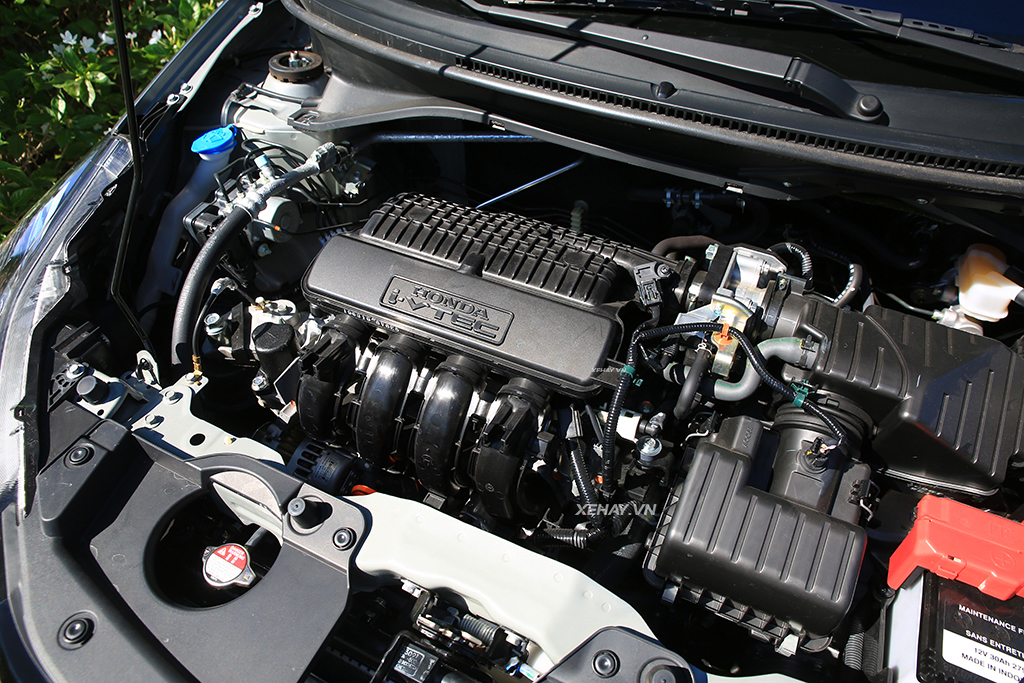 Honda Brio owns a 1.2-liter 4-cylinder engine standard in class A. This engine block produces a maximum capacity of 89 horsepower at 6,000 rpm, 110 Nm at 4,800 rpm. These are parameters similar to the entire class A hatchback segment (only Vinfast Fadil "plays well" with 1.4L engine) and of course, comparison is never enough. So, in real terms, is the Honda Brio powerful enough for you to feel comfortable using?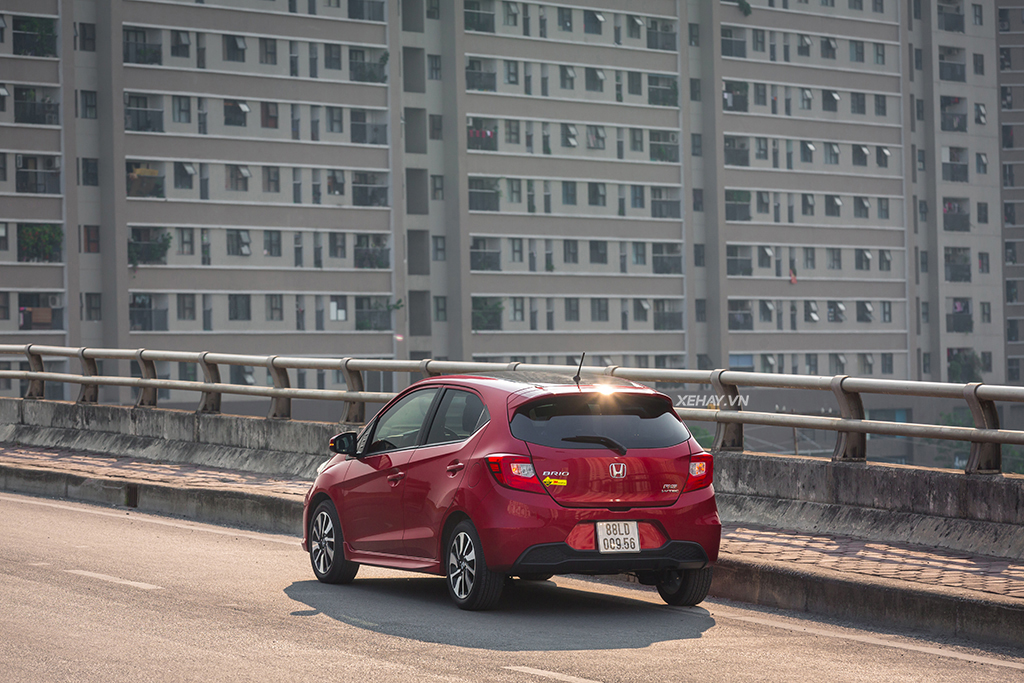 My answer is yes. Traveling at street speed, the car is not as good as the roar and engine noise as well as Vinfast Fadil, but compared to all rivals, Brio's strength is the low speed spurt. That's thanks to the very smooth, smooth CVT gearbox and the single-cam SOHC system of the 1.2L engine block. Of course, if you step on the gas pedal as if the pedal is an on / off switch, sometimes the CVT gearbox will be slipping (Rubber Band Effect) but if the pedal is calculated in advance. then the car works relatively comfortably in the street. When accelerating from the red light, Honda Brio feels more attractive than most competitors in the speed range below 40 km / h. For frequent red stops and slow crawling during traffic congestion, low speed jumps are important.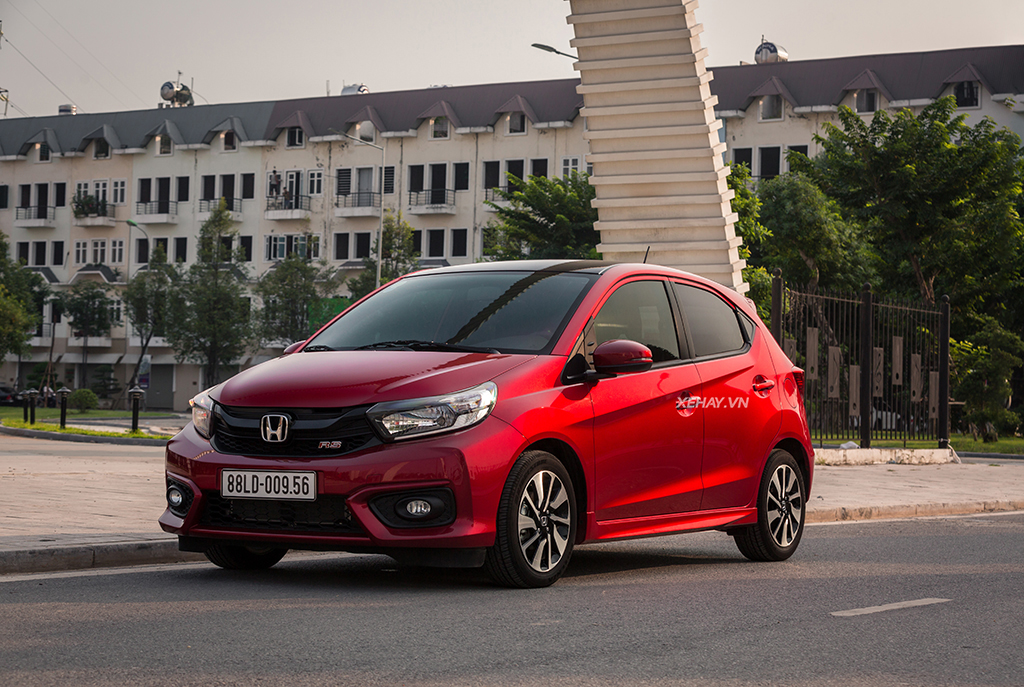 In terms of soundproofing, I don't expect much from a cheap small hatchback. The Honda Brio has a soundproofing and environmental sound insulation level average in the segment, not too bad but not outstanding. Interestingly enough, Honda equips Bridgestone Potenza tires for this budget car, a relatively high-end tire.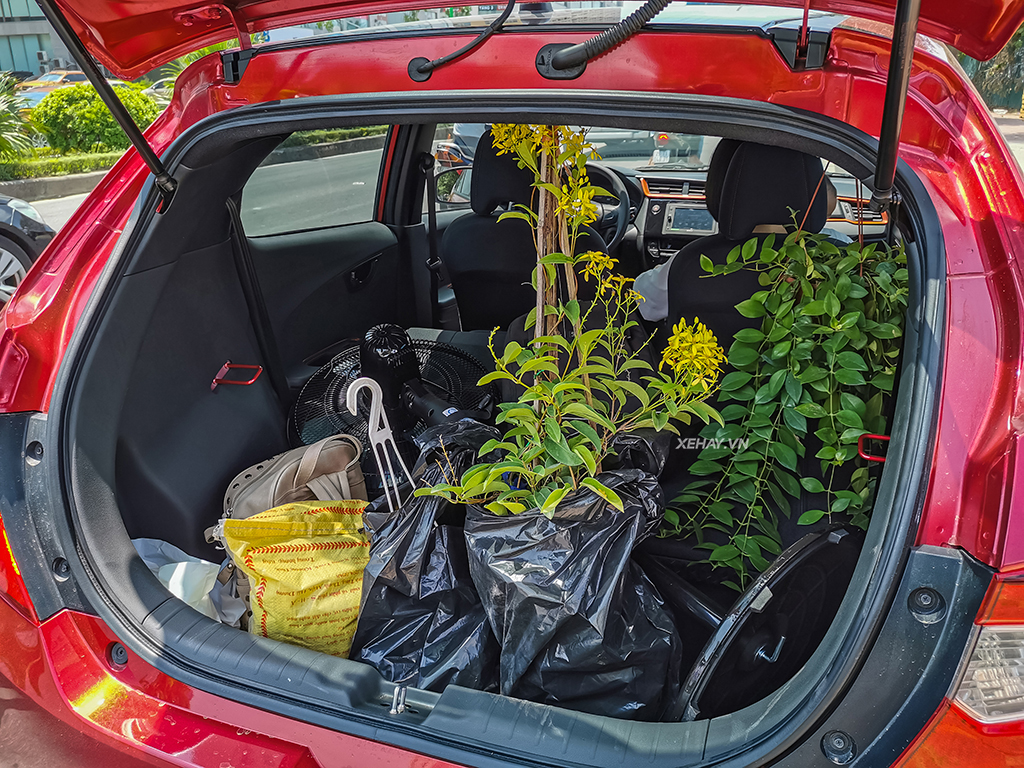 In a week of being with Honda Brio, I did everything with it. From taking my wife and children to the park, shopping for furniture, buying flowers, ornamental plants, going to the mall, etc. The first comment when entering the car is: "Oh this car is wide!". I tried inserting a fan and some pots of flowers into the car, of course, having to fold the backseat. If not folded, the Brio also stores a stroller with a few small backpacks. In general, a family of young children will still feel comfortable using Honda Brio as a street car. After more than 300 km accompanying Honda Brio, the fuel consumption measured was 7.4 liters / 100 km. This is a very impressive figure because the car only runs in the inner city.
Conclude
Honda Brio is a Class A car that does not have the most "toys" nor the most powerful engine. However, this A-class car has an interesting combination of fashion and practicality – two characteristics that seem irreconcilable. If you are looking for a beautiful car, personality, spacious and durable as your first car, Honda Brio is a worthy choice. This is a great car to go on the road: compact, beautifully designed, fast at low speeds and surprisingly spacious interior.
Vi Phạm (Tuoitethudo)
.