(Techz.vn) Passengers going to Grab for 25 thousand dong, mistakenly transferring 50 million, contact Grab company and report to the police to expect to receive support.
On the evening of January 16, Mr. MQ A shared on his personal page about booking a GrabBike car with a trip of 25 thousand VND. Due to the lack of cash, Mr. A transferred the money to the driver. But the amount of money Mr. A transferred was not 25 thousand but 50 million dong.
Mr. A's trip costs 25,000 VND on the app.
Initially, Mr. A charged VND 50,000 to the driver, of which 25,000 for BrabBike and 25,000 for tips. But when he switched the bank, he pressed the excess of 3 zeros into 50 million dong.
When he discovered the incident, Mr. A tried to contact the Grab driver by phone but another person picked up the phone. The driver who received the wrong money was "missing" afterwards. Mr. A has contacted the Grab company and the police to hope to receive support. However, the company Grab said that the wrong transfer of money between the two parties is a personal banking transaction that it cannot interfere.
Mr. A had to contact the bank that he used to open his account for support and at the same time report to the authorities to report the case.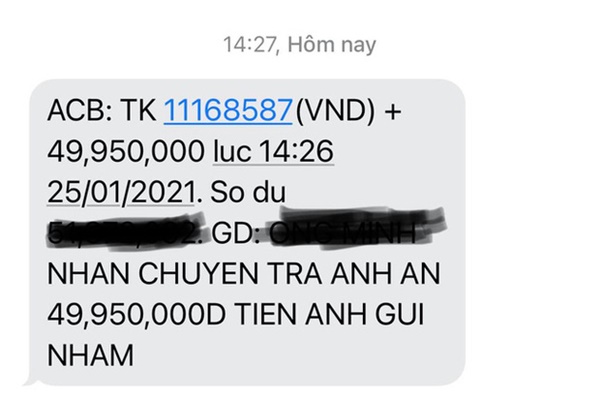 Driver N transferred money to Mr. A.
At the end of January 25, OMN driver transferred the mistakenly amount of 49.95 million VND to the customer. At the same time, driver N and his family came to work and talked to Mr. A to report that the reason of "missing" in the past few days was due to the loss of his phone, moreover, he himself was forgetful.
Mr. A said that he sympathizes and accepts the driver N's ​​apology. However, A still thinks that Grab is extremely irresponsible in the case.
Earlier, on the evening of January 16, Mr. A booked a GrabBike ride from Hoang Sa Street to Ly Van Phuc Street (District 1, Ho Chi Minh City) received by OMN driver. The price on the app is 25,000 VND.
.