Activities, becoming an annual event in the minds of Vietnamese and Czech people in Prague during the past 7 years, organized by the Vietnamese Association in the Czech Republic and Sapa Shopping Center in cooperation with local authorities , in order to create conditions for the Vietnamese community and the Czech people to exchange culture on the occasion of welcoming the New Year according to Vietnamese traditional Tet customs and ancient festivals.
Speaking at the event, the Mayor of Prague Libuš district, Mr. Jiří Koubek expressed his joy for attending the event for 7 years, and thanked the units for organizing the "Vietnam Lunar New Year Festival" and Masopust 2020 ", appreciating the integration of the Vietnamese community through the great participation of local people.
According to Mr. Koubek, people can better understand each other through traditional art culture and traditional cuisine, thereby feeling a deeper sense of the unique features of the cultural identity of the two peoples.
This year "Vietnamese Lunar New Year Festival and Czech Masopust – 2020" not only attracts a lot of local people and many Vietnamese people. For Czechs, Vietnamese culture and cuisine are always interesting and interesting. The program "Vietnamese Lunar New Year Festival and Czech Masopust – 2020" is an expression of deep integration which has been raised to the intersection of folklore and folk arts among the communities. The "Vietnamese Lunar New Year Festival and Masopust 2020" is also meaningful when the organizers have a lottery program to win prizes to raise money for the charity fund "Nejdřív střecha" to support the homeless in Czech.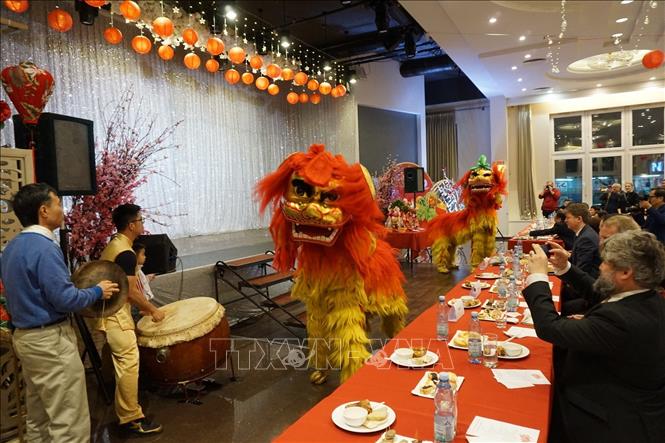 Speaking to the Vietnam News Agency correspondent in the Czech Republic, Ms. Monika Granja, Goodwill Committee – Olga Havlova Foundation said: "I feel great with the cooperation and cohesion between Vietnamese and indigenous people. . The shows here and the food are very interesting. On this occasion, the fund for homeless people hopes to receive a charity fund to support those in difficult circumstances.
Previously, on the evening of January 17, Sapa Trade Center held the New Year of the Rat year 2020 for the Vietnamese community in Prague on a successful year and together towards a new year to succeed with many important events. 75 years of the National Day of Vietnam, the 70th anniversary of the establishment of the diplomatic relations between Vietnam and the Czech Republic (2 / 1950-2 / 2020) … Looking forward to activities this year, the Committee for Vietnamese Overseas organized an art troupe with the main components of Thang Long Theater, Dance, Music and Cheo Theater to serve the community in European countries (Czech, Germany, Poland) during the Lunar New Year. nation.