Subtitles help viewers understand what happens in videos and movies more easily, especially for foreign languages. With the top best movie subtitle software that ElectrodealPro introduces to you in the article below, you can quickly create subtitles or edit subtitles for videos, movies and TV shows.
Related posts
How to add Sub in Avidemux, Add Subtitles
How to increase or decrease Subtitles / CC "This place has you" Sơn Tùng M-TP, toggle Subtitles on and off
How to create captions directly on YouTube is fast and simple
Adjust film subtitles skewed, re-sync subtitles
Install VideoPad Video Editor on computer, create video subtitles
Subtitle software helps translate dialogs as text and is displayed in the lower part of the video, movie. In movies, they are often used to translate the original language of a movie into another language so that viewers can better understand what's going on.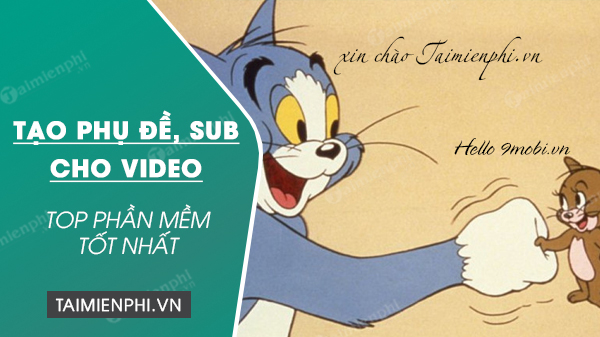 Top software to create subtitles for videos, make sub karaoke, professional lyrics
When editing videos for Facebook, YouTube, or for other purposes, you may also need to add subtitles to make your videos more personal, or simply to better convey their meaning. On the market there are a lot of good caption creation tools that you can use to add subtitles to your videos and also to edit them later. You can also translate your favorite movies and shows with the help of these programs. So which is the best video subtitle software? Here are 5 names that you can completely rest assured to choose.
Content:

1. Top subtitle software for video.
1.1. Aegisub.
1.2. YouTube.
1.3. Adobe Premiere.
1.4. CaptionMaker.
1.5. Pinnacle Studio.2. What software should I choose as sub?
Top 5 subtitle software for the best video
1. Aegisub
Advantages:
Free, open-source subtitle software for movies.
Simple and intuitive yet powerful interface for creating and editing subtitles.
– Supports many formats and character sets.
– Intuitive typesetting tools.
– Provide subtitle manager and spell check utility.
Powerful scripting environment with Automation mode.
– Sync subtitles with sound
– Aegisub supports Windows, Mac and Unix operating systems.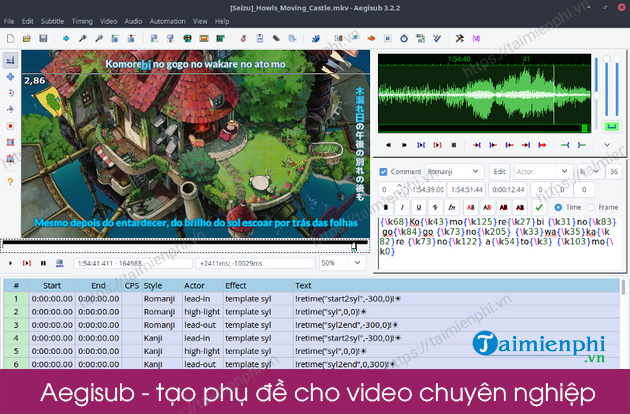 Aegisub is an open-source and cross-platform subtitle creation software for movies, used to edit existing subtitles and create new subtitles. Aegisub has many convenient tools to help you easily determine the timing of subtitle files, typeset, edit and translate subtitles, preview work in real time, as well as a powerful scripting environment. called Automation which was originally devoted primarily to creating karaoke effects, but can now be used with a lot more work, including macro creation and other convenient tools.
=> Link download Aegisub


How to use Aegisub is also very simple, if you have not installed or created a sub with Aegisub successfully, you should refer to:
See also: How to use Aegisub
2. YouTube
Advantages:
– No need to download software.
– Automatically create videos with voice recognition technology.
– Easy subtitle editing.
Add subtitles to your own or another user's YouTube video.
YouTube supports all operating systems, including iOS and Android versions.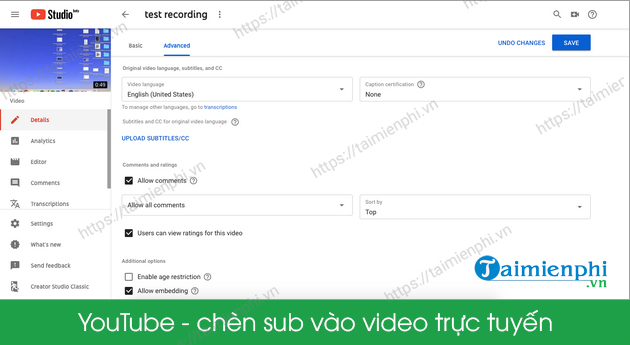 YouTube has the feature to automatically caption videos using voice recognition technology. It's important to remember that auto captions are low-precision, and you'll have to do a lot of editing in YouTube for your captions to make sense. If you want to edit subtitles for a video in your YouTube account, you'll have to sign in to YouTube Studio to make the changes. You can add subtitles to videos on your own YouTube channel, or add subtitles to other users' YouTube videos.
=> Link YouTube download


3. Adobe Premiere
Advantages:
Professional video editing software with easy-to-use subtitle creation.
– Easily add subtitles and closed captions to videos with suitable formats.
– Subtitles can be exported as Sidecar file or as an encoded video file.
– Edit subtitles in real time against font, color, background and timing.
– Adobe Premiere supports Windows and Mac operating systems.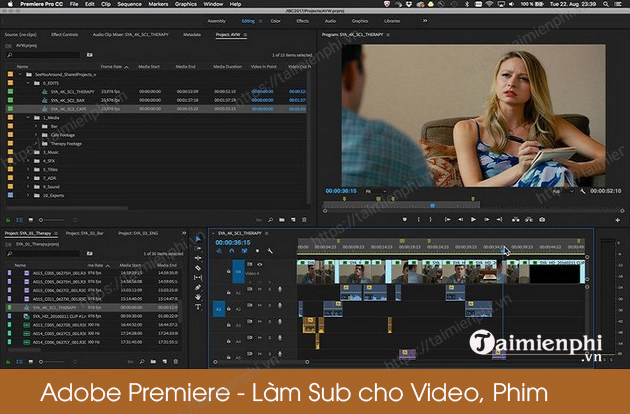 Adobe Premiere is an excellent video subtitle software for Windows and Mac. It allows users to view and edit subtitles in real time against font, color, background and timing. The most widely used subtitle formats are .scc, .mcc, .srt, .xml and .stl. With the "annotation tool" you can edit, create and export files to any desired format.
=> Link Adobe Premiere Pro download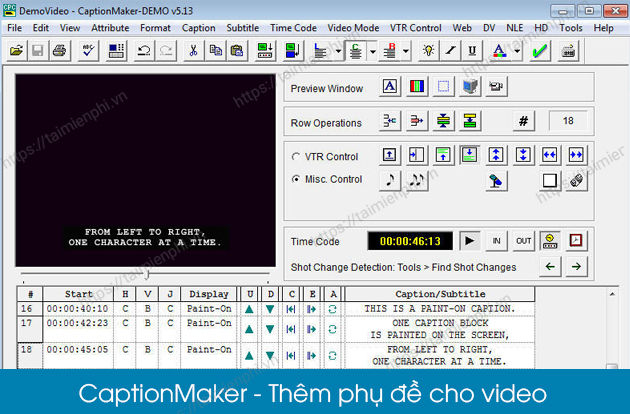 CaptionMaker is user-friendly caption creation software for Mac and Windows. It allows you to create, edit and encode subtitles with ease. You can create subtitles by adding text files to the video and use the Auto Time Stamp feature to automatically synchronize them. In addition, the software also allows users to export and import subtitles to many popular formats such as SCC (CEA-608), MCC (CEA-708), Timed Text, WebVTT, DVD and more.
=> Link Download CaptionMaker


5. Pinnacle Studio
Advantages:
Video editing software provides easy-to-use video adding features.
– Add subtitles to video in a few easy steps.
– Edit fonts, sizes and fonts easily.
– Pinnacle Studio supports Windows operating system.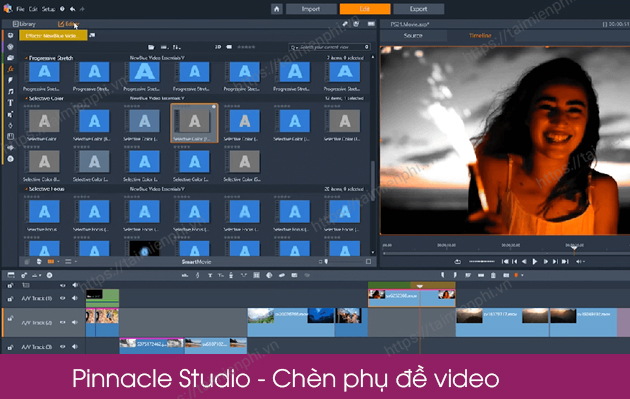 Pinnacle Studio is a fairly sophisticated video editing software but offers an easy-to-use video subtitle creation feature, similar to Windows Movie Maker. You only need to take a few simple steps to add subtitles to your video with Pinnacle Studio through a few quick steps, which is to add video to the software, select Title Editor, write subtitles and proceed. adjust the font, font size, and font style there.
=> Link Download Pinnacle Studio Ultimate


Which software should I choose as a sub?
Creating subtitles for movies or videos brings many different benefits such as translating content, dialogue into many different languages, helping to reach a larger audience, helping deaf people understand the content, allowing you to watch. video without sounding in places where quietness and subtitles are required is essential on social networks such as Facebook, where autoplay video is usually silent, and subtitles also support SEO.
If you want to create subtitles for YouTube videos, there is no simpler and easier option than the platform itself because you can quickly add subtitles to your own videos and other users without having to download and install. install any software on your computer. Meanwhile, Pinnacle Studio is a video editing software that provides an easy-to-use subtitle creation that anyone can use to add subtitles to a video in just a few quick steps. Aegisub, Adobe Premiere and CaptionMaker are professional movie subtitle software, providing many features and supporting a wide range of formats, more suitable for advanced and demanding users. meticulous in its product.
https://thuthuat.taimienphi.vn/tao-phu-de-cho-video-989n.aspx
The list above includes both simple and professional subtitle creation programs. All of them provide the most essential features for you to complete your project. Depending on the needs of use and the quality requirements for output products, you can choose one of the above suggestions.
.