Different style, leading the trend
Galaxy S21 with a new impressive expression style will confirm the level of users through a slim design and compact 6.2-inch screen. Galaxy S21 + owns a 6.7 inch screen and a larger battery capacity, suitable for gamers and movie lovers to use for a long time.
The Galaxy S21 series will introduce a completely new side-mounted monolithic camera design, creating a seamless between the camera and the metal frame of the device to create a look that is both sophisticated, stylish and eye-catching. The Galaxy S21 and S21 + also come in a variety of color options, with the Passion Purple version being the first on the market. Each device is matte coated to create sophistication and elegance. Two limited color versions: Enthusiastic Red and stylish Rose Gold.
Galaxy S21 also comes with a smart 120Hz Dynamic AMOLED 2X Infinity-O bezel-less display for a smoother viewing experience. That allows the device to automatically adjust the appropriate frame rate when the user is surfing social media or watching favorite shows. The new screen will also protect the user's eyes. To help minimize eye strain, the new Eye Comfort Shield feature automatically adjusts the blue light filter based on the time of day, what you're watching, and your bedtime.
Make the moments of everyday life fascinating
Galaxy S21 continues to inherit the quintessence of Samsung's flagship camera technology with outstanding innovations for professional photography and video recording, making it easy for users to create their best works at any level. Come on. Whether returning to the moment the dog first looked in the mirror, capturing the joyous jokes with friends, or the breathtaking views of the long-haul travel; The Galaxy S21 and Galaxy S21 + will remain the perfect companions. Just point and shoot, the Galaxy S21 automatically performs the rest of the steps to capture those impressive moments before it disappears.
The first is the high-quality image extraction feature from 8K video (8K Snap) that captures clear frames from 8K videos, users can instantly record millions of high-quality standard and expensive frames from a video. only. Regardless of the shooting conditions, video results will be smoother than ever thanks to Super Steady Super Steady movie recording, which helps users to capture unique trips or sports performances. From your own perspective, a dynamic, smooth dashcam is automatically optimized from 30 frames / sec to 60 frames / sec at Full HD resolution. Next, the Director's View allows you to view, transform, and choose the best variety of angles to fully and uniquely express your ideas, transforming everyday life into ruler. Attractive film directed by you. Also, live Vlog creation (Director's View Split / Split Frame Function) lets you capture your immediate action and emotions at the same time with both the front and rear cameras, showing interaction to the world around them so that viewers can feel it easily, more vividly and realistic. When connected to Samsung's new Galaxy Buds Pro, you can record your surroundings and voice at the same time using the Multiple Mic Recording feature. That means you can mount your Galaxy S21 in Professional Video Recording mode on the stand and use the Buds Pro as a portable microphone, no matter how far you step away, voice, motion or sound. The background retains a clear quality. In addition, thanks to the power of AI on the new Galaxy S21 series, the new generation of single-take capture allows you to capture everyday moments in surprisingly interesting ways, with just one go. take a shot. This feature is enhanced professionally through Highlight Video and Video Dynamic Slow-Mo effects to help you focus on the most engaging, striking scenes.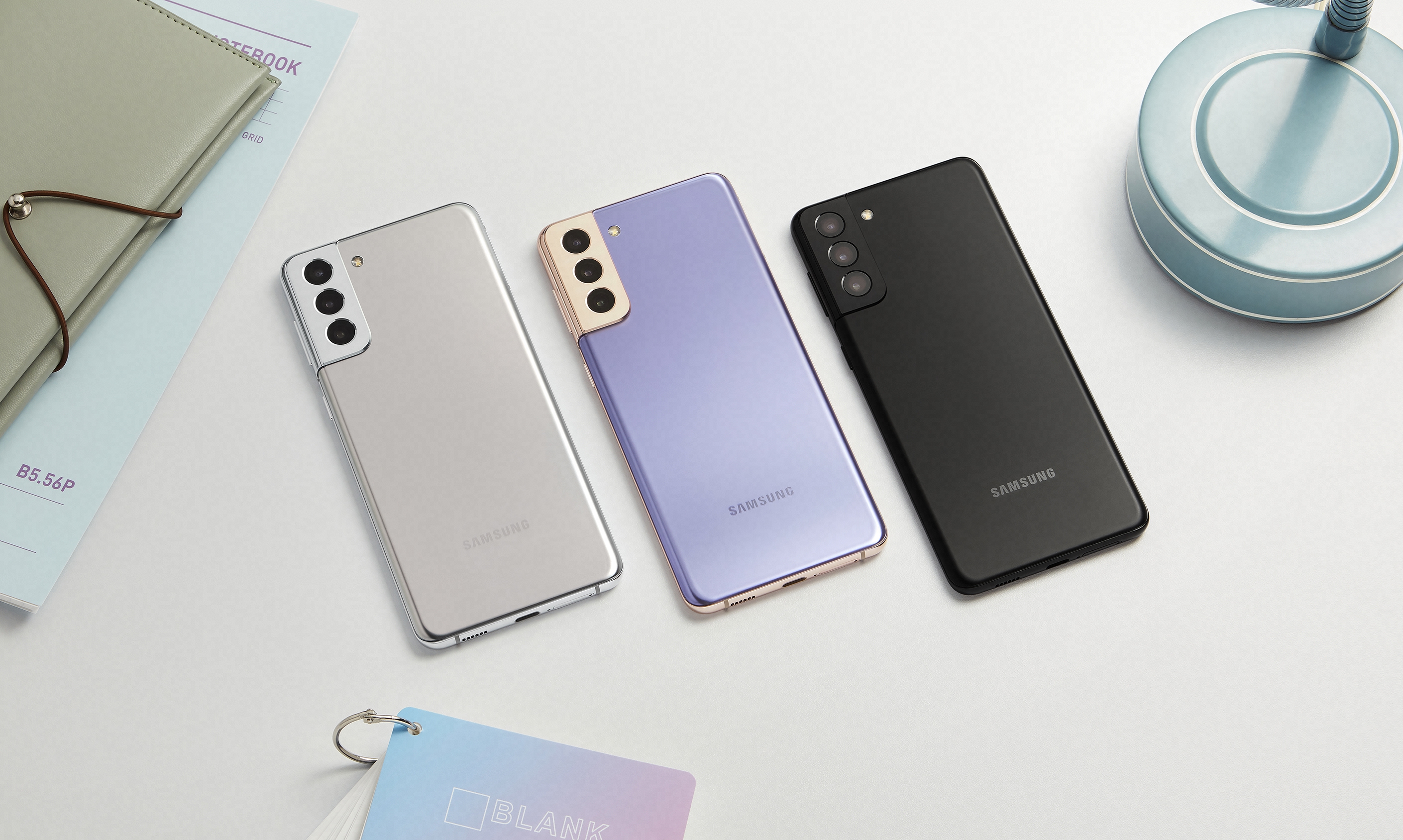 Taking advantage of AI technology, the three professional lenses on Galaxy S21 help users unleash their creativity. Specifically, the camera system will automatically evaluate and adjust so that users can take perfect photos regardless of the environment. In Portrait mode, the AI ​​in the camera analyzes 3D to accurately layer images of subjects and surroundings. In addition, users can adjust the lighting and background effects to help the subject stand out more. For remote shots, whether you are hiking or sitting in the back seat, the enhanced Space Zoom helps you get clear and stable shots. Zoom Lock minimizes hand shake and assists in capturing clearer photos at 30x zoom, by leveraging AI to keep your focus in the center of the frame. Plus, the enhanced processing keeps images bright even in the dark, so you can accurately capture stunning sunsets and skylines.
Matching performance and seamless connectivity
Samsung is committed to keeping users connected, keeping data secure and personalizing their devices. Galaxy S21 delivers ultimate performance and seamless connectivity through the Galaxy ecosystem for ultimate flexibility regardless of routine, so you can do more with confidence.
The Galaxy S21 series also owns the new and most advanced processor ever on the current Galaxy series. It offers a higher speed experience, greater energy efficiency and superior processing capabilities to support 5G and AI connectivity. Galaxy S21 is packed with the tools you need for creative image processing, capturing 8K artistic videos, playing games continuously or creating inspirational video clips.
As we use smartphones more and more, information security is more important than ever. The Galaxy S21 is secured by Knox Vault, Samsung's exclusive processor-level (SoC) security platform. By adding anti-tamper safe memory to the secure processor, Knox Vault gives the Galaxy S21 a new layer of protection.
Galaxy S21 also introduces a new tool to protect and monitor privacy. You can safely remove location metadata from photos and videos before sharing them. With the Galaxy S21's brand new Private Sharing function, you can also control who has access to what you submit and how long it's available.
The Galaxy S21 is designed to connect with other Galaxy devices and the SmartThings Find location feature. This feature allows users to locate their compatible Galaxy devices quickly and easily even when they have no signal. So whether you leave your devices in another room, under your car seat, or in a completely different city, SmartThings Find helps you find them. You can also locate devices that are not connected to Samsung's Galaxy SmartTag. Just attach the SmartTag to a pet's key, bag or even necklace, and users can use the SmartThings Find to quickly locate their belongings or pets.
.