Asustek officially released the new flagship series of high-end notebook computers-Lingyao X Dual Screen and Lingyao X Dual Screen Pro, both of which include an innovative liftable ScreenPad Plus touch screen, which cleverly integrates two high-quality screens. Achieved lighter and thinner, realized the advantages that notebook computers had never had before, and brought new vitality to passion and creativity.
On February 3, the launch conference of the "Screen World" ASUS Lingyao X dual-screen notebook was held. Asustek officially released new flagship series of high-end notebook computers-Lingyao X dual-screen and Lingyao X dual-screen Pro. As a top masterpiece based on ASUS's unique dual-screen design, the two new products in the Lingyao X dual-screen series both include an innovative liftable ScreenPad Plus touch screen, and exclusively use AAS plus wind tunnel technology to improve heat dissipation performance, satisfying Future-oriented efficiency and comfort leading user experience requirements, and perfect realization of high performance and high stable output.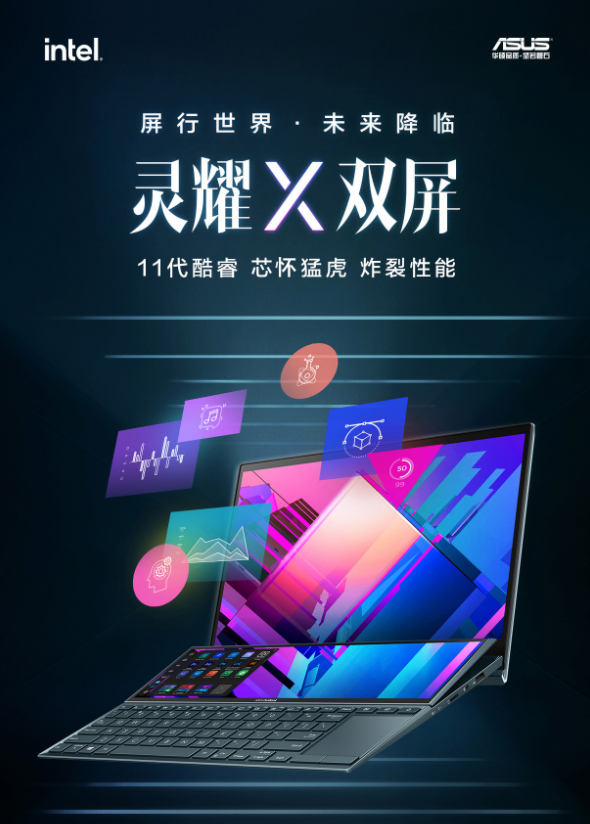 Inheriting ASUS' cutting-edge technology strength, the new Lingyao X dual-screen series adopts innovative liftable ScreenPad Plus touch screen technology, which not only cleverly integrates two high-quality screens, but also makes it lighter and thinner, realizing a notebook Computers have never had an advantage, and they won the CES Innovation Award in 2021, creating a truly epoch-making technological innovation in the field of notebook computers in 2021, bringing new vitality to passion and creativity.
Original dual-screen epoch-leading
In order to improve work efficiency, many professionals often use computers to connect multiple display devices to obtain a larger visual space. By displaying different content on multiple screens, operations such as data comparison and product demonstrations can be performed at the same time to improve work efficiency . Configuring large screens and multiple screens has become an increasingly important means of improving efficiency in office use. However, notebook computers are subject to size restrictions, and the screen specifications cannot be too large. Some professionals still have portable needs when they go out. With additional display devices, the travel experience will be greatly reduced.
Based on this, ASUS takes user needs as the starting point, and brings creative dual-screen design for mobile office application scenarios, pointing out the development direction for the efficiency upgrade of mobile productivity tools. In 2019, ASUS, as a pioneer in the industry, took the lead in launching the Lingyao X2 Pro that can be linked and controlled and collaborated in office. With its unique dual-screen display design, it won the CES Innovation Award and the 2020 iF Design Award in one fell swoop.
""Screen" is the world's leading seamless interaction
ASUS continued to deepen the notebook dual-screen technology, research and development innovation, from the perspective of the integration of software and hardware, upgrade the dual-screen technology in an all-round way, and the "light and portable true dual-screen notebook" was born. The new Lingyao X dual screen emphasizes the multi-purpose and collaborative linkage. It adopts the liftable ScreenPad Plus touch screen with the same specifications and the same width as the main screen. After opening the notebook A side, this touch screen will be The ErgoLift hinge automatically rises under the stable support, and will seamlessly interact with the four-sided ultra-narrow bezel touch main screen at an ergonomic tilt angle, thereby reducing glare and mirror reflection of the external environment, allowing users to feel more comfortable Angle viewing and manipulation.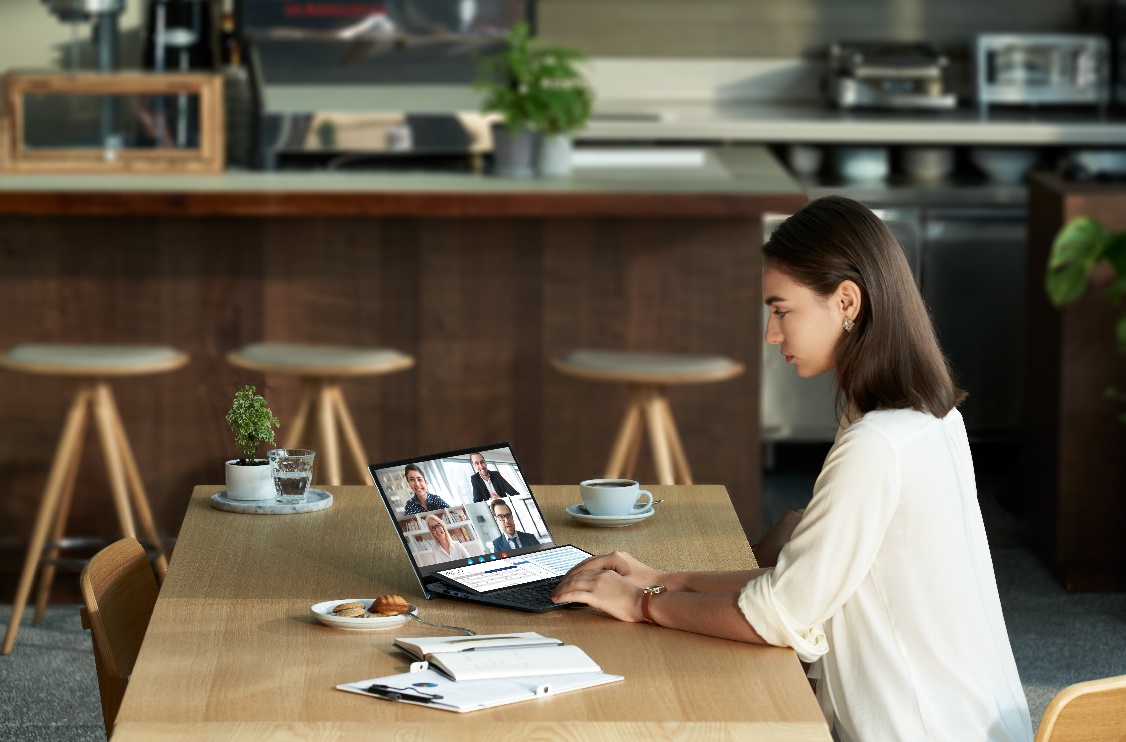 ScreenXpert2 also has a brand new control center, which can provide users with more precise and intuitive operation methods, with direct controls to adjust brush size, color saturation, layer opacity, etc., including control dials, buttons, sliders and scrolling. Various types of controls, each of which has a separate control method, providing a precise and smooth control experience. This control center can currently be used with applications such as Adobe Photoshop, Lightroom Classic, Premiere and After Effects, and more compatible applications will be released.
Facing the future, innovation leading needs
In addition to typical users, the ASUS team also hopes that more users can also feel the excellent experience of dual-screen notebooks. Therefore, according to the application scenarios of users in different industries, the ScreenXpert2 software is designed to establish dual-screen interaction rules for users, bringing a smooth and comfortable operation method for everyone to use easily. For example, for business meetings, product demonstrations, collaborative office and other needs, taking into account the use scenes of user groups such as webcasters, educators, and music producers, the ScreenPad Plus secondary screen can now be divided into three areas to drag and drop different windows. Display and control applications without blocking the main screen, or place video tracks, material bins, layers and other common work areas of editing software. And it supports extending a window to dual screens, increasing the viewing area, allowing users to enjoy a larger display area. ASUS officially also provides detailed graphic tutorials and demonstration videos, allowing users to easily learn and understand this futuristic dual-screen linkage.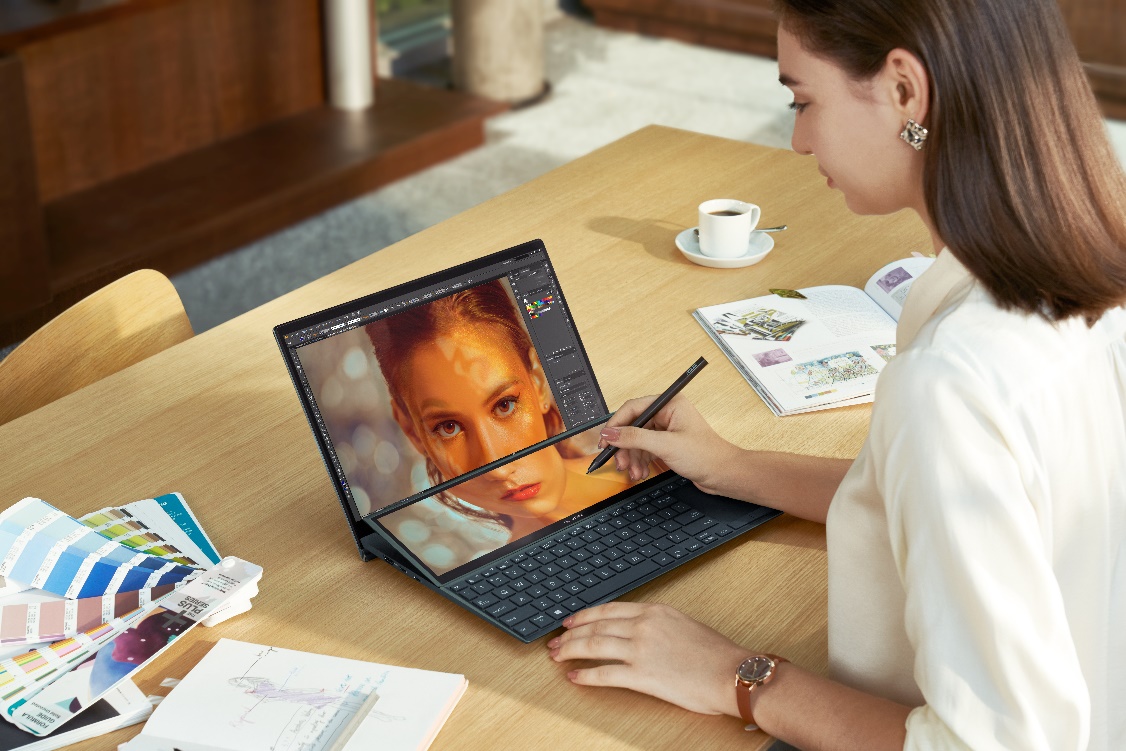 The new Lingyao X dual-screen product also introduces ASUS AAS Plus wind tunnel technology. After the ScreenPad Plus touch screen is raised, a new air inlet duct will be opened in the angle of the raised part. At the same time, due to the use of the ErgoLift hinge shaft, turning over the A side will also lift the bottom of the fuselage by 3mm, which increases the bottom space and forms a spacious three-dimensional air duct, which greatly enhances the air circulation inside the fuselage. heat radiation.
Lingyao X dual screen is not as simple as integrating two screens. The brand-new design overcomes many technical difficulties, such as making the fuselage lighter and thinner, and using a smaller hinge for the lifting of the secondary screen, which needs to be strengthened in material and workmanship to form a flexible and stable support . The AAS Plus wind tunnel technology is even more ingenious, making reasonable use of the inclination angle of the elevator screen to achieve three goals for heat dissipation, manipulation and viewing.
Both the main and secondary screens of the Lingyao X dual screen support stylus pens. Professional users such as cartoonists and designers who need handwriting and hand-painting can purchase the ASUS active stylus. The screen can accurately sense the pen pressure, touch operation or drawing when creating. Writing is more delicate and natural.
Lingyao X dual screen Full HD IPS screen
The Lingyao X dual screen released this time adopts an excellent thin and light design, the whole machine is about 15.9mm thinner and lighter about 1.55Kg. As a dual-screen notebook, the Lingyao X dual-screen is equipped with a 14-inch FHD full HD IPS touch main screen and a 12.65-inch FHD full HD IPS touch secondary screen, both with a brightness of 400 nits. In terms of performance configuration, the Lingyao X dual screen is equipped with an 11-generation Intel Core i7 processor and Intel Iris Xe display core, or an NVIDIA GeForce MX450 graphics card to meet the needs of high-load use, using 16GB LPDDR4X 4266MHz dual channel The combination of high-speed memory and 1TB PCIe x4 SSD storage brings a smoother software loading experience. The notebook is equipped with a full-speed Thunderbolt 4 interface output and Wi-Fi 6+ network, which can provide users with a high-speed and stable connection experience. In addition, the Lingyao X dual screen also has a built-in 70Wh high-capacity fast-charge battery in the thin and light body. The battery life can reach about 17 hours, and there is no battery anxiety in all-weather mobile office.
Lingyao X Dual Screen Pro Dual 4K Touch Screen
Lingyao X Dual Screen Pro can meet more advanced usage needs, and its configuration covers a dual 4K touch screen that covers 100% DCI-P3 color gamut. The 15.6-inch main screen is made of OLED, with 3840 x 2160 resolution and 400nits brightness, and supports HDR. The 14-inch 32:9IPS touch secondary screen has a resolution of 3840 x 1100 and a brightness of 400nits. A 92Wh high-capacity battery is also built into the fuselage, and the weight is controlled at only about 2.4Kg.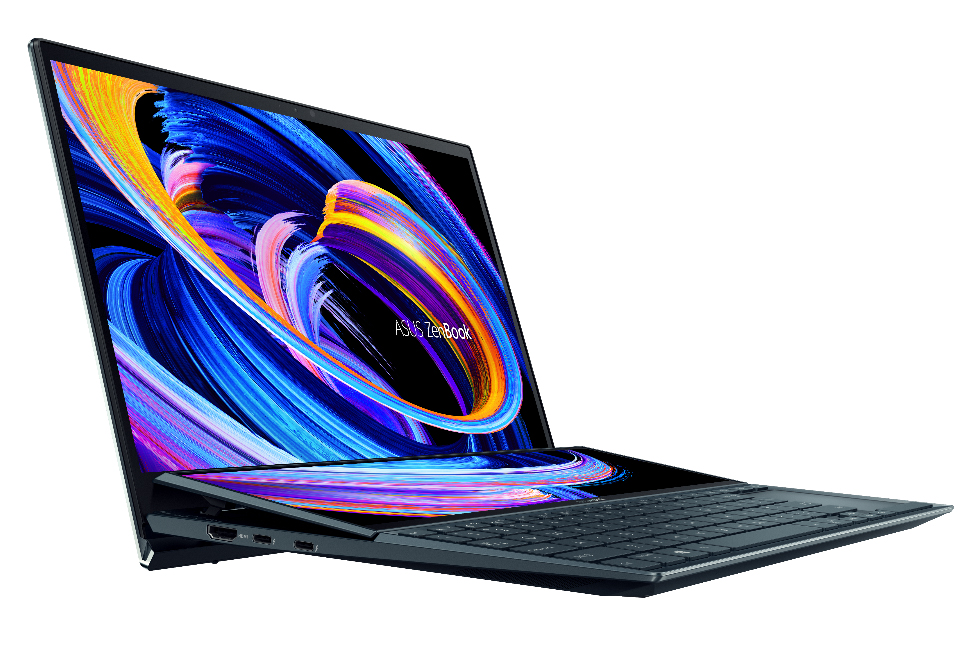 In terms of performance, the Lingyao X Dual Screen Pro is equipped with the 10th generation Intel Core i9 processor and NVIDIA GeForce RTX 3070 graphics card. It has a combination of 32GB dual-channel high-speed memory and 1TB PCIe x4 SSD storage, making it easy for office or entertainment .
Lingyao X dual screen is a new upgrade of ASUS dual screen design. It has new breakthroughs in screen quality, hardware performance, and software interaction, bringing users a better experience of dual screen use. In addition to this innovative design, the Lingyao X dual-screen itself has also made bold breakthroughs in performance configuration, thin and light design and endurance. The powerful computer capabilities allow users to use it without being restricted and restricted by the scene and environment, and can make full use of the dual-screen release. Creativity and work efficiency, experience the infinite new possibilities brought by dual-screen design.
.