Sign up for a Hotmail account to help you get Microsoft's mailbox. Similar to Outlook, Hotmail is also Microsoft's mail service, but with a large number of users, it is more stable. Through your Hotmail account, you will use email effectively. If you do not know how to register Hotmail, you can refer to the article below.
Related posts
Change Hotmail password, change Hotmail account password
Create a Hotmail signature in Hotmail messages
Delete Hotmail, delete Hotmail account from Microsoft
How to login Hotmail, access your Hotmail account
Create group in Hotmail, create email group in Hotmail
This article helps you:
– Get a link to create Hotmail registration
– Create hotmail easily
Hotmail accounts are quite similar to Gmail accounts. If you want to use gmail, you need it Sign up for gmail and for Hotmail too, creating a Hotmail account allows you to send and receive emails from colleagues and friends.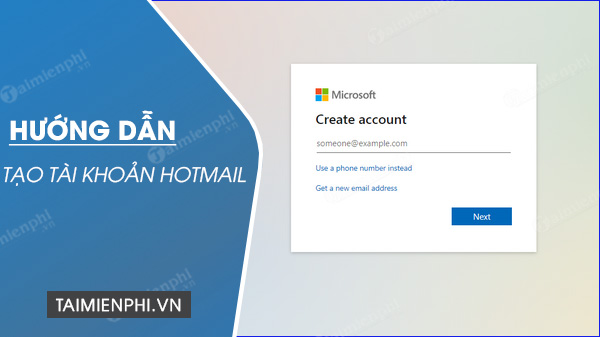 Create hotmail without phone number
To create a hotmail account only requires a few simple registration steps. Currently, Microsoft Corporation still provides users with two free email services: @ outlook.com and @ hotmail.com. In the previous post we showed you how Outlook Email creation Then with this article we continue to introduce to you how to create a hotmail account, please refer to us.
Article Contents:


1. Create a Hotmail account.
2. Create a Hotmail account without phone number.

1. Instructions on how to create a Hotmail account

Step 1: Open Firefox, Coc Coc or Google Chrome Web browser afterwards click here to register.
Step 2: You enter information in the boxes below: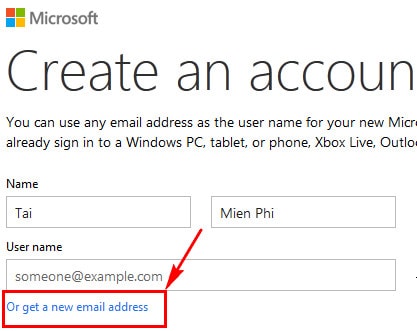 (Create Hotmail account)
Name: The name displayed on your account
After filling in the information in the Name box, click on it "Or get new email address" then enter information about User Name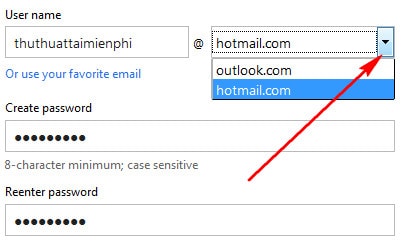 (Instructions on how to create a hotmail account on your computer)
User name: Name your Outlook account, click on the arrow hotmail.com
Create password: Password to log into the mailbox, password must be 8 characters or more in length, including letters, numbers and special characters.
Reenter password: Re-enter the password above.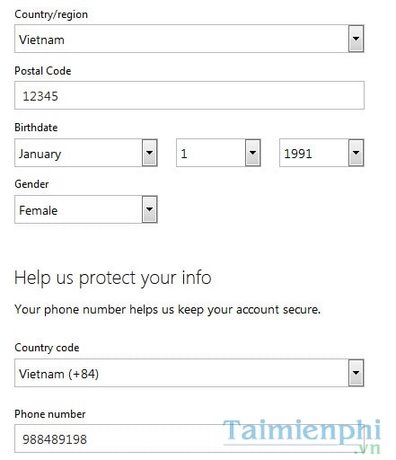 (To create a hotmail account, you just need to fill out the information above)
Country / region: The country where you live and work, you choose Vietnam
Postal Code: Postal code consists of 5 digits, for simplicity here I put 12345
Birthday: You enter your date of birth.
Gender: Select gender, Male is male, Female if you are female.
Count code: Country area code, you choose Vietnam (+84)
Phone number: Enter the mobile phone number you are using, and remember to remove the first 0.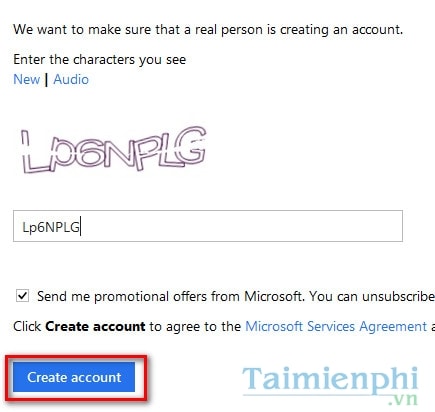 Enter the correct words shown on the screen, if you are not sure you can click new to get a new code or click Audio to listen to read the code
Successfully created microsoft will redirect you to a welcome page, regardless of that.
To receive and send mail just access: Hotmail.com, after logging in for the first time will display 2 options:
– Create an Alias: Create a nickname for this email account. If you choose this option you will be redirected to confirm your account. You should choose the option Text or Email:
If you choose SMS: You enter the last 4 digits of the phone enter the text box and press the button Send code. Microsoft will send an SMS to your phone and open this message to get the confirmation code to re-enter the open website and press the button Submit.
If you choose Email: then re-enter the email in the text box and click submit. Then open this email, click on the link in the email to confirm.
– Skip for now: You should select this option if you do not want to create a nickname, or have to confirm ambiguous

2. Create account, Hotmail mailbox does not need phone number

How to sign up to create a Hotmail account without a phone number is mainly for you to fake IP. You create an account with the following steps:
– Step 1: Access to the registration website HERE . At this point the interface will appear as shown below.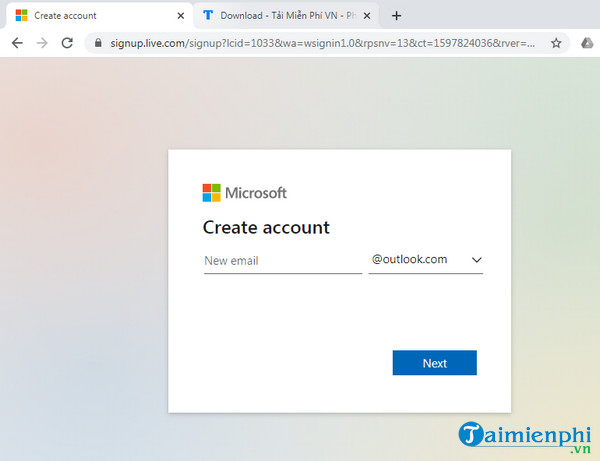 – Step 2: Enter the email account you want to create. Then Click the arrow to switch from @ Outlook.com to @ Hotmail.com. Then click on "next".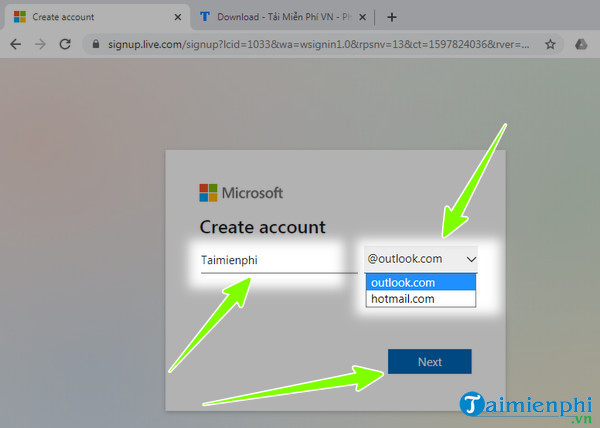 – Step 3: Enter a password in the box "Create password "(You can tick the box "Show password" to display the password you write). Then you click on "next".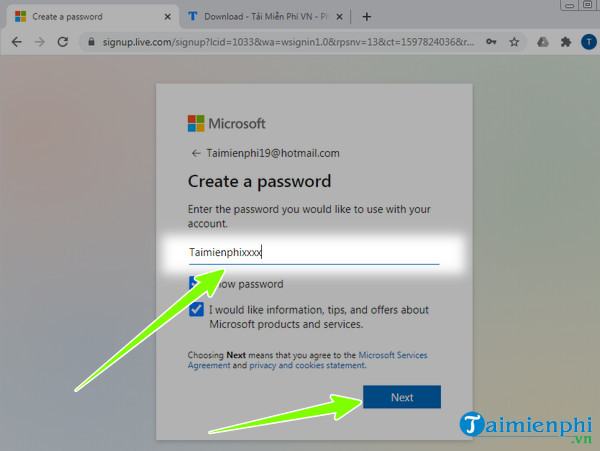 – Step 4: Enter Name in the box "First name"And They get into the box"Last name"Then, click on"next".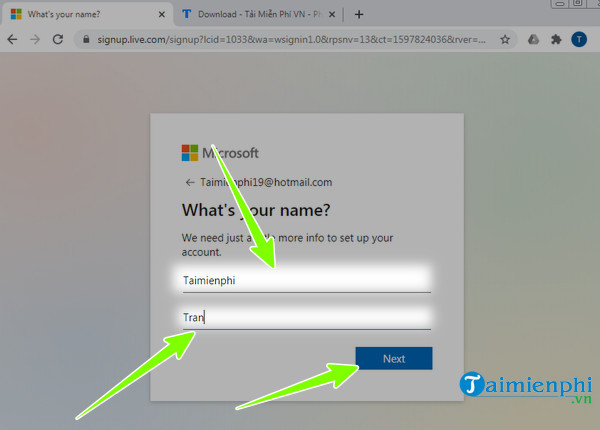 – Step 5: In the box "Country / region"You choose the country in which you live and in the box"Birthdate"You choose your date of birth. Then click on"next".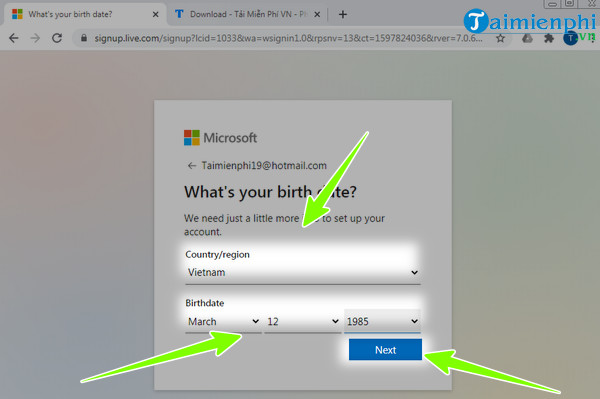 – Step 6: Enter the capcha code in the box. Then, click on "Next". If you don't see it, you can choose New to refresh the capcha code or you can click Audio to listen to this capcha code.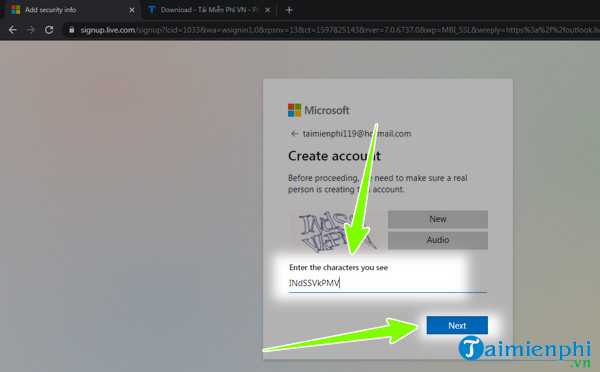 So is to complete the Hotmail registration procedure.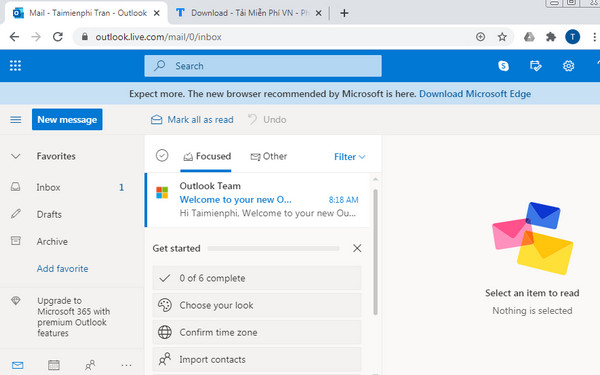 https://thuthuat.taimienphi.vn/tao-tai-khoan-hotmail-763n.aspx
After filling out the necessary information, click Create account to do account creation. Your creation has been successful, you can use it now.
.