https://store-images.s-microsoft.com/image/apps.22557.14451322576245732.e2e4d513-a072-432d-a393-c511a36d4db7.5f87a8fb-ead0-4798-a585-c796775ae113?background=%230078D7&w=92
Simple Lyrics Maker makes creating bilingual lyrics files easy on Windows 10.
Simple Lyrics Maker does not support adding lyrics to music files, but instead this UWP application helps you create files containing single or bilingual lyrics with set time.
Compatible applications Windows 10. Capacity 32 MB.
Developer: 快乐 工作室
Price: Free
Simple Lyrics Maker is easy to use, here are the steps to follow.
Step 1: Open the application, select the music file.
– Open file: Select only a music file.
– Open folder: Select music folder.
Step 2: The editing interface appears with the playlist on the left.
You click to edit on the right of the interface.
– Lyrics file properties: Update, change music file information.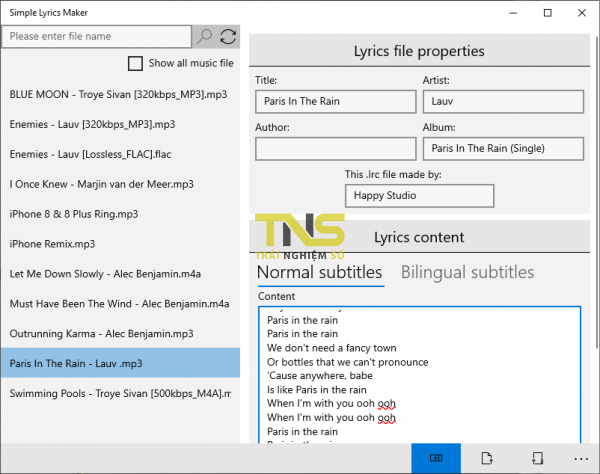 – Lyric content: The main feature of the application, you create the lyrics file here.
Normal subtitles: Create single lyrics files. You type or paste the lyrics into the empty box> press Submit and create to move to the next step.
Bilingual subtitles: Create bilingual lyrics files. You enter the original language lyrics in the box Original and enter transliteration lyrics in the box Translate. Then press Submit and create.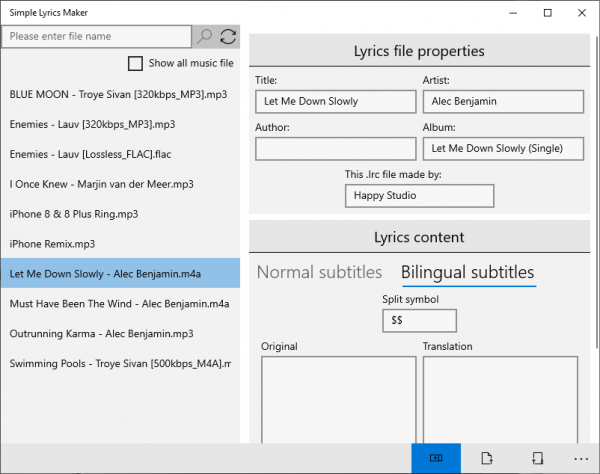 Step 3: You will move to the music playback interface and set the time for the lyrics.
You press pause when you come to the part of the lyrics.
Click Set up time below to put lyrics at this time.
Keep going like that to align the igan for the lyrics.
You can preview how lyrics appear by pressing Preview.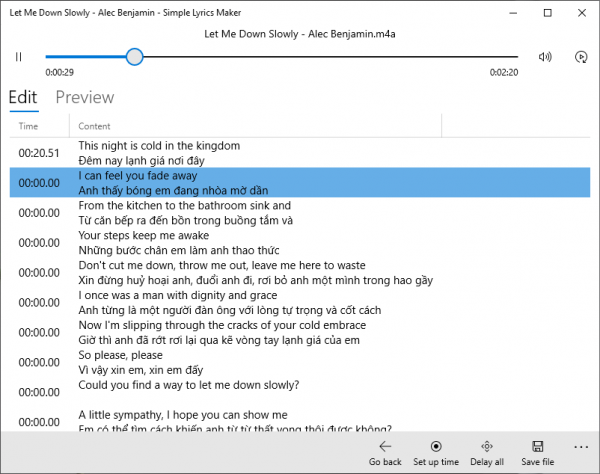 Step 4: Finally, you press Save the file floppy disk icon image to store lyrics in * .lrc file format. It will save in the same directory of the music file.
What music files have been made will disappear from the list in the application menu.


Hùng Anh