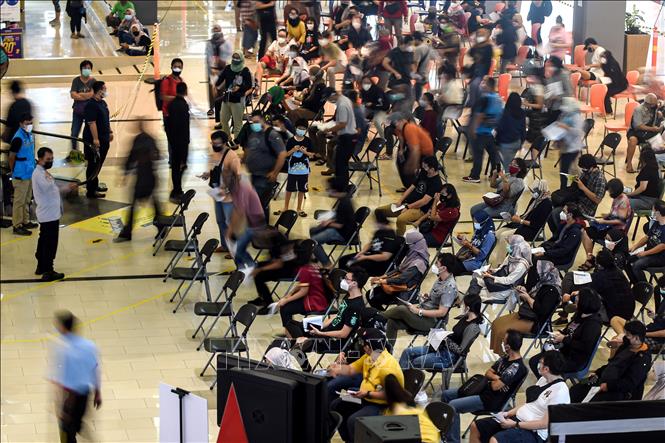 Meanwhile, the number of deaths from COVID-19 in the past 24 hours is 869 – the third highest since the pandemic broke out in early March last year.
Up to now, Indonesia has recorded a total of 2,615,529 cases, including 68,219 deaths.
Experts believe that the number of COVID-19 cases in Indonesia has increased continuously in the past few weeks as a result of the Eid al-Fitr holiday in May, as well as the emergence of dangerous new variants, in that has the Delta variant.
The second wave of infections in this country has caused a series of hospitals to be overwhelmed. In response to this urgent situation, the Government of Indonesia has imposed an emergency restriction of community activities (PPKM) in Java and Bali from July 3 to 20 and expanded to 15 other areas outside the country. These 2 islands are densely populated.
Indonesia launched a nationwide COVID-19 vaccination program on January 13, with the goal of providing vaccines to at least 181.5 million people to achieve herd immunity by the end of the year. Up to now, this country has fully injected 2 doses of COVID-19 vaccine for 15,190,998 people and 36,914,607 people have received 1 dose of vaccine.
Also on July 13, Indonesia received an additional 1.4 million doses of the finished vaccine manufactured by China's Sinopharm pharmaceutical company. This is the 22nd batch of COVID-19 vaccine and the third batch of vaccines that the country has received from abroad.
* Meanwhile, the number of Delta variant cases in Turkey in the past 1 week has nearly tripled, from 284 cases to 750 cases, while the number of new cases also increased by 20% compared to the previous week. Currently, Delta variant cases are present in 36 provinces, an increase of 6 provinces compared to 1 week ago and there have been 3 cases of Delta Plus variant.
Before the above situation, Turkish Health Minister Fahrettin Koca urged people to get vaccinated against COVID-19. About 61% of all adults in Turkey have so far received at least one dose of the vaccine, while the country targets at least 70% of the population by next week's Eid al-Adha holiday.
To date, the country has recorded over 5.5 million cases of COVID-19, of which 50,000 have not died.