Convertio is one of the services that supports converting the largest number of files in many formats today, the total processing capacity so far is more than 15 TB. Appeared in 2014 and the service is the name chosen by many people when they want to convert files without having to install software and extensions.
1. Features:
Let's take a look at the features and features of Convertio.
– Free, support Vietnamese, no account required.
Supports more than 25600 different conversion types between more than 300 different file formats.
– Manipulation performed quickly and easily.
– All conversions happen in the cloud and will not consume any resources from your computer.
– Supports advanced options for each conversion format.
Protect the files you do by deleting uploaded files immediately and after 24 hours with converted files.
– Supports all platforms through the browser.
2. How to convert:
The conversion of files between formats is the same, with a few points to keep in mind.
Convert up to two files at a time.
Convert up to 100 MB / file.
Convert between multiple file formats at the same time.
Convert files from multiple sources (desktop, web, cloud storage).
How to convert, you have two options:
On the Convertio home page, select the file and choose the output format, do advanced settings (cogs)> click Convert. Successful conversion, then click Download to save to your computer or save to Google Drive service, Dropbox.
Convert by format, you hover over Convert on the home page to see conversion options.
Video conversion (3gp, asf, cavs, divx, f4v, hevc, m2v, ogv, …).
Convert audio (aac, amr, cvs, dss, flac, gsm, htk, …).
Convert images (3fr, avif, bmp, crw, dcr, exr, fax, gv, heic, …).
Convert documents (aw, csv, dbk, docx, html, …).
Convert archives (7z, ace, cab, deb, jar, lha, rar, …).
Presentation conversion (odp, potx, pps, ppsm, pptx, …).
Convert Font (afm, bin, cff, …).
Convert eBook (azw3, epub, fb2, lrf, mobi, pdb, …).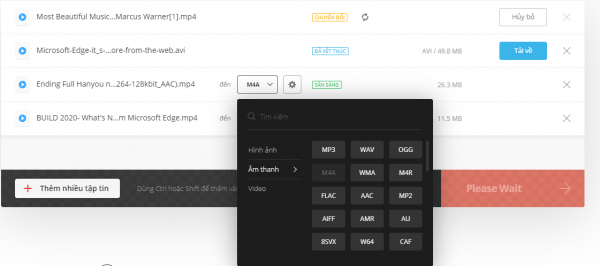 Converting this way, you will see the formats that Convertio supports.
3. Optical character recognition:
Besides the main feature, Convertio also supports OCR (optical character recognition) or simply extract text on PDF, images (PDF, JPG, BMP, GIF, JP2, JPEG, PBM, PCX, PGM. , PNG, PPM, TGA, TIFF, WBMP). Especially allows to extract multiple files at the same time (more than two files).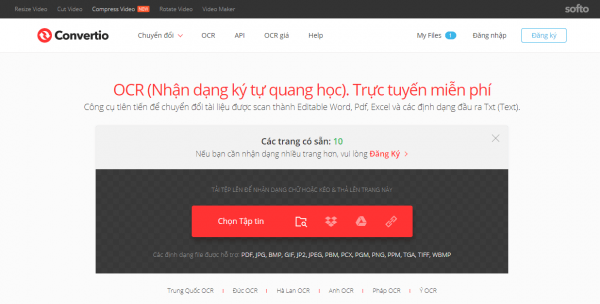 – You enter here to perform, and select PDF / image files to the service.
(With PDF, up to 10 pages).
– You select all languages ​​(maximum of 2) on the file.
– You choose the number of extracted pages, output file format at Output format & install.
– You choose where to save or ignore then save to the device.
– Finally, press Identification To extract.
The extraction is complete (1-2 minutes), you press Download in the selected format. Testing, the results of extracting Vietnamese in PDF of Convertio are quite perfect, with few font errors.


Hùng Anh