VNPT Pay is now integrated into all touch points of customers using VNPT's services (VinaPhone mobile, fiber optic internet, fixed, television services). Thus, VNPT Pay e-wallet is ready to serve nearly 30 million users of VNPT to pay bills, recharge phones quickly, to satisfy all payment needs in daily life of customer. Especially, from now until the end of June 30, VNPT Pay offers many incentives for customers with incentives up to 30%.
Not only supporting fast payment of all VNPT's telecommunications – information technology services, VNPT Pay e-wallet can also be used to pay utility bills, buy insurance, buy air tickets, movie tickets … In particular, the automatic payment feature (auto pay) of VNPT Pay brings convenience to customers when paying fees automatically and on time without remembering the time, or paying cash at home or to trading shoes. Available in three forms: electronic wallet, domestic card (ATM) and international card (credit / debit), VNPT Pay can be used on the Phone Application or Website http://vnptpay.vn. According to Mr. Nguyen Son Hai, Deputy General Director of VNPT Media said: "In order for customers to make the most convenient payment, VNPT Pay is currently associated with 34 banks, and integrating software solutions: Security, authentication and currently the service that has reached the highest security standards of the State Bank VNPT Pay also possesses face recognition technologies and QR Code to support payment at similar transaction points. application ".
Along with the diversification of ecosystems, VNPT signed a strategic cooperation agreement with 53 provincial / municipal People's Committees; deploy e-Government solutions for 61/63 provinces and cities. Accordingly, VNPT Pay will be integrated in the electronic payment system of educational, health and public administration facilities of the provinces, thereby helping to promote electronic payment and provide public services. online. This is also the plus point of VNPT Pay compared to similar services in the market, thereby making VNPT Pay a popular payment tool for people.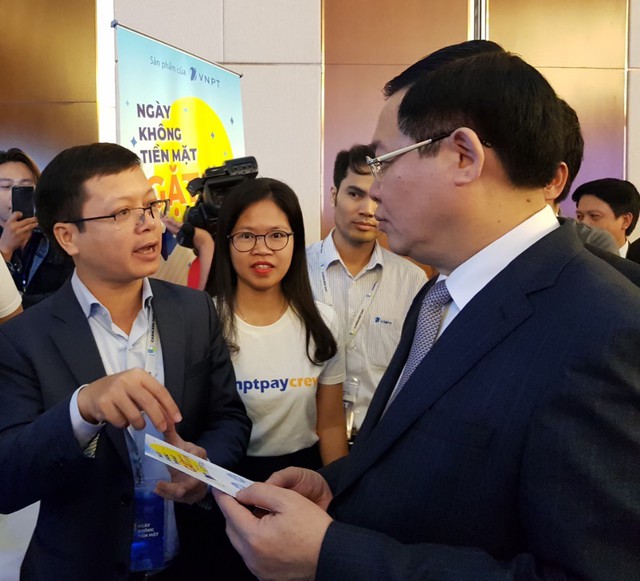 In response to the "Cashless Day" June 16, VNPT Pay offers customers many great incentives. Specifically, from 10/6/2019 to 30/6/2019, customers will be awarded 1GB Data 3G / 4G of VinaPhone when successfully registering for VNPT Pay. Particularly on June 16, 2019, all transactions loaded with VinaPhone scratch card via VNPT Pay are entitled to a 30% discount on the value of the recharge card. Also during this time, all customers will receive a 30% discount on hotel prices for users when booking hotels at Vntrip.vn on VNPT Pay.
Customers can download VNPT Pay application at http://vnptpay.vn/app or visit the website http://vnptpay.vn, Hotline 1900 1809 (branch 2).