Do you feel frustrated because the shoelace keeps falling, affecting the running, or the teacher is bothered by being forced to bend down by the lover because it is romantic like a Korean movie … Don't worry, because Famous shoe brands in the world that stand out are Nike is solving those problems for you.
See also: Buttonless phones and connectors: A great marketing tool or really useful for everyday life?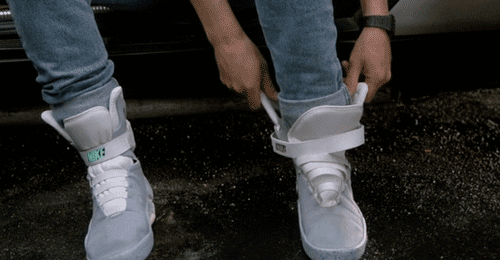 Auto-lacing technology has made shoe companies have been racing to develop, not only convenient and modern, the motivating factor for the big boys to jump into this race is … yes could push prices to lofty levels.
The name that made the world first to witness this technology was Nike, and the shoe was honored to own the first technology named Nike Air Mag. What makes people pay attention to this technology is not from the good use but the price that makes many people faint. Before exploring the price, let's see what this technology has to offer!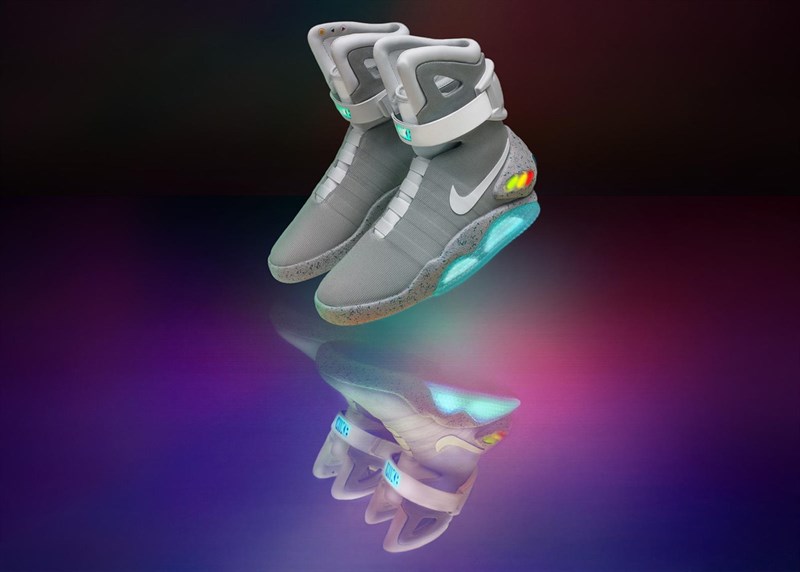 Make dreams come true
In 1989, in the hit film Back To The Future, viewers were impressed by the smooth, glowing shoes with the ability to self-tie in the film. Although it is a science fiction film, it still makes many people, especially sneakerheads (shoe lovers) expect to someday be able to admire that technology in real life.
30 years later, Nike made that come true. In 2011, the hit shoe company made fans happy by releasing Nike Air Mag boots. With only 1,150 pairs sold through eBay, sneakerheads have a hard time picking one of them into their shoe lockers.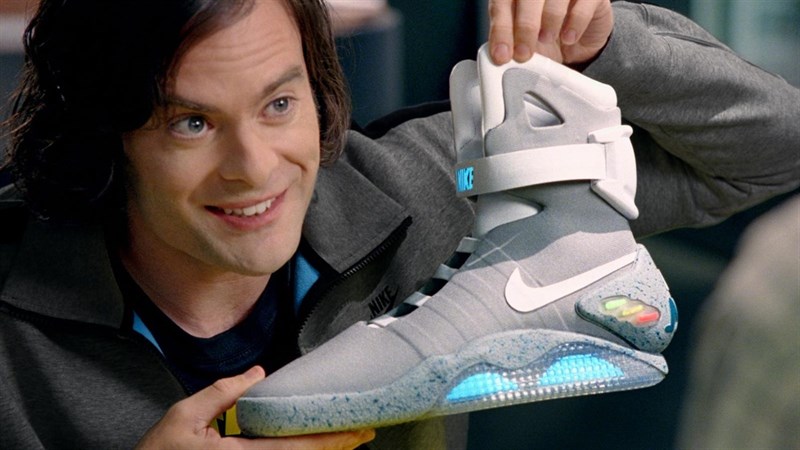 Nike Air Mag has created a real craze for underground culture, from basketball stars to singers who are all interested in this hit of Nike.
However, in the 2011 version, Nike Air Mag has not been equipped with auto lacing (automatic ligation) as expected.
It was not until 2016, the complete version of Air Mag was released by Nike. This breakthrough did not disappoint fans, Nike's promise of shoes with automatic lacing technology has been realized. A small button on the neck of the shoe, just press and hold for a few seconds the power laces system will automatically adjust the appropriate tightness, hugging your foot form in the most comfortable way.
The price makes many people have to sell houses to be able to buy
Auto Lacing is Nike's breakthrough technology and the value of Air Mag increases day by day and there is no sign of cooling off. The Nike Air Mag craze makes it the most valuable shoe in history.
Just spend 1.9 billion and you can bring children from the future of Nike. Yes, you didn't hear it wrong, Nike's hit caused the whole world to faint on price.
If in the 2011 version, Nike Air Mag without auto lacing technology could have reached the landmark of 10,000 USD (about 230 million VND) compared to the floor price of 2,500 USD (about 57 million VND). The 2016 version of the price is even more amazing than that, at the auction in Hong Kong, Nike Air Mag with Auto Lacing technology has been pushed to a record value of 810,000 Hong Kong Dollars (about 2.3 billion).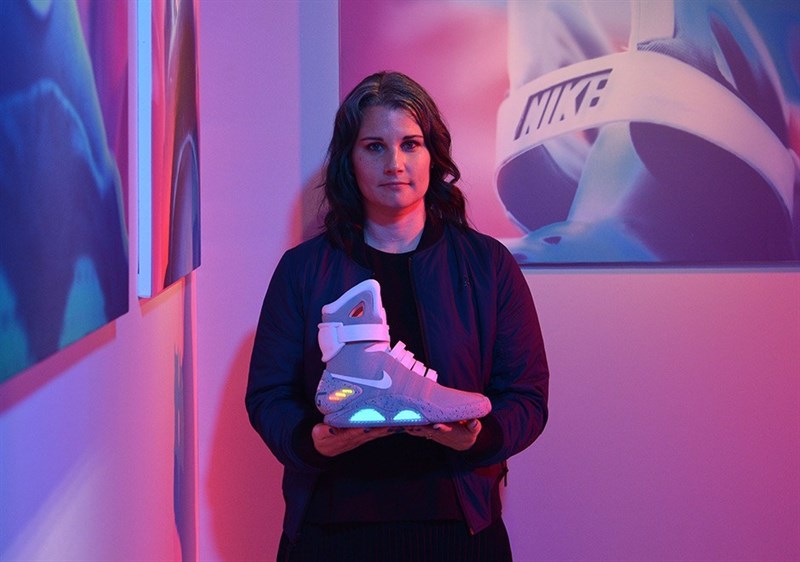 The information about the winner of the auction in Hong Kong was not disclosed, and shortly after the auction in London, the owner of Crep Protect shoe cleaning company also spent £ 46,230 (about 1.2 billion VND). ) to bring the shoes back to their collection.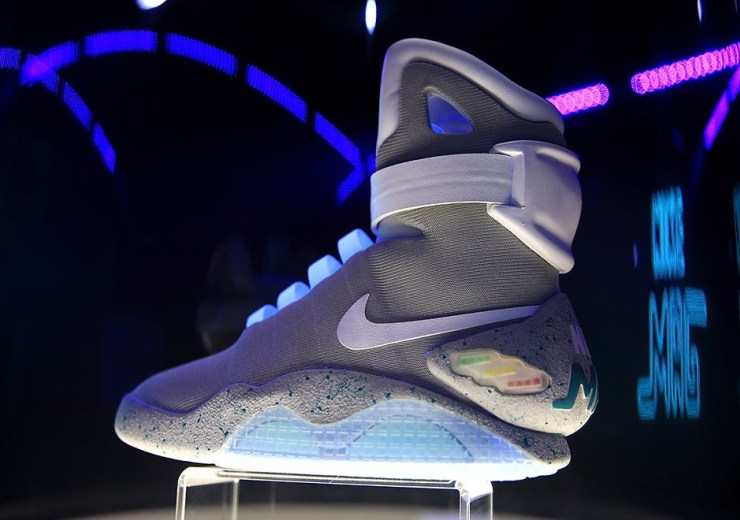 It is not unreasonable that auction participants spend an awful lot of money on Nike technology, all the money being auctioned, including other purchases, will be transferred to Parkinson's disease research organization. (central neuropathy) by actor Michael J. Fox.
The previous version
If you don't want to have to sell your current home to pick up an Air Mag with Auto Lacing technology, then Nike also has its predecessors to suit your needs. After Air Mag, Nike continues to bring its breakthrough technology to the next products. Nike HyperAdapt 2016 is the next child to be equipped with Auto Lacing.
HyperAdapt is more neatly designed and easier to coordinate than Air Mag, and the price is also more comfortable with only about 30 million VND at the time of launch.
Not only that, Nike also took another step forward in Auto Lacing technology, when it introduced the Adapt BB pair, not only the details to make the shoe compact for sports activities, Adapt BB also adjusted Playable on the phone app.
There is no need to bend over to press the button on the shoe anymore, just using the 2 L and R buttons in the Nike application, you can adjust the elasticity of the shoes so that your feet are as comfortable as possible.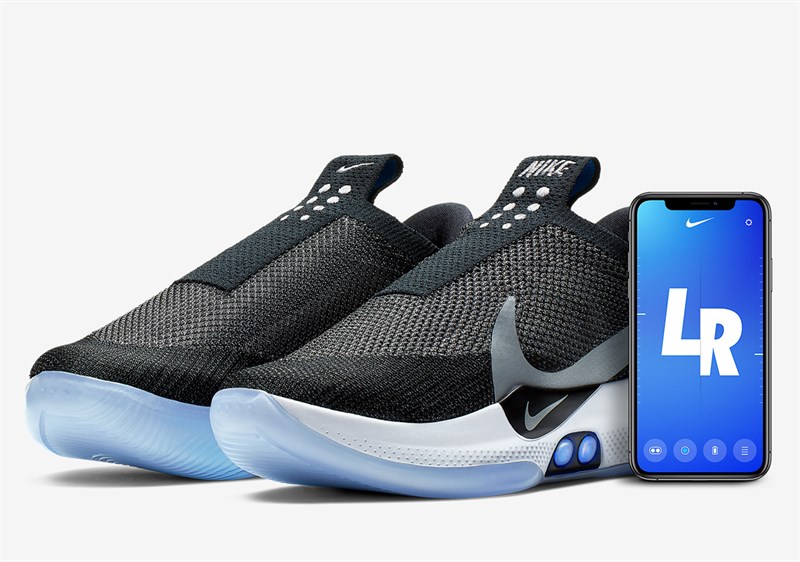 summary
Auto-lacing technology has been considered a big step forward for the sneaker industry. Although it is more of a marketing nature than an application, Auto Lacing technology will be a hit for sneaker giants to explore new things instead of just launching boring collaborations like at the moment. .
Hopefully after Auto Lacing, we will admire more innovative new technologies such as Nike's Air sole or Adidas Boost.
See more: [Tránh Dịch Đọc Gì?] – Do you know and understand all the phones from the big Samsung?
Edited by Vuong Gia Bao
Not satisfied with the article
168 views
.