Confirmed: AMD 7nm desktop Ruilong APU missed PCIe 4.0
2020-05-22 17:14:09
5 likes
2 Favorites
11 comments

This article is authorized and published by Kuai Technology. The original title: Confirm: AMD 7nm Desktop Ruilong APU is not PCIe 4.0. The content of this article is only the author's point of view and has nothing to do with this standing field. Please do not reprint without permission.
There is no doubt that the Renoir APU with AMD 7nm process and Zen 2 architecture is about to land on the desktop, and the exposure shows that it will be 8 cores for the first time, impacting the high-end market.
With the lifting of the ban on the B550 motherboard, board vendors also leaked more information about the desktop version of Renoir APU, with a trace of regret.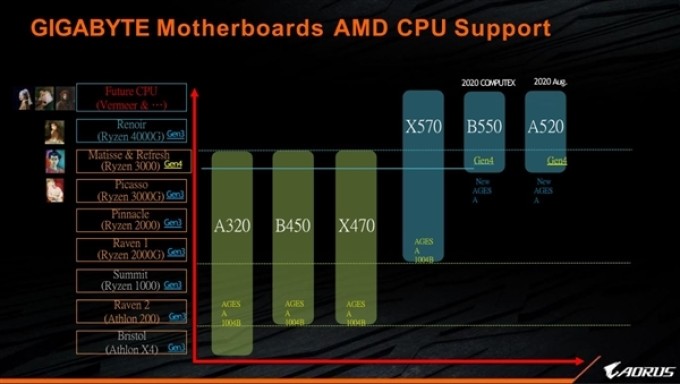 First of all, Gigabyte gave a road map. After confirming X570 and B550, the 500 series chipset will also have an entry-level A520, which can also support PCIe 4.0, but they must be paired with Ruilong 3000 CPU to turn on.
The figure also shows that the desktop version of Renoir will be named Ruilong 4000G series, but it only supports PCIe 3.0. Even with 500 series motherboards, there will be no PCIe 4.0.
Before confirming that the Renoir mobile version does not have PCIe 4.0, we once hoped that the mobile platform did not have much demand for this, and it was deliberately shielded. Now it seems that although it is also a Zen 2 architecture, PCIe 4.0 is not designed at all. Or never thought about opening.
In terms of platform compatibility, GIGABYTE said that the A520 can also support future four-generation Ruilong, code-named Vermeer (this is also the first time this code is seen on the official roadmap), although the B450 and X470 do not correspond to the fourth-generation Ruilong, but rest assured , AMD has confirmed that there is no problem with support.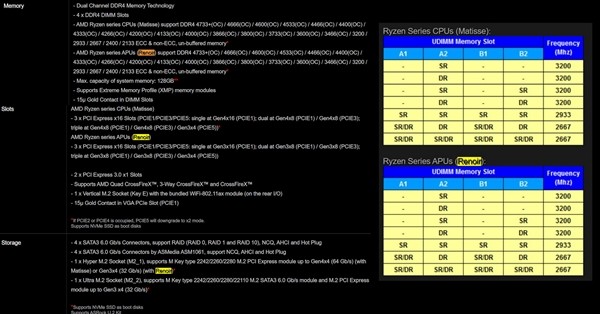 In the specification introduction of ASRock B550 motherboard, it also confirms that the desktop version of Renoir only supports PCIe 3.0, and also gives a detailed memory configuration. It looks exactly the same as the Ruilong 3000 CPU, without any shrinkage, and the dual channel can be stable at 3200MHz .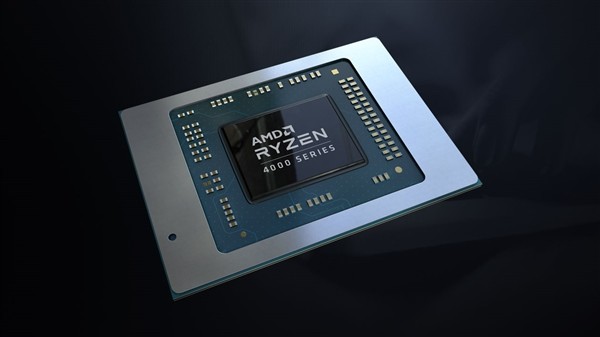 Unauthorized reprint

.