Huawei MateBook 16″ is an office laptop in the high-end segment. The device possesses a modern design with a large screen, giving users a spacious use space. The article reviews Huawei MateBook 16 in detail, thereby showing the plus and minus points of the product line.
See more: Review Dell XPS 17: The pinnacle of graphic laptop
Specifications of Huawei MateBook 16
CPU: AMD Ryzen 7 5800H
GPUs: AMD Radeon Graphics
RAM: 16GB
Memory: 512GB NVMe PCIe SSD
Screen: 16-inch, 2520 x 1680-pixel
Size: 13.8 x 10 x 0.7 inches
Mass: 2 kg
Huawei MateBook 16: Design
Huawei MateBook 16 possesses a minimalist and neutral design language, suitable for office work environments. The color version of the laptop we used in the review is called Space Gray, with the outer shell finished mainly in dark gray tones.
The machine has a very good build quality and level of finishing. Specifically, the detail of the lid is curved at the edge, providing an extremely comfortable grip in the hand.
Although not equipped with a dedicated graphics card, Huawei MateBook 16 is still quite heavy with a weight of up to 2kg. Combined with the massive body of a 16-inch laptop, the Huawei MateBook 16 is not very portable, making it a bit more difficult to carry the laptop with you every day.
Looking around the body of the laptop, you can see a fairly adequate number of ports. Specifically, along the left edge are 2 USB Type-C ports, with both supporting battery charging and DisplayPort connectivity. There is also an HDMI port and a headphone/microphone jack.
Meanwhile, on the right side are two USB Type-A ports, allowing you to work with common peripherals such as keyboards or mice. Overall, Huawei MateBook 16 is fully equipped with a good number of ports, giving users a relatively comfortable workspace.
Because Huawei MateBook 16 uses an AMD chip, its USB Type-C ports do not support the Thunderbolt high-speed connection standard, because this is a proprietary technology of Intel chip models.
Overall, Huawei MateBook 16 is a laptop with very good build quality and finish, giving users a high value for money.
Huawei MateBook 16: Screen
The screen of the Huawei MateBook 16 is one of the strong points of the series. This screen is divided into 3:2 aspect ratio, and has a rare resolution of 2520 x 1680 pixels, with a pixel density equivalent to QHD resolution. The 3:2 aspect ratio allows users to see more content on the screen when working with documents or surfing the web.
The screen is encased inside a rather thin bezel, providing a screen-to-body ratio of up to 90%. In our test, the laptop's screen has an average brightness of 300 nits, providing a good experience during actual use.
According to the manufacturer, the screen of Huawei MateBook 16 can cover 100% of the sRGB color range, and has a Delta E color deviation index of 1. During actual use, the screen of the device gives me a brilliant and sharp visual experience.
Huawei MateBook 16: Keyboard and touchpad
The keyboard set of Huawei MateBook 16 gives me an extremely comfortable typing experience. The buttons on the keyboard have a medium depth of travel and have a very good and stable bounce. The keyboard of the machine is illuminated by a white light system below, allowing me to work with the laptop in low light conditions easily.
Located below the keyboard is a touchpad with a glass surface. This touchpad has a much more spacious surface area than most laptops in the same segment. Finished with a smooth flat surface, the touchpad allows me to easily control the mouse pointer to interact with applications on Windows 10 operating system.
There is another detail on the body, which is the power button. The power button of the Huawei MateBook 16 has a built-in fingerprint sensor. This is a characteristic feature of laptops manufactured by Huawei. This sensor has a fast fingerprint reading speed and very high accuracy, allowing me to quickly log into the system every time I use the device.
Huawei MateBook 16: Performance
The version of the machine we used in the review is equipped with an AMD Ryzen 7 5800H. The chip owns 8 cores and has 16 processing threads, operating with a base clock of 3.2GHz and can be pushed up to a maximum of 4.4GHz when needed.
In actual use, the laptop's speedy performance level allowed me to smoothly interact with all my daily work applications. The machine has excellent multitasking ability, allowing me to open 40 Chrome tabs at once without experiencing any lag.
To determine the machine's performance score, we use the Geekbench test. In this test, Huawei MateBook 16 achieved single and multi-core performance scores of 1474 and 7323 points, respectively. These are two pretty good results, and higher than the current 16-inch laptop segment average.
In a more practical performance test, the Huawei MateBook 16 completed the conversion of a 4K video to 1080p resolution in just 6 minutes and 12 seconds. Again, this is a result that stands above the category average.
Huawei MateBook 16: Battery life
Despite using a chip with a large power consumption of 45W, Huawei MateBook 16 still possesses an impressive battery life. In our test, the laptop lasted 11 hours and 30 minutes after continuous web surfing over wifi, with the screen brightness set at 150 nit.
This is an impressive battery life result, and will allow users to comfortably use the device for an extended period of time during a charge-discharge cycle.
Huawei MateBook 16: Heat dissipation
Huawei MateBook 16 possesses an effective heat dissipation, allowing us to use the device for a long time without leading to thermal overload. To test the laptop's heat dissipation, we let the machine run an HD video for 15 minutes, then checked the temperature of the machine in different positions.
After this period of time, the place with the highest heat level of the laptop is under the chassis, with a recorded temperature of 36 degrees Celsius. Meanwhile, in places where your hands directly touch during the process. User processes, specifically the keyboard and touchpad, have much better heat levels, measuring 30 and 27 degrees Celsius, respectively.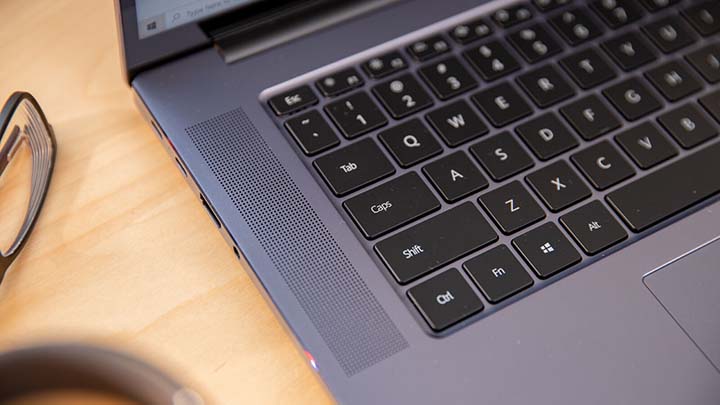 summary
The Huawei MateBook 16 is a comprehensive office laptop in many ways and without too many flaws. It has a premium aluminum body design, along with a sharp and brilliant display, all-round performance and long-lasting battery life.
However, the Huawei MateBook 16 is not a perfect laptop, with the biggest minus point in the webcam placement. Specifically, the webcam of the Huawei MateBook 16 is placed right above the body. This position will bring many annoyances during actual use.
If the above limitation does not bother you too much, then the Huawei MateBook 16 will be a great choice if you are looking to buy a comprehensive, high-performance work laptop.
See more: Huawei MateBook X Pro review: Is it enough to replace the MacBook?
Plus mark
Sharp screen, high resolution
Keyboard and touchpad provide a comfortable using experience
Speed ​​performance
Equipped with many connection ports
Long battery life
Powerful speaker system
Minus point
The location of the webcam is inconvenient
Not equipped with discrete graphics card
The design is a bit monotonous