(Techz.vn) Samsung's new flagship Galaxy S21 is judged by experts and rated as easy to repair. If calculating a scale of 10, the Galaxy S21 is rated 7.5 out of 10 points for easy repair.
PBK Reviews is a Youtube channel specializing in evaluating and dissecting technological equipment. After Samsung released the Galaxy S21, PBK Reviews dissected this phone model. Galaxy S21 is a smartphone using Snapdragon 88 chip and intended for the US market.
According to this Youtube channel, Galaxy S21 is very easy to disassemble and assemble. The structure of the machine is scientific and balanced, combining many modules together so it is easy to repair and replace components.
Instead of using copper pipes and vapor chambers, Samsung has used graphite to cool on the Galaxy S21. The fingerprint sensor section under the screen is also much larger in size than the Galaxy S20.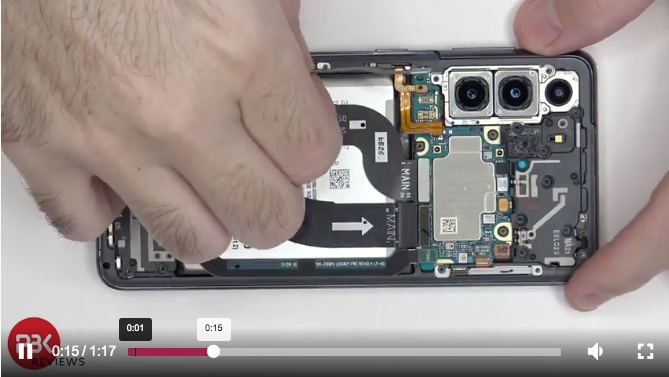 The main camera and zoom camera of the Galaxy S21 are equipped with optical image stabilization. The device has two small 5G mmWave antennas placed at the top and bottom corners for better reception.
The components inside the Galaxy S21 contain a lot of glue, so the sticking and removing need to be done meticulously. In addition, some other parts such as the vibrating system, the external speaker are arranged similar to the old Samsung smartphone, difficult to disassemble.
Photo taken from video.
.