Compare Toyota Yaris and Mazda 2, if Yaris has strong points in brand, spacious interior, Mazda 2 has the advantage of fashion and modern design.
Introduction of Toyota Yaris and Mazda 2
Mazda 2 is the smallest model in the "Mazda garage". Mazda 2 car price is also the lowest. This model has two options including hatchback and sedan for users to choose from a variety of. The car uses a design style that has brought a lot of success to Mazda in recent years – the KODO design language. This design helps Mazda 2 own a sporty and impressive appearance than many competitors.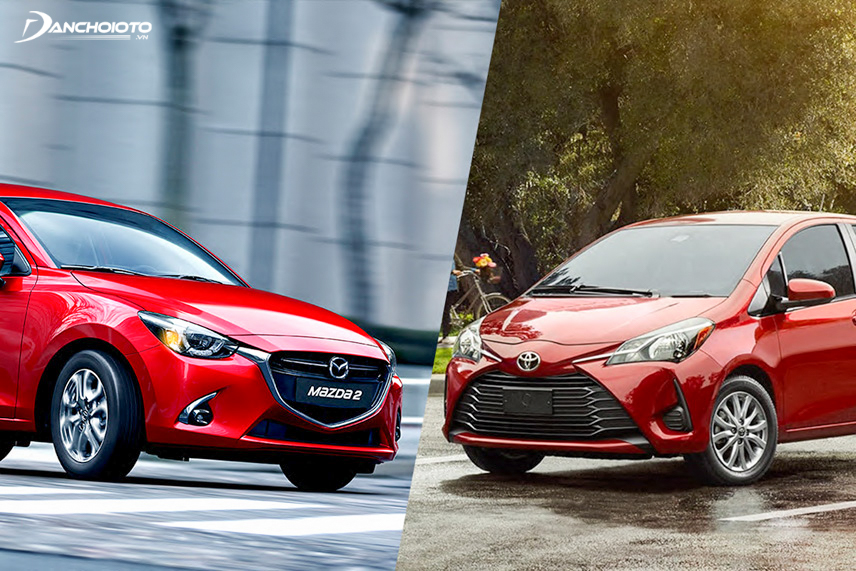 Toyota Yaris and Mazda 2
Meanwhile, Toyota Yaris is a trendy model which is invested strongly in design and operation by Japanese automakers in order to target many different customers. This car possesses a youthful design, eye-catching, many modern equipment with "unparalleled" durability. In foreign markets, Yaris is a model that is well received by users.
Along with the hatchback, the Yaris price is similar to the Mazda 2, so many people wonder whether to buy Yaris or Mazda 2.
Compare Toyota Yaris and Mazda 2 in terms of exterior
In terms of exterior design, it is undeniable that the designers of the two Japanese automakers have created two beautiful designs and attract the most viewers. Both models share many beautiful design lines. If the Toyota Yaris brings a sophisticated elegance, the Mazda 2 exudes a dynamic, youthful and personality. Currently, Toyota Yaris has 5 car paint colors for customers to choose from including white, gray, silver, red and blue. Meanwhile, Mazda 2 hatchback has 4 options of car paint color including white, silver, red, yellow brown.
Size
Comparing Yaris and Mazda 2 hatchback in terms of overall size of the car, it can be seen that Yaris has a smaller size than its counterpart Mazda 2. However, it is difficult to recognize because this difference is not large. The Mazda 2 has the advantage of a wheelbase, so the size overview of the two models is not much different. Specifically:
| | | |
| --- | --- | --- |
| Parameter | Toyota Yaris | Mazda 2 hatchback |
| Length x Width x Height (mm) | 4,115 x 1,700 x 1,475 | 4,060 x 1,695 x 1,495 |
| Base shaft (mm) | 2,550 | 2,570 |
| Ground clearance (mm) | 149 | 143 |
Top car
Thanks to Mazda applying the KODO design language, the overall head of the Mazda 2 bears many similarities with Mazda's cult models such as Mazda CX5, Mazda 3, Mazda 6. Mazda 2 has a stylish head section. Sporty way of meticulous design. Wings shaped grille is eye-catching chrome chrome Mazda is seamlessly arranged with the headlight cluster of the car.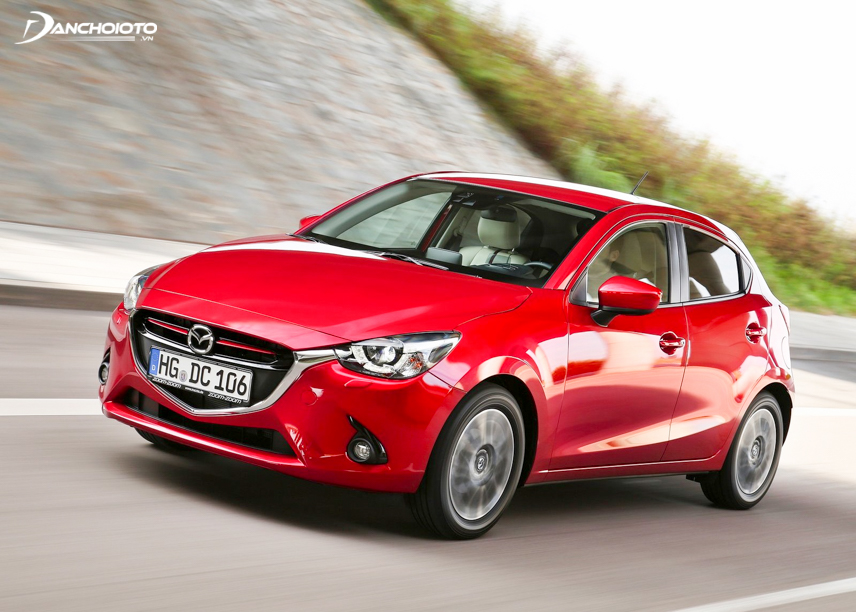 Nice headlight cluster on the Mazda 2
For the hatchback version, Mazda 2 is equipped with a headlight cluster using LED technology that integrates the ability to customize the low height of the light. This lamp cluster of the Mazda 2 has a more eye-catching design than the design on the Toyota Yaris. In details like LED daytime running lights, Mazda does a lot better than on the Yaris. On Toyota models, the car uses LED headlight assemblies that deliver high efficiency. Along with that is the modern LED daytime running strip made by Toyota instead of the long LED pattern design as on the current generation.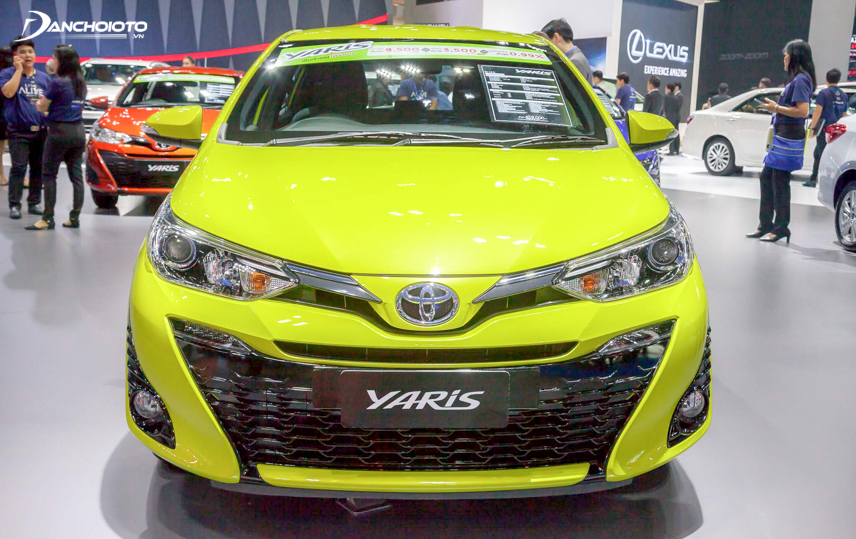 The front of the Toyota Yaris
In terms of front design, the car has been improved to be more aggressive than the old Toyota Yaris, but compared to the Honda Jazz, the Yaris is softer. The grille is made wider, almost no longer a grid type but bears many similarities with the Toyota Camry or more recently Toyota Vios.
Vehicle body
In terms of body design, Mazda 2 is somewhat superior thanks to the details that make a strong impression in the language of "moving soul" that this car company pursues. Stretching along the length of the body is gently embossed veins, intersecting to help the body become sportier and more beautiful.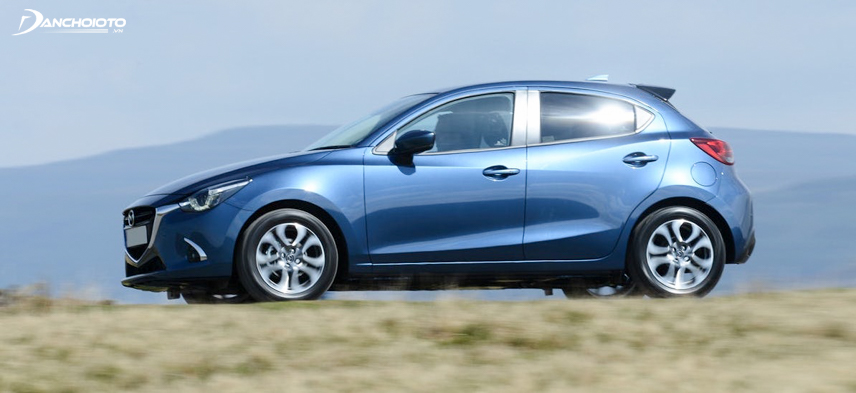 Mazda 2 has a body that makes a strong impression
Meanwhile, the body of the Toyota Yaris is also renovated with a very subtle embossed line that increases the aerodynamics and wind surfing ability of the car. Although not as sporty as on the Mazda 2, this design helps the car become a lot more elegant.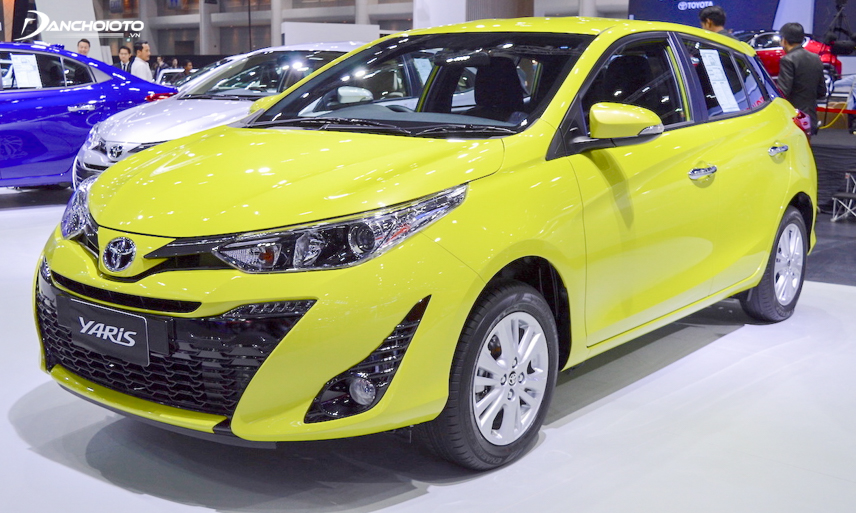 Yaris bodywork
Both models are equipped with rearview mirrors with folding and electric adjustment functions. As for the lazang, the Toyota Yaris is equipped with a beautifully designed 6-spoke alloy wheels with a size of 15 inches while rivals Mazda uses a larger 16-inch dual-spoke alloy wheels of 16 inches.
Rear
Regarding the rear-end design, Mazda 2 has received quite a lot of compliments from users thanks to its beautiful design, especially in the rear light cluster. This detail of the Mazda 2 has many similarities with the Mazda 3 brother in the arrangement of the light sockets. Overall, this design helps the overall rear end to become a lot more harmonious.
See also: Compare Ford EcoSport and Toyota Yaris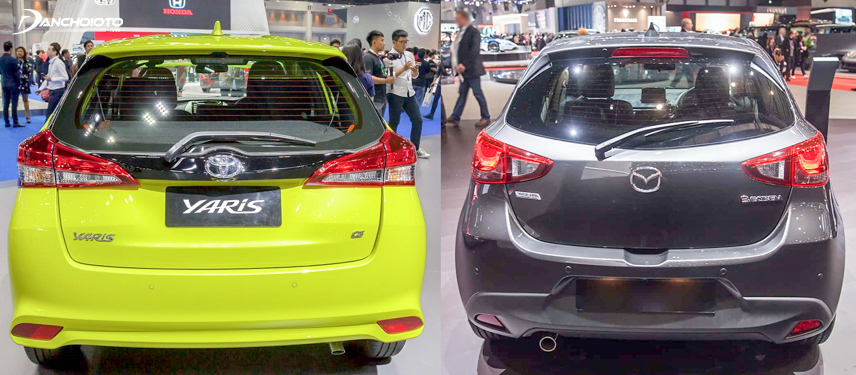 Tail lights of two models
Meanwhile, Toyota Yaris reviews on tail design also scored higher all. Compared to the previous generation, the car model is pretty much refined. The tail lights of the car are redesigned eye-catching to become one of the points that make the rear of the car have a unique design. This rear light cluster now has a 2-piece design with LED options that help expand the lighting range and make the overall rear of the car become more harmonious.
Compare Toyota Yaris and Mazda 2 in terms of interior
Thanks to the large wheelbase, both Toyota Yaris and Mazda 2 hatchback models provide spacious and comfortable vehicle space for the user.
Interior space
Both the Toyota Yaris G and Mazda 2 hatchback provide ample and comfortable vehicle space for customers. In Toyota Yaris, the interior details are arranged extremely reasonable, very user friendly. The striking orange display panel is beautifully designed to create accents next to the simple yet sophisticated center console. Mazda 2 hatchback conquers customers in the cabin of modern, luxurious and attractive design. Details such as steering wheel, display panel all show the power and very easy to use.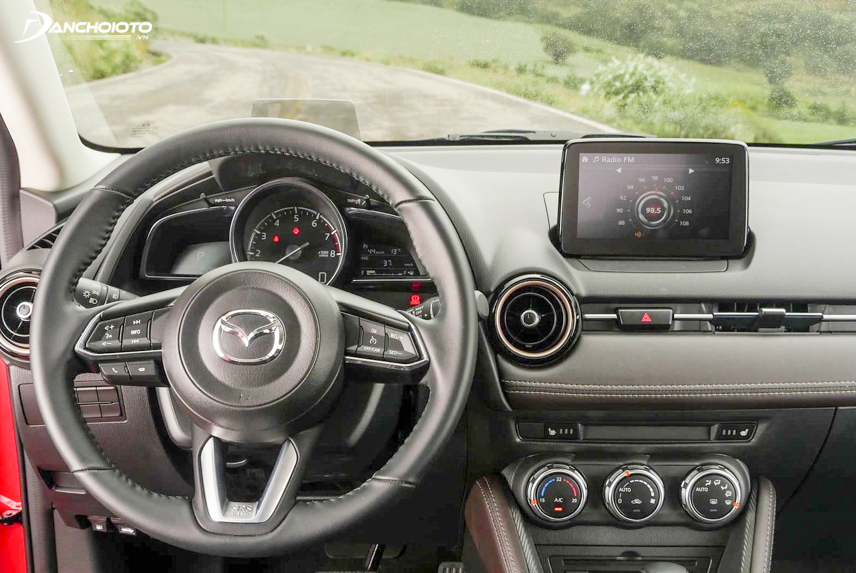 Steering wheel of Mazda 2
Comparing two models in terms of interior space, Mazda 2 is much better than Toyota Yaris in modern and luxurious design. Stepping inside the Mazda 2, it is likely that some people will constantly praise this model for its interior. Review of Mazda 2 car shows that this is the car that owns the most beautiful interior space in the B segment today.
Compared to Yaris, the equipment equipped on Mazda 2 is also invested by Mazda. The car uses a large touch screen controlled by a compact button cluster and is easy to use. This design is similar to the current European luxury models. The steering wheel is also designed with eye-catching 3-spoke sport, in addition to integrated audio control buttons and hands-free conversation to support the driver.
Cabin space of Mazda 2
Meanwhile, Yaris's taplo palette uses black as the dominant color. In general, the arrangement of details in the interior of the Yaris really does not catch the eye. Although Toyota is trying to make the interior of the car more luxurious, such as the center console with silver borders with a new hexagonal design, 7-inch entertainment screen, air-conditioning design new cleaner … However, it is still difficult to compare with rival Mazda 2 compatriots.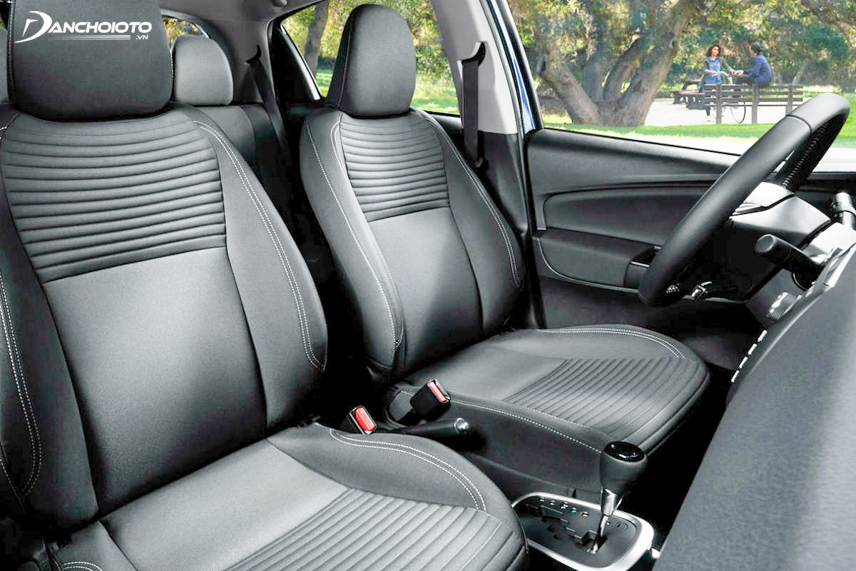 Interior space on the Yaris
Equipped with amenities
Regarding comfort equipment, Yaris quite focused on ensuring a great experience for users thanks to the automatic air conditioning system and 6-speaker sound system with high capacity. However, in the lower versions, this model does not bring too many equipment options to reduce costs. Therefore, the car is not equipped with a 7-inch entertainment screen as on the high-end version, but only USB, AUX and 4-speaker systems.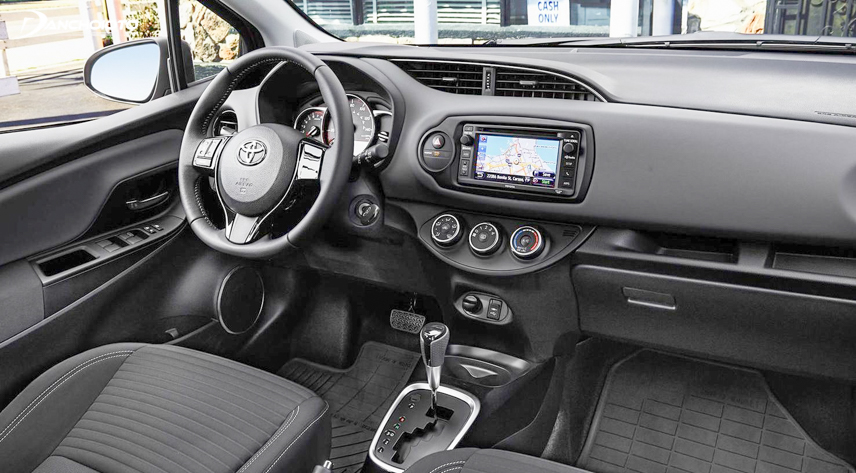 Entertainment system on the Yaris
Meanwhile, Mazda has always had an advantage over many competitors in fully equipped on its models. For Mazda 2, the car is equipped with entertainment system with 6 high-end speakers with USB, Bluetooth connectivity. This entertainment system is rated no less than other competitors in the B-segment segment. In addition, the car also possesses outstanding amenities such as power-adjustable windows and mirrors, dash cameras, sensors. parking turn, remote start, automatic emergency braking, G-Vectoring technology improves driving experience and reversing camera…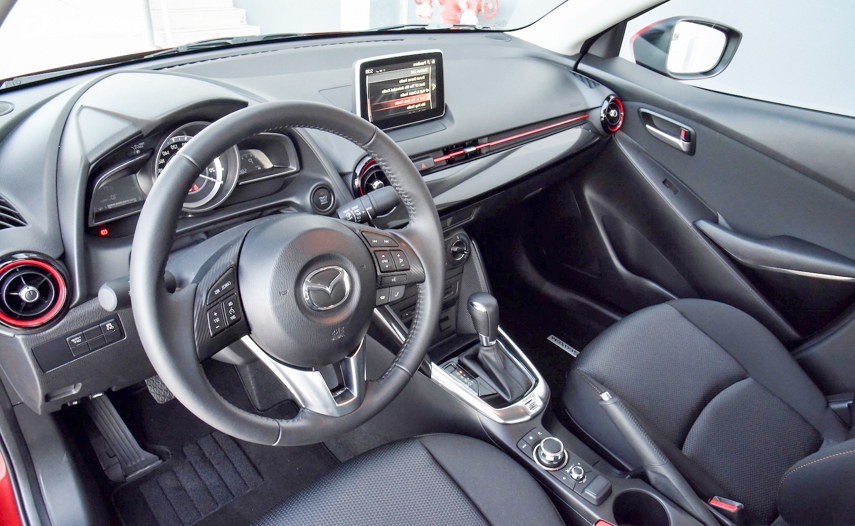 Mazda 2 has the leading entertainment system in the segment
Compare Toyota Yaris and Mazda 2 in terms of engine / performance
Engine
Regarding the engine, the Mazda 2 cannot compete with the Yaris because this company ranks first in terms of engine durability, currently few companies have cars to surpass Toyota in this regard. Therefore, most customers choose Yaris towards the purpose of durable use and minimizing petty. According to Toyota Yaris engine specifications, the car is equipped with a 2NR-FE engine with a capacity of 1.5L Dual VTT-I technology with electronic fuel injection. This engine block can produce a maximum capacity of 107 horsepower and maximum torque of 140Nm. Comes with that gearbox and stepless front drive system.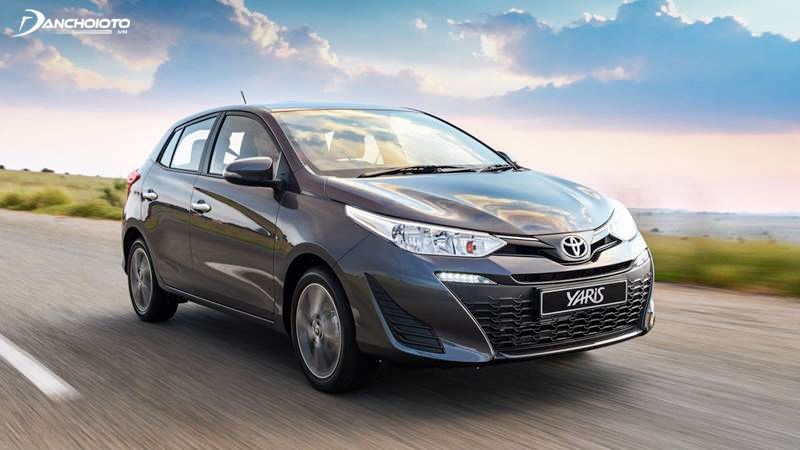 Toyota Yaris is equipped with a 1.5L engine
Mazda 2 is equipped with a SkyActiv engine block with a capacity of 1.5L, maximum capacity of 109 horsepower and maximum torque of 141Nm. Mazda 1.5L engine block comes with a 6-speed automatic transmission. What is special about SkyActiv technology is its stable operation and low fuel consumption. That is why Toyota also expressed a desire to own this technology.
Operate
In terms of driving experience, Toyota Yaris's CVT-I automatic gearbox has smooth shifts that provide an extremely exciting experience for the driver. Meanwhile, road and engine noise have been greatly reduced by the use of new suspension. It also has electric power steering for easier and easier steering in crowded areas.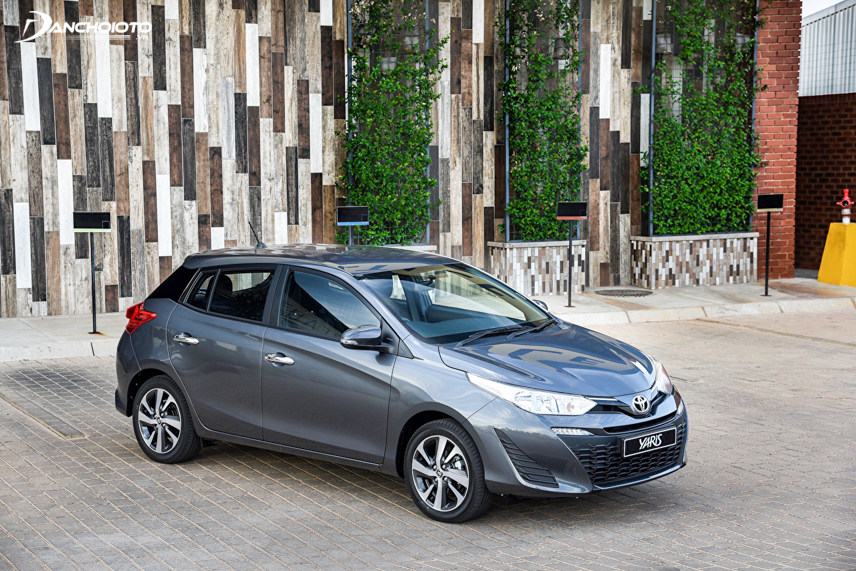 Yaris for extremely smooth gear transfer
Mazda 2 brings a variety of drivers with 2 modes including Normal and Sport to help the steering wheel have a certain degree of light when in Normal mode while quite compact when moving with death mode Sport. In addition, thanks to the G-Vectoring technology, the driving feel of the Mazda 2 is greatly improved.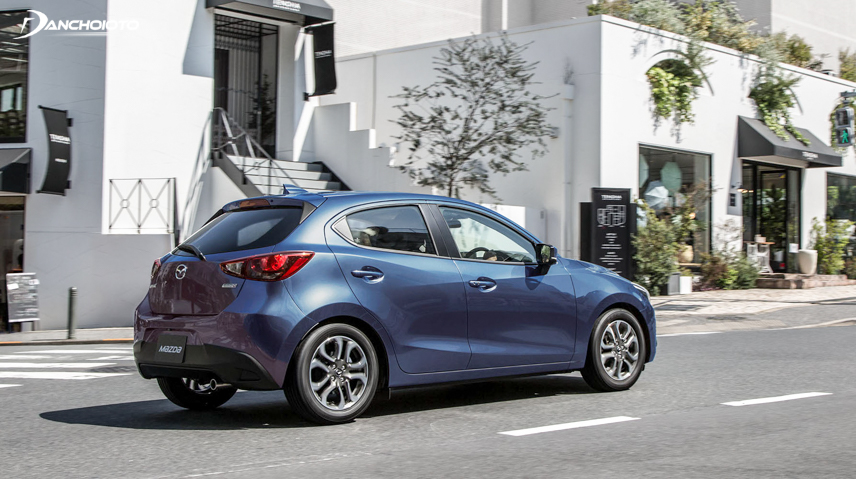 G-Vectoring technology is used on Mazda 2
In particular, an equipment that the Yaris does not have but the Mazda 2 is integrated is equipped with the standard automatic shutdown system (i-Stop) for high fuel economy, ranging from 4.9 to 5.5 liters. / 100km. One disadvantage Mazda 2 makes many people regret is that the car has a ground clearance of only 143mm. With this distance, the mobility of Mazda 2 on many poor quality roads in Vietnam will be greatly limited.
Compare Toyota Yaris and Mazda 2 in terms of safety equipment
Like the recent models of Toyota, Yaris is also equipped with anti-lock braking system, 2 airbags at the front, and some other basic safety equipment such as traction control system, electronic balance VSC and ABS brakes, electronic brake force distribution system. The European version receives more advanced safety features such as automatic emergency braking, collision warning, lane departure warning and automatic headlights.
Mazda 2 equipped with more safety functions than Yaris
In Mazda 2, the car is equipped with 7 airbags including front, left side, side curtain and driver's knee. In addition, the car also owns a variety of equipment, outperforming the competition. Equipments include: anti-lock braking system, electronic brake force distribution system, emergency braking force assist, electronic balancing system, anti-skid system TCS, horizontal departure support HLA slope, ESS emergency warning, reversing camera …
Should you buy a Toyota Yaris or a Mazda 2?
Price of Toyota Yaris car:
Toyota Yaris G: VND 650 million
Mazda 2 price:
Mazda 2 Sport Luxury (hatchback): VND 594 million
Mazda 2 Sport Luxury (W) (hatchback): VND 604 million
Having a brand, harmonious design, spacious car space and durable operation are the advantages of Toyota Yaris. Meanwhile, if customers are young, love the personality, technology and driving pleasure, the Mazda 2 hatchback is the companion you need. Overall, if you buy a 600 million car, Toyota Yaris and Mazda 2 hatchback are both B-class cars worth buying, worthy of customers' choice.
Nguyen Tinh