Kia Morning 2016 and Chevrolet Spark 2016 used to be fierce competitors in the new car market. But after 3 years, when all the weaknesses have been revealed, which car is worth buying?
General introduction about Kia Morning 2016 and Chevrolet Spark 2016
Kia Morning has long been the king of minicar in Vietnam with extremely impressive sales. This car has been in the market since 2003 and quickly received the love of customers, especially in big cities because of its high flexibility and extremely handy.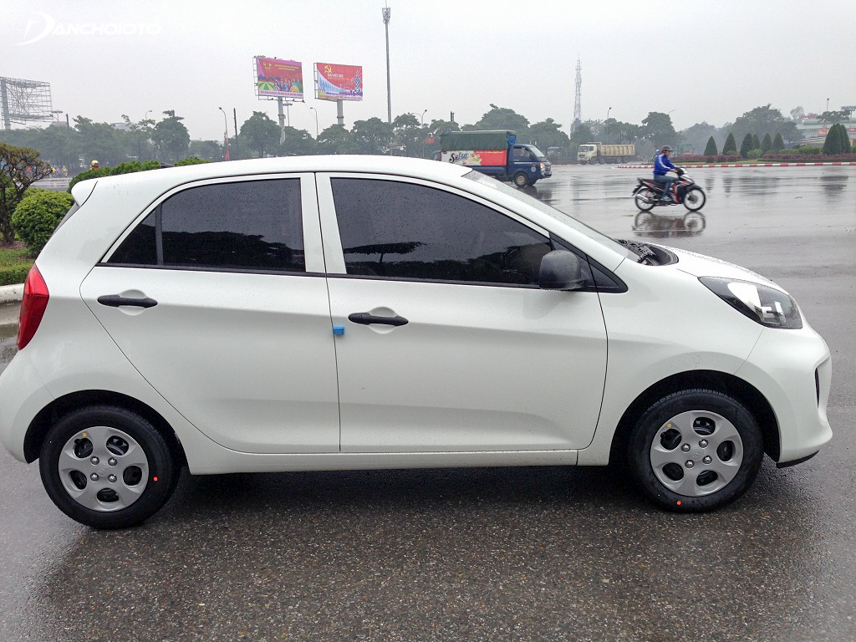 Kia Morning 2016 model year
Previously, Kia Morning only had to compete directly with a "heavyweight" opponent from South Korea, Hyundai Grand i10. However, from 2012, with the presence of the American car Chevrolet Spark, Kia Morning had to "struggle" to strengthen a strong opponent.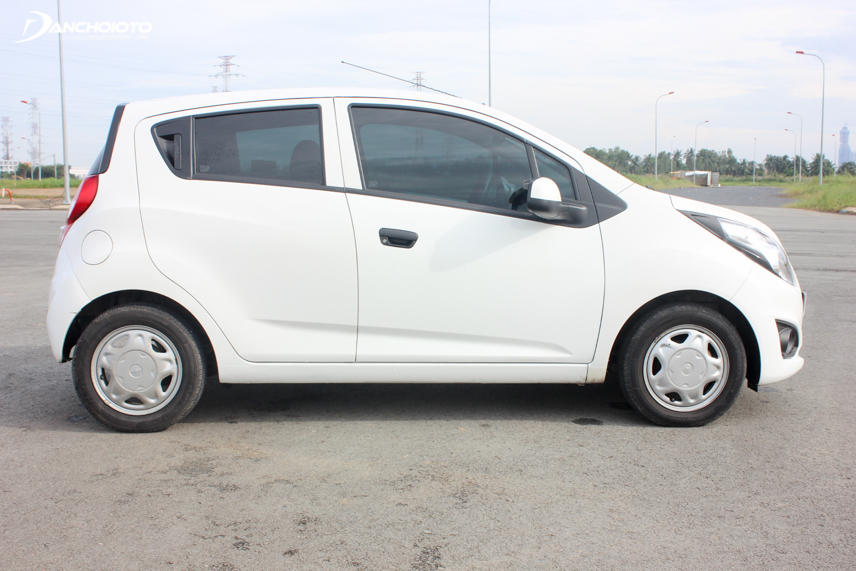 2016 Chevrolet Spark car
To make it easier for the user to refer, we would like to make comparisons about the 2016 Chevrolet Spark and Kia Morning models, version 1.0MT.
Compare the 2016 Chevrolet Spark and the old Kia Morning 2016 in terms of exterior
The dimensions of the old Chevrolet Spark 2016 are much better than that of Kia Morning in both width and height. This, in spite of making Spark's turning radius larger than that of Morning, also helps Spark to have a more spacious, cool and comfortable interior space than Morning. In terms of aesthetic style, both Kia Morning and Chevrolet Spark are shaped by the carmakers in a healthy and dynamic direction. However, Spark's rear end is more square and angular, creating a masculine and strong feeling, while Morning has a softer and more neutral rear end. The ground clearance of Chevrolet Spark is slightly higher than that of Kia Morning 8mm. This also means that Chevrolet better adapts to rough terrain.

Parameters about the size of 2 cars
Compare the 2016 Chevrolet Spark and the old Kia Morning 2016 in terms of interior
With a marginally better price, it is not difficult to understand when the interior compartment of Chevrolet Spark 2016 1.0MT version is invested more methodically than 1.0MT of Morning. Vehicles equipped with 6-way adjustable driver's seat, up and down steering wheel with hydraulic assist, multi-information display and 4 entertainment speakers.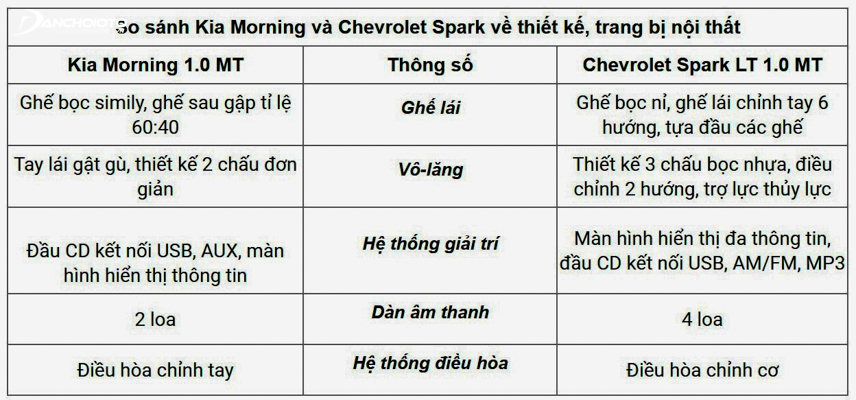 Compare Morning and Spark on interior
Meanwhile, the old Kia Morning 2016 car only equipped a 2-spoke steering wheel nodding, 2 entertainment speakers and no headrest in all seats. However, because the 1.0MT version is only the lowest version of the Morning 2016 series, it is somewhat inferior to the competition, while the automatic or high-end versions of the Morning have a quality far superior to the manual version. action of Spark. This is also something that car buyers need to keep in mind to choose the car that suits their needs.
Compare the 2016 Chevrolet Spark and the old Kia Morning 2016 in terms of safety equipment
American automaker Chevrolet GM has invested in safety equipment for Spark 2016 quite methodically. The 1.0MT version is superior to the Morning in both technology and airbag. While the old Kia Morning 2016 had only seat belts and front / rear brakes, respectively, discs / drums, the 2016 Spark also has ABS anti-lock braking system and 2 airbags for the front seat.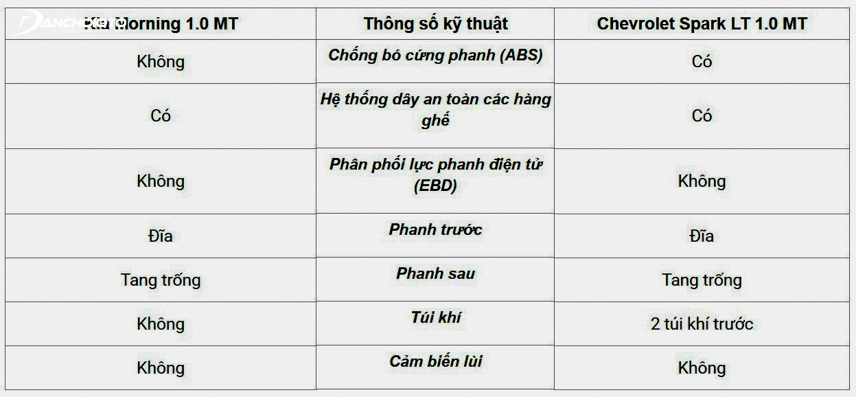 Safety equipment of 2 models
Compare the 2016 Chevrolet Spark and the old Kia Morning 2016 in terms of engine / performance
If only in terms of specifications, although using the same 1.0L engine, Kia Morning is marginally better than Chevrolet Spark by 1 horsepower and 5Nm. This figure does not affect too much the performance of the vehicle. In fact, both the 2016 Spark and the 2016 Morning are good. The car is flexible in crowded roads, wriggling well and running quite fuel economy. However, the acceleration of the Morning is considered to be much better than the Spark because the car has a higher capacity and is smaller and lighter than the Spark.

Engine parameters of the two models
In terms of sound insulation, although there are 3 ground covers, the old Spark 2016 is still quite a noisy car. When running at high speed, the noise from the engine bay and the chassis echoed into the cabin quite a lot, causing discomfort to the user. As for the old Morning 2016, the soundproofing ability of this car is not really good when compared to the higher-end versions, but it is still slightly better than the 2016 Chevrolet Spark.
See 4 more things to do before deciding to buy an old Kia Morning car
Should buy Chevrolet Spark 2016 or Kia Morning 2016?
In the segment of small A-class cars, users do not have too many choices like B and C cars. Therefore, both 2016 and Morning 2016 Spark cars are old car groups with good price of VND 300 million. durable and worth "money for rice bowl". If you choose a manual version, the Chevrolet Spark 2016 1.0MT is slightly better than Morning. In contrast, if you choose a manual version, buyers should consider choosing Kia Morning 2016 because the car has a larger engine capacity and more utilities than the 1.0AT automatic transmission of the old Spark.
Hien Ha