Comparing Mitsubishi Mirage and i10, even though it is Japanese B-class car, many people still evaluate it Mitsubishi Mirage is not as high as Hyundai i10.

General introduction about Mitsubishi Mirage and Hyundai Grand i10

The market for cheap cars in Vietnam is booming. Many small families in urban areas considering buying a 400 million car for the first time will have plenty of options. However, through reference to many websites as well as market comments, the Hyundai Grand i10 and Mitsubishi Mirage models seem to be two quality options in that price range.
Imported CBU from the Hyundai factory in Thailand, the capital of the Asian automobile industry, despite being a facelift, the Grand i10 still has significant changes. Hyundai Grand i10 model has also won some prestigious awards in Asia such as "Golden steering wheel" (India), "Best urban car" (UK). Grand i10 model has 6 versions introduced in Vietnam. The price of Hyundai i10 car lasts from 300 to 500 million dong.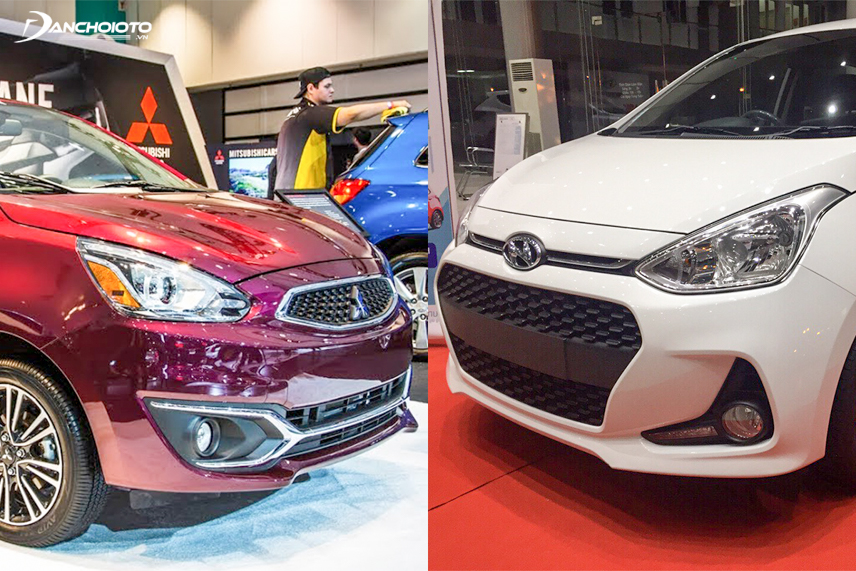 Mitsubishi Mirage and Hyundai Grand i10
As for the Mitsubishi Mirage, this is a compact B-class hatchback of Mitsubishi, Japan. Mirage brand was launched in 1978 and distributed in many markets with names such as Colt, Lancer, Space Star … Currently, Mirage has gone through 6 generations and actually has quite a lot of changes. Mitsubishi Mirage is also imported directly from its factory in Thailand and introduced in the Vietnamese market with 4 versions.
Hyundai's Grand i10 has the advantage of price, but Mirage is still a consideration because the Japanese brand is a guarantee of safety as well as the level of price retention when reselling cars. Let's analyze this case carefully.
Compare Exterior Mitsubishi Mirage and Hyundai Grand i10

| | | |
| --- | --- | --- |
| Parameter | Hyundai i10 hatchback 1.2 AT | Mitsubishi Mirage |
| Length x height x width mm | 3,765 x 1,660 x 1,605 | 3,796 x 1,665 x 1,510 |
| Wheelbase mm | 2.454 | 2,540 |
| Ground clearance mm | 152 | 160 |
In terms of dimensions when compared, we see the Mirage is slightly better than the Grand i10 but not significantly. Hyundai i10 attracted attention on the appearance changes. No longer the horizontal bars like the old i10, the current i10 grille is shaped like a large waterfall, pierced with shiny chrome contours. The tail of the i10 is made softer by the slightly tapered taillights and strokes into drops like the corners of the eyes. I10 has 6 color options: white, orange, silver, red, sand yellow, blue.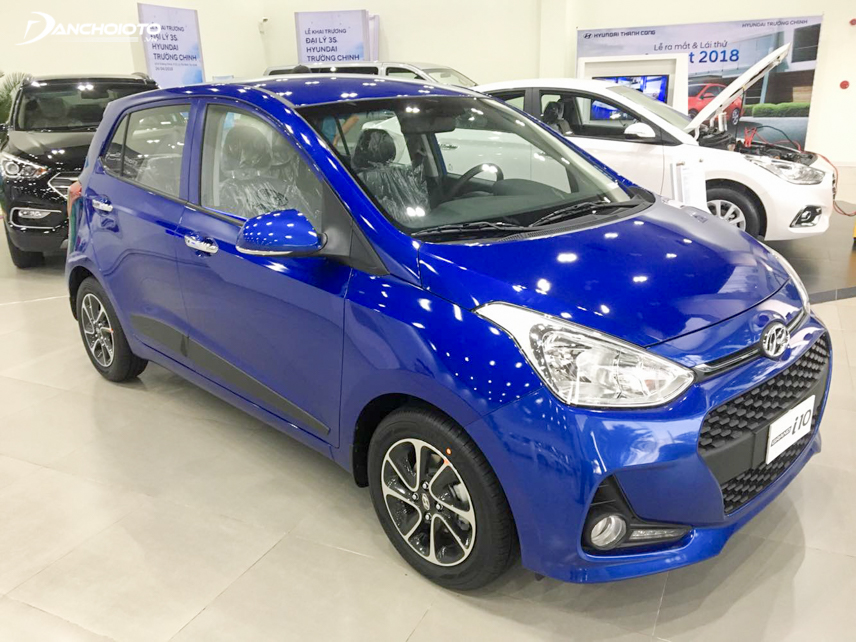 Hyundai i10 has a sporty and attractive design to younger people
Mitsubishi Mirage model is designed quite harmoniously. The front end still has a honeycomb grille with chrome trim. The front bumper is stamped with two ribs running on both sides to wrap the fog lamp cluster. The projector headlights still use Projector-type Halogen bulbs, but there's a range of LED daytime running lights. The tail is integrated sports spoiler style. According to Mitsubishi Mirage, the rear of the car is cumbersome and greedy. However, Mitsubishi supports the Mirage with many youthful colors such as metallic silver, metallic gray, metallic blue, pearl white, metallic black …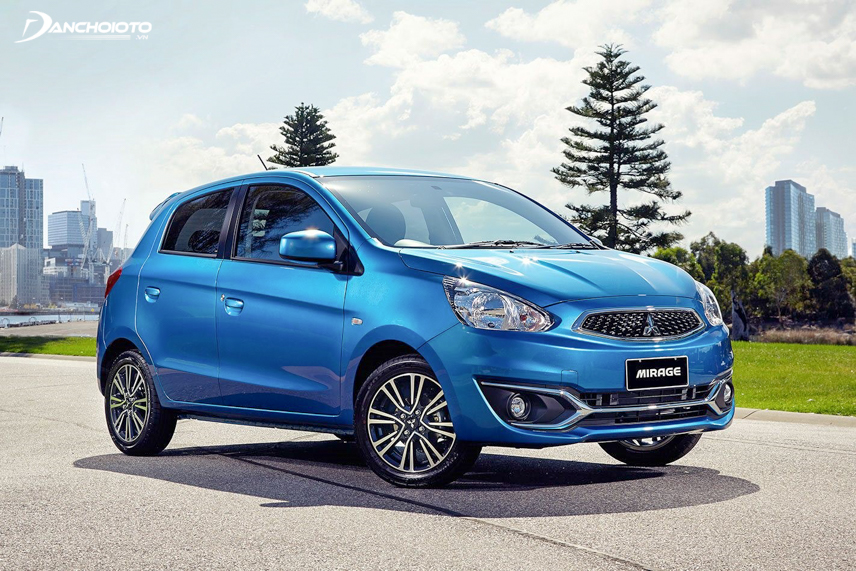 Mirage body with aerodynamic design
Both models are equipped with a rearview mirror with integrated turn signals with power adjustment / folding function and 14 "alloy wheels with a 4-spoke alloy that are very strong and sporty.
Compare Mitsubishi Mirage and Hyundai Grand i10 in interior

Interior space of the Mirage is quite spacious as other brands of the company. All equipment is also at a basic level. The most unfortunate thing is that Mitsubishi uses too poor materials such as tin or hard plastic too much for its space. According to many reviewers i10, the car interior is more luxurious by the careful care from the Korean manufacturer. The cabin is quite bright and feels more spacious by a combination of soft plastic material and very subtle color scheme.
The steering wheel of Mitsubishi Mirage is a three-spoke form finished in leather and hard plastic. The general comment is that the feeling of holding the steering wheel is quite light, not giving the necessary excitement. A minus point in the opinion of experts is that Mitsubishi placed the start button on the left hand side of the steering wheel, a position that is not scientific and convenient at all. The steering of the Grand i10 feels much better, adjusts the steering angle and integrates many functional buttons, so it is quite convenient for long journeys. The downside is that these shortcut buttons are made with quite large size and in the process of controlling the steering wheel, it is easy to activate wrongly.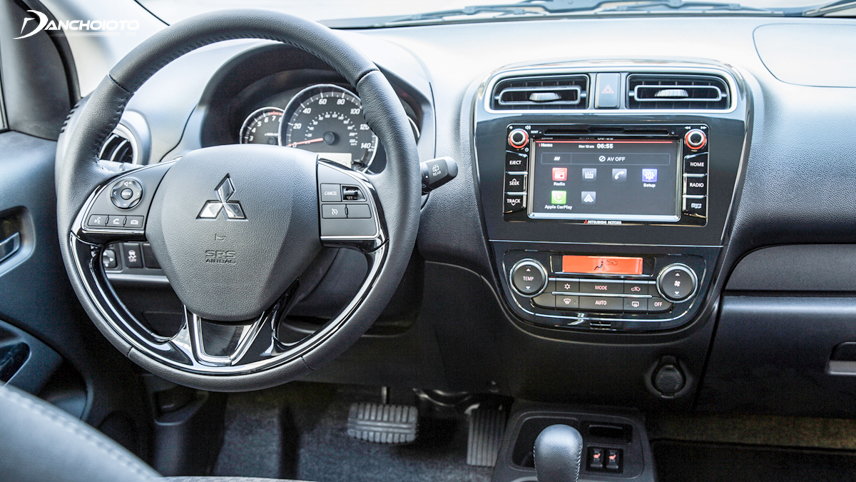 A close up of the Mirage cockpit
When comparing the Mitsubishi Mirage and i10 in terms of seating system, there are many points to keep in mind. On Mitsubishi's Mirage, the driver's seat is high, but the Japanese automaker does not allow adjusting the distance to the steering wheel. A disadvantage of Mirage is the extremely narrow door that the back of the chair is designed to be mysteriously flat but should have been hugged to comfortably back.
Those of small stature will not feel much of a problem, those who are taller than 1.7m will certainly encounter many problems when being a passenger. The advantage with the seat system is probably the soft and smooth enough material for long trips but the finishing looks poor. Hard plastic that looks pretty cheap is made of handrails and in the center there's no handrails.
In the Hyundai Grand i10, the rear seats are quite spacious and can accommodate 3 adults at a time. Rear seats are supported with 3 headrests and 3 seat belts. Electric rear hatches open / close. Hyundai favorably arranged a small air intake in the front compartment, cum also compartment cooling drinks quite effectively. The downside is that the chair adjustment levers are poorly arranged so it's quite difficult to get used to.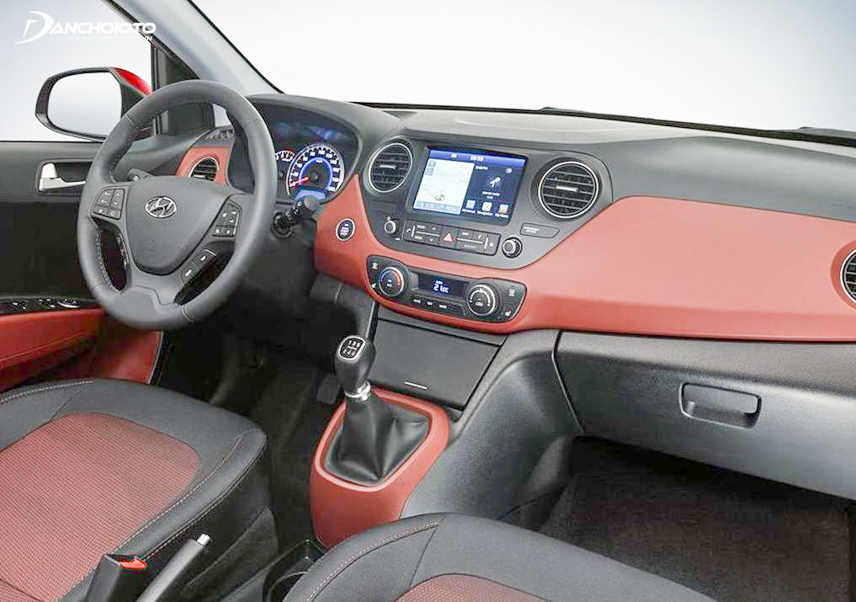 Close-up of the steering wheel i10
Regarding luggage capacity, Mirage is provided with a volume of 487L, quite large in the segment. Folding the last row of seats 60:40, Mirage can expand this space to 1,331L.
Comparing Mirage and i10 in terms of comfort equipment, we can see that both models are equipped with 7 "touch screens with DVD player / Radio and the connections are now becoming popular such as USB / Bluetooth / AUX and stereo systems. 4-speaker bar. Hyundai prevails when equipping Vietmap with completely free integrated navigation system. Both use manual air conditioners, electric windows. Mitsubishi's Mirage has been added with an air filter.
Compare Mitsubishi Mirage and Hyundai Grand i10 in terms of engine / performance

| | | |
| --- | --- | --- |
| Technical data | Hyundai Grand i10 | Mitsubishi Mirage |
| Engine | 1.2L | 1.2L |
| Wattage | 87 horsepower, 120Nm | 78 hp, 100Nm |
Owning a compact exterior size, the i10 and Mirage are priority cars for those who first want to drive behind the wheel or residents of crowded urban areas. Mirage possesses better ground clearance and a turning radius of only 4.6m allowing drivers to become more confident in a narrow range or "crossing" the high.
Compared to engine specifications as well as practical experience, many people evaluate Mirage to be much weaker. In return, the company takes a good high ground clearance with a turning radius of only 4.6m as a competitive advantage for a small urban car. It was not too difficult for Mirage to overcome obstacles or climb obstacles.
According to the evaluation of Hyundai Grand i10, the car operates smoothly and quite gently at low speeds. It exhibits surprising flexibility when traveling even in crowded places. One drawback that still exists is the "jumpiness" when shifting gears.
Electric power steering on two models plays well in their role, helping to steer accurately and lightly. I10 is more dominant when equipped with GPS with the support of Vietmap. Regarding sound insulation when operating at high speed, from 100km / h, Grand i10 do better when noise enters the cabin at an acceptable level. The chassis system of the two models gives good damping ability, so the running ability is stable throughout.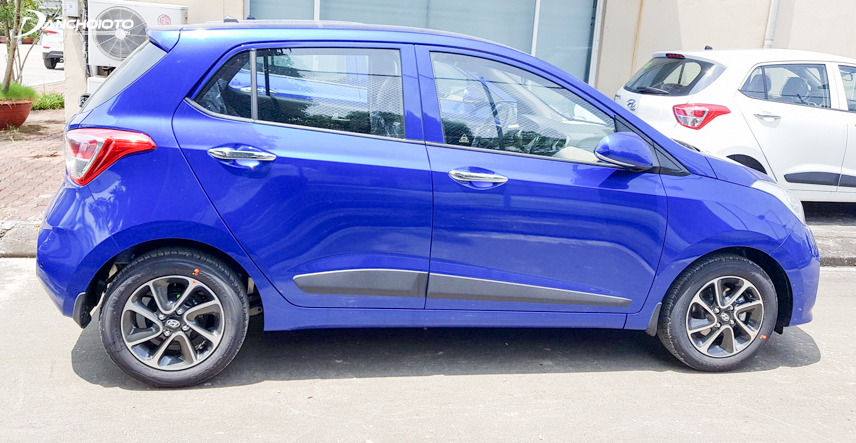 Performance of the i10 is assessed to be superior to the Mirage
Fuel consumption of Hyundai i10 is about 6L / 100km in mixed traffic conditions. However, the Mitsubishi Mirage proves its ability to optimize fuel consumption: on average only 4.99L / 100km in the same circulation conditions. Thus, overall, Grand i10 thanks to higher power and torque, so it operates more powerfully and accelerates more efficiently. The Mirage is dominated by better fuel economy.
Compare Mitsubishi Mirage and Hyundai Grand i10 safety equipment

Both models, due to the limited investment, should be safely equipped at "standard" levels with little difference. Mirage is considered "safer" when equipped with 5 airbags compared to 3 airbags in i10.
| | | |
| --- | --- | --- |
| Safety equipment | Hyundai Grand i10 | Mitsubishi Mirage |
| Anti-lock braking system ABS | Have | Have |
| Electronic brake force distribution EBD | Have | Have |
| Air bag | 3 | 5 |
| Sensor back – Camera back | Have | Have |
| Brake system | HQ 34 multi-function brake, front drum rear disc | IS 18 multi-function brake, front disc, rear drum |
Should buy car Mitsubishi Mirage or Hyundai Grand i10?

Price of Hyundai Grand i10 car with 6 hatchback versions and 3 versions upgraded to a sedan:
| | |
| --- | --- |
| Version | Price |
| Grand i10 1.0 MT Base | 315 million |
| Grand i10 1.0 MT | 355 million |
| Grand i10 1.0 AT | 380 million |
| Grand i10 1.2 MT Base | 330 million |
| Grand i10 1.2 MT | 370 million |
| Grand i10 1.2 AT | 395 million |
| Grand i10 sedan 1.2 MT Base | 350 million |
| Grand i10 1.2 sedan MT | 390 million |
| Grand i10 1.2 sedan AT | 415 million |
Price of Mitsubishi Mirage with 4 versions:
| | |
| --- | --- |
| Version | Price |
| Mirage 1.2 MT Eco | 370 million |
| Mirage 1.2 MT | 395 million |
| Mirage 1.2 AT Eco | 435 million |
| Mirage 1.2 AT | 475 million |
Should buy a Mitsubishi Mirage or Hyundai i10? When considering to buy a car with price of 400 million, we see that both models meet the basic requirements of the small-sized urban car segment: smooth operation, good fuel consumption, interior decoration. Standard level, stylish and attractive appearance design.
With Hyundai Grand i10 there are many versions suitable for many objects in the segment and attractive prices. Although the Mitsubishi Mirage still has many disadvantages such as poorer operation and less refined interior finishing, it is still an option for those who believe in the Japanese brand quality and the ability to save fuel. Buyers who directly compare Hyundai i10 and Mitsubishi Mirage will have their own choice.
Le Quang