Compare Honda City and Ford EcoSport, although City is a sedan and EcoSport is an SUV, but because of the same price range of 600 million, many people are wondering between City and EcoSport.
Although Honda City is a low-rise 5-seater sedan and Ford EcoSport is a high-ground 5-seater SUV, due to the similar price of City and EcoSport cars at VND 600 million, many people are wondering whether to buy City EcoSport.
General introduction about Honda City and Ford EcoSport

Honda City is among the top 10 best-selling models in Vietnam market. Experienced 4 generations with a total of over 3.6 million units sold worldwide, Honda City is an "achievement" that can not be underestimated by this Japanese automaker. The ability to operate stably and save fuel is a strong point of the City line. In Vietnam, Honda's goal is to overthrow the throne of Toyota Vios and this is entirely possible. Model Honda City is refreshed quite a lot of details to bring a better experience.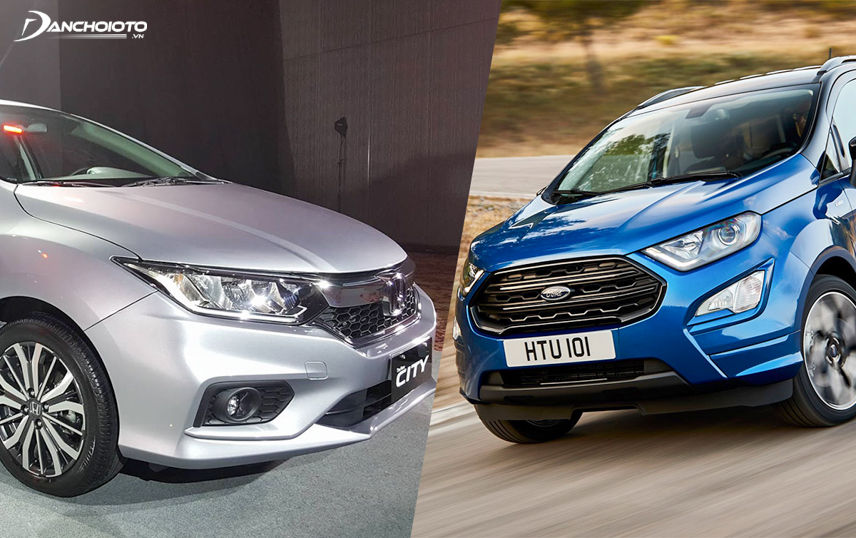 Honda City and Ford Ecosport
Ford EcoSport is manufactured by Ford Vietnam at Ford Vietnam factory in Hai Duong. You will see that the company has made a lot of changes from the outside to the inside to increase the competitiveness of this compact SUV. According to the assessment, Ford EcoSport and Honda City both have their own strengths to convince Vietnamese users.
Compare Honda City and Ford EcoSport in terms of exterior
Compact criteria are still guaranteed by these two cars to move and wriggle easily in urban areas. However, because it is a 5-seater car model, the ground clearance of 175 mm Ford EcoSport is larger than 135 mm of rival Honda City which is a sedan. Therefore, it is obvious that most users rated EcoSport capable of climbing margins or even offroad in some conditions better than City. Honda City buyers must know this disadvantage of the car to be more active in traffic conditions.
| | | |
| --- | --- | --- |
| Parameter size | Honda City | Ford EcoSport |
| Length x Width x Height (mm) | 4,440 x 1,694 x 1,477 | 4,241 × 1,765 × 1,658 |
| Wheelbase (mm) | 2,600 | 2,520 |
| Ground clearance (mm) | 135 | 175 |
| Turning radius (m) | 5,61 | 5.3 |
In terms of appearance design, depending on the taste and aesthetic viewpoint of each person, the perception will be different. However, sportiness and sophistication are still preferred by the two companies to attract young people but still retain their qualities.
According to experts in evaluating Honda City, the Japanese B-class model has a quite prominent head section with chrome-plated steering wheel cover and shaped distinctive wings of the company. The headlights of the car look very slender and sharp. Ford EcoSport integrates a very unique function for the grille – Ford Active Grille Shutter, ie the ability to automatically open and close. The company revealed its principle of operation as follows: when closed, the grille system will increase the ideal temperature for efficient engine operation. As a result, the air cross section is increased and the engine is effectively cooled according to the aerodynamic principle.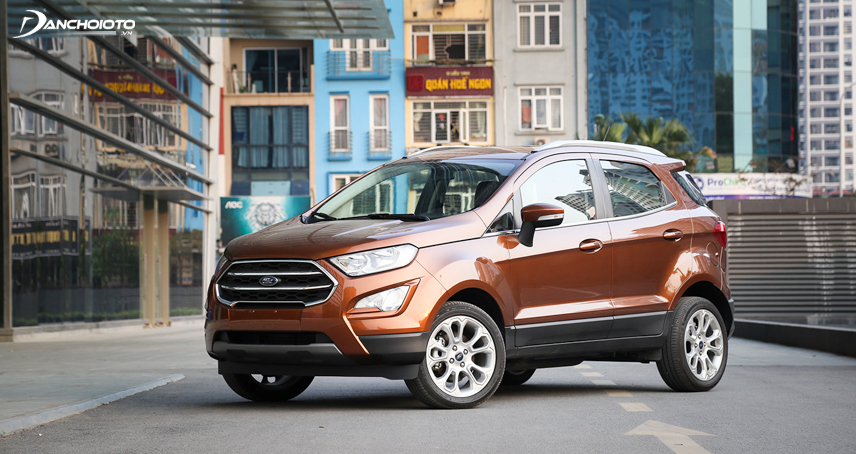 EcoSport's American look
The two companies try to add elegance to their models with chrome trim elements or painted in the same color or dark plastic. However, with models of the range of VND 500 – 600 million, this equipment is considered as the best effort of the two automakers. The side of the EcoSport car has a technology note on the door handle: the lock / unlock sensor is closed and unlocked is hidden in the handle.
In terms of lighting technology, Honda City is superior because the front lights are Full LED, very beautiful, modern and superior than the old Projector Halogen technology on EcoSport. Rearview mirrors on both models are equipped with electric folding function, adding turn signals very convenient. The rear, according to the evaluation, Honda City car looks more attractive than EcoSport. The rear bumper and the two-level taillights, additional LED brake lights are quite impressive by the young.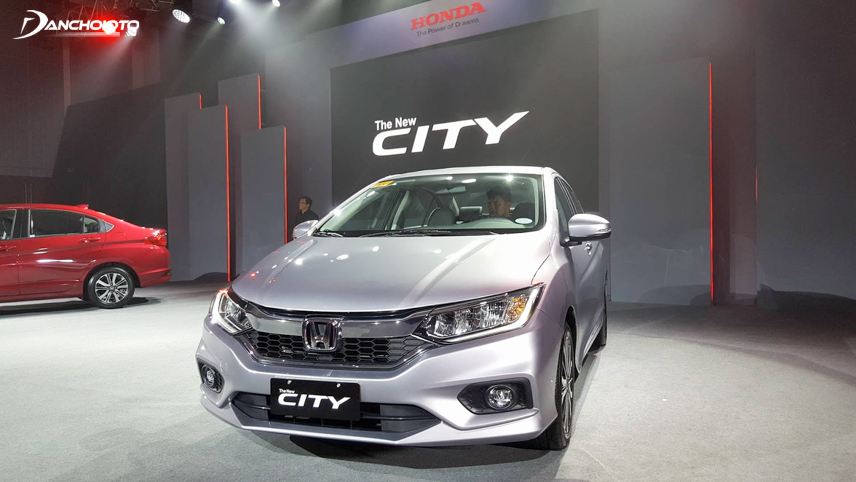 The modern sportiness is evident in this year's Honda City
Compare Honda City and Ford EcoSport in interior
The interior space of the two models is quite spacious and luxurious. On Honda City, the center console is edged with silver. The tableau parts of the two models are finished in soft plastic, which feels good to touch but cannot compare to the skin. The two companies arranged quite reasonable and scientific control buttons. Steering wheel parts on both cars are three-spoke, all wrapped in leather in the high-end version.
The steering wheel on Honda City is plated with silver and is more luxurious. The two steering wheel are integrated multifunctional shortcut keys and gear shift lever. The commendable point is that Honda and Ford have manipulated the steering column on their B-class sedan to be adjustable in 4 directions (far – near – high – low). This is a small advantage, but offers great value for the driver to find a comfortable position in the long journey.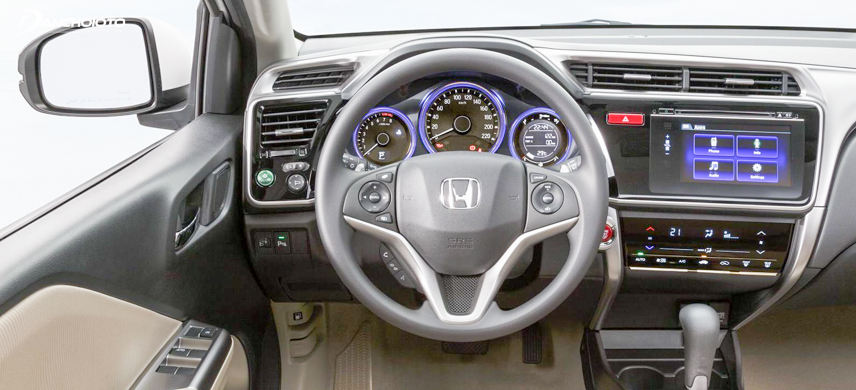 Close-up of Honda City cockpit
On EcoSport and Honda City, we will have 6-8 speaker sound system (depending on Honda City version), voice control system, USB / Bluetooth / HDMI / Radio / MP3 connections and charging port. phone. In terms of multimedia entertainment, Ford EcoSport car is rated as better than Honda City. Connection technology is considered a highlight that makes EcoSport stand out. Exclusive SYNC3 technology and 8 "touch screen allow the operator to activate the multimedia system, perform operations such as making voice calls and voice messages. The AppLink 3.0 function integrated with SYNC3 supports the operator to manipulate applications on his smart device right on EcoSport's 8 touch screen. 7-speaker system is quite good. The display quality and connection handling operations are smooth and intuitive.
And yet, according to Ford EcoSport, another function that also helps EcoSport dominate the City in the driver experience is MyKey. Users can fully personalize the setting limit for maximum speed warning, fuel level, seat belt wearing status and maximum volume level without following the manufacturer's default. EcoSport is also smarter when it is able to identify the driver and choose the appropriate settings for that person's Profile. These advanced technologies cannot be seen in Honda City, not to mention the 6.8 "touch screen of the City model, which has an unfortunate disadvantage of being less responsive touch and less glare resistant in light conditions. strong light.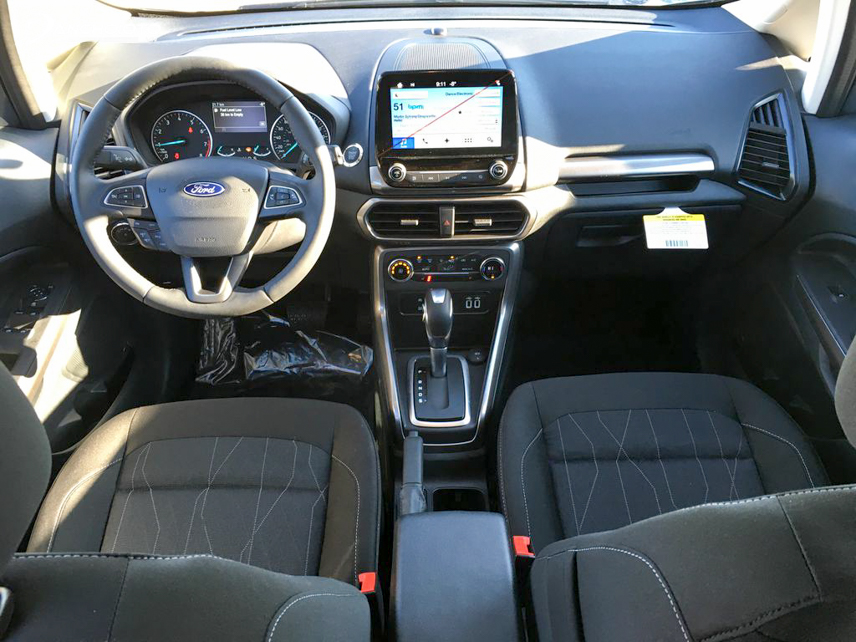 Very luxurious interior decoration of Ecosport
The seat system on the two models is quite good. On EcoSport, the driver's seat has 6-way mechanical adjustment, while the passenger seat has 4-way adjustment. All seats are upholstered in black leather (the regular version is felt). Rear seats are also quite comfortable hugging the back and good finishing material with 3 convenient headrests. The rear seats are suitable for moderate sized adults so they can stretch their legs comfortably. Seats with 60/40 folding ratios can help increase luggage storage when needed.
On Honda City, the seat system is more comfortable because of the headroom and the space to stretch the legs below is quite spacious, even able to fit even taller people. Another advantage is that in addition to the 3 headrests with height adjustment function, Honda also adds City to the armrest and the cup is very convenient. For road trips, the comfort of passengers in this position is highly appreciated.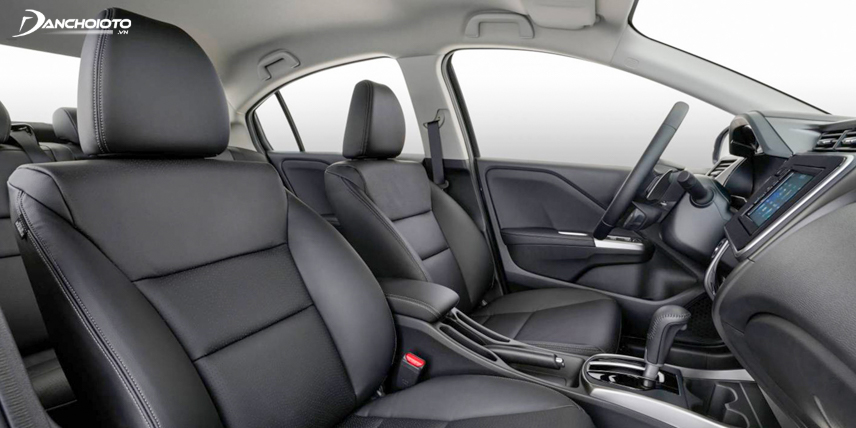 Close-up of Honda City's seating system
Regarding the air-conditioning system, Honda City TOP version showed a good investment after the incident complaining about the inefficiency of the air conditioner on the City model last year. This year, Honda integrated into the City TOP version both the automatic adjustment function to control the air conditioning system via the touch screen of the car – a feature that no model of this B-segment sedan has. . The performance of this two-zone air-conditioning system is quite good, with air vents arranged in the rear and rear of the car, regulating the airflow evenly and stably.
On the Ford EcoSport, in addition to the cooling capacity of the two-zone air-conditioning system, it is equally effective as Honda City, a scoring device compared to the Japanese compact sedan, which is equipped with a sunroof activated by the push of a button. The space in EcoSport car, thus, becomes more spacious and airy.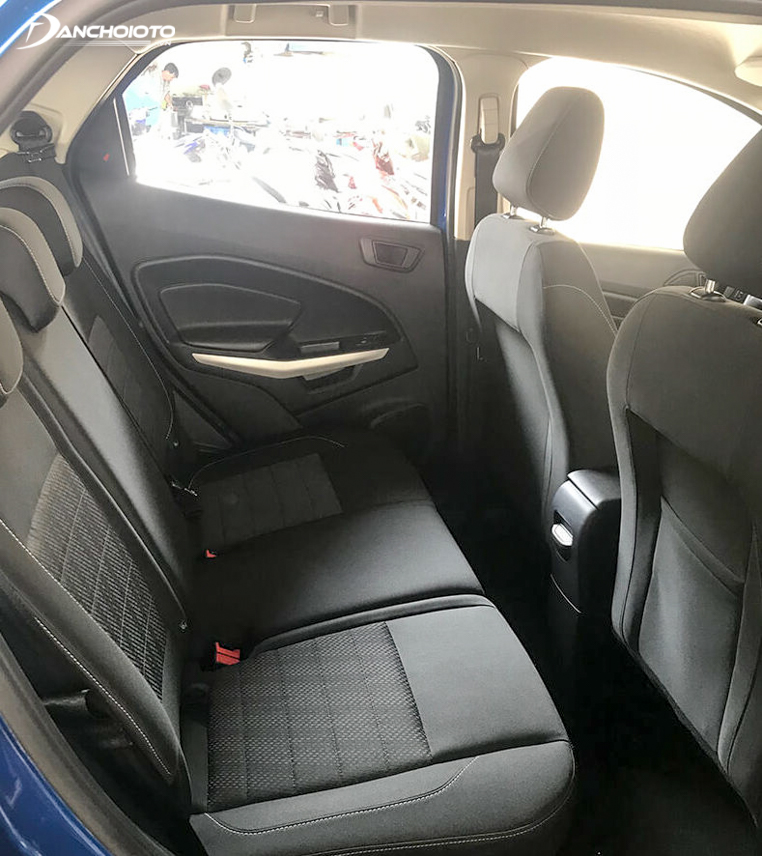 Rear seat space Ecosport
Luggage space on Honda City is much better than not only Ford EcoSport but also superior to other competitors in the segment with the default figure of 536L. Ford's SUV is 326L volumetric for luggage. Both of these B-class sedans arrange the rear seats with a folding ratio of 60:40 with convenient pull levers. Ford, in return, has optimized the interior design with more than 20 convenient storage positions.
Compare Honda City and Ford Ecosport in terms of engine / performance
Maintaining the same engine model as the old version, Honda City's engine performance as well as fuel optimization have been verified. Recalling a bit about the engine specifications of this sedan of Honda: 1,497cc engine, i-Vtech technology, 4 cylinders in line, maximum power of 118 horsepower at 6,600 rpm together. Maximum torque of 145 Nm at 4,600 rpm, CVT gearbox and front drive system for both versions is Honda City and Honda City TOP.
In Vietnam, Ford EcoSport is launched with 5 versions of 1.5L Dragon petrol engine with a capacity of 120 horsepower and 1.0L EcoBoost with a capacity of 125 horsepower, combined with a 5-speed manual gearbox or clutch 6-speed gearbox. Dual PowerShift technology. The special thing is that the body is made of aluminum alloy, the weight is reduced by 10% and the power is added by 10%, the torque is 7% compared to the EcoSport version.
Thanks to that, Ford EcoSport is assessed to have smooth and responsive acceleration. EcoSport's Ti-VCT dual-valve technology helps to optimize fuel usage and improve engine efficiency. CAM shaft drive belt is wet type so it works smoothly with high durability. In addition, the balancing shaft technology is incorporated into this engine model to minimize vibration and noise minimized by the mechanized gear system effectively.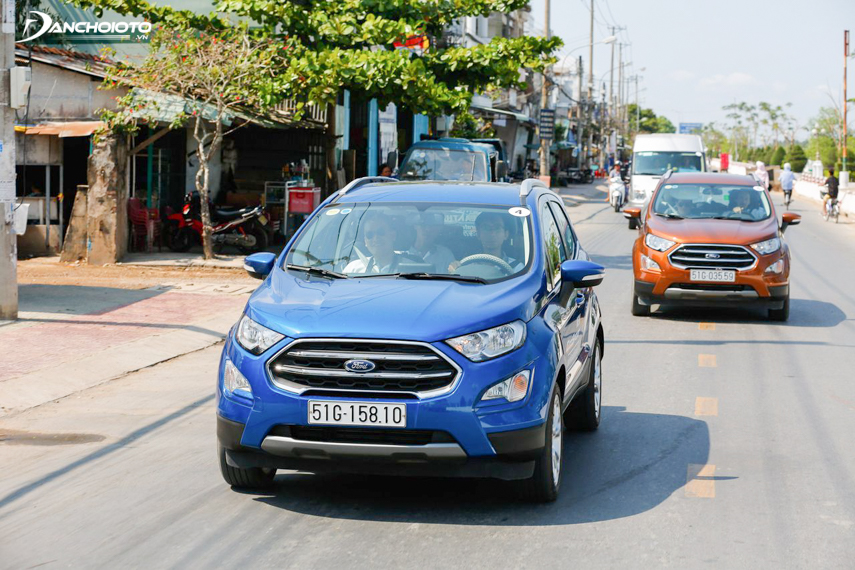 EcoSport has smooth acceleration and sensitivity
In terms of power, Honda City is clearly better than Ford Ecosport in terms of both horsepower and maximum torque. However, Ford's integration of such top notch technologies into this urban mini SUV is also a factor that is hard to ignore for many people.
Regarding the feeling of operating the car, it can be seen that each company has a quite different philosophy. Note, both models are equipped with electric power steering. Honda City, like many Japanese models, has brake pedals and light gas pedals with sensitivity under control. Japanese engineers are quite concerned about safety when always defaulting to the vehicle a certain delay so that the driver can take control of the situation, especially while moving in urban areas.
A disadvantage of Honda City when operating should be noted that the A-pillar on the City is a bit thick so the driver must concentrate well when traveling at the intersection. In addition, the front of the vehicle is short and the capeau cover slopes forward, so visibility is a bit limited and it may easily bump with other traffic or obstacles. Econ and S-Sport modes are great. Econ is gentle and S-Sport with the help of two gear shift paddles on the steering wheel is very "quality" when combined with 7 virtual CVT levels.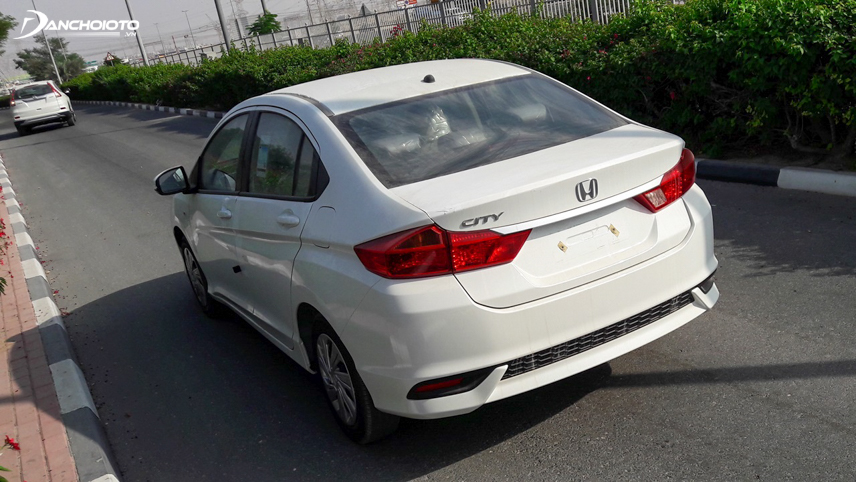 With the disadvantage of quite low ground clearance, only 135mm, the driver should note when climbing margins
Ford Ecosport has proved durable and strong when conquering the expressways through the experience of car experts. Firm steering wheel. When traveling in urban areas, Ecosport proved superior to Honda City with a turning radius of only 5.3m with a ground clearance of 175mm.
According to the announcement, the fuel economy of both models is not too different. Ford EcoSport for an average consumption of 5.4L / 100km mixed roads. And Honda City averages 6.08 – 6.36L / 100km of mixed roads.
Compare Honda City and Ford Ecosport in terms of safety equipment
Details of safety equipment on the two models are as follows:
| | | |
| --- | --- | --- |
| Safety equipment details | Honda City TOP | Ford Ecosport Titanium |
| Anti-lock braking ABS | Have | Have |
| Electronic brake force distribution EBD | Have | Have |
| Emergency brake | Have | Is not |
| Electronic balance ESP | Have | Have |
| Support horizontal departure for HLA | Have | Have |
| Cruise Control | Have | Have |
| Acceleration control system | Have | Is not |
| Engine Start / Stop System | Have | Have |
| Front / rear brakes | Disk / Disc | Disk / Disc |
| Reverse camera | Have | Have |
| Rear sensor back | Is not | Have |
| Anti-theft | Have | Have |
| Number of airbags | 4 | 7 |
The difference in equipment on these two small urban cars is not much and each company has its own additional equipment advantages.
Should buy Ford Ecosport or Honda City?
The prices of the two latest updated models are as follows:
Ford Ecosport price:
Ecosport 1.5L MT Ambiente: 545 million
Ecosport 1.5L AT Ambiente: 569 million
EcoSport 1.5L AT Trend: 593 million
EcoSport 1.5L AT Titanium: 648 million
EcoSport 1.0L AT Titanium: 689 million
Honda City price:
Honda City 1.5: 559 million
Honda City 1.5 TOP: 599 million
These two represent the best B-class urban cars of the year and the advantages and disadvantages that have been clearly analyzed above. Honda City is suitable for hard fans of the Honda brand who like the sporty and elegant beauty inherent in the sedan, with superior exterior and superior engine. Ford EcoSport's favorite subjects will prefer American characteristics with the exterior design of the 5-seater high-rise SUV, and the outstanding equipment and technology. In addition, Ford EcoSport with up to 5 versions is also an advantage to cover many demand segments.
Lam Tung