Compare Honda City and City TOP, although the City version is cheaper, the equipment is significantly reduced. So buy Honda City or City TOP?
General introduction about Honda City
In 1996, the name Honda City was replaced for Sub-brand (formerly sub-brand) Honda AA / FV / FA (3-door hatchback model) produced since 1981. Honda City was positioned as a model B class sedans, under the "elder" are Honda Civic and Honda Accord.
The number of more than 3.5 million Honda City units sold globally shows a guarantee of Japanese quality. Depending on the market, Honda City has many different names. For example, in South Africa, we will hear the name Honda Ballade, right here in Japan is Honda Fit Aria (from 2002 – 2008). Produced by Honda on the same platform as the Honda Jazz hatchback, Honda City uses a 1.5-liter i-Vtec engine.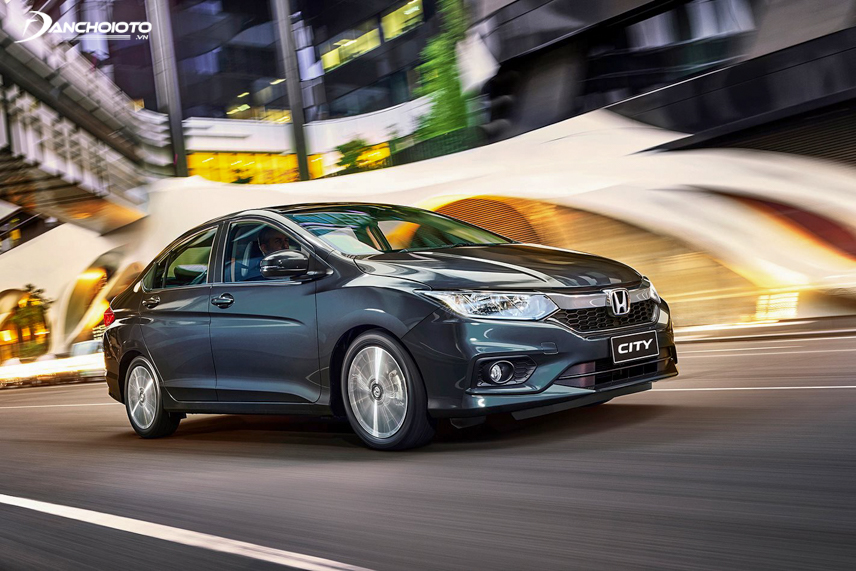 Honda City is one of the best-selling B-segment sedans
Since May 2013, Honda City has been in Vietnam and has really created many fevers. Sales of this B-class sedan in the market are second only to Toyota Vios and Hyundai Accent, better than other models in the same segment such as Mazda 2, Nissan Sunny, Suzuki Ciaz, Mitsubishi Attrage, Kia Soluto …
In Vietnam, Honda City is currently distributed in 2 versions: Honda City 1.5 and Honda City 1.5. Many buyers wonder whether to buy City or City TOP. In this article, we will compare and evaluate Honda City and Honda City TOP cars to help you find the best option.
Compare Honda City and Honda City TOP in terms of exterior
These two versions of Honda City 2018 have the same dimensions of 4,440 x 1,694 x 1,477 mm (in the order of length x width x height) with a wheelbase of 2,600 mm, a ground clearance of 135 mm. The Honda City model has a turning radius of 5.61 m and an unladen weight of 1,112 kg.
According to Honda City, this is one of the largest vehicles in the segment to help the car own an extremely spacious interior space. However, the disadvantage of Honda City is that the low ground clearance causes many inconveniences when having to move the bumpy roads, through speed humps or climbing margins.
In terms of design, the current Honda City is not too different from the old Honda City models. Both Honda City and City TOP versions have no difference in design. The main difference comes from equipment.
Previous Honda City TOP lighting systems including high beam and low beam all use LED technology, while the City version usually only uses Halogen lamps. This is an upgrade that is highly appreciated at City TOP because of its equipped with Full LED lamp technology which helps City TOP "eat out" many rivals in the B-segment, even the C-class. LEDs make observing objects in the night much clearer and more effective than the old Halogen technology, not to mention when surfing the streets, the outstanding level of the Full LED lights is indisputable.
The exterior difference between City and City TOP is in lighting technology
Both the regular City and City TOP versions are equipped with LED daytime running lights. However, for fog lamps, Honda City TOP uses LED lights, while City only uses Halogen lights.
Regarding the bodywork, design and equipment of Honda City in the two versions are the same. The car attracts with two impressive embossed veins creating a trendy sporty look. One line runs below the two door handles and merges into the rearview lights, one runs right below the edge of the door and into the rear bumper of the vehicle. Luxury chrome plated door handle. Rearview mirrors also have turn signals and power adjustment / folding function. The wheels of the two versions are the same: durable aluminum alloy and 16 "sporty form with 10 spokes between 5 small spokes and 185 / 55R16 tires.
As for the tail, both Honda City and City are no different. City tail features a large "dusty" rear light cluster connected by chrome splint, adding Honda logo, car name, i-VTEC engine letter and fish-shaped radio antenna design fat. The brake light is hung high so that the vehicles behind you can clearly see that the reaction is as safe as possible.
Compare Honda City and Honda City TOP in terms of interior
In terms of equipment, comparing City and City TOP, the two major versions differ in some comfort and entertainment equipment. Honda City 1.5 TOP uses high-class leather for seat systems and some details. The skin finish on City TOP gives a more premium feel. And Honda City 1.5 CVT only uses felt material for the seat system.
Chair features of both versions are the same. The driver's seat features 6-way manual adjustment, while the auxiliary seats are 4-way. Rear seats are folded 60:40, with 3 headrests that can be adjusted for height to suit the body of the accompanying passenger, such as armrests and drawers for extremely convenient cup. Most users rated Honda City highly because of the spaciousness in both rows. City has both legroom as well as ceiling above. Compared to some models in the same segment such as Mazda 2, Suzuki Ciaz, Mitsubishi Attrage … City owns superior space.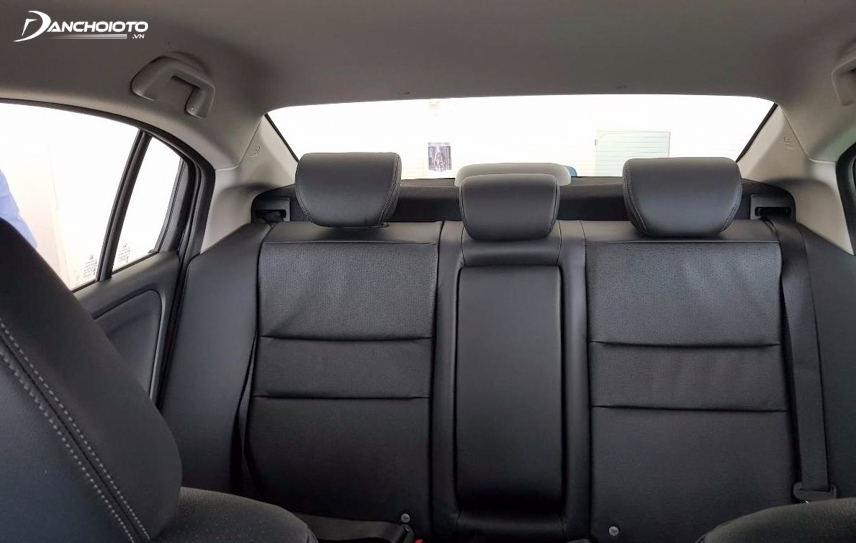 The interior between the two versions is mainly different by material
The luggage compartment of this year's Honda City model is considered "unmatched" in the B-segment sedan segment with a volume of up to 536L.
The Honda City steering wheel has a strong 3-spoke design, which is assisted by electric steering. Steering wheel is integrated Volume, Cruise Control buttons with gear shift lever. City TOP steering wheel is covered with high-quality leather, while in City standard version is only made of traditional Urethane material.
The next difference between the two versions comes from multimedia equipment. Honda City TOP's stereo is equipped with up to 8 speakers, arranged evenly on both sides of the car door for a very good audio experience. Meanwhile, the standard City version only has 4 speakers.
The commendable point of both City and City TOP of Honda are fully equipped with Multimedia facilities including 6.8 "touch screen, MP3 & Radio FM / AM with connections such as HDMI, USB, Bluetooth … However, according to Many users rated City, the car's touch screen for the level of feedback is not very sensitive and the ability to resist glare is a bit limited.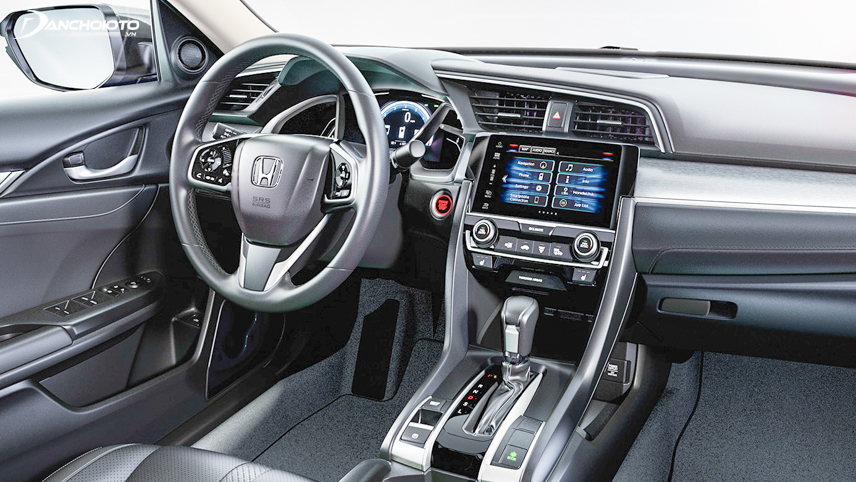 Honda City cockpit
The function of the air conditioning system is also the difference between these two versions. In Honda City regular version, the car uses manual control, quite "dirt" compared to many other cars priced at 550 million. While City TOP version is equipped with automatic air conditioning. A detail recorded as "first appeared in the class B sedan" is the function to adjust the air conditioning system on the touch screen of Honda City TOP.
Compare Honda City and Honda City TOP in terms of engine / performance
Let's take a look at the Honda City specifications in terms of engines. Both versions use the same engine, i-Vtec technology, with a capacity of 1,497 cc, maximum power of 118 horsepower at 6,600 rpm and maximum torque of 145 Nm at 4,600 rpm / minute. Honda equipped with a CVT gearbox with front-wheel drive. This engine block has been used for many generations such as Honda City 2017, old Honda City 2016 …
Two versions of the i-Vtec dynamic version
Compared to previous models, the new Honda City 2019 – 2020 has been focused on refining the brake pedal and light throttle, but there is always a certain lag. This helps the driver to actively control the speed, especially when traveling in crowded urban areas. With a low turning radius plus electric power for the steering wheel, the feeling of operating in Honda City on both versions is smooth and comfortable.
One disadvantage Honda City has not yet overcome in this City model is that the A-pillar is still a bit big. If you have not really mastered the road, be cautious when turning at a roundabout or intersection. Because the City head is short and the capeau part is sloping forward, the driver is highly discontented, so the extra head rotation should be aligned to prevent swiping.
The integrated driving modes on Honda City are both the same. Econ driving mode helps you to operate the engine at a light pace to optimize fuel consumption and you have to accept the accelerator feedback level will be delayed by a few milliseconds. However, with the S-Sport mode on the two versions accompanied by the gear shift lever and the 7-speed virtual number, you will experience a completely powerful City as desired. Through experience, the navigation system on Honda City works very smoothly and effectively, largely thanks to the powerful support of the electronic balance VSA system.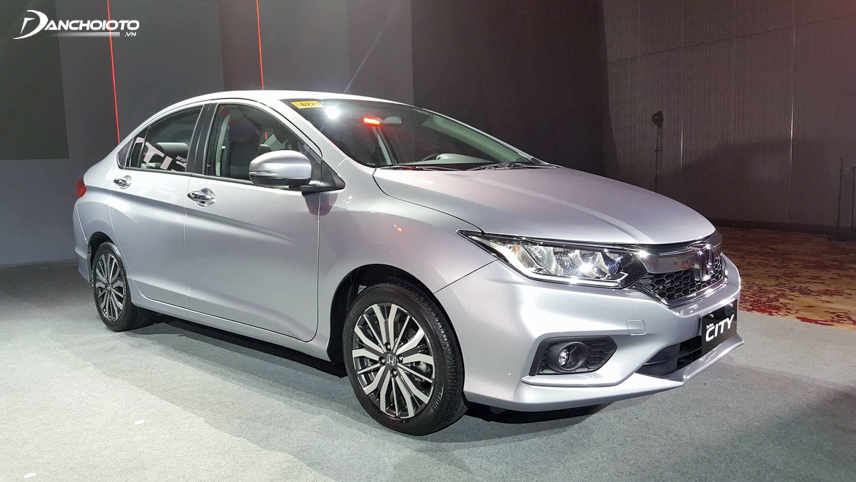 The integrated modes on Honda City 2018 are both the same
Soundproofing ability on both versions of Honda City has also been improved better than before.
Fuel consumption as announced by the company on Honda City in mixed conditions – urban – outside urban is as follows in two versions.
Honda City 1.5 regular version: 6.1 – 7.97 – 5.0L / 100km
Honda City 1.5 TOP: 5.8 – 7.59 – 4.86L / 100km
So can see the ability to save gasoline on City 1.5TOP version is more optimized.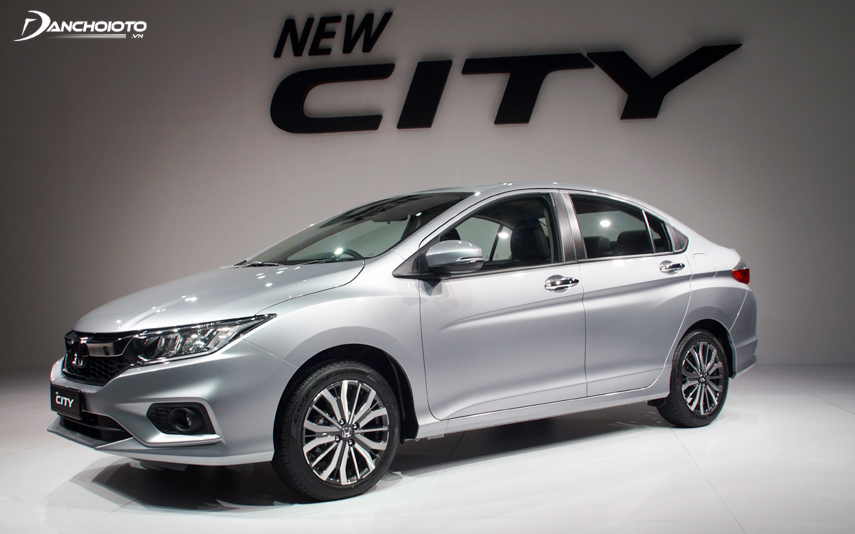 City TOP for better fuel economy than the regular City
Compare Honda City and Honda City TOP with safety equipment
The list of active safety equipment on both versions is the same. We have:
Electronic balance VSA system
HAS system supports halfway up the slope
ABS, BA, EBD brakes
G-CON chassis absorbs force
Body integrated with ACE-compatible collision technology
Seatbelt reminder function for driver seat and extra seat
3-way reversing camera
Sensor back
The difference between Honda City and City TOP lies in passive safety equipment with the number of airbags installed in the body. Compare City and City TOP with regular City version, City version usually has only 2 airbags, while TOP version has 6 airbags. In terms of the number of airbags, in the current B-segment car segment, Toyota Vios is leading with 7 airbags.
Should buy Honda City or Honda City TOP?
Honda City is launched with 6 exterior color options: Dark Blue, Red, Black, Silver, Ivory, Titan.
---
The price of Honda City is 559 million, the price of Honda City TOP is 599 million.
---
Thus, according to the shared information, we can easily see the difference between the two versions of Honda City mainly from equipment: with the exterior being a lighting system, with the interior being fitted. Comfort, with safety systems is the airbag number.
Compare City CVT and TOP, the price of 2 versions of the difference is 40 million VND. This difference is not too large. However, a worrying thing is that compared to other B-class cars in the same segment, the price of TOP cars is quite high, not only the highest in the segment but also on par with many C-class models such as Kia Cerato, Hyundai Elantra. …
Therefore many people are hesitant to spend nearly 600 million to buy Honda City whether it is worth it? By the same amount of money to buy a car of VND 600 million, you can choose a class C car. Each option has its own advantages. If you choose a C-class car such as Kia Cerato, Hyundai Elantra … you will have a 1.6 engine, beautiful car design … But the fact compared to the 1.6 engine of the Korean models above is not much different from City's 1.5 engine . On the other hand, 600 million people can only buy a low-class, equipped-equipped C-class car, while City TOP is a high-end, fully-equipped version.
Back to the comparison of Honda City and City TOP, according to experts, if your budget is not too limited, you should choose City TOP. Although buying a range of 600 million cars now has more attractive options, but do not forget that the quality and class of Honda vehicles always make people feel comfortable down the money and are satisfied when they receive the corresponding value.
Trần Trung