In this article, let's compare two earphones that are most popular among users today, namely Xiaomi AirDots Pro and Apple AirPods.
In fact, these two products are targeted at different customer segments, such as AirPods targeting high-end users (costing more than 4 million) and using Apple's iDevices ecosystem. Meanwhile, Xiaomi AirDots Pro is customer-oriented in the lower segment (priced at 1.5 million) and popular products with more platforms.
However, there are still many users asking whether they should pay for AirPods or just choose a model with similar appearance and features AirPods (AirDots Pro) at a cheaper price. is enough. And so this article will answer the above questions.
But if you're a knowledgeable user, already know about technology products and have decided on the product you're going to buy, then this article probably won't be right for you.
Design and wearing feeling
Design
Apple brand products are always fitted with high-end labels, and so each product is delivered to users who always have excellent finishing quality, AirPods are no exception.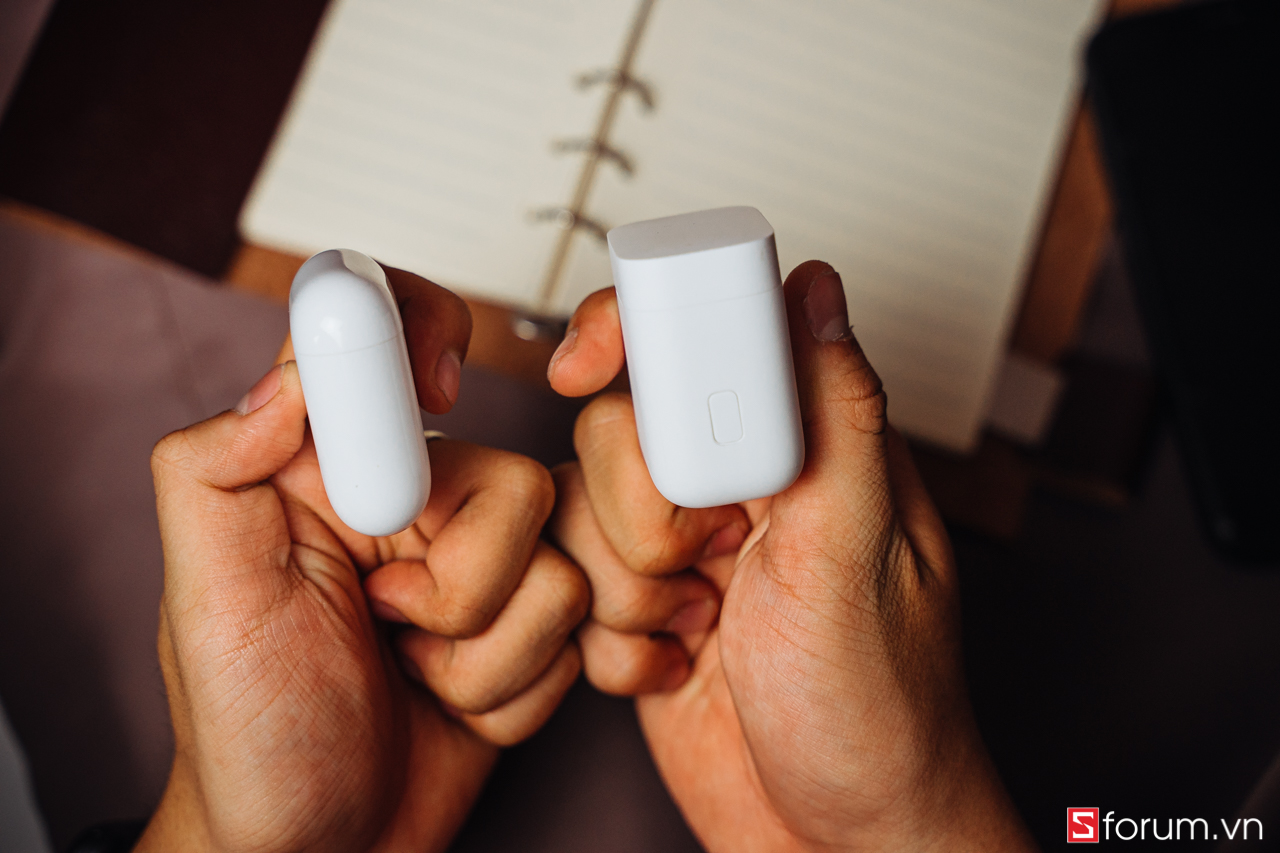 Apple AirPods still adhere to soft, rounded lines similar to the way Apple is applying on their iPhone models. In addition, the appearance of the case and the headset is quite neat and beautiful, making the use more comfortable and suitable for many users.
In the opposite direction, Xiaomi AirDots Pro, despite its relatively similar design but more angular than AirPods, is the only flat case that AirDots Pro can stand on any plane and AirPods. can not.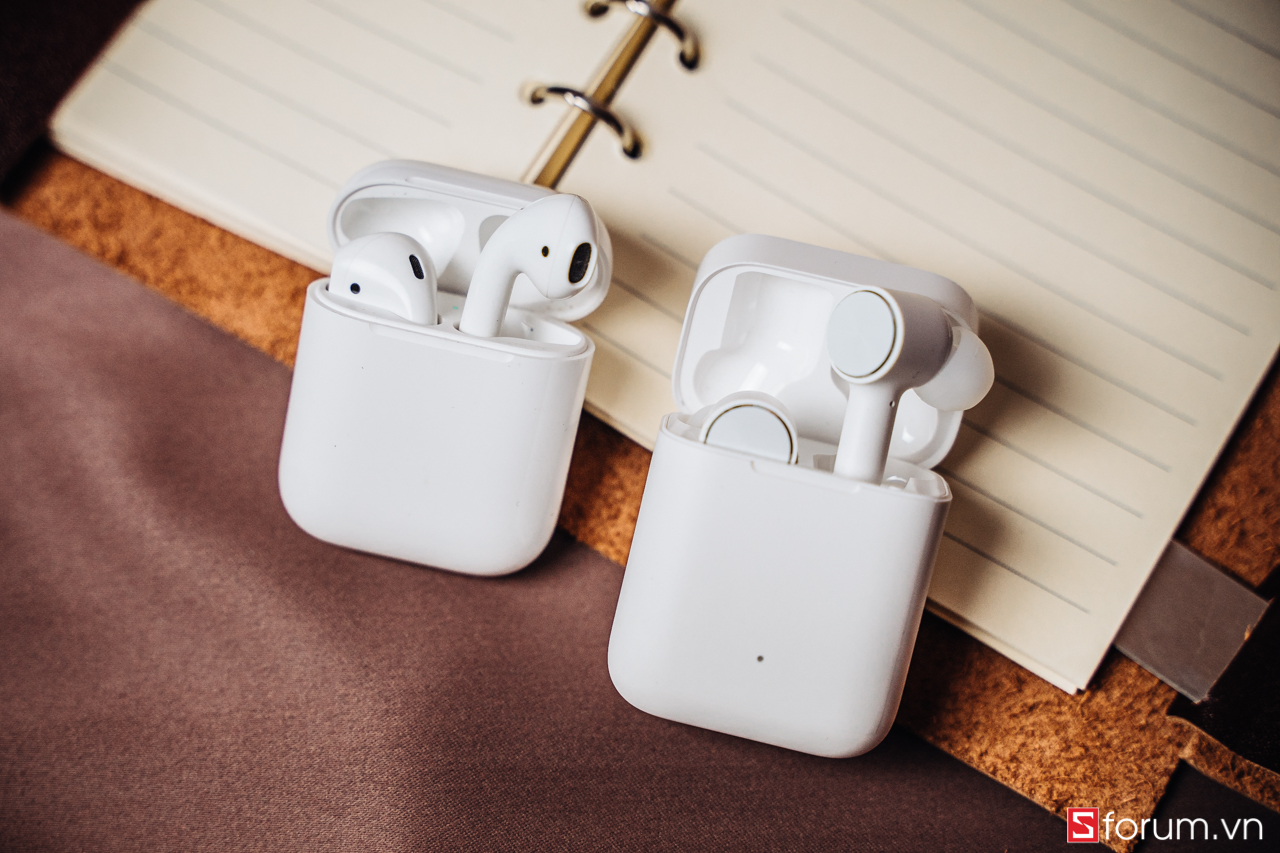 One point that I personally find AirDots Pro better than AirPods is the status notification LED, Xiaomi put it outside the case of AirDots Pro while Apple "hidden" inside makes the operation a bit more cumbersome.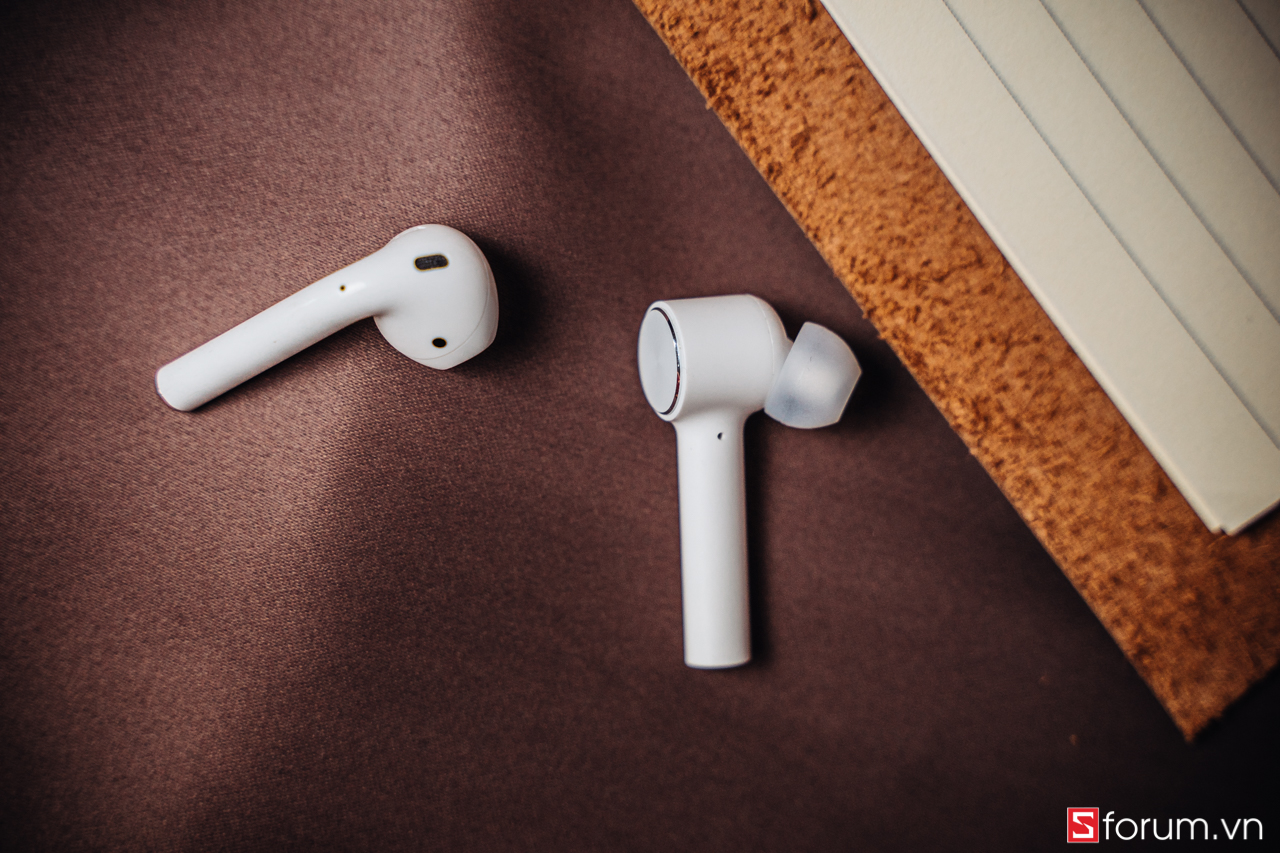 The AirDots Pro headset size is also slightly larger than the AirPods so it will pick up the user more, if there are not too big ears, wearing the AirDots Pro will not really be too comfortable.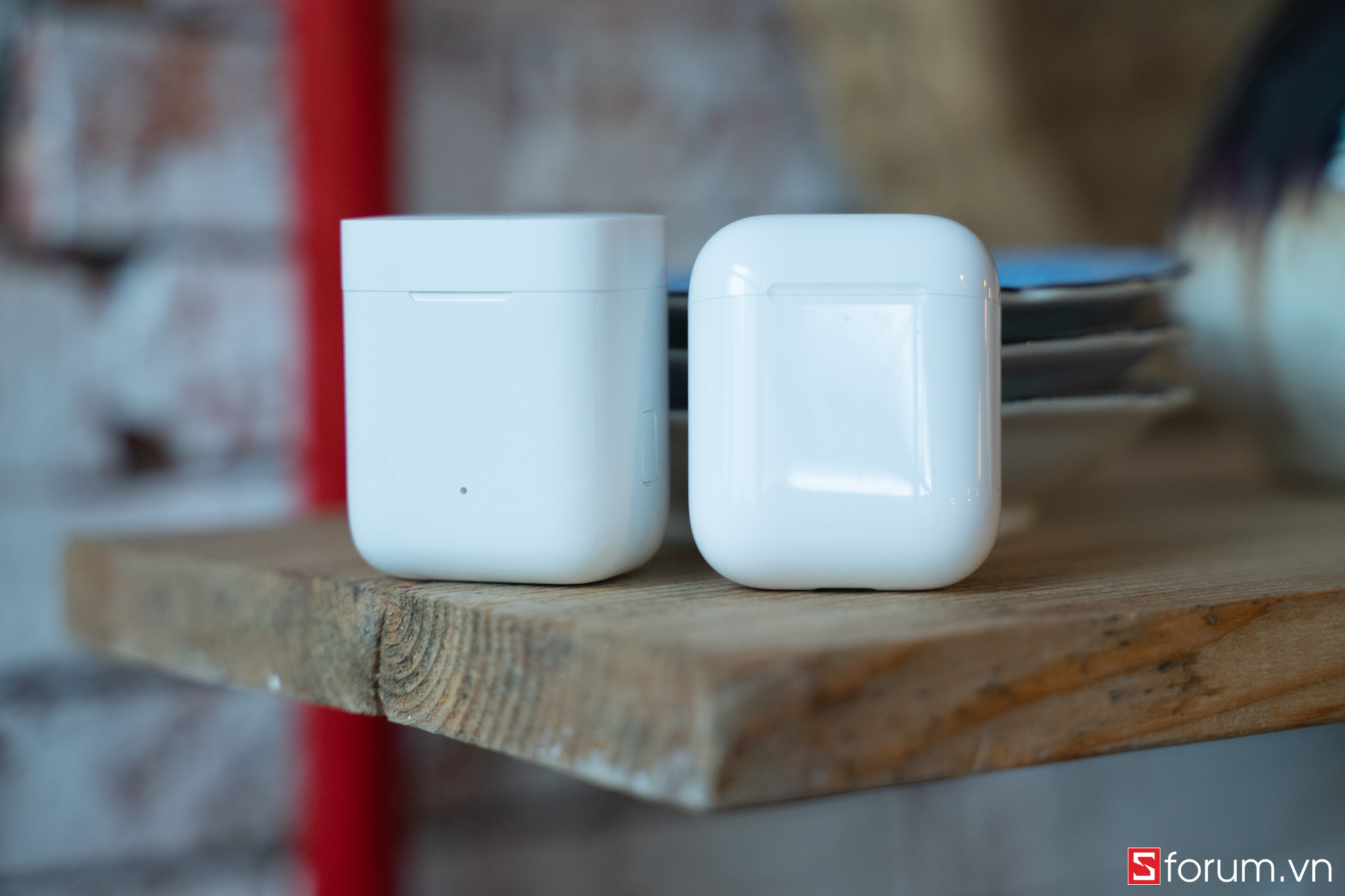 Apple chose to paint the surface to create accents for the product but also so that AirPods is easily scratched, only after 1 day of use, this phenomenon will start to appear much. On the AirDots Pro, with a rough surface, it is not easily scratched, but it is easy to stain and change color after a time, this will force users to be more careful when using.
Wearing feeling
The AirDots Pro size is also slightly larger than the AirPods, the earpiece model from Xiaomi also follows in-ear form. AirPods follow the earbuds design, these two designs bring a completely different experience when worn.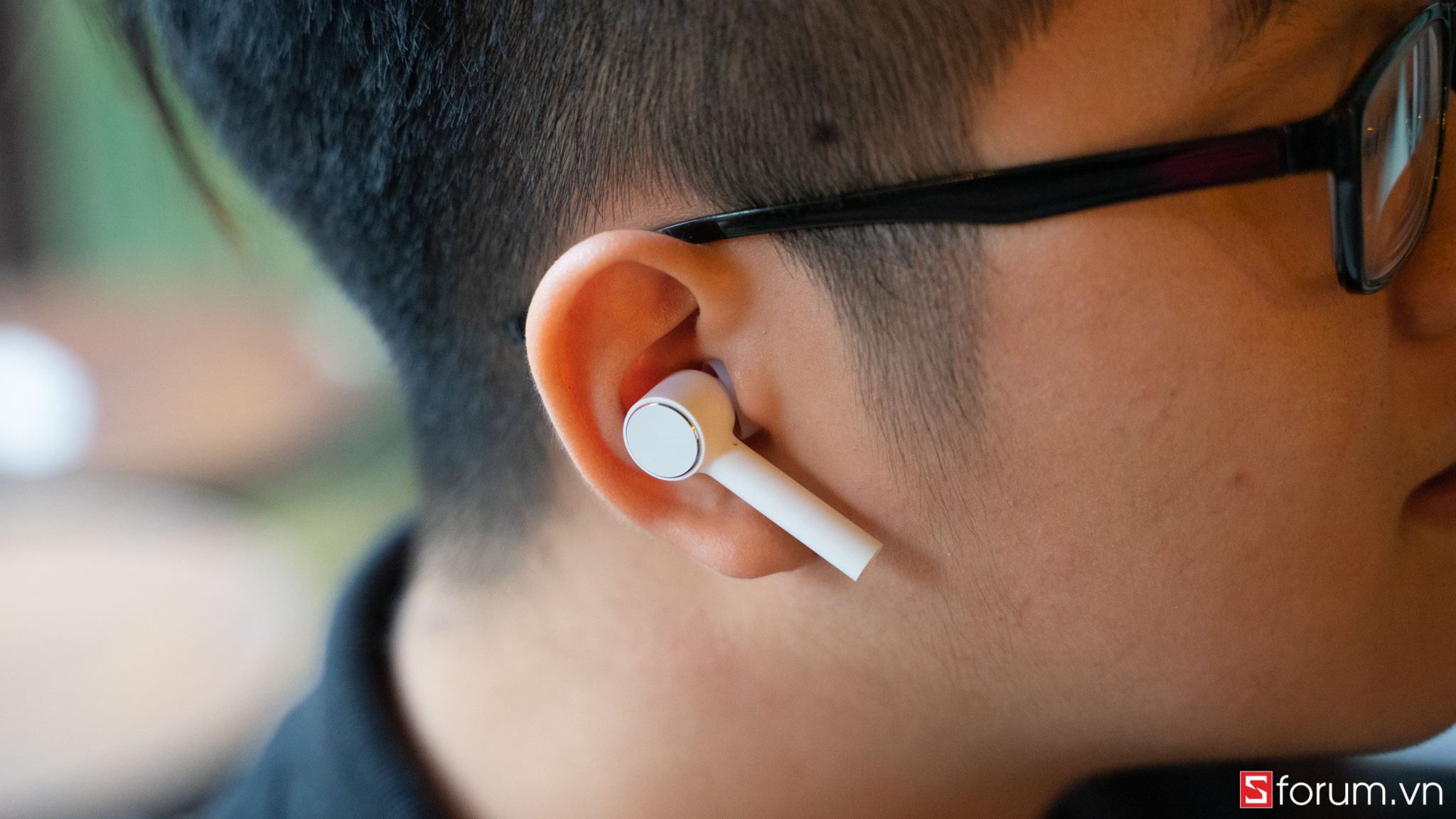 Normally, users will not have much sympathy for in-ear headphones, because the way of wearing in-ear is quite special, the rubber head is inserted into the ear and so if you are not used you will feel uncomfortable and even earache when wearing for a long time. AirDots Pro has rubber tips according to different sizes, but this only limits the discomfort a bit, but doesn't make it disappear.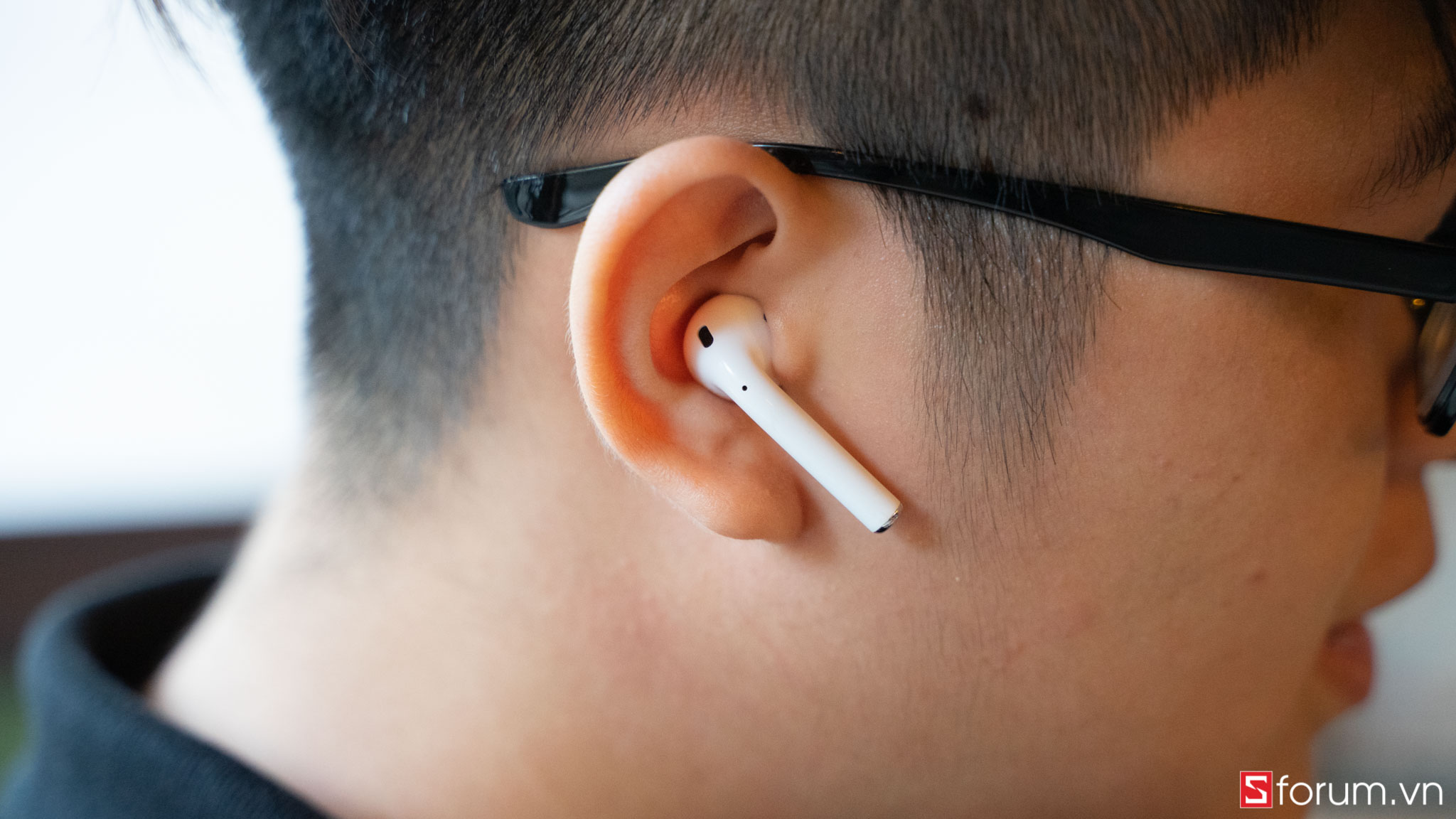 The earbuds like AirPods are often preferred by many users, because the wearing method is quite simple, instead of putting pressure on the ears, it is just like "lightening" on the ear ring, thereby bringing comfort and not causes ear pain if used for a long time.
The difference in how to wear earbuds is not as good as in-ear, but of course this is something we have to trade in order to feel more comfortable wearing.
Features and connectivity
Function
AirPods and AirDots Pro are all products that have many good touch navigation features. With AirPods, users can double-touch the left or right headphones to transfer songs, stop songs, call smiri, etc. Apple does not have too many smart features for AirPods, all just enough instead, it focuses on optimizing the experience between AirPods and its own ecosystem products.
AirPods in addition to connecting to iPhone, iPad, iPod, … to listen to music wirelessly, transfer songs or command Siri, but iPhone, iPad, … also help users control the battery status of each headset and case of the case . Through Airdrop, AirPods can switch connections between Apple ecosystem products very easily. This is where AirPods become special and expensive.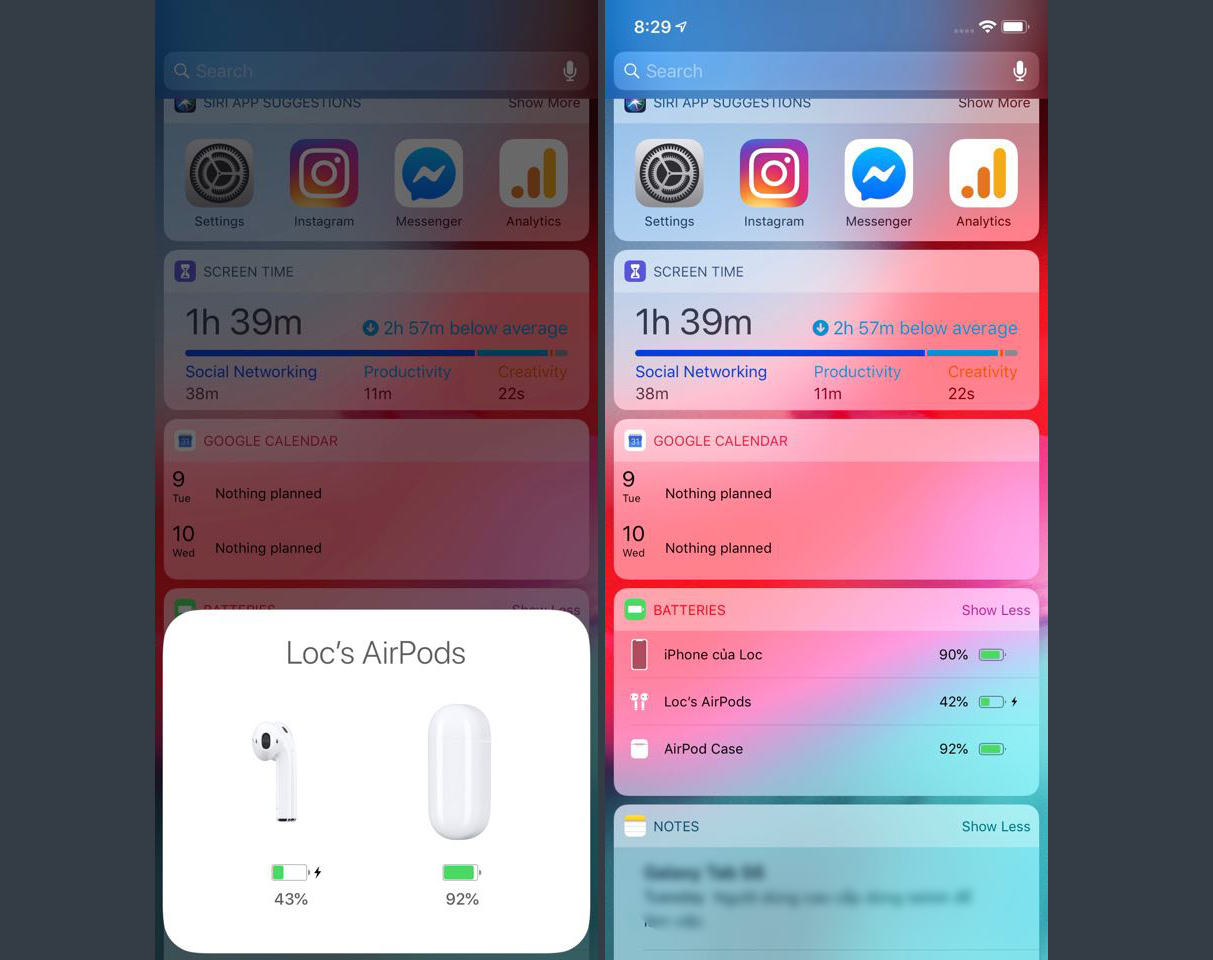 AirDots Pro fixed the touch feature, with the action touching twice on the right ear to stop the song, tapping twice on the left ear to call the virtual assistant. Touch and hold 5s to activate active noise protection, which is also the feature that AirDots Pro stands out from AirPods. Touch sensor of AirDots Pro is quite sensitive, so you don't need to use too much force.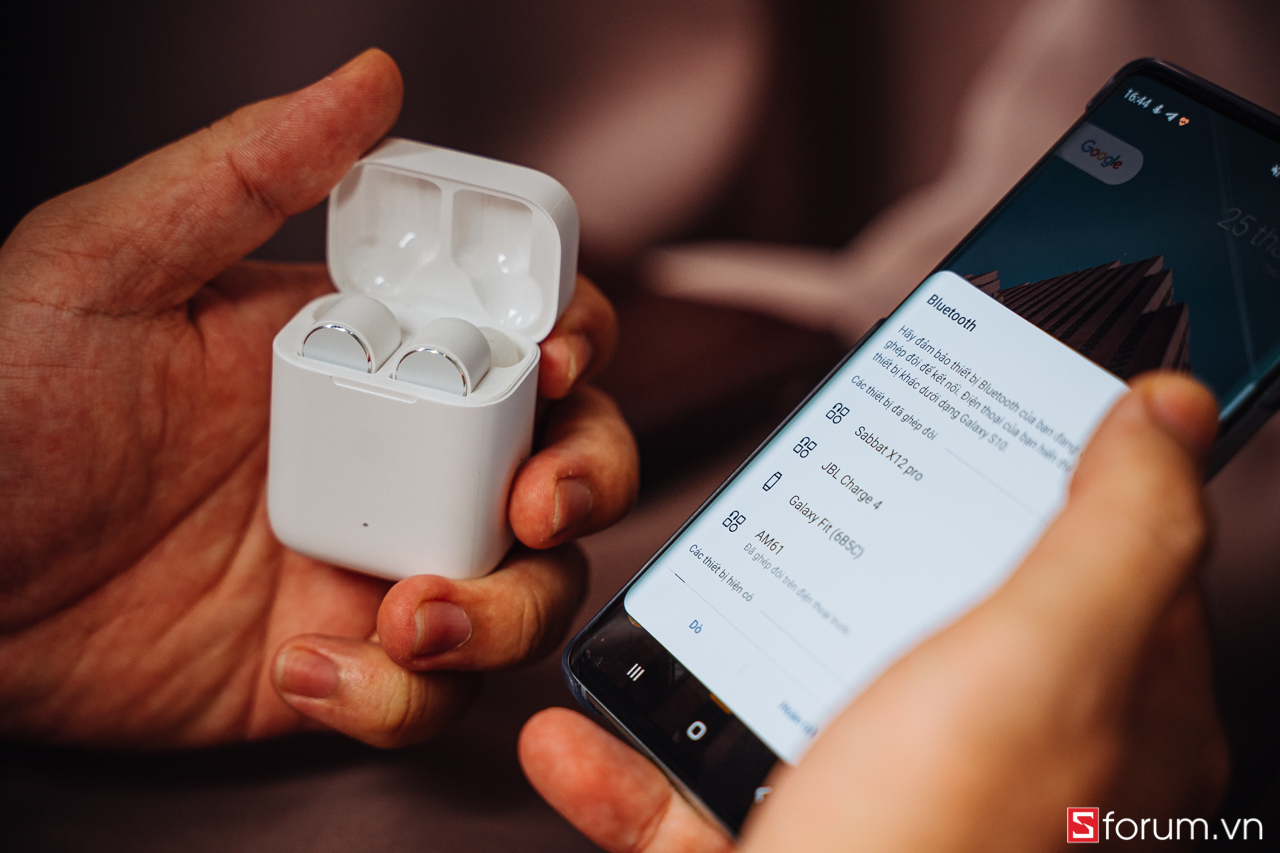 Connect ability
Both AirPods and AirDots Pro can connect to most devices in most operating system platforms. But with AirPods alone, some smart features such as touching two siri calls, or automatically stopping music playback when removing headphones from the ear, … will be disabled if connected to non-ecosystem products. Apple.
AirDots Pro is different, features such as smart touch, stop playback when removing headphones … are still supported when connecting to different platforms. Even when connecting to any platform, you can call the platform's virtual assistant via the touchpad twice on the left ear of AirDots Pro very easily.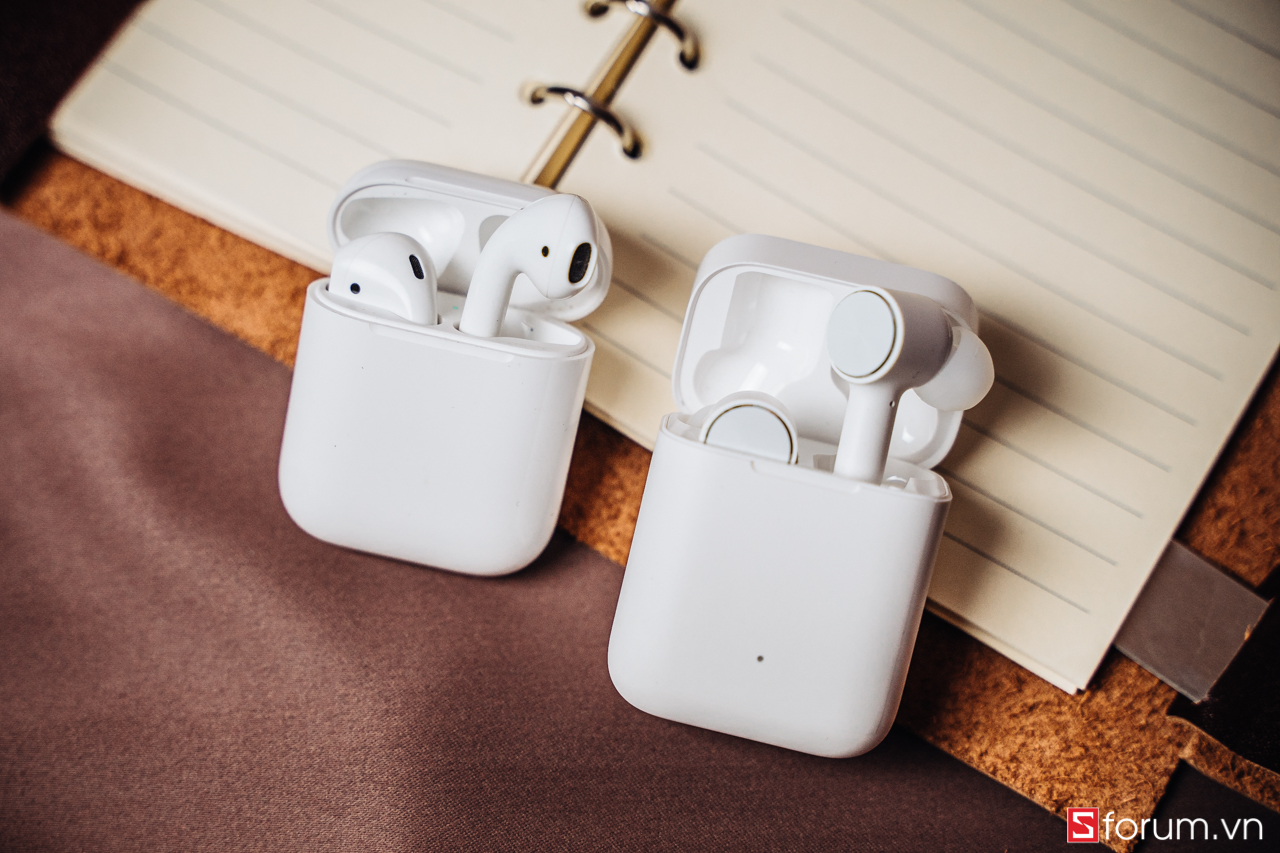 The connection speed of AirPods is probably no need to discuss, just opening the product case will almost immediately connect. AirDots Pro will be 1 to 2 seconds slower than AirPods but for me this is not a big deal.
It can be seen that AirDots Pro is a more cross-platform product, if you are not dependent on Apple ecosystem, then AirDots Pro will be a reasonable choice. If you want to get the best experience, connect perfectly with Apple ecosystem, it is clear that Apple AirPods is the first choice.
Sound quality and conversation ability
Just look at the price of the two products, maybe you will know which device has better sound quality. AirDots Pro does not appear to be too prominent in terms of sound performance, but to some extent I feel that the sound quality of this headset is quite normal enough to be heard, not to reach the normal level of music. AirDots Pro has a rather fuzzy bass, the clarity of the sound is not too good. This I mentioned in the article Experience AirDots Pro.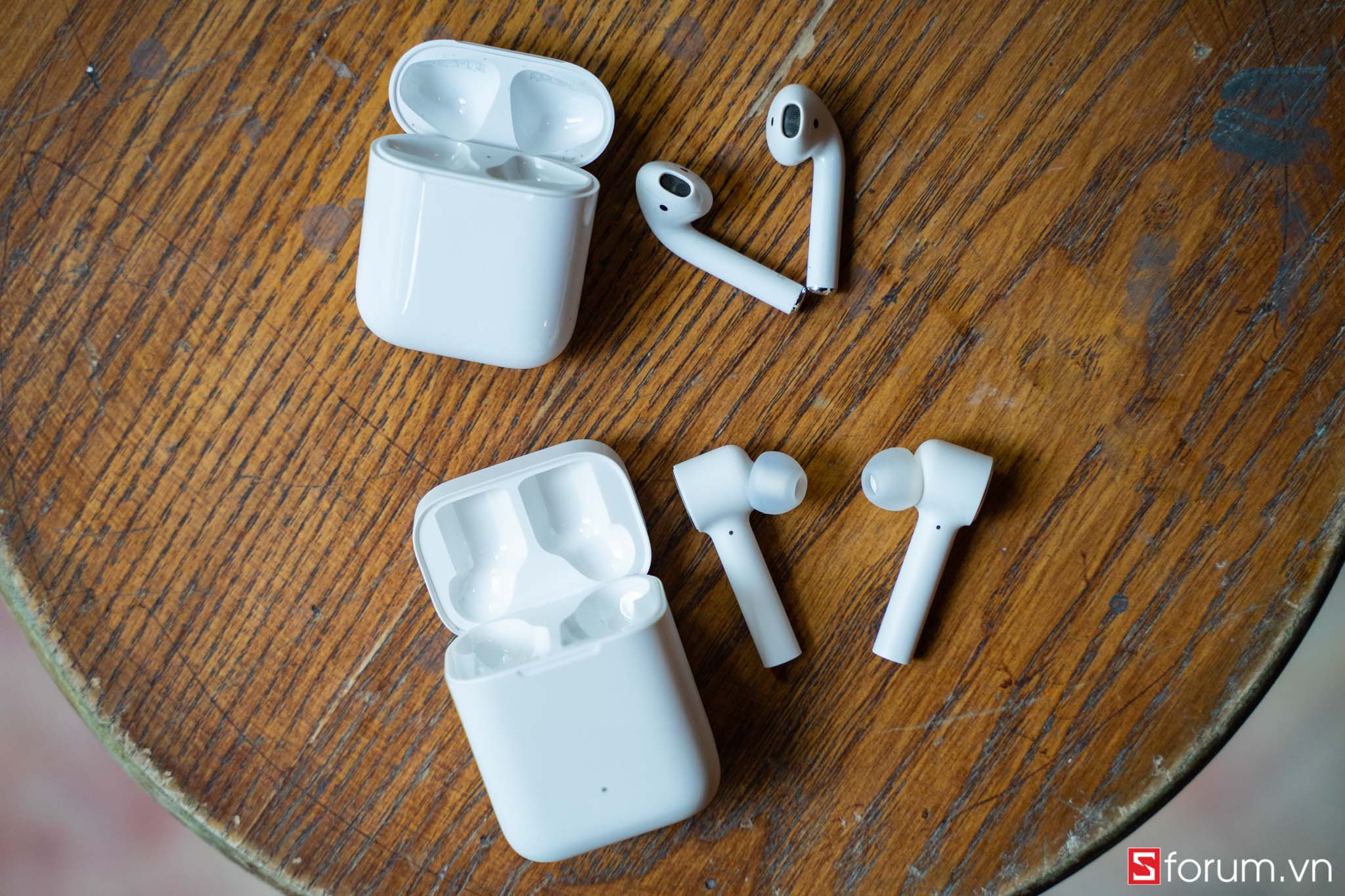 AirPods are a completely different story, although they are treated by experts a lot about sound quality, but that's when they compare AirPods to products of the same level, along with the price segment. But when comparing AirPods with AirDots Pro, it is clear that AirPods still have more points.
AirPods have more detail and clarity of sound, no opaque phenomenon or "smudged" sound, the mid range is good, the treble is bright. And especially the bass, because there is no active noise-canceling mechanism, Apple has customized the bass of the AirPods to stand out more like a passive noise-proof way, the bass is deep and firm, not being shaken, because of this advantage. Wearing the usual AirPods of dance songs you will feel very exciting and interesting.
In terms of support for conversation, AirDots Pro and AirPods have a design advantage with a long body, close to the cheek, which will help better record the remaining true wireless headset designs. AirPods still offer better recording capabilities, but the difference with AirDots Pro is not too much.
In general, it is good to answer voice calls with these two models.
Battery life:
With the need to use it, listening to music for about 3 to 4 hours a day, both AirPods and AirDots Pro use for more than 3 days. About the battery in the case, AirPods has 398 mAh, Pro AirDots is 410 mAh.
Apple and Xiaomi did not announce the specific battery life of each headset, but according to the experience and personal experience, AirPods give the battery life in the headphones better than AirDots Pro.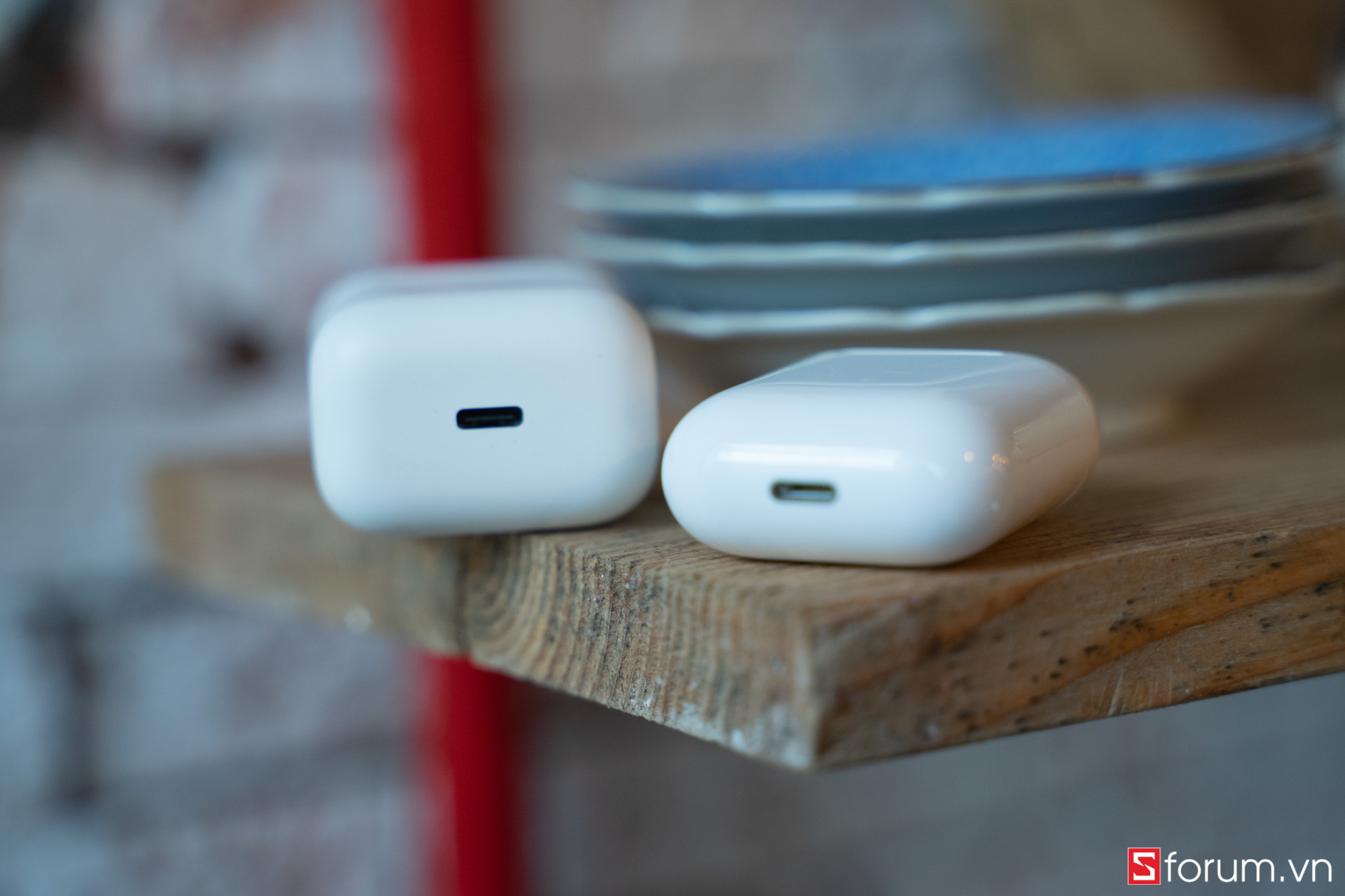 AirPods support charging port lightning and AirDots Pro uses USB-C charging port. Looking at these two charging standards, it is clear that AirPods will be suitable for iPhone, iPad users …, and AirDots Pro will be more suitable for Android device users because currently USB-C has been popularized mostly. Android device.
Of course, you can still use it as you like, just need a separate charger for headphones.
Interim:
Based on the above table, it can be seen, with the price difference quite a lot, the choice of AirDots Pro is more "economical" for you. In return, the sound and experience like the feeling of wearing is not really good.

If you are an iPhone user and have a system of Apple devices, of course, AirPods will be a better option for you. With the current price, AirPods will not be easy to reach, but stores like CellphoneS always have attractive 0% interest installment programs.
Details of the price of AirPods and AirDots Pro you can refer to the link attached below.
Hopefully this article will help you get more specific about these two true wireless headphones and make the most accurate purchase decision.
BUY APPLE AIRPODS GOOD PRICE
BUY XIAOMI AIRDOTS PRO GOOD PRICE
---
Currently, to help readers understand the latest, hottest technology information, CellphoneS officially established fanpage "Sforum.vn technology news page", Here information about attractive technology is always updated regularly and continuously.
Please like the page Sforum.vn Follow the following link: https://www.facebook.com/SforumTech.
Or visit the website Sforum.vn to instantly read extremely hot technology news.


Hoa Duc