Remember, a few months ago, Sony presented us with great fanfare its future PlayStation 5, unveiling in the process a fairly impressive number of exclusives to come. We've already had the chance to lay our hands on the excellent Demon's Souls Remake, and there's only a short time left until Kena: Bridges of Spirits is released. A rhythm of a big release every two months which will soon see appear Ratchet & Clank: Rift Apart.
"Finally !" fans who have waited years to see a new adventure of the most famous Lombax in the galaxy will say. An expectation that will soon bear fruit, as we recall, Insomniac Games seems to have put the dishes in the big for the return of one of the most famous mascots of the PS2 era. Indeed, remember, the studio communication at the time said:
"Feel the actions of Lombax through the haptic vibration of DualSense. Maximize the feeling of arms in hand with advanced adaptive triggers. In addition, the SSD will allow you to jump from planet to planet at full speed. Tempest's 3D sound will put you right in the thick of the action and take you through fantastic worlds in dynamic 4K and HDR. And if you want to play at 60 frames per second, Ratchet & Clank: Rift Apart will also offer a performance mode. "
We expected no less from the next-gen! A game that will undoubtedly be a hit, and which will be offered in several editions with obviously some pre-order bonuses, such as the Pixelator, or the Carbonox armor of the second opus released on PlayStation 2. Finally, the title also has a version Digital Deluxe set at € 89.99 which will contain a set of five armors, a soundtrack and a digital artbook, not to mention a few raritanium (the game's currency to obtain the nicest items in the game).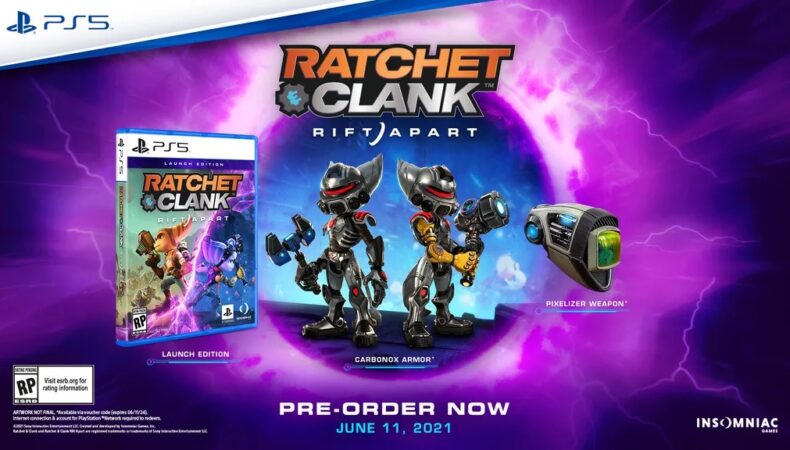 As for the release date of Ratchet & Clank: Rift Apart, Insomniac Games has set it for June 11, 2021, exclusively on PlayStation 5, of course.


Luynan