Twins Daihatsu Rocky and Toyota Raize have just had a grand launch in Indonesia, but are most impressive thanks to their "huge" sales despite the context of the car market's decline due to the impact of Covid-19.
Called Daihatsu Rocky in the Southeast Asian island nation, the small crossover will be sold in 50 countries globally under the Toyota Raize brand. In the first week of launch, 1,269 units were pre-ordered by Indonesian consumers. This is a good level in the context that distributor Toyota Astra Motor only expects sales of 2,000 vehicles per month.
Raize's success in Indonesia makes experts expect the car to be brought to Vietnam soon in 2021, in the context that Toyota currently does not have weapons to deal with Hyundai Kona, KIA Seltos and the latest Mazda CX-30 in the segment. The small urban crossover segment is witnessing unprecedented purchasing power from domestic consumers.
In Indonesia, Toyota Raize has 3 versions, all using three-cylinder engines, including 1.2 G, 1.0 Turbo G and 1.0 Turbo GR Sport. The 1.0 versions are equipped with the same turbocharged 1.0L 1KR-VET engine as Daihatsu Rocky, producing a maximum capacity of 98 horsepower and maximum torque of 140 Nm. For its part, the 1.2G version uses a naturally aspirated 1.2L WA-VE engine for a capacity of 88 horsepower and maximum torque of 113 Nm.
https://www.youtube.com/embed/sVn3BbF3gm0
Toyota Raize 2021 has two gearbox options, including a continuously variable (CVT) and a 5-speed manual. However, a manual transmission is not an option that Toyota intends to bring to many markets, especially Vietnam. The starting price of the car in Indonesia is equivalent to 350 million VND for the 1.0 G version of the manual, and up to 372 million VND for the 1.0 G CVT version. Meanwhile, the 1.0 GR Sport version costs from the equivalent of 390 million VND and about 421 million VND for the GR Sport version.
Standard exterior equipment of Toyota Raize includes LED headlights, automatic folding rearview mirrors. From version 1.0 Turbo G onwards will be equipped with chrome door handles and GR Sport version adds adaptive LED headlights, LED daytime running lights. In terms of wheels, the 1.2 G version is equipped with 16-inch wheels, while the 1.0L turbocharged versions use 17-inch wheels.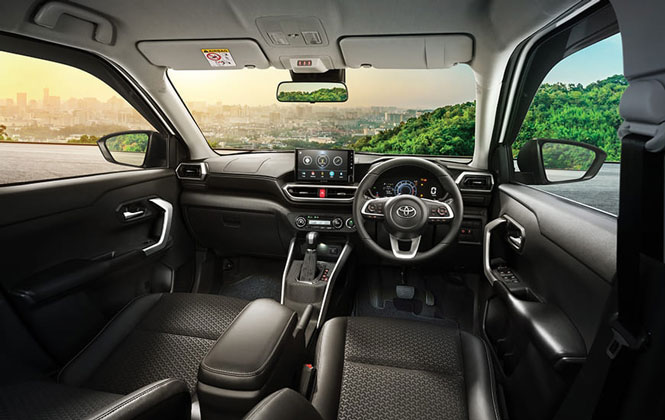 Inside, standard equipment includes a push-button start mechanism, a 7-inch TFT multi-information display for the gauges and an 8-inch infotainment screen. From version 1.0 G and above, the infotainment screen has a size of 9 inches.
Choosing the top GR Sport version, users will have additional steering wheel gearshift paddles, automatic air conditioning system, leather steering wheel and combined fabric / leather seats. Aside from the six airbags, it's also the only Raize variant to have the full suite of Toyota Safety Sense driver assistance systems, including lane departure warning with steering control, automatic emergency braking, adaptive cruise control, and more. responds and warns the vehicle ahead of departure.
According to Hanoi Newspaper
.