The highly anticipated sequel to the hit PC game, Chivalry II had left us, a year ago, with a trailer announcing the opening of its closed beta. The pangs of COVID-19 not yet having global issues at this time, it was announced that the title will be released in the course of the year 2020. These plans were obviously shaken up by the pandemic situation, and it is finally a year later that the title gives again its news.
Torn Banner Studios, franchise developer, publisher Tripwire Presents, and his partner and co-editor Deep Silver, therefore announced yesterday the release date of Chivalry II. The game will be available in physical version on PlayStation4, PlayStation5, Xbox One, Xbox Series X and PC on June 8, 2021. And first good news, it will offer cross-play allowing players from different platforms to play together.
Moreover, Chivalry II pre-orders are already open at all usual retailers. These allow you to obtain for free in the Day One Edition, the weapon variant "Royal Zweihänder".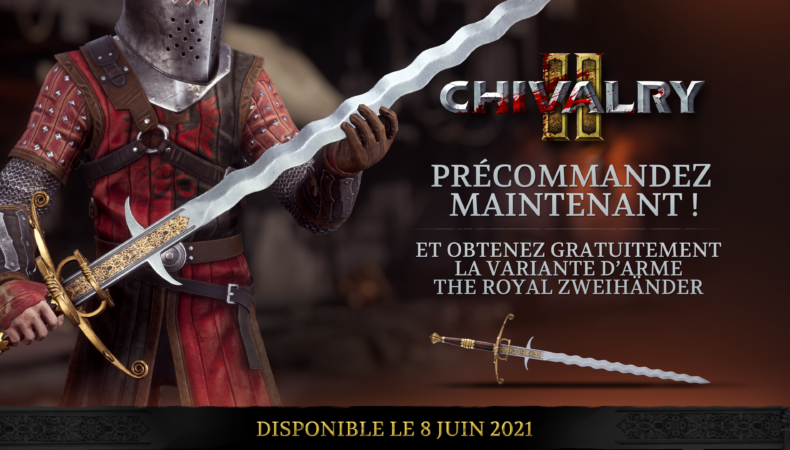 Highly anticipated by fans, Chivalry II should improve the basics of the genre, defined in Chivalry: Medieval Warfare, inviting players to master their swords, thanks to an all-new and improved combat system that combines real-time strikes with smooth combos, helping to speed up the action and unleash a whirlwind of steel and blood on the battlefield.
According to Steve Piggot, founder of the Torn Banner studio, this second opus will therefore present a completely reworked combat system in addition to improved graphics. In addition, comments from fans on Chivalry first of the name have been taken into account in order to present a new version clearly wishing to settle at the top of its genre.
Especially if in 2012 Chivalry made a little separate case, many other titles (more or less good) have since engulfed in the same breach. It should therefore be interesting to confront Chivalry II with these competitors released in the meantime. A battle that will begin, we recall, June 8, 2021.


Pingelton