You are probably already aware of the Specter and Meltdown vulnerabilities, which severely affect Apple devices. If you want to know, check if your Windows computer is affected by Specter and Meltdown vulnerabilities, refer to the article below by ElectrodealPro.
Related posts
Microsoft voiced the Meltdown and Specter vulnerability patches that affect Windows performance
What are Meltdown and Specter vulnerabilities?
Siemens released BIOS update for Intel chip vulnerability
The new Windows 10 vulnerability gives attackers complete control over computers
The changes in WebAssembly are likely to mitigate Meltdown and Specter attacks
Apple has also admitted that these vulnerabilities severely affect their Mac and iOS devices, and has released macOS 10.13.2, iOS 11.2.2 to fix these vulnerabilities, in order to limit the vulnerabilities. damage caused by these vulnerabilities.
Microsoft has also released the PowerShell cmdlet that allows Windows users to check if their computers are affected by Meltdown and Specter vulnerabilities. And here's how to check that.
Check if your Windows computer is affected by Specter and Meltdown vulnerabilities
Proceed to Open PowerShell on Windows 10 under Admin and execute each command below:
PS> # Save the current execution policy so it can be reset
PS> $ SaveExecutionPolicy = Get-ExecutionPolicy
PS> Set-ExecutionPolicy RemoteSigned -Scope Currentuser
PS> CD C: ADV180002 SpeculationControl
PS> Import-Module. SpeculationControl.psd1
PS> Get-SpeculationControlSettings
PS> # Reset the execution policy to the original state
PS> Set-ExecutionPolicy $ SaveExecutionPolicy -Scope Currentuser
The above commands are for installing, activating additional modules and protecting your computer.
Checks the input and see if all elements show values TrueThat means your Windows PC is protected. If value is displayed Falseie your system is vulnerable and needs to fix these problems.
You can restore settings ExecutionPolicy default by running the command Set-ExecutionPolicy Default.
Protect Windows PCs from Meltdown and Specter
Solution that US-CERT offers: "Replace CPU hardware. The exploits are mainly based on CPU architecture design. To get rid of these vulnerabilities completely, the solution is to replace vulnerable CPU hardware ".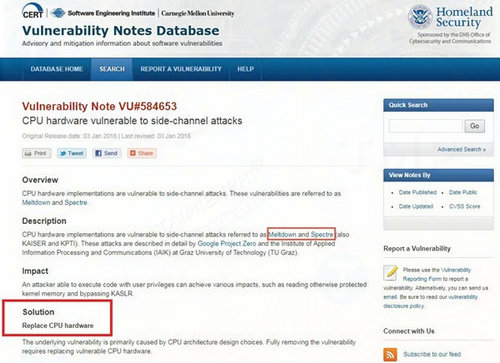 However, there are a few other preventive solutions you can apply to protect your Windows PC from Meltdown and Specter vulnerabilities.
Make sure the firmware and operating system are fully updated with the latest patches available.
Make sure all installed software, especially web browsers, are up to date. Alternatively you can use Software Update Checker.
– Enable Strict Site Isolation on Chrome and prevent JavaScript from uploading in your browser.
https://thuthuat.taimienphi.vn/kiem-tra-xem-may-tinh-co-lo-hong-spectre-va-meltdown-hay-khong-30080n.aspx
The above is how to check if your Windows computer is affected by Specter and Meltdown vulnerabilities. Before this extremely large security attack, anyone needs to protect their device from attacks, spreading malicious codes that harm your computer, data, … On the above test method, you should also install the best antivirus software to make sure your device is safe from any threats.
.