CFMoto 650NK cost VND 165 million in Vietnam, dreaming of competing with Honda CB650R
In quartet's large displacement motorcycles CFMoto docked in Vietnam last Christmas under the genuine category up to 3 of the naked bike version. Particularly, the CFMoto 650NK is rated as the "flagship" of the Chinese motorcycle company due to its expensive price and the strongest engine.
Price of CFMoto 650NK in Vietnam start with numbers VND 165 million, about VND 30 million higher than the CFMoto 400NK version and if compared with the price of CFMoto 250NK this figure reaches up to VND 50 million.
Model naked biked from China, CFMoto 650NK has formidable opponents in the same segment as Honda CB650R or Kawasaki Z650. This pair of motorcycles has a firm foothold in Vietnam compared to the brand too young CFMoto.
CFMoto 650NK has basic dimensions such as length 2,120 mm, width 780 mm and height 1,100 mm.
Wheelbase reached 1,415 mm. Seat height from the ground is 795 mm and ground clearance is 150 mm.
Looking at the exterior appearance of the CFMoto 650NK we can see the car design is similar to the KTM Duke. This is no surprise because the Chinese naked bike model was developed by the Kiska Design team and they have worked with KTM.
Covering the LED headlight of CFMoto 650NK is a shield image.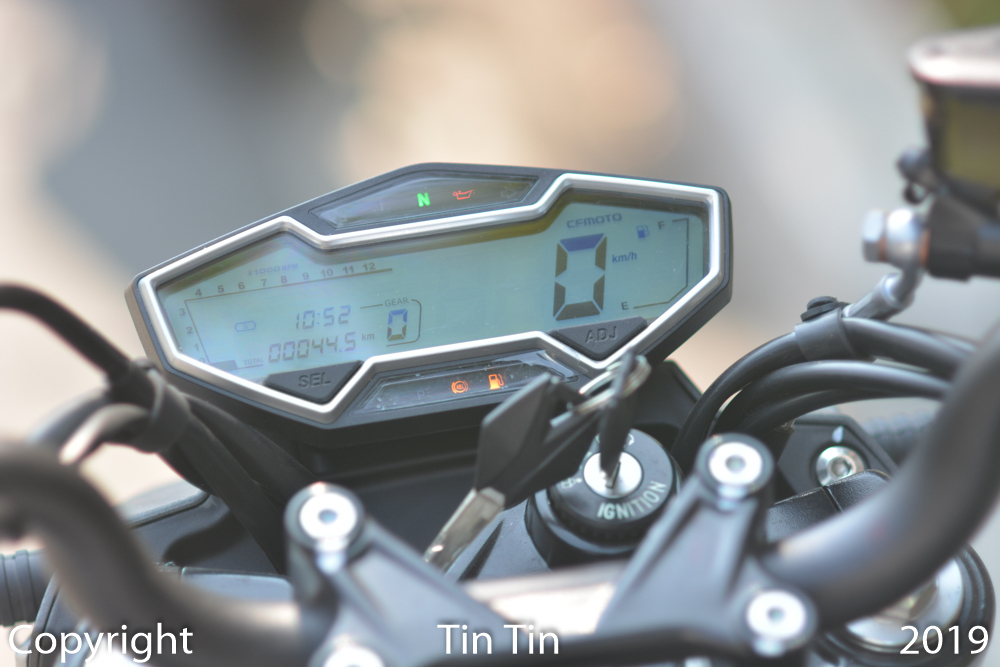 The CFMoto 650NK has a full digital dashboard similar to the CFMoto 400NK model. The dashboard will change color at different speed ranges, when the vehicle reaches speeds below 60 km / h, the dashboard is blue, when the speed is 60-100 km / h will show yellow and more than 100 km / h is red.
Close-up of LED taillights of CFMoto 650NK. Vehicle weight 203 kg.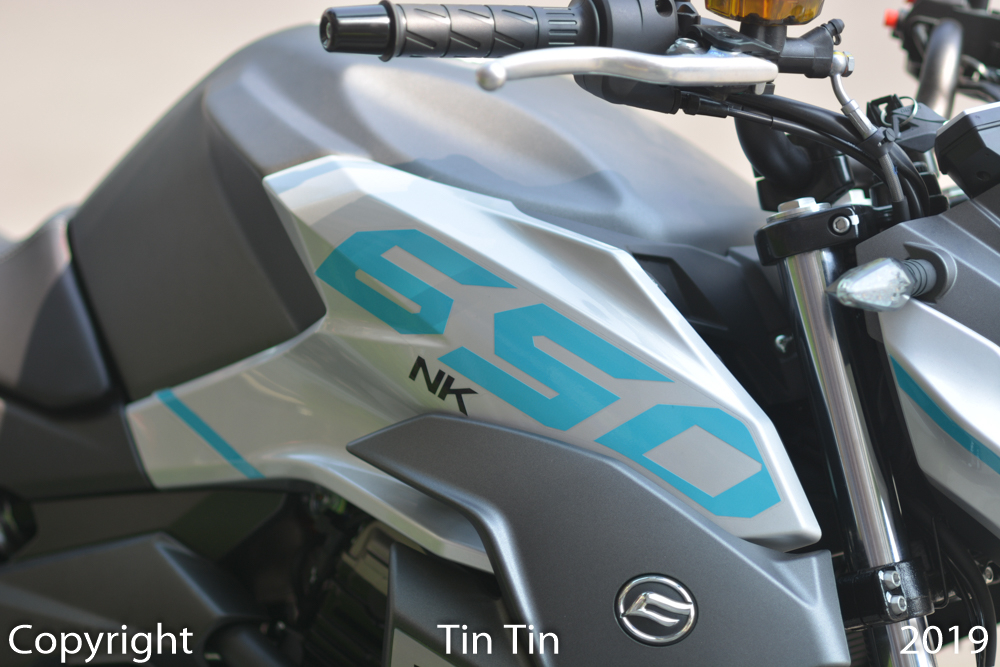 The fuel tank capacity on the CFMoto 650NK Chinese naked bike model is 17 liters.
In terms of power, CFMoto 650NK is equipped with a double cylinder engine, 8 valves, DOHC, 649 cc capacity, producing a maximum capacity of 60 horsepower at 8,500 rpm rev / min and torque- maximum torque of 56 Nm at 7,000 rpm rev / min. Vehicles equipped with 6-speed gearbox with a maximum speed of 180 km / h.
In order to curb the 650 cc engine block for its naked bike, the Chinese motorcycle maker equips CFMoto 650NK dual disc brakes in the front with size of 300 mm and Single disc brakes for rear wheels sized 220 mm. Vehicles with ABS anti-lock braking system.
The Chinese naked bike model, CFMoto 650NK has KYB front fork with 41 mm diameter and 120 mm fork length.
And the rear shock absorber system also introduces KYB, the rear fork can be customized to the driver's mind but in the form of a single, black spring.
The CFMoto 650NK uses a beautiful 17-inch turquoise paint wheel, wrapped on a set of 120/70 front tires and 160/60 rear.
Tin Tin
.