Hanoi is experiencing intense hot days even though it is only in early summer. According to the Center for Meteorology and Hydrology, May 21, 2020 is the peak hot day when the temperature is up to 38 degrees Celsius. However, it is only the temperature measured in the shade and if the actual temperature is measured outdoors can be up to 43-44 degrees Celsius.
Therefore, if the driver parked his car in the sun, the car will have to absorb a huge amount of heat and cause the temperature of the whole car to increase significantly. Through our test, after parking in the sun for about 45 minutes, the temperature inside the cockpit of the car has reached the threshold of 50 degrees C – a heat causing stifling, uncomfortable for everyone to enter the car. right after the car is in the sun.
However, the temperature inside the car is still nothing compared to the bonnet. Tests show that the temperature in the bonnet reaches up to 81 degrees Celsius due to direct absorption of heat radiation from the sun. The highest temperature in a car we measured was 85 degrees Celsius on the roof of the car – this is the heat that can burn a person's skin if exposed long enough.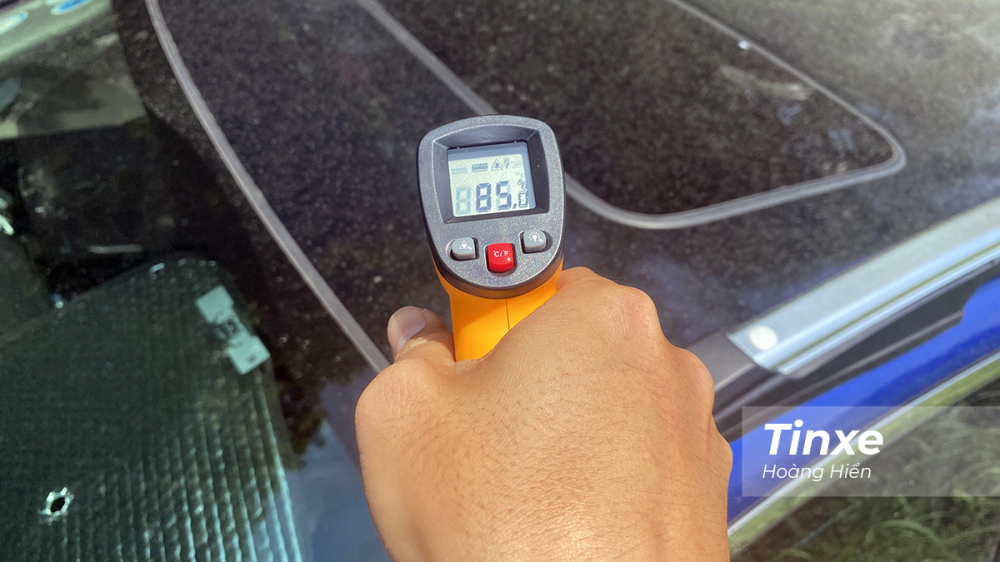 Meanwhile, the area that is considered the coolest is the chassis of the car. The temperature measured at the car chassis is only about 36-37 degrees, much lower compared to the temperature on the body and inside the car. This is because all the heat from the sun has been blocked by the upper body, making the car's chassis not absorb heat directly. In addition, there is always air circulation underneath the car, causing heat to be dispersed into the surrounding environment.
Based on the above experiment, it can be seen that drivers should not park in direct sunlight. To prevent the car from absorbing heat directly from the light, drivers should stop parking in shade such as canopies, awnings or use sunshades to protect their drivers. In addition, the driver should also open the car door, turn on the air conditioner before use to reduce internal heat, avoid uncomfortable feeling, even heat stroke due to heat.
I wish you a safe driver!
Hoang Hien
.