Lim Young-woong introduced his business friend Crush.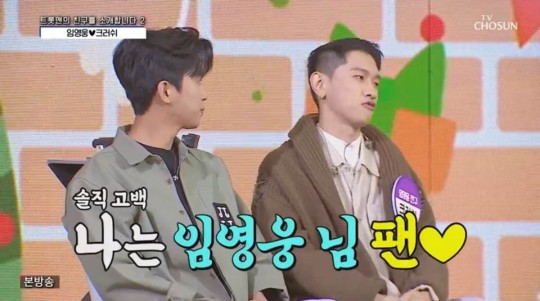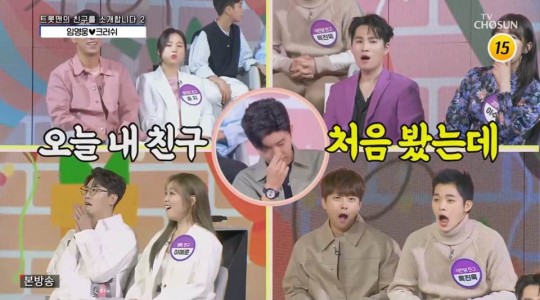 In TV Chosun's'I will sing the requested song-Call Center of Love' (hereafter'Call Center of Love') broadcasted on the 12th, the TOP6 teamed up with Lee Soo-young, Crush, EXID Solji, Lee Ye-jun, Ok Jin-wook, and Nam Seung-min to determine the final championship. A special feature'Bichinso (Introducing Business Friends)' was drawn.
On this day, Seong-ju Kim, who was introducing TOP6's business friends, was curious, saying, "There is no relevance at all," after seeing the script with Lim Young-woong's friend's name on it. Lim Young-woong also said, "In fact, I have never seen it before. But I know so well. This friend will know me."
Youngwoong Lim's business friend who appeared next was singer Crush. At his appearance, Young-tak was confused, saying, "Why is Crush coming out of here?" Crush sang her song'Let me go'. Lim Young-woong showed off his business friend's down (?) side, such as making awkward shoulders next to Crush, and laughter.
Seongju Kim asked, "I have something to check. Is the song you sang right now?" and Crush replied, saying, "Isn't this a business friend special feature today. I appeared for business."
"I'm a fan of Lim Young-woong, too. My family is like that, and in fact, it's a little awkward because it's my first job today." Then he confessed, "Today is the last broadcast before going to the military."
iMBC Cha Hye-rin | Photo provided by TV Chosun
▶ Even if I just breathe, I lose weight! Rib breathing diet
▶ HOT person in the entertainment industry + quick interview