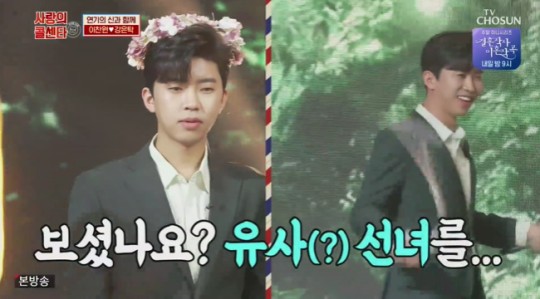 [뉴스엔 이하나 기자]
Lim Young-woong showed from acting as a fairy to turning a nunchaku, supporting Kang Eun-tak's stage.
On the TV Chosun broadcast on February 19th,'I'll sing the requested song-Call Center of Love', TOP 6 competed with the actors in pairs.
In the first round, Kang Eun-tak, who became a partner with Lee Chan-won, said, "It would be better if I hit the hawk quickly."
Kang Eun-tak said, "In fact, I didn't have anything to sing. This is the first time I've been singing a song in my mind." In response, Chanwon Lee said, "You must know exactly what you are targeting your mother. I expect 100 points."
Kang Eun-tak, who sang'The Fairy and the Woodcutter', was greatly pleased when he scored 98 unexpectedly. Seongju Kim, "The interfering work in the middle of the song was great. The fairy suddenly heard the nunchaku." He pointed out that Yeong-woong Lim wore a garland and played the fairy, and then even turned the nunchaku.
Boom also pointed out the attitude of Lim Young-woong, saying, "I rotated the nunchaku between my legs." In the released video, Lim Young-woong showed Huh Dang-mi by hitting his head while turning a nunchaku, and Kim Seong-ju said, "There was an obstruction by Woongnyeo, but fortunately overcame it." (Photo = TV Chosun'I will sing the requested song-Call Center of Love' broadcast capture)
Lee Hana on the news bliss21@
Article reports and press releases newsen@newsen.com
copyrightⓒ News. Unauthorized reproduction & redistribution prohibited