Toyota Sienna and Kia Sedona are two minivan models with the advantages of spacious space and smart interior design with high flexibility.
Introduction of Toyota Sienna and Kia Sedona
Toyota Sienna and Kia Sedona are both models in the family minivan segment. Toyota Sienna is a familiar name and is always appreciated in the segment compared to rivals. However, the arrival of Kia Sedona car has attracted a lot of attention from users thanks to its extremely attractive price.
Comparing Kia Sedona and Toyota Sienna, Both vehicles have their own strengths. Toyota Sienna from the famous Japanese brand has a high guarantee of brand reputation. Kia Sedona was born to give users more convenient choices. Each model will have different strengths and weaknesses.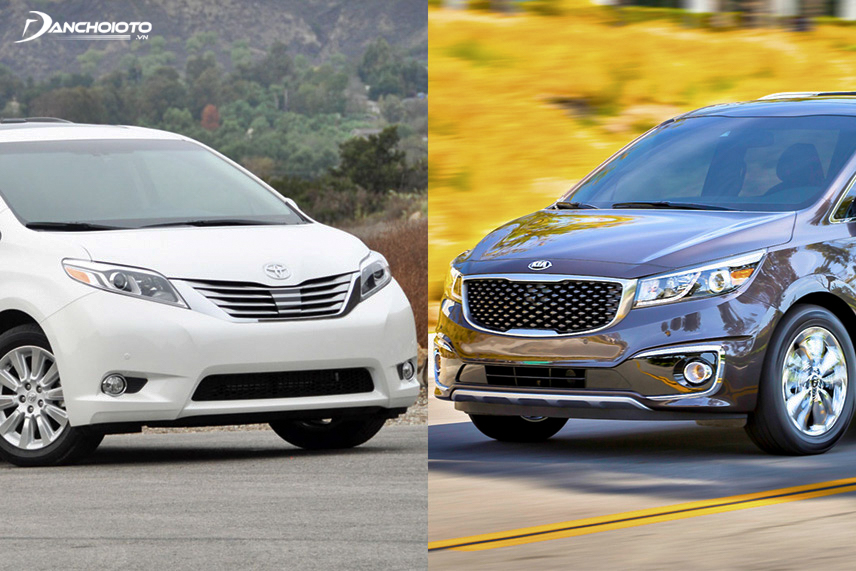 Toyota Sienna and Kia Sedona are two highly rated cars in the MPV segment
Compared to Kia Sedona, Toyota Sienna was born earlier and has a place in the hearts of users. In the US market, Toyota Sienna is always one of the best selling minivan. Toyota Sienna model appeared in Vietnam market from the early 2000s through the import route. Kia Sedona was launched on the world market after Sienna, but since its inception they have been created a great deal thanks to the extremely attractive price, almost the lowest in the segment. Kia Sedona first appeared in Vietnam in 2015 in the form of import.
Compare old Sedona and Sienna cars In terms of class, we can see the difference is quite large so the price of the two models has a big difference. But in the minvan segment, these are the two names that are always the first choice of consumers when choosing a spacious, comfortable family car. Here will be some Compare the Toyota Sienna or the old Kia Sedona Help consumers make the best choice for themselves.
Compare the Kia Sedona and the old Toyota Sienna in terms of exterior
Compare the exterior design of Kia Sedona and Toyota Sienna through some size parameters:
| | | |
| --- | --- | --- |
| Parameter size | Kia Sedona | Toyota Sienna |
| Length x width x height (mm) | 5115 x 1985 x 1755 | 5085 x 1986 x 1795 |
| Wheelbase (mm) | 3060 | 3030 |
| Ground clearance (mm) | 163 | 165 |
| Turning radius (m) | 5.6 | 5.7 |
| Tire size | 235 / 60R18 | 235 / 60R17.0 |
The old Kia Sedona exterior is designed with a superficiality compared to rivals in the MPV segment. Toyota Sienna is designed with modern and style depending on the version that the overall size is somewhat variable. However Old Toyota Sienna car reviews The exterior is soft, more harmonious than the old Kia Sedona. In general, each model has its own unique design style with its own attractive features.
The front of the Kia Sedona car impresses the audience by the tiger-shaped grille detail. Along with that are many cross-linked metal bars with diamond-shaped dots, creating a special attraction for the viewer. The front bumper of Kia Sedona is designed to grow bigger on both sides, making the projector fog lamps more prominent and fancy. Kia Sedona front end looks somewhat bunker thanks to the design of the headlight. Kia Sedona turn signals are located close to the grille. The LED daytime running lights surrounding the Halogen headlamp system further enhance the front end.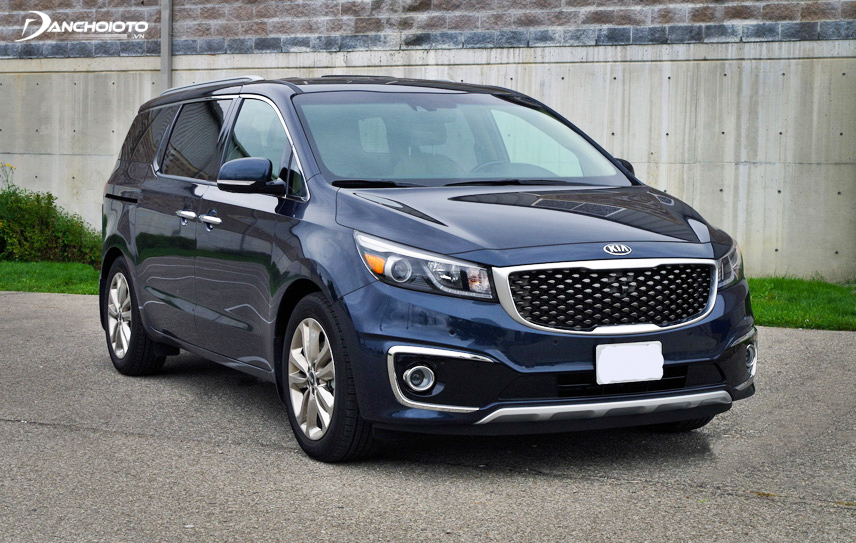 Exterior Kia Sedona is designed quite superficially compared to rivals
The front part of Toyota Sienna also impresses the viewer by the grille and headlights. The grille, headlights and LED daytime running lights are designed to look very harmonious, modern and smooth. The body of the Kia Sedona body has embossed ridges running along the body, increasing the strong and solid part for the car.
Both models have power-adjustable rearview mirrors with turn signals. Wheel size in these two models is different, Kia Sedona is 18 inches and Toyota Sienna is smaller than 17 inches. The rear end, rear light clusters of each model are designed in a different style but are impressive to the viewer. The rear of the Kia Sedona has LED tail lights and an overhead spoiler with brake lights. The Toyota Sienna tail has a refined tail light cluster and is equipped with LED brake lights with an electrically controlled trunk and spoiler.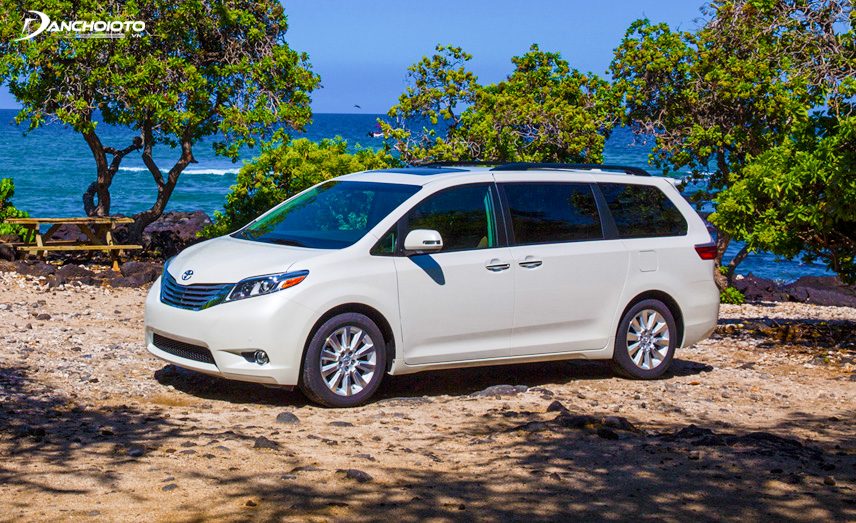 The exterior of the Toyota Sienna looks softer than the Sedona
See also Buy minivan should choose Kia Sedona or Honda Odyssey
Compare the Kia Sedona and the old Toyota Sienna in terms of interior
Interior space
Interior space of Kia Sedona and old Toyota Sienna is considered as the most spacious and comfortable form compared to competitors in the segment. The seats of the Kia Sedona model are designed with 7 seats of 2 + 2 + 3 style. Second row, users can fold and push forward to make luggage space more spacious. The third row of seats does not need to be folded back and the user can easily access. With the layout of seats of Kia Sedona helps the interior space look much more spacious.
Kia Sedona car interior is designed in harmony, modern and very comfortable. Car seats are covered with high quality leather. The driver's seat has an electric adjustment function that helps the driver easily adjust the most comfortable sitting position. The steering wheel is designed with 3 grandchildren, leather and integrated with many function keys. The second and third row of seats are used sun blinds and the side doors of the electric sled are anti-jammed.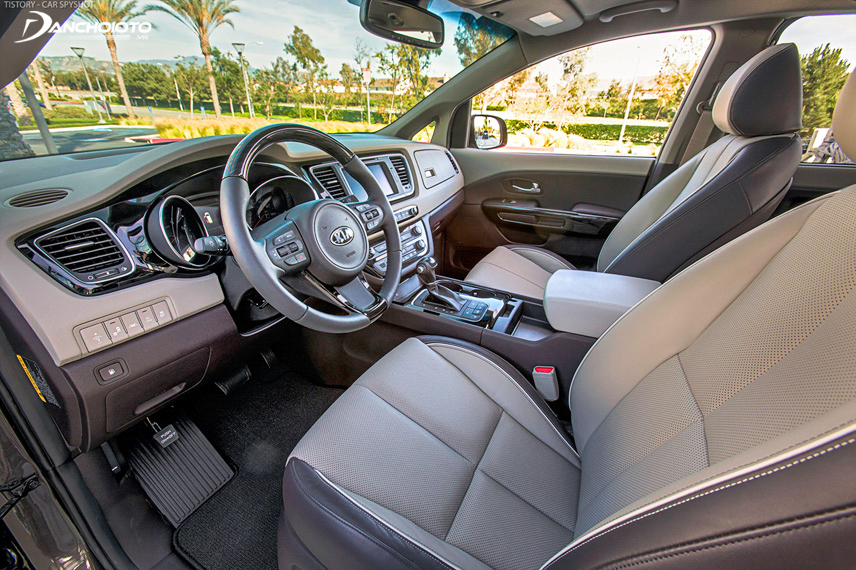 Kia Sedona interior space is designed in harmony and comfort
Interior space of Old Toyota Sienna Very spacious and designed very comfortable and luxurious. The cabin of the car is made of black leather which creates a very impressive contrast. The second row of Toyota Sienna is designed with the ability to fold, but cannot be folded to the floor. The third row of seats can be fully folded, increasing the storage space.
The Toyota Sienna instrument cluster is impressively designed with a 4.2-inch multi-information screen. One of the special things that cannot be mentioned about the interior of the Toyota Sienna is that the mirror in the car can be pulled down to observe to help the driver do not need to look back.
Equipped with amenities
Old Kia Sedona car Equipped with a system of modern equipment and facilities. Toyota Sienna's entertainment system includes a 7-inch multi-information display, CD player, Radio, USB / AUX, bluetooth connection. Kia Sedona is also equipped with the 8-speaker Infinity sound system. Kia Sedona has an independent 3-zone automatic air conditioning system capable of filtering ions. In addition, Kia Sedona is also equipped with air vents in all 3 rows of seats, panoramic sunroof.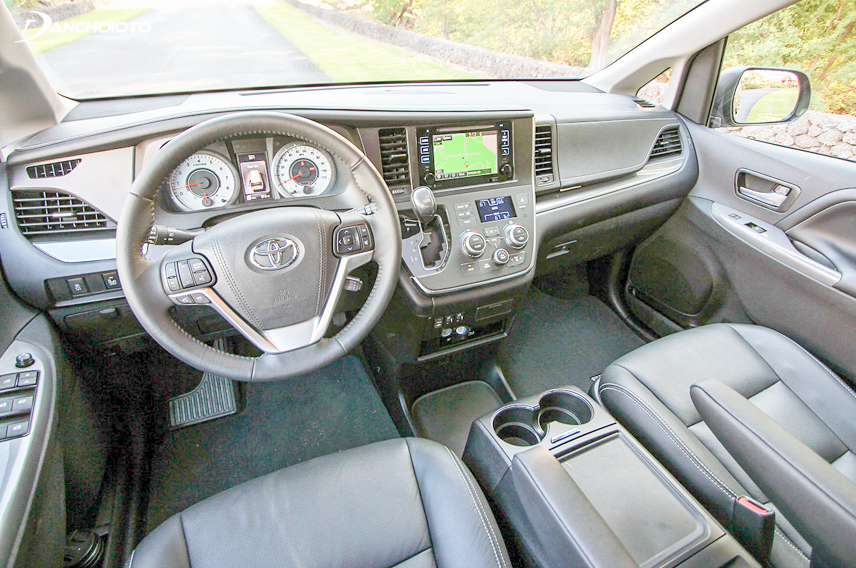 Toyota Sienna interior is equipped with many modern and luxurious features
Toyota Sienna is equipped with Driver Easy Speak entertainment system and some other facilities such as USB / AUX DVD player, … Toyota Sienna equipped with a screen size of 16.4 inches in the second row to serve the needs. best user entertainment. Users can use the 1 or 2 screen mode to be able to play games, watch TV or watch videos separately. In addition, Toyota Sienna is also equipped with 4-channel Bluray sound system, automatic air conditioner, …
Compare the Kia Sedona and the old Toyota Sienna in terms of engine / performance
Engine
Comparison of vehicle engines fitted:
| | | |
| --- | --- | --- |
| Toyota Sienna | Toyota Sienna | Toyota Sienna |
| Engine | Diesel engine, capacity 2.2 liters / V6 gasoline engine, capacity 3.3 liters | V6 engine, capacity 3.5 liters |
| Max power (horsepower) | 190/266 | 266 |
| Torque (Nm) | 440/318 | 332 |
| Gear | 6-level auto | 6-level auto |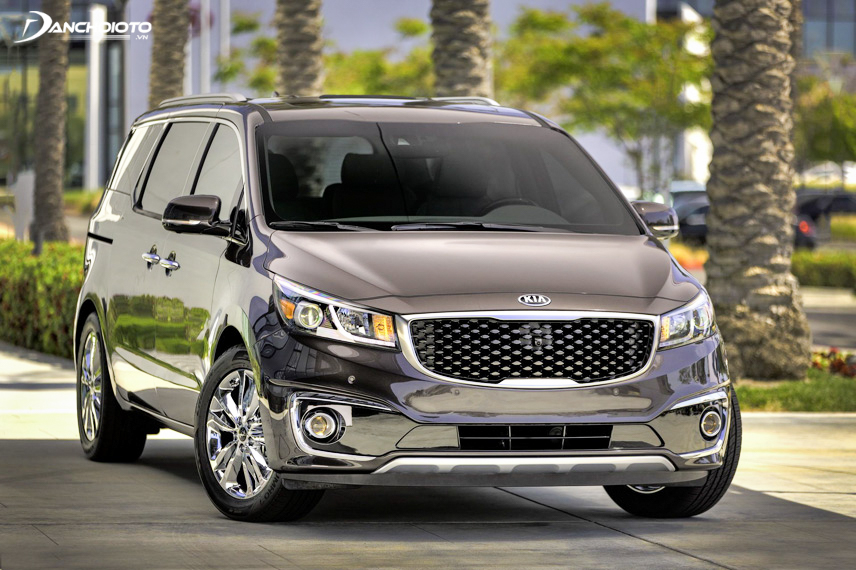 The engine power of Kia Sedona is rated strong and smooth
Operate
Both models are appreciated for their operability and durability. Kia Sedona uses front-wheel drive. Toyota Sienna is used two options that are 4-wheel drive and front-wheel drive. Toyota Sienna and Kia Sedona are both rated as capable cars that are very powerful, smooth and durable.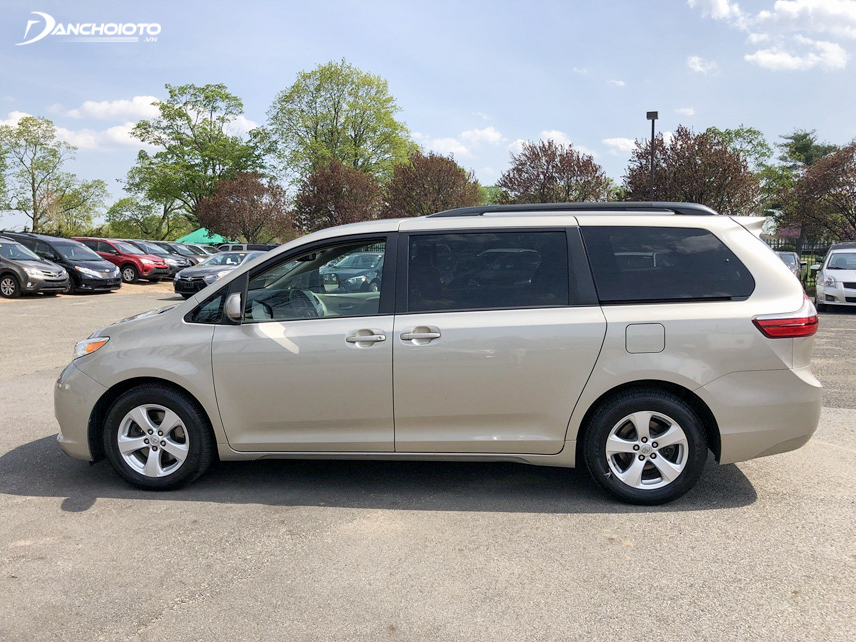 Performance of Toyota Sienna is durable and smooth
The ability to save fuel in both cars is average, acceptable compared to competitors in the segment. Review of old Kia Sedona car In terms of fuel economy, there is not too much difference compared to rival Toyota Sienna. Fuel consumption of Kia Sedona when running city roads is about 13 liters / 100km and about 9.8 liters / 100km. Fuel consumption of Toyota Sienna is about 13.7 liters / 100km while on the highway is about 9.4 liters / 100km. Thus, we can see that the fuel economy of these two models is similar.
Compare the Kia Sedona and the old Toyota Sienna in terms of safety equipment
Both Kia Sedona and Toyota Sienna models are equipped with many of the manufacturer's safety and modern features. However, we can see that Toyota Sienna is a bit better than Kia Sedona.
| | | |
| --- | --- | --- |
| Safety equipment | Kia Sedona | Toyota Sienna |
| Anti-lock braking system | Have | Have |
| Support emergency braking force | Have | Have |
| fesdfcxcx | Have | Have |
| Assist to begin across hill | Have | Have |
| Boot by button | Have | Have |
| Blind spot warning | Have | Have |
| Smart electric lock | Have | Have |
| Parking sensors and reversing camera | Have | Have |
| Support downhill, downhill | Is not | Have |
| Collision avoidance support system | Is not | Have |
| Panoramic camera | Is not | Have |
| Air bag | 6 bags | 8 bags |
Should buy the old Toyota Sienna and old Kia Sedona?
Currently, old Kia Sedona and Toyota Sienna cars are marketed at different prices. The specific price of a car will depend on the model, version, and condition of the new car. Price of old Kia Sedona car life of 2015 ranges from nearly 850 million to 1 billion. Still price of old Toyota Sienna life in 2015 fluctuated around 1.5 billion. So can see, the price of the old Toyota Sienna is somewhat higher than the price of Kia Sedona. With what is equipped on these two models, the price is quite reasonable.
So Should buy an old Toyota Sienna or Kia Sedona? Both Sienna and Sedona are two of the best MPV family car models to buy. The choice of which car to buy depends on many different factors such as financial ability, interests, purpose of the buyer. Best before buying a car, buyers should carefully consider and find a reputable car sales address to be MPV 7 vehicle buying advice Safe and quality place.
Toyota Sienna and Kia Sedona are both highly rated models in the MPV segment. Toyota Sienna is suitable for customers who love a comfortable car, full of high safety features. And Kia Sedona is suitable for first-time car buyers who serve families, often on the move and have a moderate budget.
Phong Vân