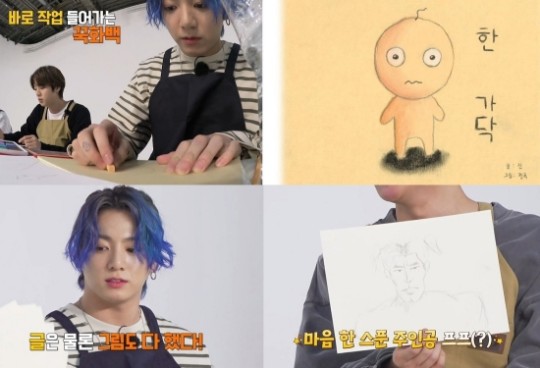 (Export News Reporter Lee Jeong-beom) Jungkook of BTS captured the attention of fans around the world by showing off his amazing and outstanding drawing skills. Of course, he shot women's hearts with his extraordinary good looks.
In episode 143 of BTS's own entertainment program 'Run BTS', which was broadcast on Naver V Live on the 22nd, it was drawn with the theme of 'Dalbang Books', returning to the child's heart and making a storybook.
Among them, member Jungkook teamed up with the eldest brother Jin and made a fairy tale together, and showed a level of drawing skills comparable to that of an 'illustrator'.
Jungkook and Jin decided to title their fairy tale 'One Strand', and Jungkook started drawing the cover right away. He colored using various tools such as pastels and colored pencils.
In particular, he showed a sense of drawing with a special emphasis on one strand of the main character's hair as the title of the fairy tale is one strand. When the cover was finished, RM exclaimed and praised it, saying, "A single cover. This is so good."
Jimin said, "Isn't it like a real comic book? You drew the picture beautifully," and J-Hope praised Jungkook's drawing, saying, "It's really well drawn."
Afterwards, Jungkook drew laughter from the members by drawing 'Puff', the main character of 'A Spoon of Heart' created by the J-Hope and V teams.
While listening to the fairy tale 'A spoonful of a heart', he noticed that the character of the main character, Pf, was not decided. So, I drew the J-Hope version of PF, and the members burst into laughter at the shocking visual.
On the other hand, before drawing a fairy tale, in the 'fairy tale quiz' corner, Jungkook gave a big laugh by saying 'Red Hat' to 'Little Red Riding Hood Chacha' and 'The Girl Who Sells Matches' to 'Matchstick Girl'.
Photo = Run Bangtan