Thus, Mi 11 5G, the latest super product from Xiaomi has officially docked and sold officially in the Vietnamese market. You are definitely anxious to own this smartphone, right? And in today's article, I will proceed to break the box and have the Mi 11 5G Horizon Blue (blue version) genuine in Vietnam on hand. Let's get started!
See also: Xiaomi Mi 11 5G performance evaluation: Snapdragon 888 5G chip is top notch, but will the device overheat, drop the battery as rumored?
1. Fortunately, Mi 11 5G still comes with a fast charging cable in the box
Before going into our main character Mi 11 5G, let's take a quick look at the accessories that Xiaomi has included for the device.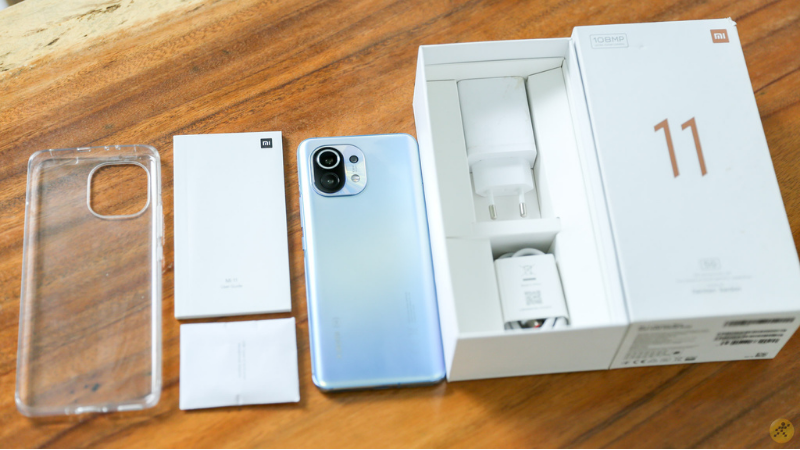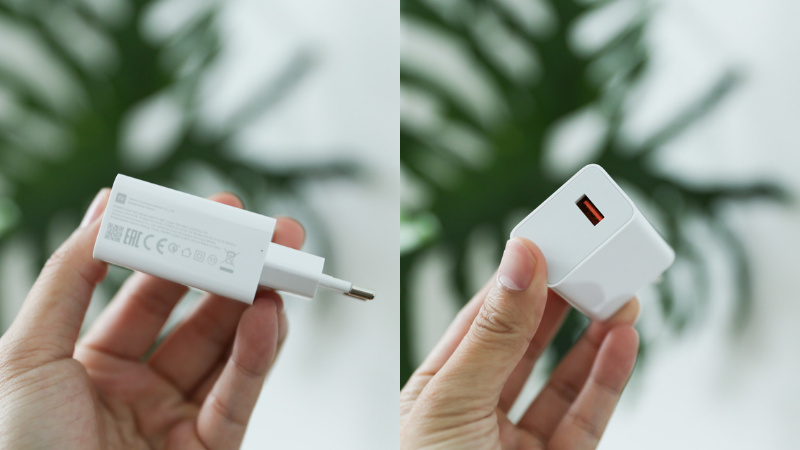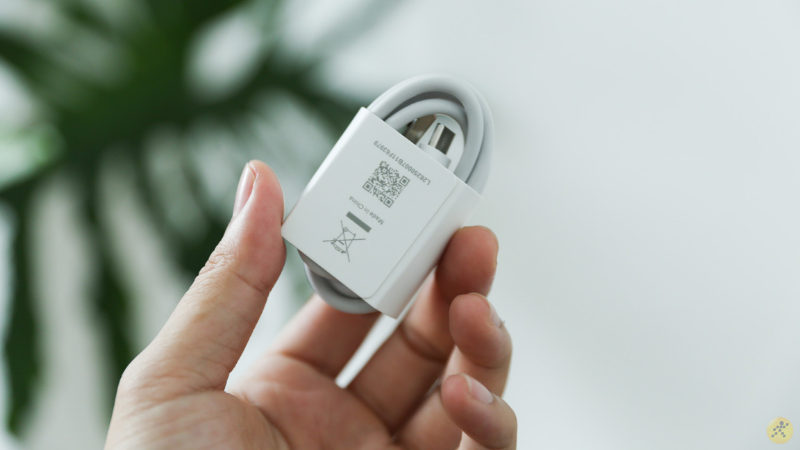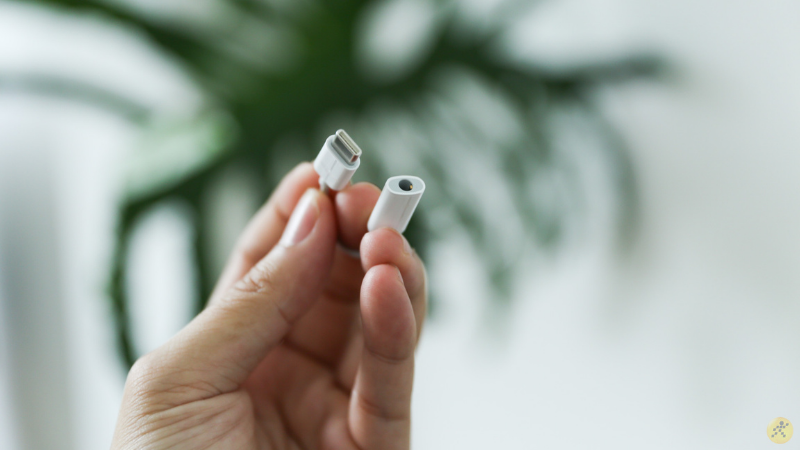 2. Xiaomi Mi 11 5G: The most beautiful flagship model in the Xiaomi Mi Series
Maybe some of you will think differently, but I have to admit that the Xiaomi Mi 11 5G is the most beautiful flagship ever (considering the flagship Mi Series). Currently, I have the opportunity to have a hands-on version of the Horizon Blue color (blue) with a color transition effect that looks quite eye-catching. The back of the machine is made from Gorilla Glass 5 and is also home to the rear 3 camera cluster with a much convex design (I see a little bit).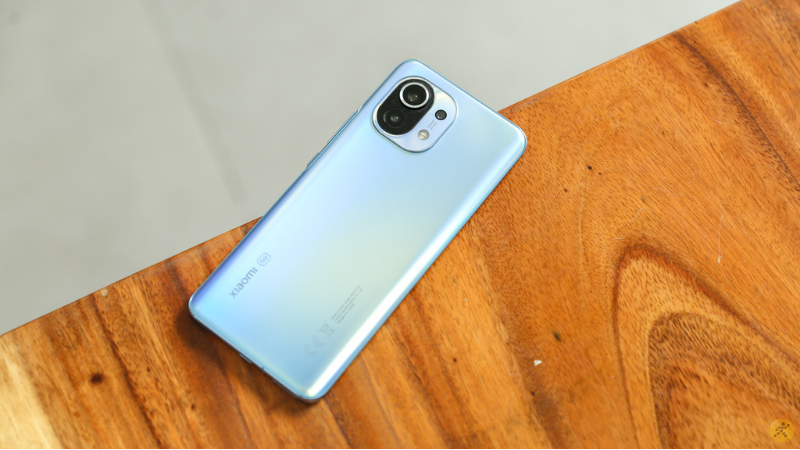 Thanks to the curved back design, the grip feeling of Mi 11 5G is quite comfortable, not needy. Moreover, this back surface is also rough so it will limit dirt, sweat or fingerprints. But personally I find the back of Mi 11 5G a bit slippery, making me feel like the device is about to slide out of my hand.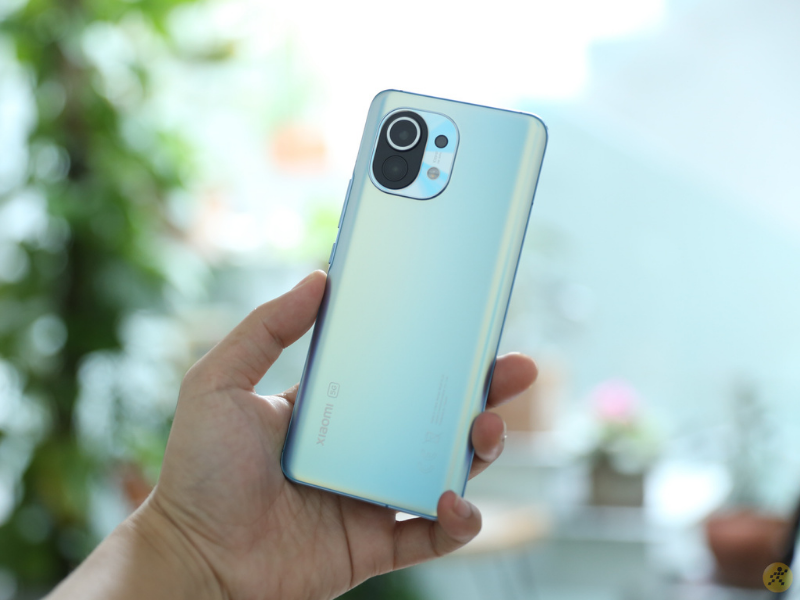 But if you pay close attention, there will be a shiny diamond cut around the main camera, creating a highlight for the rear camera system of Mi 11 5G. In addition, right below, we will have the super wide-angle camera and next to it will be the macro camera as well as the flash of the device. As for the camera parameters of the Mi 11 5G, the details are as follows: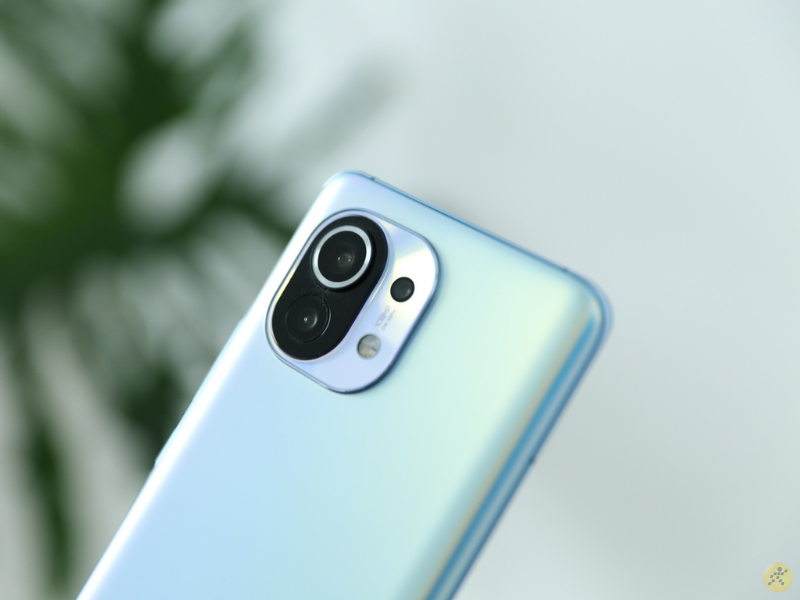 108 MP wide-angle camera, f / 1.9 aperture, 26 mm sensor size.
13 MP super wide-angle camera, f / 2.4 aperture, wide angle up to 123 degrees.
5 MP macro camera, f / 2.4 aperture.
Turning to the front, Mi 11 5G still owns an edge-to-edge curved screen design with a hole-punch selfie camera placed in the top left corner. More especially, this screen is protected by the latest generation tempered glass from Corning, which is Gorilla Glass Victus (similar to the Galaxy S21 series).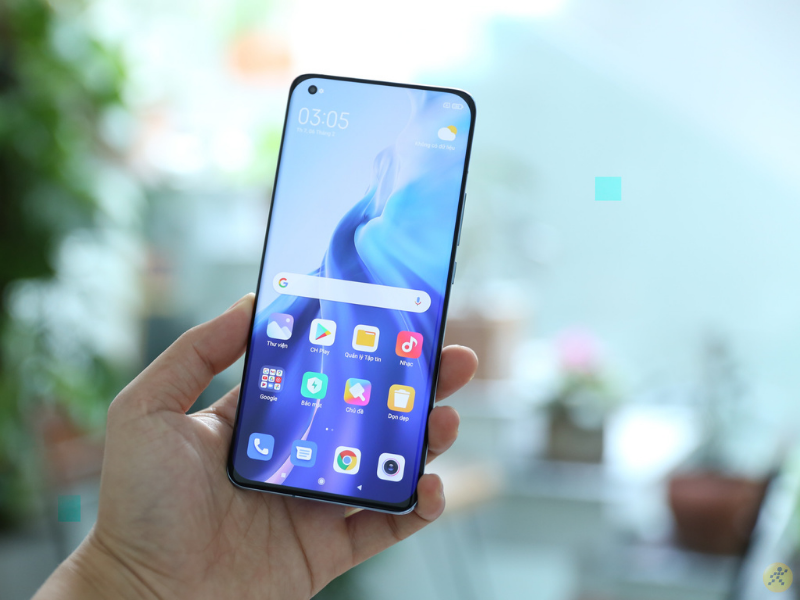 And in terms of display quality, Mi 11 5G is highly appreciated by Display Mate page and scored as A +. Specific parameters of the screen of the Mi 11 5G include 6.81-inch AMOLED panel, 2K + resolution (1,440 x 3,200 pixels), support refresh rate up to 120 Hz, HDR10 + technology and brightness up. up to 1,500 liters.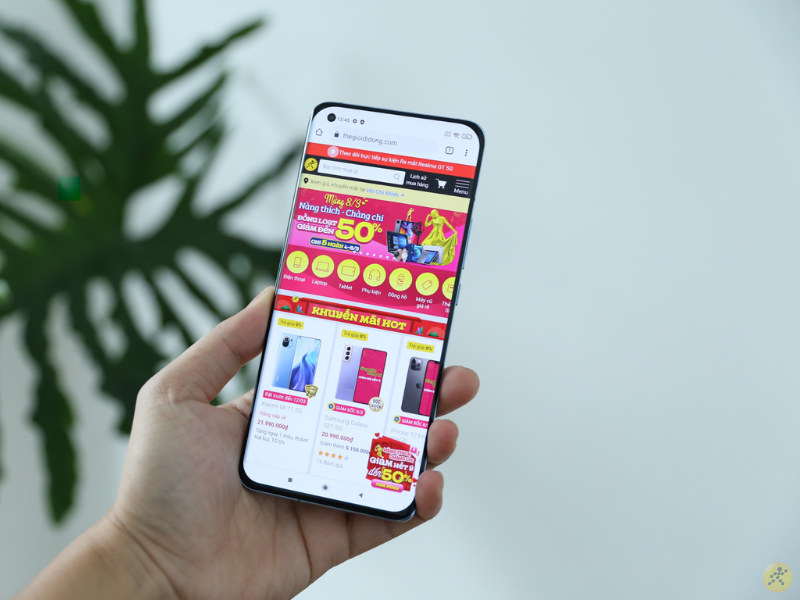 Let's take a closer look at the edges on the Xiaomi Mi 11 5G.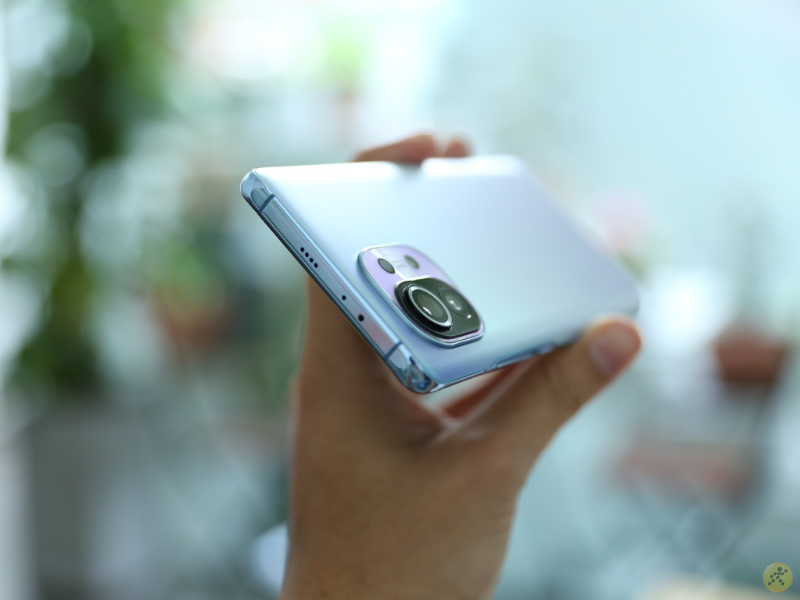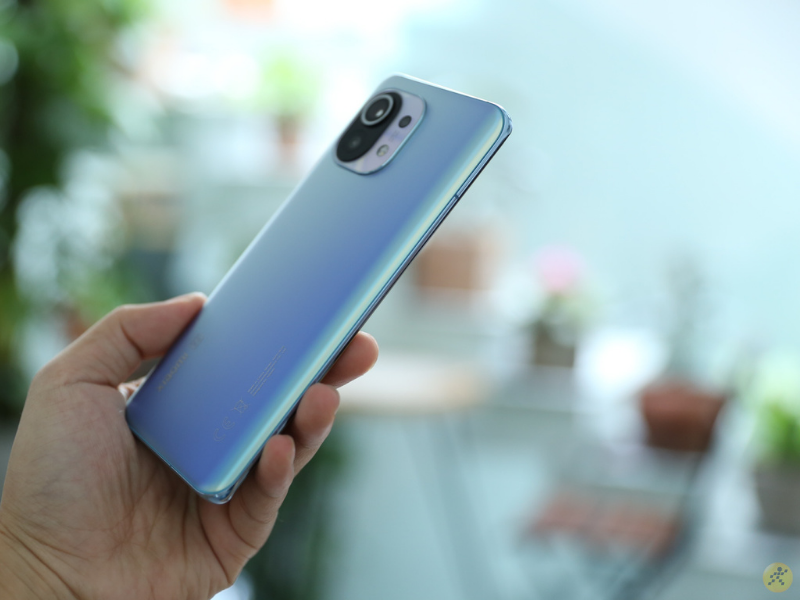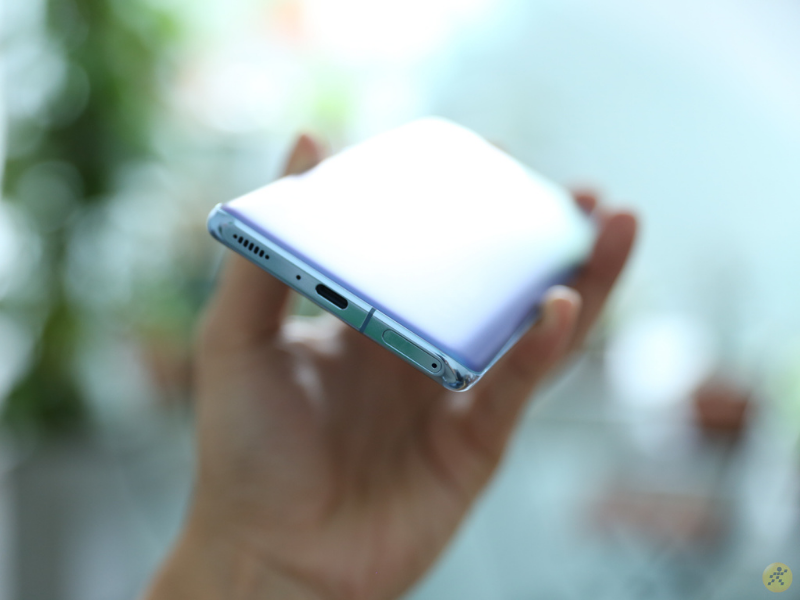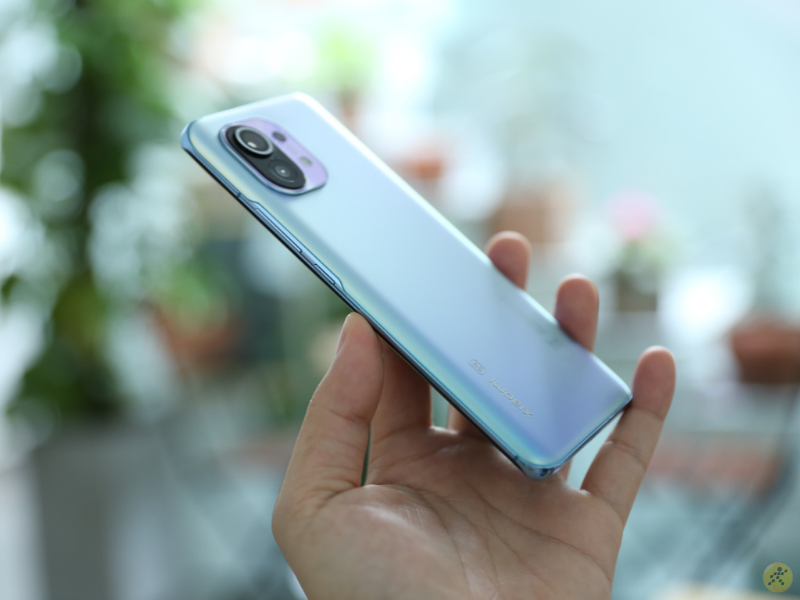 3. Mi 11 5G possesses amazing performance with Snapdragon 888 5G
I have an article evaluating the performance of Mi 11 5G, you can see it right here.
Configuration is undoubtedly one of the biggest advantages of Xiaomi Mi 11 5G because the device owns the biggest chip from the Qualcomm house, which is the Snapdragon 888 5G (based on the new 5 nm process). In addition, the Mi 11 5G I am holding here has 8 GB of RAM (Mi 11 5G also has 12 GB of RAM) and 256 GB of internal memory (the device also has 128 internal memory version. GB).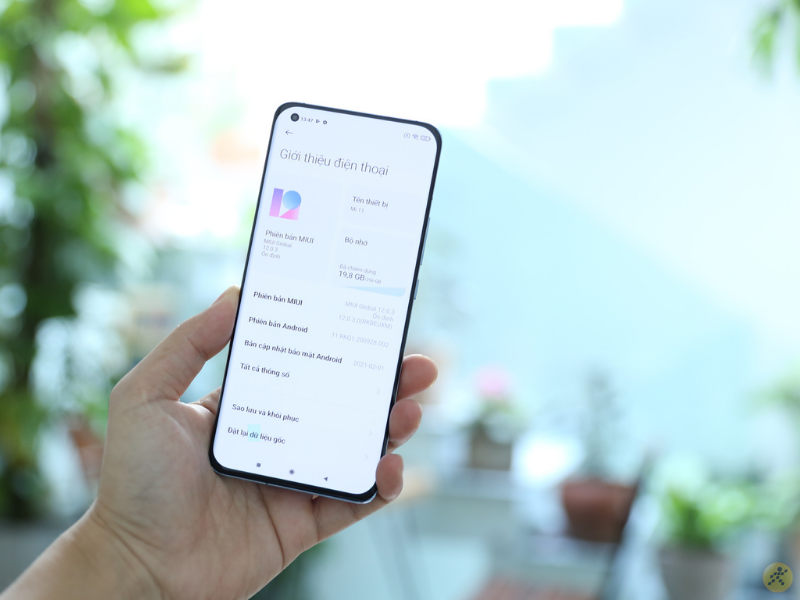 And with this configuration, I guarantee the Xiaomi Mi 11 5G is not tired of any games on the market today. If you don't believe it, you can see it in the performance evaluation article that you put above. Well, this smartphone is also equipped with a 4,600 mAh battery, not too big but enough for basic use in a day, guys. In addition, the device also supports charging technologies such as 55W fast charge (wired), 50W fast charge (wireless) and 10W wireless reverse charging.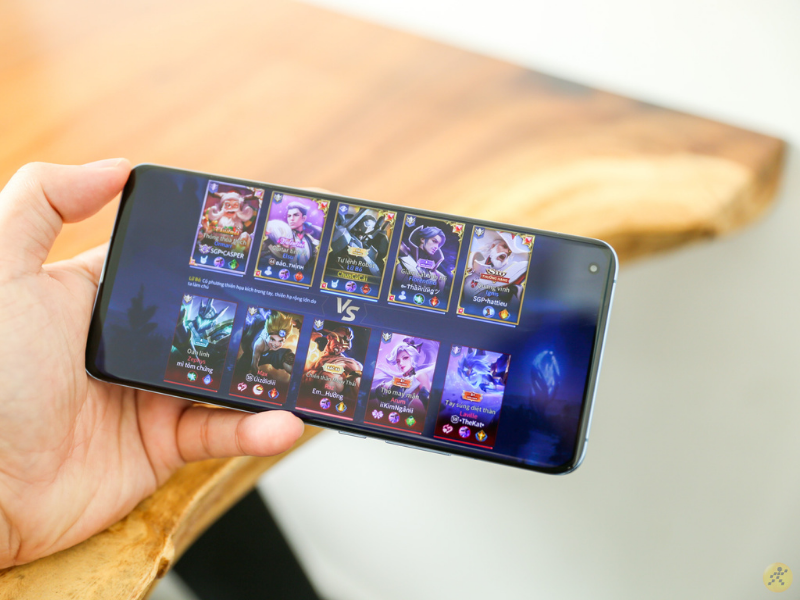 Epilogue
It can be said that the Xiaomi Mi 11 5G is the most comprehensive flagship Xiaomi ever created. Although I am a little concerned about the genuine selling price of the device in the Vietnamese market, in return we get a charging cable (if you buy a cheap laptop, it will take a long time to charge), warranty it will also be much better, but also get a gift if you book it in Mobile World. What crime without extra money, guys?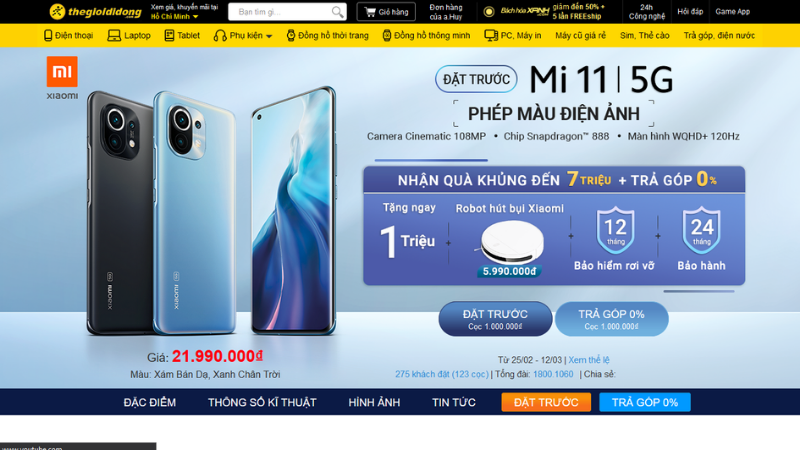 So do you want to spend nearly 22 million dong to buy genuine Xiaomi Mi 11 5G in the Vietnamese market? Please leave your thoughts in the comments section of the article, thank you for taking the time to care for your article.
See also: More information says that the Xiaomi Mi 11 Ultra is equipped with a Snapdragon 888 chip that will come with a 50MP main camera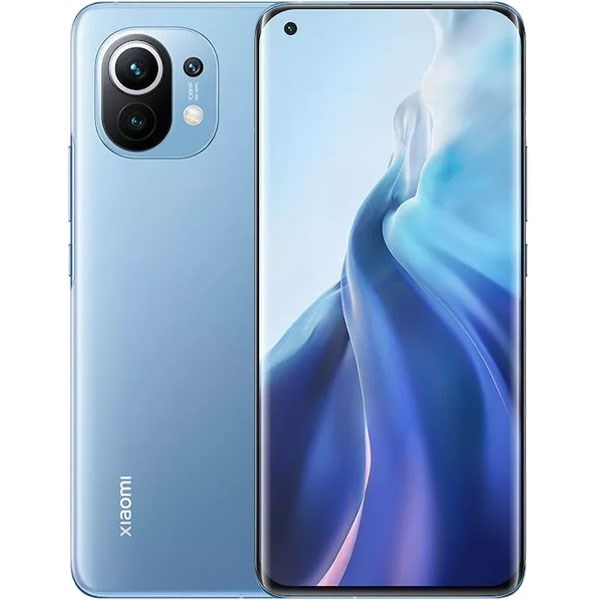 Xiaomi Mi 11 5G
Goods coming soon
21.990.000₫
Bonus 1 million, Robot vacuum cleaner, TG 0%
See details
Edited by Vu Truong An
Not satisfied with the article
3,452 views
Related posts
On hand Xiaomi Redmi Note 10 Pro: Just over 5 million * has a very smooth 120Hz screen with a 'delicious' performance in the price range


1




8 hours ago

This is proof that the Xiaomi Mi 11 Pro and Mi 11 Ultra are coming, the Ultra version has been internationally certified.


10 hours ago

First impression Xiaomi Redmi Note 10 Pro Max: Featured with the main camera up to 108MP large 5.020mAh battery for all day use


4




14 hours ago

First impression Xiaomi Redmi Note 10S: Beautiful and vivid AMOLED screen, using Helio G95 instead of Qualcomm's chip and price from 5.3 million *


14 hours ago

Redmi Note 10 and Redmi Note 10 Pro are about to open for sale in Vietnam, hearing rumors of the international version price from only 5.3 million VND


15 hours ago

The first impression of Redmi Note 10 Pro: Price from 5.1 million * has a 120 Hz screen, Snapdragon 732G chip, …


3




15 hours ago
.