Greetings everyone! The eagle-eyed amongst you will have noticed that in our last Newswire looking forward to future titles, we hinted that we were close to being able to reveal our latest all-new vinyl release opening for pre-order.
The day has now arrived, and we're beyond excited to reveal that Anime Limited will be released the Original Soundtrack to TRIGGER's Netflix original series BNA: Brand New Animal as a Deluxe Edition 3x LP vinyl set in October 2021!
Our release contains both the opening end ending songs to the series as well as the full Original Soundtrack, so read on after the jump for all of the details!
Much like our recently released vinyl soundtrack to BEASTARS, our BNA: Brand New Animal vinyl release is the first western physical release of any kind featuring the series, so needless to say we wanted to give it as much care and attention as possible, and we're sure you'll agree the results are astonishing.
Rather than keep you waiting any longer… introducing the full contents of our BNA: Brand New Animal 3x LP Deluxe Edition vinyl!
Once again, we've crafted some glorious rigid outer packaging for this release, making full use of the amazing artwork and use of colour resplendent throughout the series.
Within that rigid slipcase, you'll find a set of three black 180 gram vinyl records, the first of which contains the opening and ending themes to the series: "Ready to" performed by Sumire Morohoshi (the voice of Michiru Kagemori in the series) and "NIGHT RUNNING" performed by Shin Sakiura featuring AAAMYYY respectively. Discs two and three contain the rest of the infectious original soundtrack composed by mabanua (MEGALOBOX). You can find the full track listing on our online store product page.
NOTE: If you're a fan of vinyl variant colourways, you'll want to keep an eye on Zavvi.com over the coming weeks – more news on that once we have it.
Also within, you'll find a hefty 68-page, hardcover art book, featuring a translated introduction from the composer before diving into a wealth of character design assets, logo designs and artwork from the series, including plenty of artwork from the memorable opening and ending title sequences to the series. You can see just a couple of sample two-page spreads from the book below.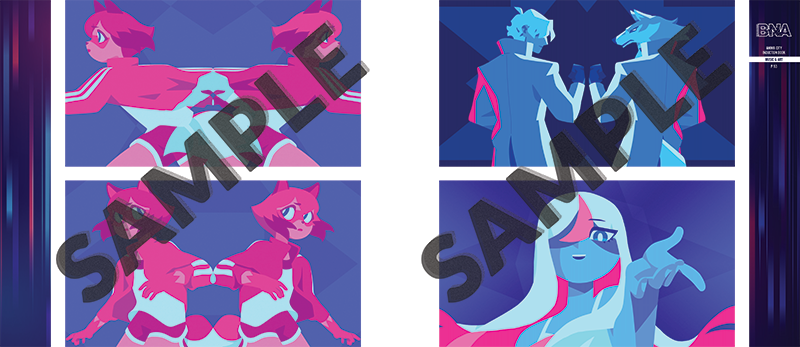 Last but certainly not least, also included is an A4 poster from the series, featuring the iconic "LET'S HOLD HANDS" public service announcement that underpins the ideals of the show. (Although please don't try this at home until social distancing restrictions have eased suitably!)
This Deluxe Edition carries an SRP of £99.99 (or US $139.99), which brings us to our next topic…
---
Pre-orders open 28th of May at 5PM UK time!
Having seen our release of this soundtrack, it's fair to assume your next question is "When can I pre-order?" – to which the answer is: this Friday!
Pre-orders for the BNA: Brand New Animal Deluxe Edition launch at 5PM UK time on Friday, 28th May 2021, with our own AllTheAnime.com store running a special month-long Early Bird offer, meaning that from May 28th until June 28th you can pre-order this product for just £79.99.
As mentioned, a Zavvi exclusive variant is on its way soon, with full details to follow over the coming weeks.
This release will also be available to North American customers via the following retailers from Friday 28th May:
French customers can pre-order this product from our French store:
---
Given that BNA has – in our opinion – one of the best anime soundtracks of recent years, we can't wait for you all to get your hands on this release! It's worth noting that we'll also be releasing the soundtrack on CD alongside this Deluxe Edition vinyl (with pre-orders opening soon), with a Standard Edition vinyl release planned for 2022.
For now though, we hope you're as excited about this vinyl soundtrack as we are!
Andy Hanley


Andy Hanley