The device of the 6th generation Wi-Fi network from manufacturer EnGenius was officially present in Vietnam

On April 12, 2002, EnGenius launched the first access point product line that uses Wi-Fi technology standard ax (Wi-Fi 6th generation), including 2 EWS357AP and EWS377AP codes, in which EWS357AP is access point 2×2 11ax first on the market. With the new Wi-Fi standard, the new device brings many technological improvements, creating a better user experience.
Mr. Lawrence Lim, CEO of EnGenius Asia Pacific and the Middle East, said: "We believe that small and medium businesses need to have access to the latest Wi-Fi technology. EnGenius's access point 11ax ensures superior wireless network speed, which is also a good support technology for the technology era 4.0 and IoT trend ".
The latest 6th generation Wi-Fi technology is now suitable for medium business applications and
small
According to Dang Viet Phuong, director of Phuong Viet Investment & Development Company, official distributor of EnGenius in Vietnam: "Cooperation with EnGenius, Phuong Viet has the opportunity to introduce to Vietnam market about Wi- The 6th generation Fi is relatively early, Phuong Viet said that 6.6 is the right time to launch new Wi-Fi technology ".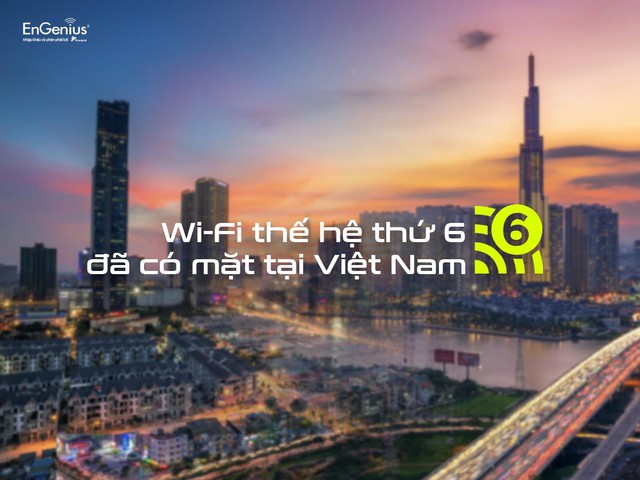 This June, with the actual product already available in Vietnam, we have the opportunity to access the latest Wi-Fi technology quickly and in no way inferior to any developed country market.
Advantages of Wi-Fi generation 6 compared to the old Wi-Fi generation
Access point 11ax 2×2 meets the needs of Wi-Fi connectivity of most users today. By significantly restructuring the existing network, supporting current and future devices and applications, 6th generation Wi-Fi has many advantages over standard 11ac (5th generation Wi-Fi ) before:
• Faster speed than the old 11ax Wi-Fi standard (up to 40%)
• Energy saving for the device
• Better performance in high density areas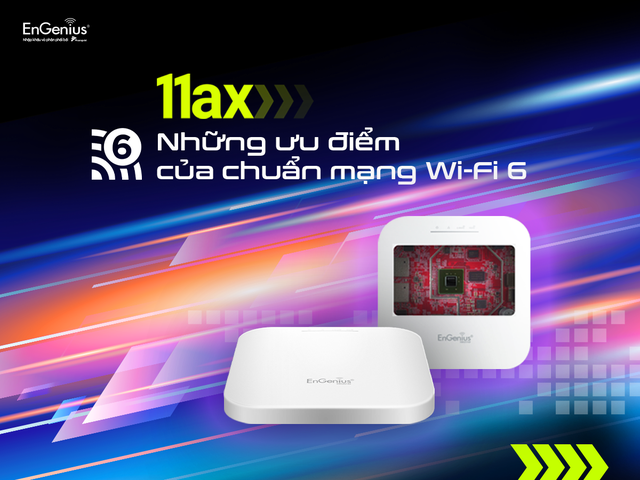 Advantages of 6th generation Wi-fi
Equipped with the latest chipset from Qualcomm, access point EWS357AP has just expanded and enhanced the features of Wi-Fi to meet the needs of small and medium enterprises. Wi-Fi 6 technology was developed based on the 11ac Wi-Fi standard (5th generation Wi-Fi), giving higher performance, increasing coverage and ensuring stable operation in device-density environments. High, minimize latency, congestion. In addition, EWS357AP device also supports some preeminent features such as:
• OFDMA (Orthogonal cross-access modulation technology – allows more efficient use of channels)
• Uplink and DownLink of MU-MIMO technology (Ensuring signal integrity and reliability)
• BSS Coloring (Tagging packets with "color" to distinguish between adjacent basic service sets)
• Target wake time (Energy saving feature, which allows setting the calendar uptime)
EWS357AP also has a number of enterprise-level management features such as configuring mass access points, saving time and easily adding devices to the existing network. This device supports speeds up to 1,200Mbps in the 5GHz band, 574Mbps in the 2.4GHz band. With improved hardware, powerful software, this Wi-Fi 6 access point is ideal for enterprise Wi-Fi applications, easily added to existing network systems without giving rise to much money. fees and resources.
With Wi-Fi 6, EnGenius also offers a speedy network solution for businesses in high-density environments. Access point EWS377AP supports speeds up to 2,400Mbps in the 5GHz band and 1,148Mbps in the 2.4GHz band, which is a reliable solution in industrial times 4.0 and IoT.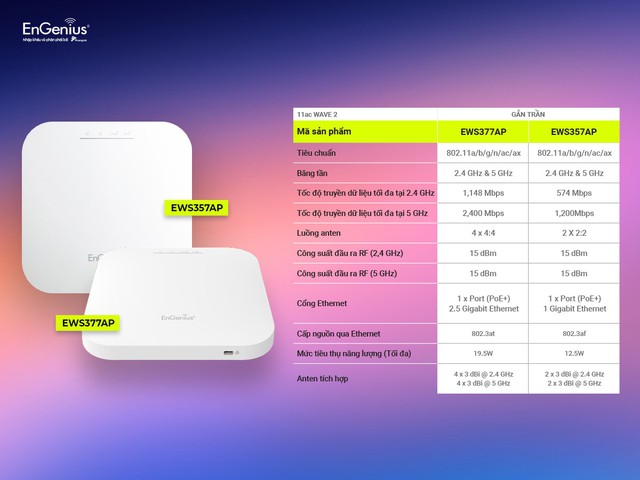 EnGenius launched 2 product codes EWS357AP and EWS377AP supporting 6th generation Wi-Fi technology
Mr. Lawrence Lim pointed out: "Access Point 11ax is the latest generation Wi-Fi transmitter, capable of providing greater capacity by simultaneously serving multiple devices simultaneously, a solution for the secret environment. The average throughput is 4 times higher for each device to improve efficiency.The WPA2 and WPA3 standards also contribute to more robust wireless security, so generation 6 Wi-Fi access points can be managed by EnGenius EzMaster with a completely free license ".
Activities to introduce Wi-Fi 6 technology in Vietnam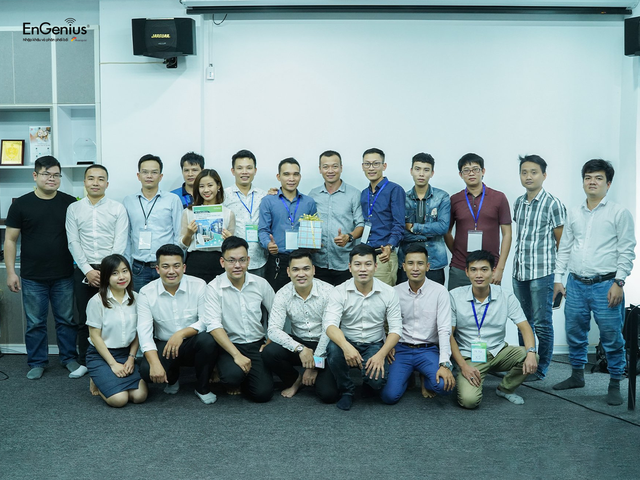 Phuong Viet distributor plans to hold a workshop to introduce the 6th generation Wi-Fi on June 10
With the unique Wi-Fi 6 technology suitable for small and medium enterprise applications, EnGenius and Phuong Viet expect to approach corporate customers, the project units have a need for high Wi-Fi network solutions. Enterprise level at the Workshop to introduce the new generation Wi-Fi that took place on 10 June 2002 in Hanoi. Within the framework of the 6th generation Wi-Fi campaign, Phuong Viet also plans to bring opportunities for the first units in Vietnam to experience the latest EnGenius access point products to strategic partners at prices. endow. Detailed information contact Phuong Viet distributor.
Phuong Viet Investment & Development Company Limited.
Website: https://www.engeniustech.vn/
Fanpage: https://www.facebook.com/engeniusphuongviet/