The new free update of Borderlands 3 has been available since yesterday, bringing with it many new features and the long-awaited arrival of cross-play. While this announcement had all the cards in hand to celebrate, PlayStation players will not be affected by this new feature. However, they will still be able to take advantage of all the additions of this important update.
If you remember last year's Revenge of the Cartels event, you might be delighted to hear about Joey Ultraviolet's big comeback., allowing us to return to his famous Villa for a soberly titled event "The Revenge of the Revenge of the Cartels", perpetuating the special humor of the Gearbox title. Unfortunately, the event will be identical to the previous one, but will still allow you to unlock new content.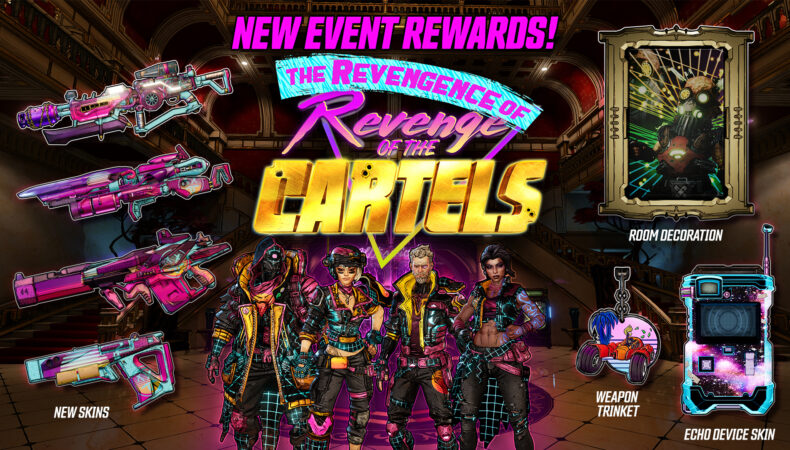 To satisfy a community that is still present, the maximum level has been increased to 72 in order to benefit from many bonuses once it has been reached. In addition, all major events from previous years namely Blood Harvest, Saints Broken Hearts and Revenge of the Cartels will be available at any time and unlimited from now on, allowing players to unlock the rewards associated with these. .
This decision seems to indicate to us that the important updates of Borderlands 3 would come to an end, after almost two years of loyal service. And Since the announcement of Tiny Tina's Wonderlands scheduled for 2022, it is very likely that the studio wants to fully invest in this new project. However, this third opus could continue to gather even more people thanks to the arrival of cross-play.
As we said above, this feature will allow players on Xbox One, Xbox Series, PC, Mac and Stadia to play together, thus putting aside the community present on PlayStation. An unsurprising decision when we know that the Japanese manufacturer is very often reluctant to add cross-play and that they are the only ones to ask for compensation for it.
However, several titles on PlayStation have managed to integrate cross-play, such as Rocket League or Minecraft, and so we hope that the situation will improve in the months to come. If you want to learn more about the new features and fixes accompanying the new update, just go to the official website of Borderlands 3.


Linkas