Subscription Boxes are here to make your life easier, regardless of their specifics. Need a little help updating your closet or maintaining a crisp shave? What about a box to help improve your skills as an armchair sommelier? There's a box for all of these and so much more.
Below, we've collected 12 of our favorite subscription boxes which have the power to transform your look from top to bottom, and your liquor cabinet from front to back.  Use these as a jumping off point, get your subscriptions set up, and see just how easy they can be. Though you may not need all of the boxes below, there are plenty that will chip away at the endless list of errands we've all somehow accumulated.
Generally speaking, subscription boxes all work the same. On a regular basis (be it once a month, a few times each year or somewhere in between), each company will send you a box full of things you might like. For Trunk Club that means fresh new threads, whereas Un'Kuppd delivers coffee to your door. Regardless of the price or regularity, each is set with the same goal in mind: eliminating the need to pick up new things. This, in turn, gives you just a sliver of free time back to enjoy. And for a nominal fee, we think these subscriptions are worth it.
1. MeUndies Underwear
BEST UNDERWEAR 
Who doesn't like the feeling of a brand new pair of underwear? Some people aspire to wear a new pair every day, and though that's a little absurd, we see where they're coming from. MeUndies provides several subscription options starting at just $16 per month for one pair, and have an airtight guarantee, if you don't like your first pair, you get a full refund within 90 days. From the basic blacks and blues, to grand and wild patterns, pick up a pair for a boring Monday through to a wild Saturday night.
2. Trunk Club
BEST CLOTHING AND STYLE
If you are trying to expand your style horizon, but perhaps are unsure where to begin your journey, look no further than style subscription box, Trunk Club. This fashion forward — but not over-the-top — box will provide you with items tailored to your personal sense of style. To begin, you will fill out a questionnaire, and the team at Trunk Club will send some items you're sure to love, as well as some designed to push the envelope. Maybe you were unsure about wearing a silk paisley pocket square, but since it just WORKS with the grey blazer they also sent you, now you're into it. Pricing is based upon what you keep from the box.
3. Grooming: Birchbox Man
BEST TO STAY FRESH
Getting your grooming regime dialed-in with a subscription service will eliminate the need to shop, and it'll also let you sample a variety of grooming products to find the right one. This means you'll save time, and look better too. With Birchbox Man, you get an initial sample box, and then a $5 credit toward building your perfect grooming kit. From soaps and cleansers to shave creams and serums, Birchbox wants to help build a fresher you. And when you run out, just click a button for a refill.
4. Un'Kuppd
BEST PICK ME UP 
A truly good cup of coffee can start your day properly, while a bad one can leave you feeling worse than you were without it. Enjoy the aroma and the pleasant pick me up of caffeine with Un'Kuppd. This monthly service sends an assortment of poor-over coffee packs to your door. The best part? All you need to do is add hot water. Each pack comes with a filter made to fit an array of mugs. No more crappy K cups or waiting in line at your local coffee shop.
5. Accessories: Sprezza Box
BEST FOR A FEW EXTRA DETAILS
"Sprezzatura," or the Italian sentiment behind a studied choice to break the rules of fashion in your own special way, is the namesake behind Sprezza box. Sprezza Box specializes in accessories, like sunglasses, ties and wallets. They conveniently deliver all these in curated boxes, that make great gifts for a graduate, a busy traveler, or someone who just landed a new job and needs an upgrade. Most of these accessory brands are small independent brands you wouldn't be able to find in a store, so you're not only getting something unique, you're also supporting up-and-coming designers and businesses.
6. Harry's Shaving
BEST SHAVE KIT
While beards are more commonplace now than they have ever been in modern history, some of us either can't grow a proper one or must keep their face clean shaven for work. Others still are follicularly challenged above the beard, and want to "rock" the Dwayne Johnson clean-shave look! Harry's provides a monthly subscription for all your shaving needs, of which they have several different options, starting at $15.
7. ButcherBox
BEST FOR YOUR INNER CAVEMAN 
ButcherBox is a great way to get high-quality meats for the chest-pounding caveman in you. Heritage Breed Pork, Steaks, Chicken and more are all available through this subscription service. Use this as an excuse to learn several different preparations of each of them, and make an impression next time you have people over for dinner. Starting at $129, you get several pounds of meat — all steaks, all chicken, all salmon, or a mix of your choosing. No more haggling with the guy behind the  butcher's counter at your local supermarket, quality meats are coming to you.
8. Winc
BEST FOR WINE AFICIONADOS 
Knowing a few things about wine is a skill everyone should partake in, if only for the opportunity to enjoy it just that much more with your meals and with friends. Winc's pricing starts at $39 per month and goes up from there based upon quantity. To set you up, Winc asks you a handful of questions and then ships you a regular amount of wine based on your palate. And if you're really looking to level up your dining game, try pairing this subscription with ButcherBox above!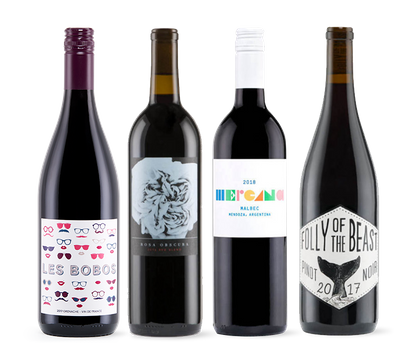 9. Colognes: Scent Box
BEST COLOGNE 
Colognes can get very expensive, and finding the right one is tough. Scent Box solves this by sending you a small monthly delivery of cologne, as well as samples to find the perfect scent. The chic spray bottle (which arrives in an equally chic black box) has just enough fragrance to last you a month. (We liked that these bottles were all travel-sized, so they fit in our toiletry kit and carry-on luggage for our trips, letting us take our new scents with us on the go). If you like the cologne sample they sent you, there's an option (usually with a coupon code) to get the full-size bottle. If you don't, wait 30 days and you'll get your next scent in the mail.
This is a great way to try out new fragrances from the convenience of home and to discover new colognes often before anyone else. Some people find that "signature" scent and stick to it forever. Others like to switch it up and keep things (smelling) fresh. Scent Box works for both types of people. In the end, you'll end up smelling better, and you'll have a few extra dollars in your pocket too.
10. Flaviar
BEST FOR LOVERS OF FINE SPIRITS
In the interest of expanding your palate, why not try some fine spirits as well? Flaviar is a quarterly service, costing either $300 a year or $95 a quarter, that avails you the opportunity to sample fine whiskeys, bourbons, scotches… anything your heart desires. Use it as a means to expand your home bar, and sample same with your buddies at night in celebration. On a regular basis they ship you samples of different spirits to try, plus a full sized bottle. From there you can go in and fine tune your presences while expanding your horizons.
11. Daily High Club
BEST FOR SMOKERS
For those who love to imbibe in a little greenery every now and then, Daily High Club or "DHC" is a great place to add a few extra treats and accessories to your stores. Starting at only $1 a month for some basics (including rolling papers and some accessories), and going up to a $29.99 mega box that includes glassware, basics, and mystery items, this is an easy and convenient way to keep your smoking setup varied and plentiful. Never worry about running out of papers or smoking utensils again!
12. Thinning Hair: Hims
BEST FOR HAIR LOSS
Hims is one of our favorite subscription brands because they send guys the stuff we really hate shopping for, such as hair loss products. Hims' complete hair kit comes with a combination of supplements, anti hair loss shampoo, and special medication that will keep your mane looking thick and handsome.




Oscar Hartzog