After a long wait, fans finally have the official PlayStation 5 (PS5) pricing information. Accordingly, the digital PS5 (without the drive) has a listed price of $ 399 (~ 9.2 million). Meanwhile, the full version is priced at 499 USD (~ 11.5 million VND). After announcing the price, Sony has allowed a small number of users to pre-order the PlayStation 5 in certain countries. Immediately, the PS5 was quickly sold out, but some people who were lucky enough to pre-order the PS5 decided to take advantage of the opportunity to do business by selling this console for a price 3 or even 5 times times.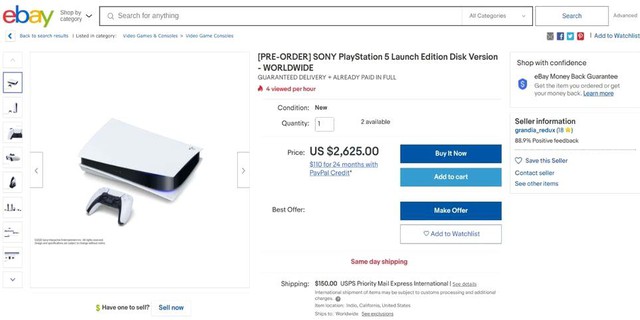 Pre-orders for the PS5 started on September 16 and quickly sold out. While many expected this console to quickly reach their hands after pre-order, rumors of Sony making less PS5 and struggling with demand may have encouraged some real consumers. Show pre-order as quickly as possible. The PS5 pre-order system ants of some retailers like Walmart are in a state of overload because everyone wants to be the first to own the new console system.
The full version PS5 is priced at $ 499 while the drive-less digital PS5 is available for $ 399 cheaper. Many people are satisfied with this price point as it is quite competitive when compared to rival Xbox Series X consoles. However, to get "a foot" among early PS5 owners, some gamers turned to eBay and bought PS5 for sale at an "exorbitant" price, from 1500 USD to over 2600 USD – 3 or 5 times higher than the original PS5 price.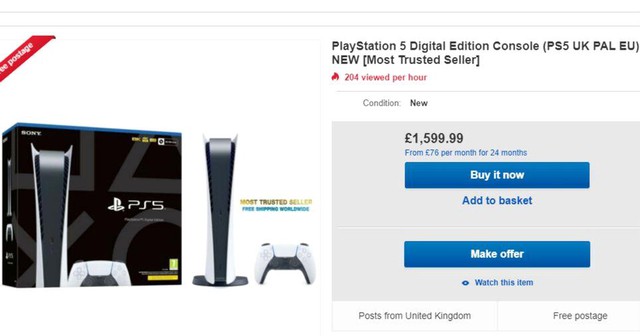 Although the price is many times higher than the original price that Sony announced on the PS5, but there are still many gamers willing to play, spending thousands of dollars just to want to be the first to own a new console system. However, Vietnamese gamers should not expect too much because no one in Vietnam will be among the first to own the console because the release date will be a few weeks later than the US, Japan and other regions. In the world. It's also very likely that some of the PS5 sellers on eBay are scams and that the seller absolutely doesn't have a PS5 preorder.